Europe faces a series of make-or-break moments this week that could alter the strength of the region's economic recovery from the Covid-19 crisis.
Michel Barnier, the chief European Union negotiator for a Brexit trade deal, told diplomats from the bloc's member states that it's up to British Prime Minister Boris Johnson to make the next move to end a deadlock.
Johnson will speak with European Commission President Ursula von der Leyen on Monday night, by which time the two sides hope things might be wrapped up. Unlikely, and the pound is tumbling on concern about a deadlock.
The U.K. is leaving the European single market and customs union on Dec. 31 — with or without an agreement. Both parliaments still need to ratify any accord, so time is running short for a deal to be implemented in time.
If no agreement is reached, the biggest losers will be businesses and consumers already hammered by the pandemic. In the middle of a winter threatened with supply-chain disruptions, decades of free movement of goods, services, people and capital would come to an abrupt end when Britain goes solo.
Booster Shots
Meanwhile, the U.K. is at the leading edge of a massive vaccine mobilization, with the first batches of Pfizer's shot beginning Tuesday.  Queen Elizabeth II, the nation's 94-year-old monarch, will reportedly get inoculated in the first wave of the jabs in a campaign to reassure the public.
Across the rest of Europe, second waves of coronavirus outbreaks are taking fresh bites out of economic growth.
On Thursday leaders from the 27-nation bloc are huddling for a summit, seeking to end a dispute with non-euro members Poland and Hungary over the terms attached to an historic 1.8 trillion-euro ($2.2 trillion) rescue package, and multi-year budget. The first line of fiscal defense in Europe is still national budgets, and they are under stress. 
Only if they succeed can the European Central Bank, meeting on the same day, have confidence that the monetary stimulus its officials are poised to unveil will have the intended potency.
The role of the ECB in this long slog out of the pandemic trough is to make sure borrowing remains as cheap as possible and that markets don't take fright at the scale of borrowing under way.
A sliver of hope appeared early Monday morning: German industrial production rose for a sixth month in October, suggesting manufacturing has momentum heading into what promises to be a turbulent few months ahead. But Germany is also considering tougher restrictions to curb rising infections.
—Brendan Murray in London
Charted Territory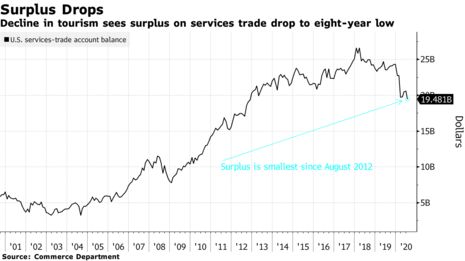 The U.S. trade deficit widened in October as the value of imports climbed to just below pre-pandemic levels, while travel restrictions and consumer wariness continued to depress services exports. The shortfall in trade of goods and services expanded to $63.1 billion, compared with a median estimate for a gap of $64.8 billion in a Bloomberg survey of economists. Combined, the value of U.S. exports and imports climbed to $427 billion, the highest since February, but still down from $469 billion at the end of 2019.
Today's Must Reads
On the Bloomberg Terminal
Like Supply Lines?
Don't keep it to yourself. Colleagues and friends can sign up here. We also publish Balance of Power, a daily briefing on the latest in global politics.
For even more: Follow @economics on Twitter and subscribe to Bloomberg.com for unlimited access to trusted, data-driven journalism and gain expert analysis from exclusive subscriber-only newsletters.
How are we doing? We want to hear what you think about this newsletter. Let our trade tsar know.
Before it's here, it's on the Bloomberg Terminal. Find out more about how the Terminal delivers information and analysis that financial professionals can't find anywhere else. Learn more.
You received this message because you are subscribed to Bloomberg's Supply Lines newsletter.
Unsubscribe | Bloomberg.com | Contact Us
Bloomberg L.P. 731 Lexington, New York, NY, 10022