Poring over historic maps of cities, Andrea Renner can't help but reflect on her own life in a 21st century metropolis. She often thinks: It doesn't have to be this way.
Renner lives in the Bay Area, where she is a map librarian at Stanford University's David Rumsey Map Center. She started the job in 2020, a year that has brought many world cities to their knees. Between the toll of pandemic, catastrophic climate change and systemic racism still the law of many lands, the systems and structures that underpin urban life seem to face existential challenges.
So when Renner drew upon the Center's 200,000 maps to contribute a new online exhibit that tours global cities through the lens of historic maps, it was hard to not see many of the maps as artifacts of urban change and the possibility of change, especially in response to trying times.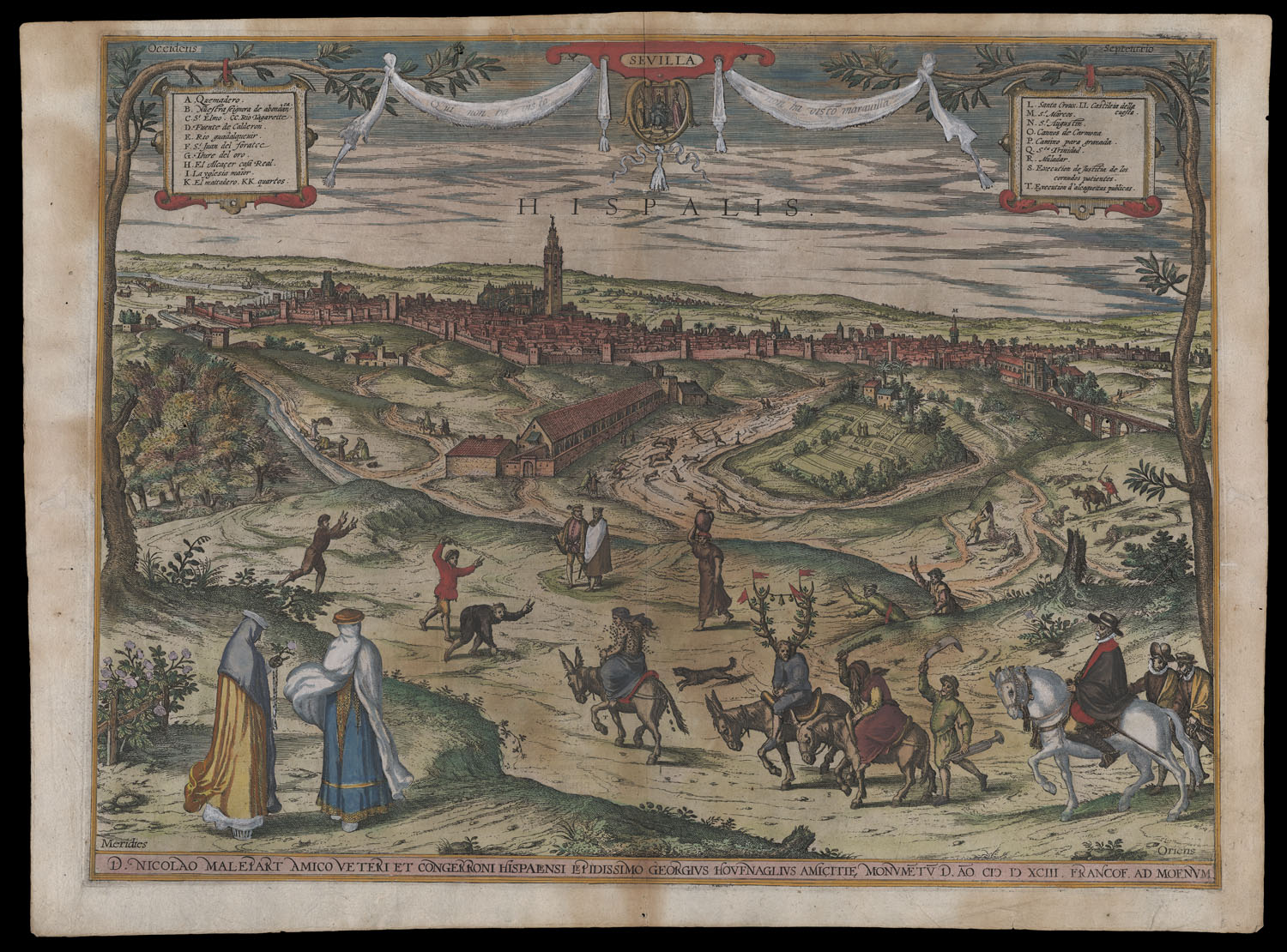 Frans Hogenberg and Georg Braun, 1593. Courtesy of the Osher Map Library and Smith Center for Cartographic Education
"You see the evolution of cities, from those early Medieval walled villages that were built as defenses against warfare, to the kind of exponential growth that happens with industrialization and all the issues that relate, like pollution, poverty, and disease," she said. "You see how the shape of the city is so often the result of dealing with crisis." 
Sponsored by Chicago's MacLean Collection and the Norman B. Leventhal Map & Education Center in Boston — and including maps from Renner's and seven other institutions — the exhibit is composed of dozens of maps of cities on six continents, strung together on an interactive timeline. Dating back as far as 1584 and leading up to the 1920s, they reveal cities as they were seen and imagined by imperial powers, urban planners and armchair tourists. "Maps didn't just serve as snapshots of how cities looked at one moment in time; in the form of plans, maps were also used to build, speculate, and fight over urban form," states the introduction.
There is a colorful portrait of Jerusalem, as featured in a 16th-century history of human settlements. There is a view of Beijing's rigidly hierarchical layout from 1865. There is a 1927 map of Chicago gang territories, included in a PhD dissertation.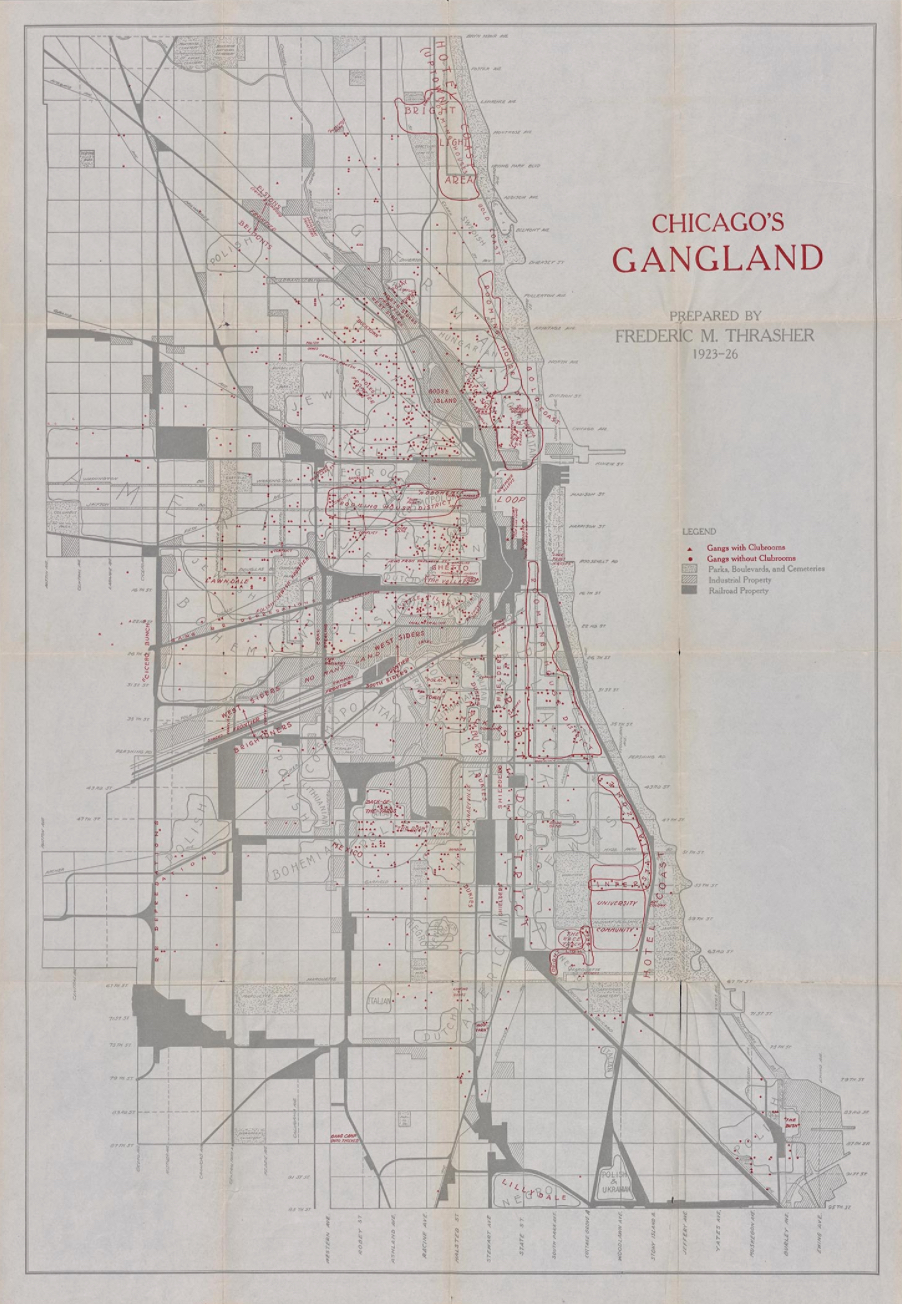 Frederic Milton Thrasher, 1927. Courtesy of the Osher Map Library and Smith Center for Cartographic Education
But the ones that fascinate Renner most are those that document the intentional decisions that made cities into what they are today, as rising carbon emissions, skyrocketing housing prices, and enduring patterns of racial segregation all make the pandemic worse than it had to be. Maps of urban density that was later replaced by sprawl, of cities that once shared a close relationship to nature, of cities before they were cities at all: These are the kinds of maps that show that the current paradigm was not inevitable.

"It just takes you out of seeing things as natural consequences of history and events. Once you recognize that these were all choices and results of policy, once you acknowledge that it was because of people deciding to do it, you can change it."
Mapping life under Covid-19, and the future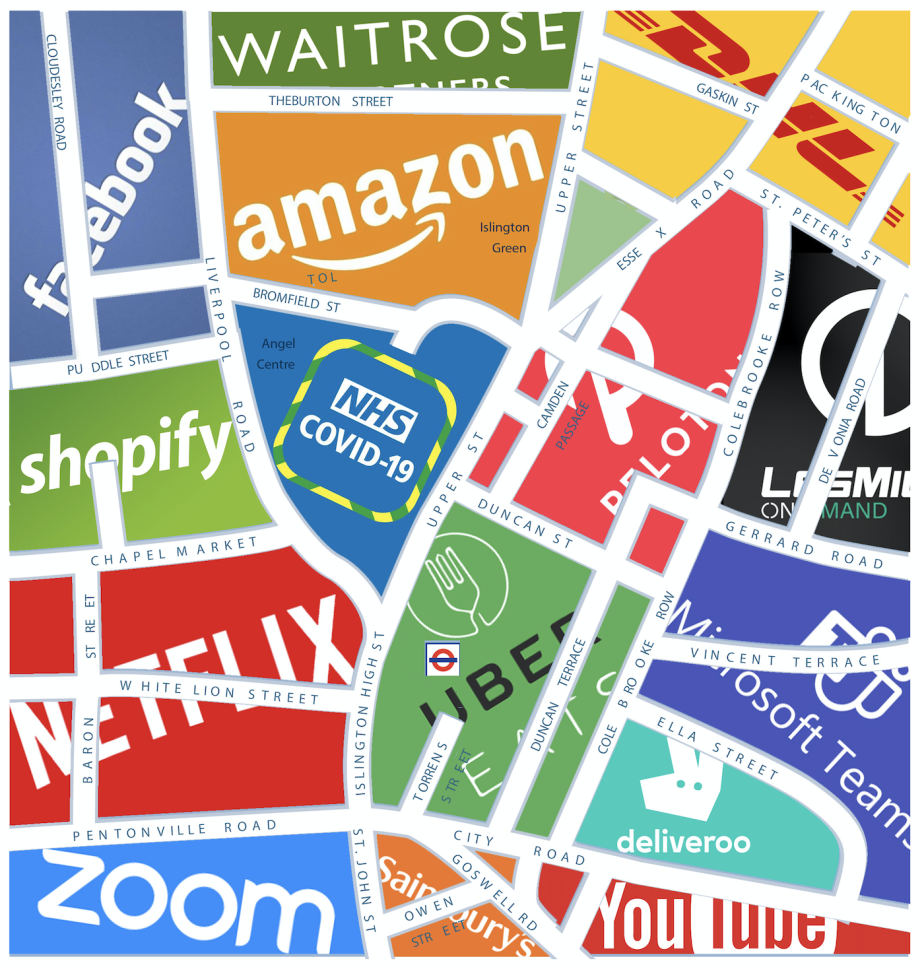 Alfonso Pezzi/Bloomberg
We've extended our deadline for readers to contribute their homemade maps of how their worlds changed amid coronavirus — or how it has changed their vision for the future. This is a renewal of CityLab's pandemic mapping project from the spring. A selection of reader maps will appear on CityLab later this month. Some of them may also appear in a book we're making about the maps, forthcoming from Black Dog & Leventhal Publishers. Above is one we recently received from Alfonso Pezzi in London, which suggests how internet and delivery companies have replaced physical contact and public space this year.
Read more and submit your map here. 
Map links
Thanks for reading. Sign up for MapLab here.
| | |
| --- | --- |
| Follow Us | Get the newsletter |
You received this message because you are subscribed to Bloomberg's CityLab MapLab newsletter.
Unsubscribe | Bloomberg.com | Contact Us
Bloomberg L.P. 731 Lexington, New York, NY, 10022