You can't end the pandemic without freezers and factories
Have thoughts or feedback? Anything I missed this week? Email me at bsutherland7@bloomberg.net Have a good weekend!
Pfizer Inc.'s vaccine news this week offered the first real hope that the pandemic nightmare won't last forever. The industrial sector will play a key role in turning that hope into a reality. In fact, it already is.
First, there are companies like Rockwell Automation Inc., which provide the factory equipment and software used to manufacture testing kits, therapeutic drugs and (hopefully) doses of a vaccine. "Quite simply these cannot be manufactured at the necessary scale, safety and quality without automation," Rockwell CEO Blake Moret said on a call to discuss the company's quarterly results this week. "We're proud of the role our innovation is playing at Pfizer, Roche and many other companies as we help the world recover," he said, without specifying Rockwell's exact involvement. Pfizer said this week that preliminary findings showed the coronavirus vaccine it co-developed with BioNTech SE was more than 90% effective in preventing illness. Roche Holding AG offers coronavirus tests and is working with Atea Pharmaceuticals Inc. and Regeneron Pharmaceuticals Inc. on potential treatments. 
Once a vaccine is approved, be it Pfizer's version or any of the handful of others in trials, logistics companies including FedEx Corp., United Parcel Service Inc. and Deutsche Post AG will have the critical job of distributing it around the world. It's a role they've been preparing for and one that's likely to be a major boon to their bottom line given the scarcity of freight capacity now and the exacting requirements for vaccine transportation, as my colleague Chris Bryant writes. UPS's strength in pharmaceutical shipments and close ties to the U.S. government should make it the dominant player in America's vaccine rollout, while FedEx's U.S.-to-China air-freight network will also be "very helpful," Berenberg analysts wrote in a late October note.
The Trump Administration launched "Operation Warp Speed" in an effort to accelerate the availability of a vaccine and has suggested the military could support distribution efforts. A Pentagon spokesperson told the Wall Street Journal in October that military transport aircraft will likely only be needed for very remote areas and commercial capacity should be sufficient. Even passenger jets could be put to work distributing vaccines. Certainly there are enough empty ones sitting around these days. Pfizer developed a special thermal cooler with GPS and temperature monitoring to ship the vaccines from its manufacturing facilities and warehouses. The cooler is roughly the size of a suitcase, and the temperature-controlled packaging makes it easier to transport the vials via existing freighters and passenger jets.
Pfizer's special transport box only keeps the vaccine at the necessary -70 degrees celsius (-94 Fahrenheit) for 10 days, if left unopened. Once opened, the vaccine can be stored for five days in more normal refrigerated conditions, or dry ice can be added to the container to extend its shelf life by 15 days. The vaccine requires two doses, administered three weeks apart. So really, the best storage and transportation option is ultra-cold freezers and that's where companies like Trane Technologies Plc and Carrier Global Corp. come in. "Cold-chain" transportation has historically been a lumpy business and it tends to get overlooked at these companies when stacked up against their larger heating and air conditioning operations, but it is certainly having a moment now.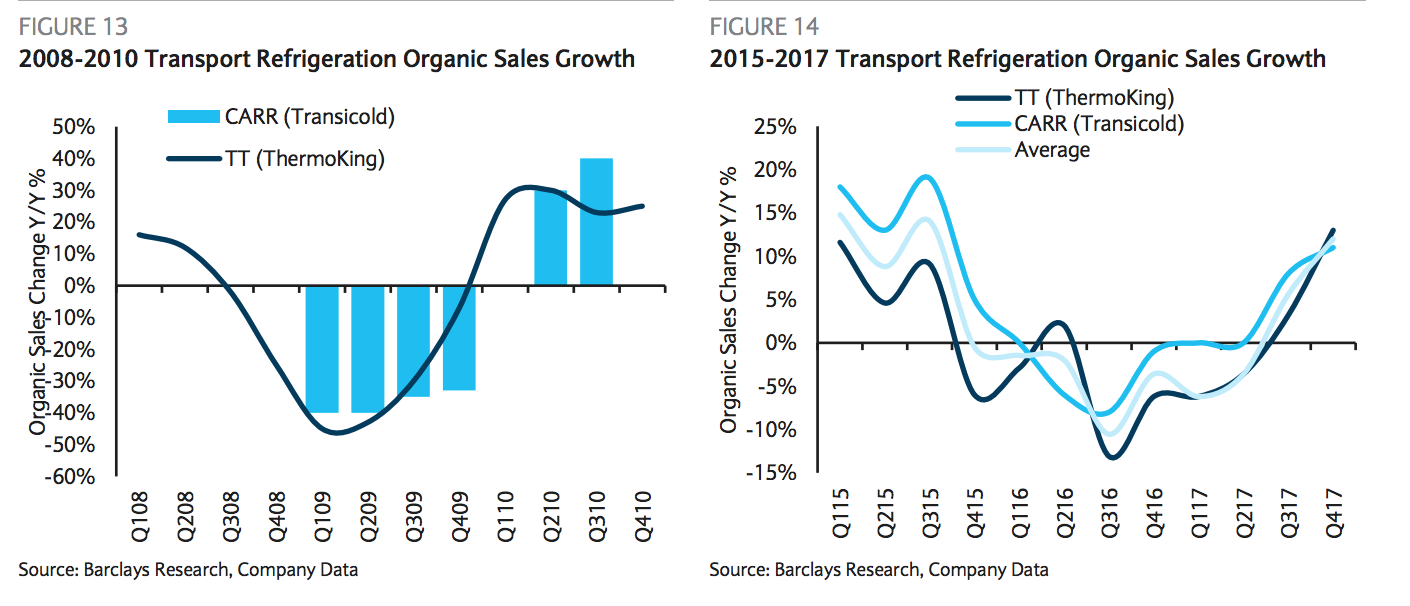 Source: Barclays Plc analyst Julian Mitchell
Speaking on Trane's earnings call last month, chief operating officer Dave Regnery said the market was fairly well-supplied on refrigerated trailers used for land-based transportation, but he sees a need for more cold-storage solutions that can work on airplanes as well as the last stretch of the delivery process before vaccines are handed over to hospitals and doctors' offices. On the storage front, Trane has developed a mobile deep freezer with 60 times more capacity than the units most commonly used at hospitals today. "Who are we talking to? We're talking to pharma companies, distribution companies, 3PL [third-party logistics], government, health-care providers," Regnery said. "We're talking to everyone." UPS has invested in two giant freezer farms in Kentucky and the Netherlands capable of storing nearly 30 million vaccines between the two of them. DHL opened a new $1.6 million cold-storage facility in Indianapolis, while FedEx has 90 such locations worldwide and is planning more. 
Carrier launched mobile freezer pods enabled with its Sensitech monitoring technology to make it easier to move vaccines to where they're needed and ensure the vials don't go bad. The vaccine is clearly the focus right now, but CEO David Gitlin also sees strategic opportunities in the ways the pandemic has changed the world's perception around food. The grocery e-commerce boom, for example, will require more innovation in refrigerated food transport, while the focus on China's wet markets as a breeding ground for the coronavirus and other diseases may force a supply-chain rethink in that country. Less than 40% of meat consumed in China is transported in a refrigerated container, compared with more than 90% in the U.S., Gitlin said at a September conference. 
In short, ultracold freezers are the kind of thing most of us have never spent much time thinking about. But aren't you glad that these manufacturers were?
Meanwhile, There's Still a Pandemic
The vaccine developments provided a much-needed dose of good news in a year that's been particularly short on positive headlines, particularly for the moribund aerospace sector. But it will be awhile before there's mass immunization; meanwhile, coronavirus cases and hospitalizations are spiking. Fresh lockdown measures have been implemented across much of Europe and parts of the U.S., and some experts are cautioning against travel during the holiday season. Asked at the Baird Global Industrial conference this week if the Pfizer news changed the outlook on the aerospace recovery, Raytheon Technologies Corp. chief financial officer Toby O'Brien said, "The answer is no." A vaccine is an important step in the process, but the airplane-engine manufacturer still doesn't see travel returning to last year's levels until 2023, with O'Brien noting that there's as much as a nine-month lag before traffic improvements filter down to repair and maintenance volumes. Southwest Airlines Co. this week flagged a deceleration in revenue improvements for November and December and said this may reflect the rising case counts. 
Outside of aerospace, however, there's reason to think that the "dark winter" foretold by U.S. President-elect Joe Biden won't derail the industrial recovery. Most major manufacturers were ultimately deemed essential and allowed to stay operational during the spring lockdowns in the U.S. While factories had to close sporadically to deal with virus cases, companies say they now have better protocols (and more supply of protective gear) in place. For example, Rockwell's guidance for as much as 6.5% organic sales growth in fiscal 2021 assumes that "a gradual recovery continues, with no increase in pandemic-related facility closures or disruptions to the supply chain." Asked in an interview what made him confident enough to make that kind of assumption, CEO Moret pointed to investments in cleaning procedures and testing as well as changes in shift scheduling.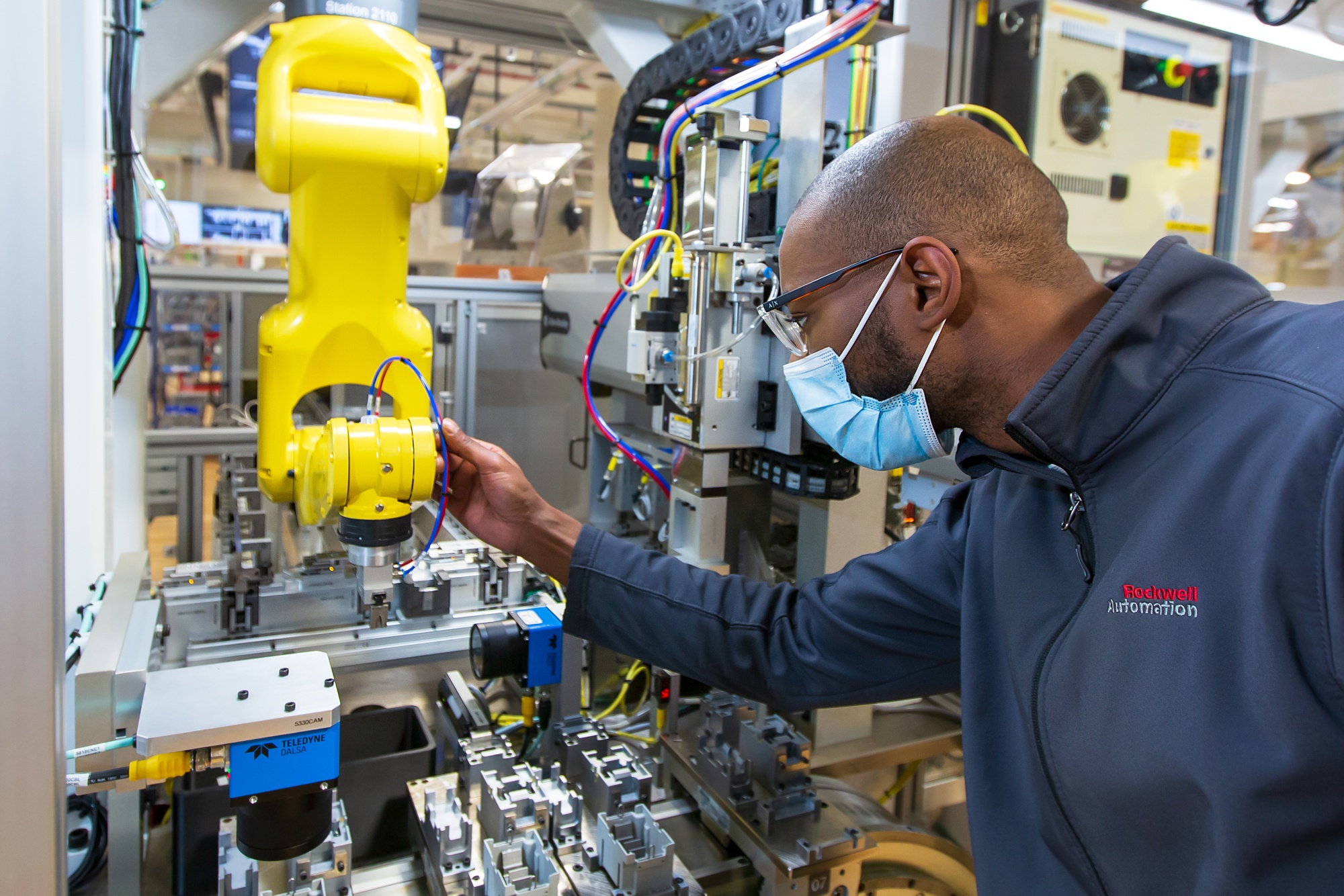 Source: Rockwell Automation 
But the company has also taken steps internally to reduce the risk of a single point of failure taking down its own flow of goods. These include a new highly automated manufacturing line for contactors (essentially electrical switching devices) at the company's Milwaukee headquarters. 
Deals, Activists and Corporate Governance
Kansas City Southern's would-be acquirers have moved on, according to CNBC. The railroad had reportedly rejected a takeover offer from Blackstone Group Inc. and Global Infrastructure Partners in September that valued it at about $23 billion, including debt. Kansas City Southern shares dipped Tuesday morning on the news, but then actually ended 1.9% higher on the day. That's a sign investors weren't holding their breath for a deal and see attractive enough prospects for Kansas City Southern's standalone future. Indeed, Kansas City Southern has largely held on to its gains in the wake of initial takeover speculation in July and is up more than 20% this year, about double the return for the S&P 500. Separately, Kansas City Southern this week announced a new $3 billion share repurchase program, signaling it, too, believes the stock has further to climb.
CSX Corp. is in talks to acquire Pan Am Railways Inc., a regional line in the Northeastern U.S., according to industry trade publication Trains and Progressive Railroading. Acquiring Pan Am would allow CSX to connect to the Central Maine & Quebec Railway in Bangor, Maine, which is owned by Canadian Pacific, and help the company capitalize on growth opportunities at the Port of St. John in New Brunswick, Credit Suisse analyst Allison Landry wrote in a report. Rival Norfolk Southern has a joint venture with Pan Am and has written to the Surface Transportation Board to express concerns about a CSX tie-up.

W.R. Grace & Co. rejected a $60-a-share offer from its largest shareholder, 40 North Management, saying the bid so significantly undervalued the chemical catalyst company that it was "not a basis for further discussion." Jefferies analyst Laurence Alexander disagrees, saying in a note that his buyout math pegs a fair value for W.R. Grace at $61, although he noted a strategic buyer may be willing to pay more. The bid values the company's equity at $4 billion and represents a 50% premium to where W.R. Grace was trading before director Kathleen Reiland's October resignation from the board over strategic disagreements prompted takeover speculation. Reiland, global head of strategy and development at Standard Industries Inc., was added to the board last year as part of an agreement with 40 North. The investment vehicle said it was "disappointed" in the board's reaction to its bid and urged it to reconsider. Admittedly, 40 North is being somewhat opportunistic here, swooping in at a time when many of the markets W.R. grace serves — especially aerospace and oil and gas refining — are under immense pressure. On the other hand, W.R. Grace wasn't exactly a standout performer pre-pandemic, either.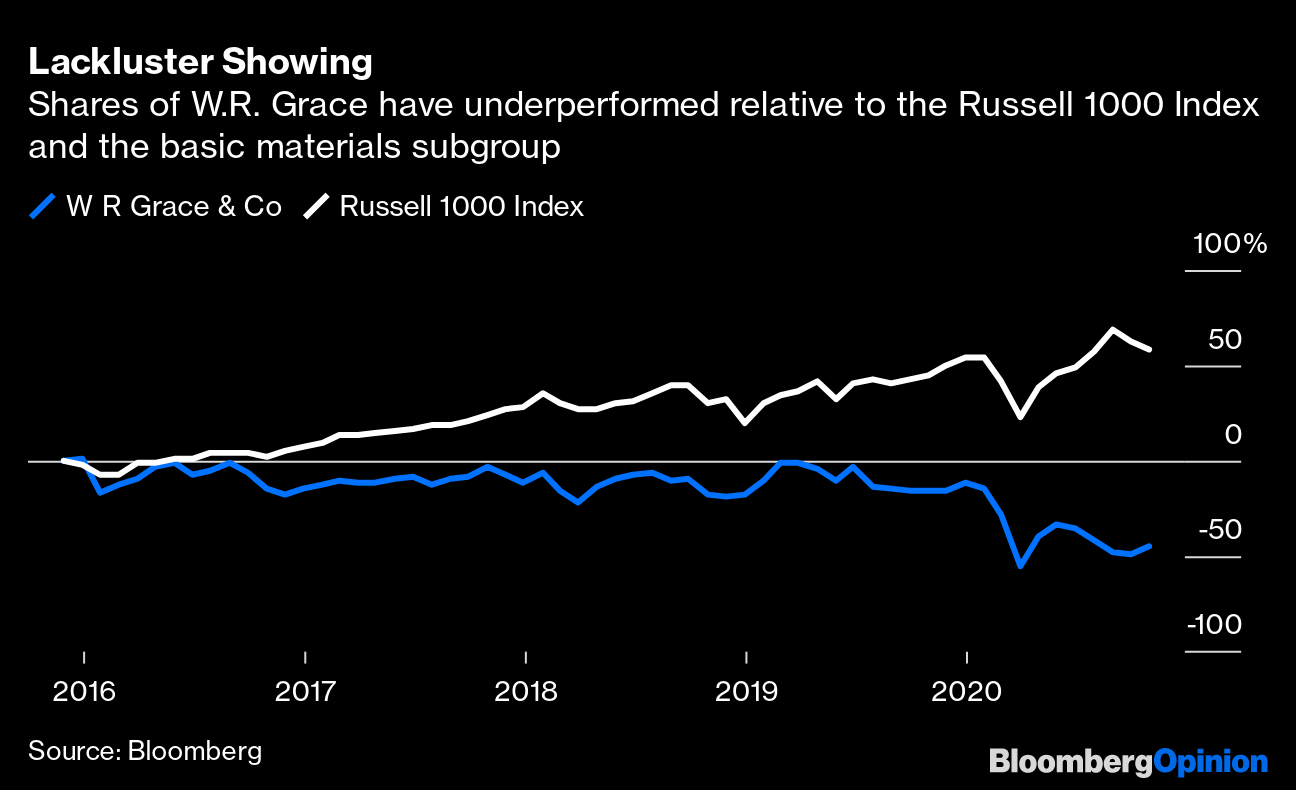 TransDigm Group Inc. is in the running to buy Cobham Ltd.'s aerospace communications and navigation division, people familiar with the matter tell Bloomberg News. The business reportedly could fetch as much as $1 billion and has also drawn interest from private equity firms Cinven and CVC Capital Partners. A deal would fit with TransDigm's focus on proprietary aerospace parts that command high margins. After reporting better-than-expected earnings this week, TransDigm's chairman and co-founder Nicholas Howley said the company was also evaluating the sale of some lower-margin defense businesses it acquired through last year's $4 billion acquisition of Esterline Technologies Corp. These businesses represent $250 million to $300 million of revenue. 
Leonardo SpA, the Italian aerospace and defense company, is exploring a public offering of its DRS unit. This business supplies military avionics and IT systems and generated $1.9 billion in revenue for the first nine months of 2020. Leonardo is weighing a New York listing for the business and may sell a 40% stake, people familiar with the matter tell Bloomberg News. These people put the value of the DRS business at about $3 billion, which is nearly as much as Leonardo's entire market value. Elsewhere in defense divestitures, French aerospace and defense company Thales SA is reportedly weighing a potential sale of its software unit Sentinel. The business could attract private equity suitors and fetch about $500 million. 
EQT AB is considering a public offering of its Anticimex pest-control business and may seek a valuation of at least $5 billion, people familiar with the matter told Bloomberg News. Recall that the pairing of Anticimex and EQT had been considered a potential suitor for Rollins Inc., should the latter company choose to move forward with the sale it was said to be mulling earlier this year. 
The deals that weren't. There was an oddly high number of industrial deals that were reported on or alluded to this week, only to be flatly denied by the companies involved. Textron Inc. said a purported tender offer from a firm called Xcalibur Aerospace Ltd. was "fictitious" and in violation of securities laws. Vertical Research Partners analyst Rob Stallard points out that Xcalibur appears to have only four employees; Textron has a market value of about $10 billion. Both Hexcel Corp. and Solvay SA denied a report by StreetInsider that they were in talks for a merger. And after Bloomberg News reported that Lowe's Cos. had held preliminary takeover talks with industrial distributor HD Supply Holdings Inc., the home-improvement retailer issued a statement saying it's not in talks with HD Supply and has no plans to pursue a transaction.  
BONUS READING
An Extra Covid Wildcard for Flying During Winter: Deicing
DHL, FedEx and UPS Are Ready to Save the World: Chris Bryant
Drone Taxis and Bags of Rice Take Flight in Downtown Seoul
U.S. Trade Policy Is Ready for Its Biden Makeover: Noah Smith
GM's Cruise and Walmart Team Up for Driverless Delivery
That Backflipping Robot Is a $1 Billion Party Trick: Tim Culpan
When Pigs Fly, They Want Drinks, Leg Room
Like Bloomberg's Industrial Strength? Your friends and colleagues can sign up here. For more content like this, subscribe for unlimited access to trusted, data-based journalism in 120 countries around the world and gain expert analysis from exclusive daily newsletters, The Bloomberg Open and The Bloomberg Close.
Before it's here, it's on the Bloomberg Terminal. Find out more about how the Terminal delivers information and analysis that financial professionals can't find anywhere else. Learn more.
You received this message because you are subscribed to Bloomberg's Industrial Strength newsletter.
Unsubscribe | Bloomberg.com | Contact Us
Bloomberg L.P. 731 Lexington, New York, NY, 10022