Why Europe is tapping the brakes
Hit the brakes: Several cities across Europe, including in Spain, France and the U.K., have pushed through lower speed limits this year, and their similar timing may not be entirely coincidental. As Feargus O'Sullivan reports, a series of safety, environmental, economic and political factors have converged to accelerate the movement to slow down traffic, with the coronavirus crisis providing perhaps the most powerful single catalyst. 
Cities have long eyed stricter speed restrictions to reduce traffic injuries and fatalities, and to curb pollution, but now legislators are increasing their focus on road use because more people are driving to avoid contagion risk on public transit. Today on CityLab: Why Europe Is Slowing Down
-Linda Poon
More on CityLab
New York's MTA plans to slash subway service, and other cities have proposed brutal budget cuts if federal transit support doesn't arrive.  
We invite you to create a map of your domestic life, neighborhood or broader surrounding that reflects how your world has changed since Covid-19 began.
The region's Salton Sea contains a massive trove of the metal needed for electric-car batteries.
Now that's what I call a meme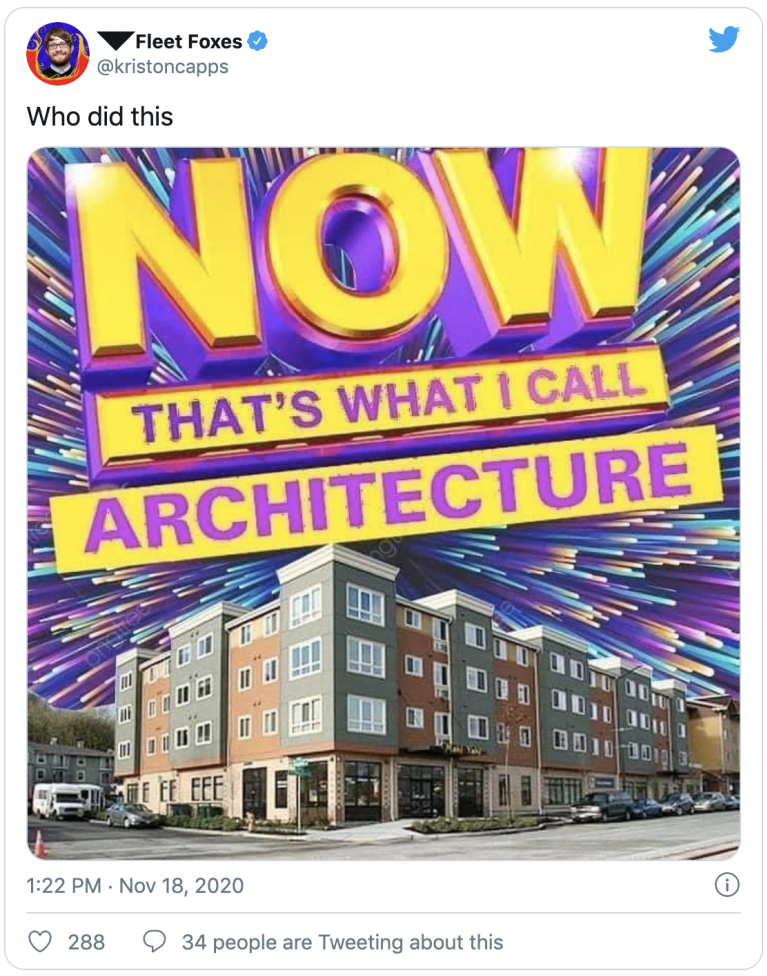 Nineties kids will recall the Now That's What I Call Music! platinum-selling series of jock-jam compilation albums, now on its 76th (!) edition. For the generation that grew up making mix CDs, the television ads alone still occupy prime mental real estate. So when a housing meme based on the albums surfaced this week — Now That's What I Call Architecture! — some of us felt shaken to the core.
The meme took off on the Facebook group for New Urbanist Memes for Transit-Oriented Teens. It features the hyped typeface treatment of the Now! CDs over a humdrum, fast casual–style mixed-use multi-family housing development. For true devotees of extremely online urbanism, the building will be as familiar as the pop-music font. It's the same one that popped up in another housing meme three years ago.
The project is known as the Providence Gamelin House, an affordable housing complex for low-income seniors in Seattle's Rainier Vista neighborhood. The building has a way of turning up in ironic posts about boring architecture. Maybe this latest meme is sincere, though. Affordable architecture that prevents low-income seniors from being displaced from their homes in Seattle? That is what I call architecture!
-Kriston Capps
What we're reading
| | |
| --- | --- |
| Follow Us | Get the newsletter |
You received this message because you are subscribed to Bloomberg's CityLab Daily newsletter.
Unsubscribe | Bloomberg.com | Contact Us
Bloomberg L.P. 731 Lexington, New York, NY, 10022