Supply Lines: Maersk's sunnier outlook
Maersk CEO Soren Skou said ocean freight rates have probably plateaued and will return to normal levels next year as the world's largest container liner benefits from global trade that's recovered much faster than expected.
"Global supply chains had quite a lot of bottlenecks and they have driven up prices," he said in a Bloomberg Television interview on Wednesday, describing the whiplash effect of a steep decline in seaborne cargo in the second quarter followed by a sharp rebound.
The result: freight costs that have stayed unseasonably high especially on trans-Pacific routes, drawing the attention of some regulators.
"I think that's of a temporary nature — I certainly don't think that prices will continue to rise,"  Skou said. "We expect things to calm down and normalize in 2021."
He was speaking shortly after the Copenhagen-based company raised its profit forecast for 2020. "We basically have booked all the orders for the rest of the year and that's why we are confident raising our guidance," Skou said.
Container volumes this quarter are expected to be in line with or a little better than levels Maersk saw in 2019, he said. Looking further out, Skou said: "We believe that in 2021 we will see a market that is similar to one we saw in 2019 or maybe slightly better. And that means that we as a company will be able to have good utilization of our network and continue the journey that we're on."
Still, the midyear snapback in demand meant containers were in the wrong places, and Maersk is working to rectify that situation. Service reliability across the industry "is quite low right now, so there's plenty of work for us to do to help our customers move their goods also in the coming quarters," Skou said.
A few other highlights from the interview:
Maersk will continue acquisitions to expand its land-based logistics business, adding warehouse and distribution operations to supplement its existing network, Skou said.
On the U.S. election, he doesn't expect the incoming Biden administration will change America's trade stance on China very much, though perhaps Washington will coordinate policy on that more with the European Union. President-elect Joe Biden would likely have a more collaborative approach with Brussels, Skou said. 
Maersk's outlook for global trade aligns with forecasts for global GDP growth of 3%-4% a year longer term, he said. Trade liberalization efforts like the recently signed Regional Comprehensive Economic Partnership involving some 15 countries in the Asia-Pacific region are "very positive," Skou said.
—Brendan Murray in London and Christian Wienberg in Copenhagen
Don't Miss

Bloomberg New Economy Forum: Day 3 Climate
This may be the last chance. We need a green recovery from Covid-19 to head off the far greater catastrophe of climate change. Sustainable investments create jobs. The Bloomberg New Economy Forum is bringing together leaders from East and West to discuss the most pressing issues facing the global economy — and propose solutions. Watch live on Bloomberg.com.
Charting the New Economy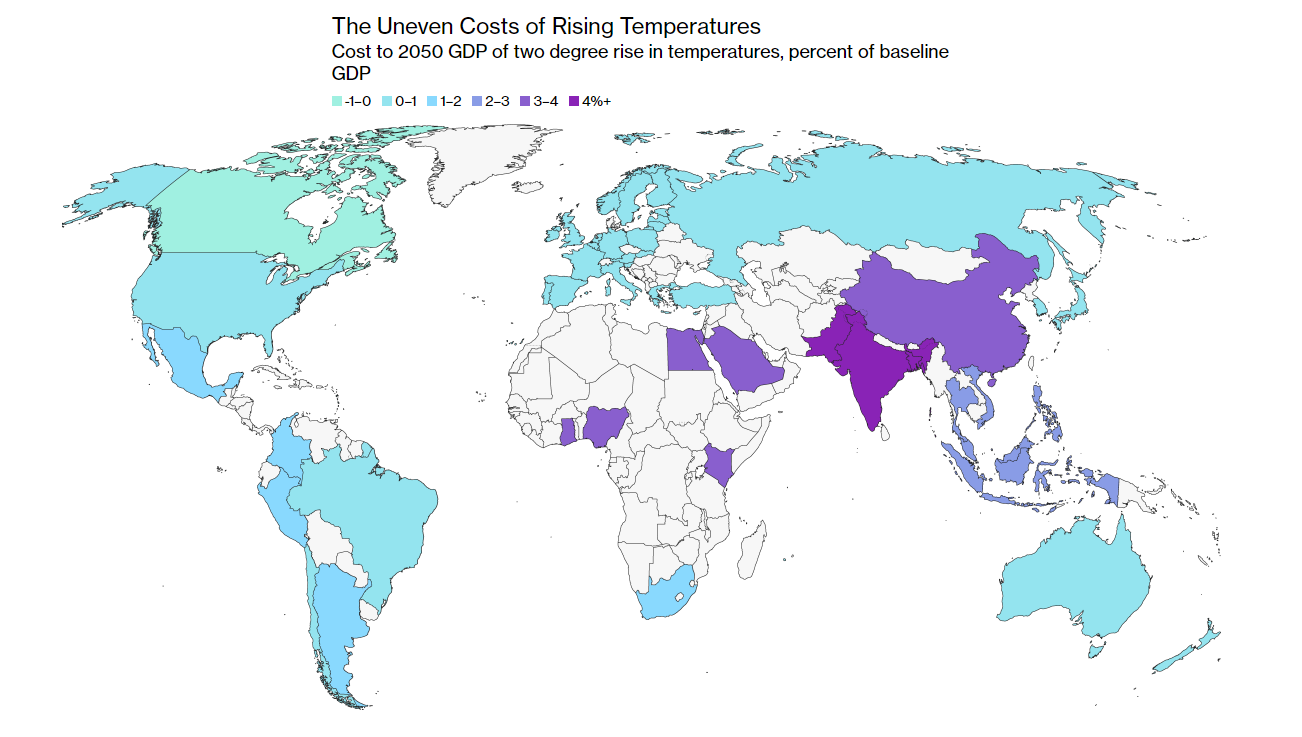 Rising temperatures depress productivity, as workers swelter. They also divert capital from infrastructure and industrial projects to less productive uses, like flood defenses. The costs have already reached an estimated 1% of global GDP. Forecasts drawing on climate-impact models suggest they will rise by another 2% through 2050 if emissions are left unchecked. By 2100, the total hit to global output will be about 10%, according to Bloomberg Economics.
Today's Must Reads
On the Bloomberg Terminal
Like Supply Lines?
Don't keep it to yourself. Colleagues and friends can sign up here. We also publish Balance of Power, a daily briefing on the latest in global politics.
For even more: Follow @economics on Twitter and subscribe to Bloomberg.com for unlimited access to trusted, data-driven journalism and gain expert analysis from exclusive subscriber-only newsletters.
How are we doing? We want to hear what you think about this newsletter. Let our trade tsar know.
Before it's here, it's on the Bloomberg Terminal. Find out more about how the Terminal delivers information and analysis that financial professionals can't find anywhere else. Learn more.
You received this message because you are subscribed to Bloomberg's Supply Lines newsletter.
Unsubscribe | Bloomberg.com | Contact Us
Bloomberg L.P. 731 Lexington, New York, NY, 10022