Supply Lines: Lockdown lifestyles
The pandemic is sparking major lifestyle changes among lockdown-weary consumers looking to brighten their living spaces, spend more time outdoors, or even jump in a camper van and leave it all behind.
With earnings season winding down, companies such as Callaway Golf, Winnebago and Sherwin-Williams are emerging as big beneficiaries of the unprecedented shifts in global demand from people feeling boxed in from South Africa to South Dakota.
Yet surging sales of such popular brands have exposed cracks in some of their supply chains and raised a key question about the sustainability of the demand growth: Are these behavior changes here to stay?
Here are five companies that, according to transcripts of their earnings calls in the past few weeks, are hoping that's the case:
Callaway Golf. The sport has experienced rising popularity this year because it's compatible with social distancing and offers outdoor exercise. U.S. retail sales of golf equipment jumped 42% in the third quarter of this year — the best on record. A Callaway executive expressed optimism about future demand but acknowledged its supply chain is laboring to keep up.
Winnebago. Interest in outdoor recreation, mixed with an aversion to hotels, has driven stronger sales of motor homes and RVs. Winnebago executives say they're working through supply challenges to meet the demand. "Candidly, we view this as a competitive and strategic differentiation opportunity versus solely a headwind," CEO Michael Happe said.
Scotts Miracle-Gro. Gardening became a favorite lockdown activity as families sought to spruce up their yards and grow their own veggies. Demand rose so significantly that Scotts Miracle-Gro ran out of stock on some products considered key to its future. "We believe the U.S. economy will remain sluggish for the next several quarters and most consumers will still be in nesting mode next year," CEO Jim Hagedorn said.
Malibu Boats. The Tennessee-based maker of sporty power boats said it went from "full shutdown mode to unprecedented demand levels without skipping a beat," CEO Jack Springer said. Investments in inventories helped ensure production was maintained at pre-pandemic levels, he said. But there's been some tightening of supply chains more recently. "Our suppliers now recognize the incredible demand and are making plans and taking action to supply that demand," Springer said.
Sherwin-Williams. Home improvement jobs — or "what the heck projects," as Sherwin-Williams CEO John Morikis calls them — bolstered sales at the paint company. Lockdown and work-from-home measures saw many people "sitting around kind of bored out of their minds" wanting a change of home aesthetics, he said. Meeting this supply chain challenge is on the company's priority list, as is building inventories ahead of spring selling season.
—Eileen Gbagbo in London
Don't Miss

Bloomberg New Economy Forum: Day 4 Health
Covid-19 does not respect borders: Nobody will be safe until everybody is safe. We need universal vaccination. The Bloomberg New Economy Forum is bringing together leaders from East and West to discuss the most pressing issues facing the global economy — and propose solutions. Watch live on Bloomberg.com.
Charting the New Economy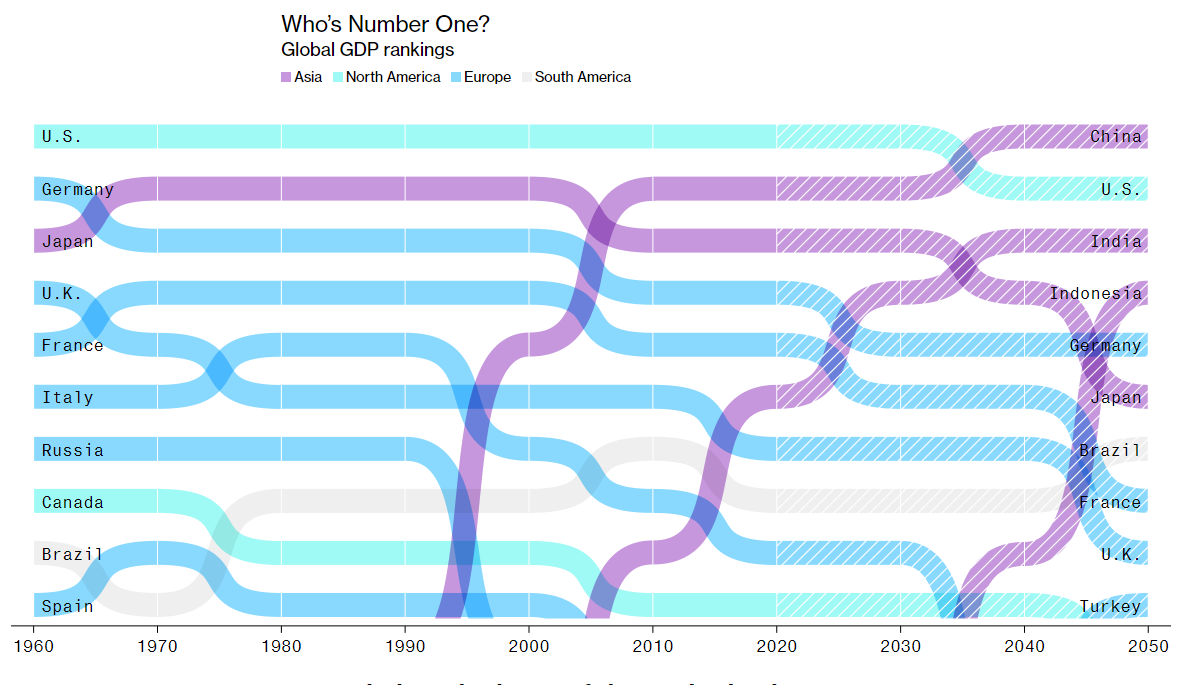 By 2035, Bloomberg Economics forecasts, China will have overtaken the U.S. to become the world's biggest economy and perhaps also its most powerful political actor.
Today's Must Reads
On the Bloomberg Terminal
Like Supply Lines?
Don't keep it to yourself. Colleagues and friends can sign up here. We also publish Balance of Power, a daily briefing on the latest in global politics.
For even more: Follow @economics on Twitter and subscribe to Bloomberg.com for unlimited access to trusted, data-driven journalism and gain expert analysis from exclusive subscriber-only newsletters.
How are we doing? We want to hear what you think about this newsletter. Let our trade tsar know.
Before it's here, it's on the Bloomberg Terminal. Find out more about how the Terminal delivers information and analysis that financial professionals can't find anywhere else. Learn more.
You received this message because you are subscribed to Bloomberg's Supply Lines newsletter.
Unsubscribe | Bloomberg.com | Contact Us
Bloomberg L.P. 731 Lexington, New York, NY, 10022