Netflix says "The Queen's Gambit" is the most-watched limited series in its history. Some 62 million households saw the show about a chess prodigy in its first four weeks of release. 
"The Queen's Gambit" is the quintessential Netflix hit, a scripted drama created by an award-winning filmmaker about a flawed protagonist that explores a very specific corner of the world. It's the type of hit Netflix excelled at in its earliest days, and had struggled to find at times in the past year or two.
The data point comes with a couple big caveats, but "The Queen's Gambit" is a big hit by any measure. It ranks among the most-watched Netflix series ever, and has singlehandedly revitalized interest in chess. Sales of chess sets have increased 87% since the show's debut, and sales of chess books have climbed 603%.
Yet "The Queen's Gambit" will also have slipped out of the cultural zeitgeist before the year is over. Netflix has created an ecosystem where there are new manias every couple weeks. "The Queen's Gambit" supplanted "Emily in Paris" atop the Netflix charts, and will inevitably be overtaken by "The Crown," or "Selena" or "Cobra Kai."
These short bursts of interest represent a new era in media created by the abundance of the internet, according to media executive Tal Shachar:
"We only see more and bigger fads at faster paces. That we have more diversity than ever, and yet somehow less at any one point in time."
Disney, Netflix's biggest competitor, employs a different strategy, one that Shachar captures in the second part of this paragraph.
"It also means that increasingly the real value or trick won't be in blowing up … but rather in holding on to the 15 seconds of fame once we have it."
While Netflix holds onto attention with an unending barrage of new material, Disney creates a handful of big moments and franchises, some of which have remained in the culture for almost a century. Its streaming service has thrived with just one show, "The Mandalorian," which is itself based on a movie from 1977.
"The Mandalorian" is a lot more in-demand online than "The Queen's Gambit," per Parrot Analytics.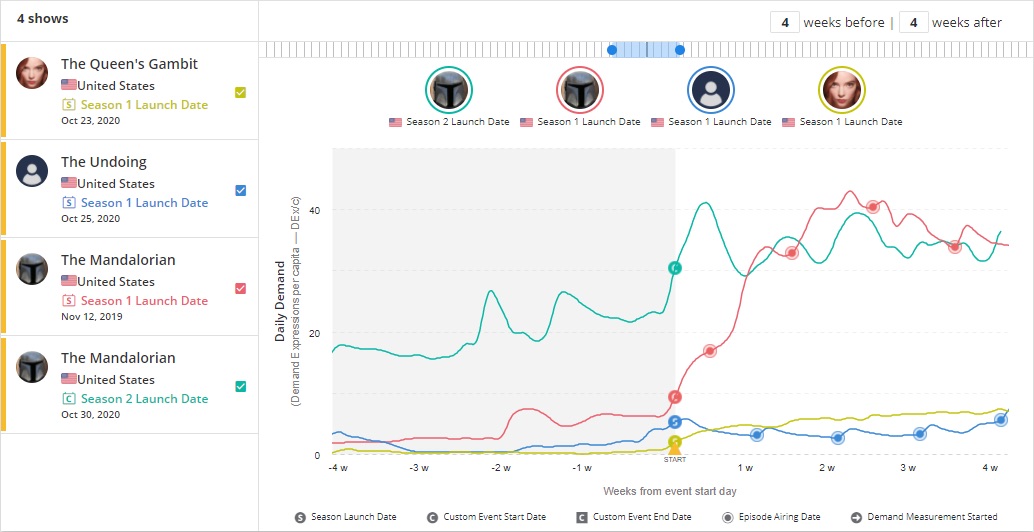 Some clever folks on Twitter argued Disney would've been ready for that surge in chess and pre-licensed a bunch of chess sets to collect some of the revenue. After its success, maybe Disney would create themed chess stations on its cruises and hotels. I regret to inform these people that chess is not a lucrative side business.
But I wonder if Disney would even bother with "The Queen's Gambit." It's an adult drama that features drug abuse and has almost no merchandising potential. Disney knows that the big money is in making shows that speak to kids but also appeal to adults. How many parents purchased Baby Yoda Halloween costumes this year?
In the olden days of linear TV, we would rely on Nielsen ratings to quantify how popular shows are, and contrast their respective strengths. Now? We're left with self-reported numbers, third-party estimates or no numbers at all.
But even without comparable figures, each show embodies a contest between Netflix and Disney for the soul of Hollywood. Netflix released all the episodes of its show at once, maximizing attention for about a month, while Disney has rolled out episodes weekly, giving its customers a reason to come back every week. 
A third show, HBO's "The Undoing," debuted between the two of them. Like the best HBO shows, it has built its audience as the episodes have unfurled.
These distinctions have made covering the competition between these companies more interesting, assessing which strategies work and which don't.
And yet, in Hollywood's unending march towards monoculture, both Netflix and Disney are racing to replicate the strengths of their biggest competitor. Disney doesn't have enough new shows in the pipeline to generate constant interest, a fact it is trying to remedy with a recent restructuring of the company to prioritize streaming. Netflix wants to sustain its hits for longer and create franchises so replenishing the well gets a little bit easier.  
Maybe I'll get a Disney chess set after all. -- Lucas Shaw
The best of Screentime (and other stuff)
Western pundits predicted the demise of an independent Hong Kong in 1997. It didn't happen -- until now.
Two 50-something boxers faced off last night on Triller.
Brooks Barnes captures the sense of dread that has permeated the movie business this year, and asks the unknowable: What does the future hold?
Dave Chappelle vs. Viacom
In a brief stand-up set uploaded to his Instagram, the comedian asked his fans to boycott "Chappelle's Show," and criticized ViacomCBS for not sharing the profits from his work.
Chappelle divulged that he first pitched the idea for "Chappelle's Show" to HBO, which turned him down. He had taped his first stand-up special for HBO, but hasn't worked with the network since then.
Comedy Central did buy the idea, but it robbed him of any control over its future. Chappelle says he was a young comedian who needed the money and took the best deal available.
But nearly 20 years later, Chappelle is one of the most famous comedians in the world, and he has no control over the project that made him famous.
Chappelle did reserve praise for one media company: Netflix, which agreed to take down old episodes that it licensed. That means Netflix is paying Viacom to not offer the show. It's just another cost of doing business with the comedian, who has taped several specials for Netflix in the last few years. (The show is still on HBO Max.)
Beyonce leads Grammy nominations
Beyonce earned nine nominations, the most of any artist, in a year where women dominated the field. Two female pop stars, Taylor Swift and Dua Lipa, received six nominations each while The Weeknd was shut out.
For the first time ever, all of the nominees in the best rock performance category are women.
Sony's PlayStation 5 sells out
People have camped out at electronics stores to buy the newest video game consoles.
Deals deals deals
Weekly Playlist
Every once in a while the Grammys introduce me to new music. Check out The Black Pumas; I've listened to their new album for about eight hours this week.

Like the Screentime newsletter? Get unlimited access to Bloomberg.com, where you'll find trusted, data-based journalism in 120 countries around the world and expert analysis from exclusive daily newsletters.
Before it's here, it's on the Bloomberg Terminal. Find out more about how the Terminal delivers information and analysis that financial professionals can't find anywhere else. Learn more.
You received this message because you are subscribed to Bloomberg's Screentime newsletter.
Unsubscribe | Bloomberg.com | Contact Us
Bloomberg L.P. 731 Lexington, New York, NY, 10022