Next China: Tech tycoons beware
Singles' Day began in 2009 as a way to goose Alibaba's sales. In the decade since, it has grown to become a frenetic and flashy celebration of the empire Jack Ma built. This week, that party got rained on.
The festivities observed annually on Nov. 11 went on as usual, albeit scaled back because of the pandemic, and saw sales climb to $75 billion, easily surpassing the $38 billion haul from 2019. Unfortunately for Alibaba, events the day before overshadowed the shopping bonanza.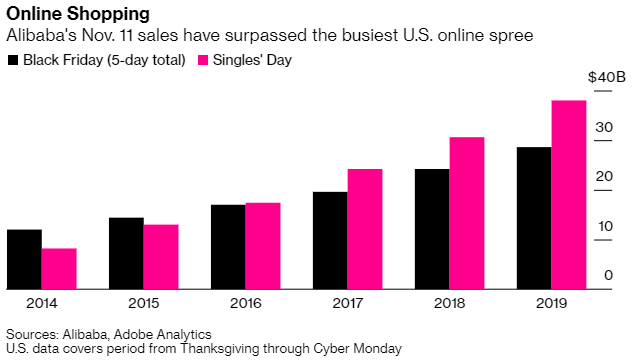 Beijing on Nov. 10 unveiled a sweeping proposal to root out monopolistic practices in the internet sector, precipitating a sharp selloff in shares of Alibaba and its peers.
That regulatory squeeze will of course affect more than Alibaba. Tencent and its ubiquitous WeChat app are an obvious example. But even compared to a firm as large as Tencent, Jack Ma's empire is exceptional for its size and sway. After all, it was not that long ago that Ma's Ant Group was preparing a $35 billion IPO.
For Beijing, it is a momentous pivot. While Chinese policy makers have yet to publicly elaborate on why they've decided to clamp down on some of China's brightest corporate stars, a few observations can be discerned.
Big tech is under scrutiny around the world. On the same day China unveiled its plans to tackle monopolistic behavior, the European Union said Amazon is likely breaching antitrust rules. That was after the U.S. Justice Department sued Alphabet Inc.'s Google last month, accusing it of abusing its monopoly in search.
It also appears that as China's economic recovery from the pandemic stabilizes, regulators are shifting their focus to controlling risk from promoting growth. After halting Ant's IPO last week, regulators this week continued to pledge a crackdown on abuses in fintech. And while the U.S. and Europe are discussing additional stimulus, China's central bank has begun talking about exiting its Covid-related easing policies.
Finally, it is worth noting that top Communist Party officials just last month endorsed President Xi Jinping's plan to make innovation and tech self-sufficiency the cornerstones of Chinese policy for the foreseeable future.
Viewed in that context, it's hard to imagine these anti-monopoly rules would have been proposed if Beijing thought they would undermine innovation. It would seem much more likely that officials view reducing abuses as a way to encourage it.
For China's tech billionaires, the regulatory landscape is changing fast. It's no wonder the stock market is selling first and asking questions later.
Hong Kong's Opposition
China's top lawmaking body this week passed a resolution outlining the conditions needed to remove an elected member of Hong Kong's legislature. Shortly thereafter, Hong Kong's government announced that four members of the Legislative Council would be ousted. That set off a new crisis in a city that's been gripped by turmoil for the better part of two years. Hong Kong's opposition lawmakers responded by accusing Beijing of eliminating the last vestiges of the city's autonomy and resigning en masse. Western governments including the U.K., Canada and Australia condemned the removal of the legislators, while U.S. National Security Advisor Robert O'Brien warned of new sanctions. While it's unclear what additional steps Washington or other Western nations might take, Beijing's move will certainly put more pressure on President-Elect Joe Biden to show he is being tough when it comes to China.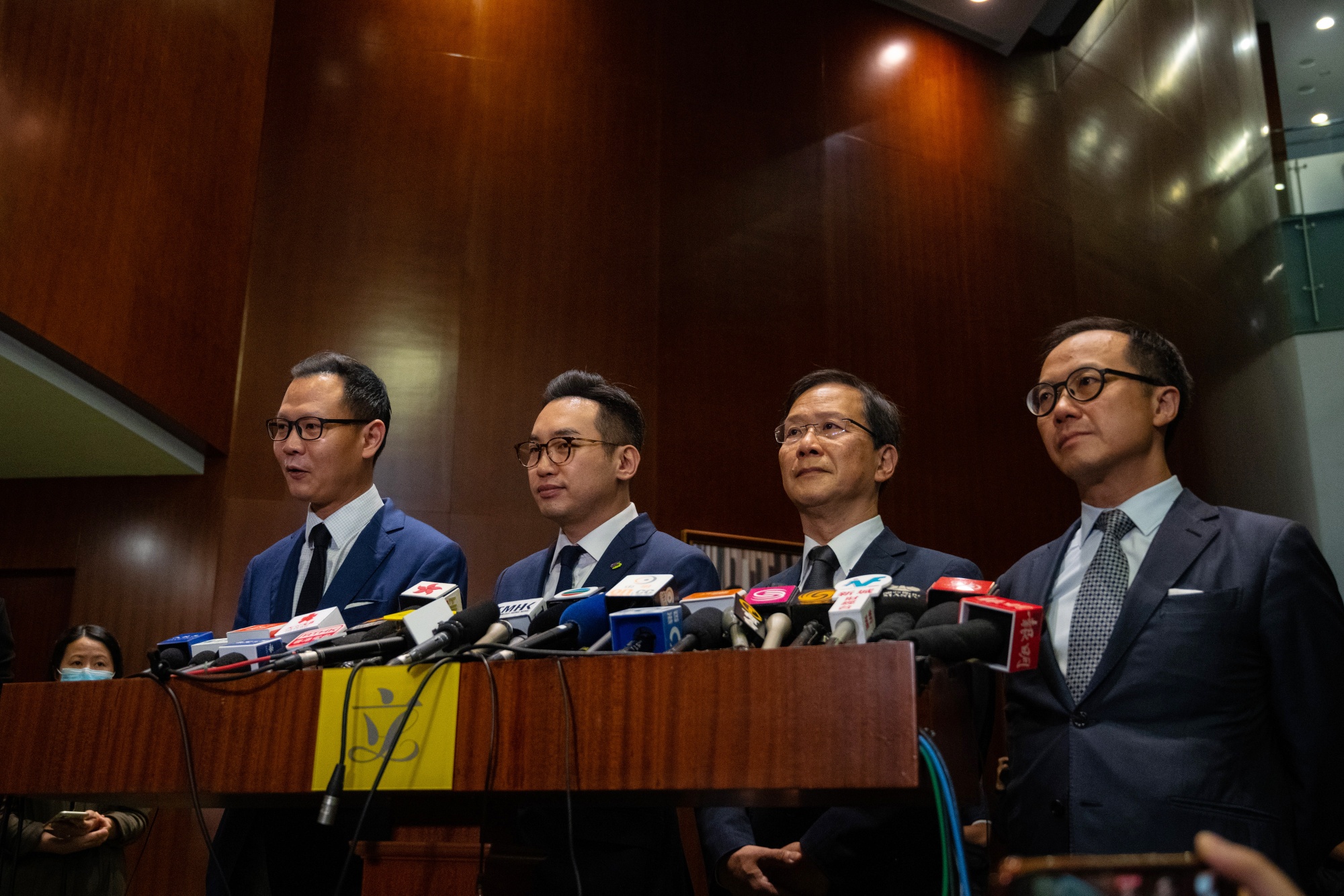 Photographer: Billy H.C. Kwok/Bloomberg
Cautious on Biden
The White House may be swapping occupants in January, but Chinese businesspeople are not expecting much of a change in relations between the world's biggest economies. They believe, for example, that the tariffs President Donald Trump imposed on billions of dollars worth of Chinese goods will stay largely in place. That was the view of numerous factory bosses in China interviewed in the days after the U.S. presidential election. It's also an opinion shared by many analysts, who note that growing bipartisan consensus in the U.S. for the need to confront China will leave Biden little room to maneuver. There's also the risk that the Trump Administration will take actions in its final months designed to make its policies harder to unwind. Indeed, it was possibility highlighted by Secretary of State Michael Pompeo this week when he said the U.S. was "not finished yet" when it comes to getting tough on China.
Trade Deal
Fifteen Asia-Pacific countries, including China, Japan and Australia, are expected to ratify the world's largest free trade agreement this weekend. It should be noted though that the U.S. won't be part of the Regional Comprehensive Economic Partnership, or RCEP. Washington had during the Obama Administration championed an alternative pact, the Trans-Pacific Partnership, or TPP, which excluded China. But upon taking office, President Donald Trump pulled America out of that agreement, leaving the TPP without the sort of economic anchor that China will provide RCEP. Another consequence of the U.S. exit from TPP is that it has left Washington with a far diminished ability to counter China's economic clout in the region. It is yet another problem Biden will be faced with.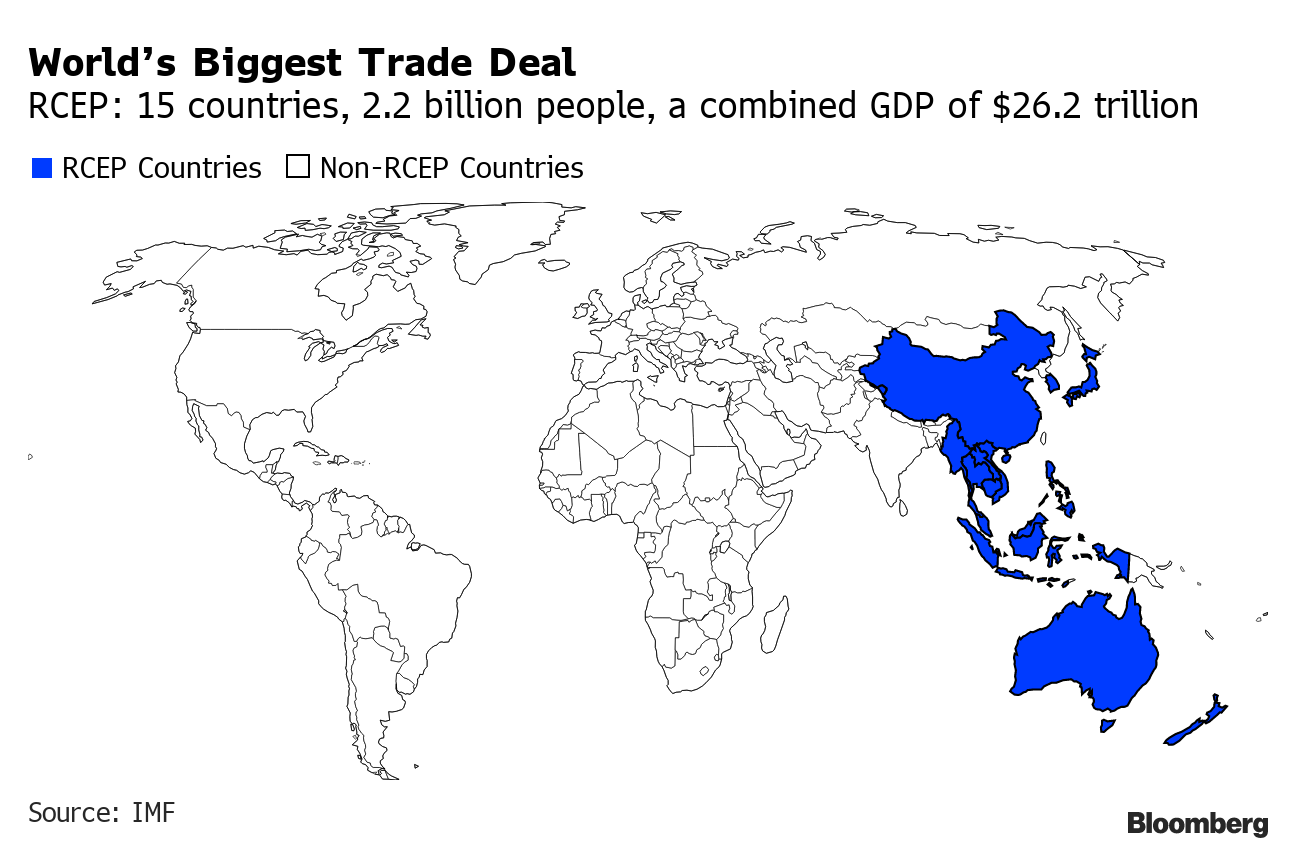 What We're Reading
And finally, a few other things that caught our attention:
Like getting the Next China newsletter? Subscribe to Bloomberg.com for unlimited access to trusted, data-driven journalism and gain expert analysis from exclusive subscriber-only newsletters.
Before it's here, it's on the Bloomberg Terminal. Find out more about how the Terminal delivers information and analysis that financial professionals can't find anywhere else. Learn more.
You received this message because you are subscribed to Bloomberg's Next China newsletter.
Unsubscribe | Bloomberg.com | Contact Us
Bloomberg L.P. 731 Lexington, New York, NY, 10022