Navigator: The Pop-up road mural gains traction
Welcome to today's edition of Navigator, CityLab's biweekly Saturday newsletter.
COUNT EVERY VOTE, reads a mural that appeared after the election outside the law office of Jones Day in San Francisco's Financial District. JONES DAY: HANDS OFF OUR BALLOTS.
Call it a groundspelling of support for democracy: Activists are taking to the literal street to defend the integrity of the vote, using a tactic deployed recently for social justice demonstrations: the pop-up road mural. By painting the words across the pavement of Montgomery Street, the activist group Bay Resistance is hoping to raise the reputational cost for lawyers at Jones Day, one of the law firms facilitating the Republican Party's efforts to challenge mail-in ballots in the presidential election. 
The Jones Day mural is the latest twist on a street art strategy that debuted to great fanfare in Washington, D.C., back in June during a standoff with the White House. To highlight increasingly violent tactics by the Trump administration during protests against the police, D.C. Mayor Muriel Bowser commissioned artists to rechristen a stretch of 16th Street NW into Black Lives Matter Plaza. Now, 35-foot-tall letters in public-works yellow paint span several blocks of pavement. For whatever else the mayor did or did not accomplish for the cause, Black Lives Matter Plaza transformed the public perception of the conflict overnight, with the entire city seemingly unified by an unmistakable message of defiance and optimism.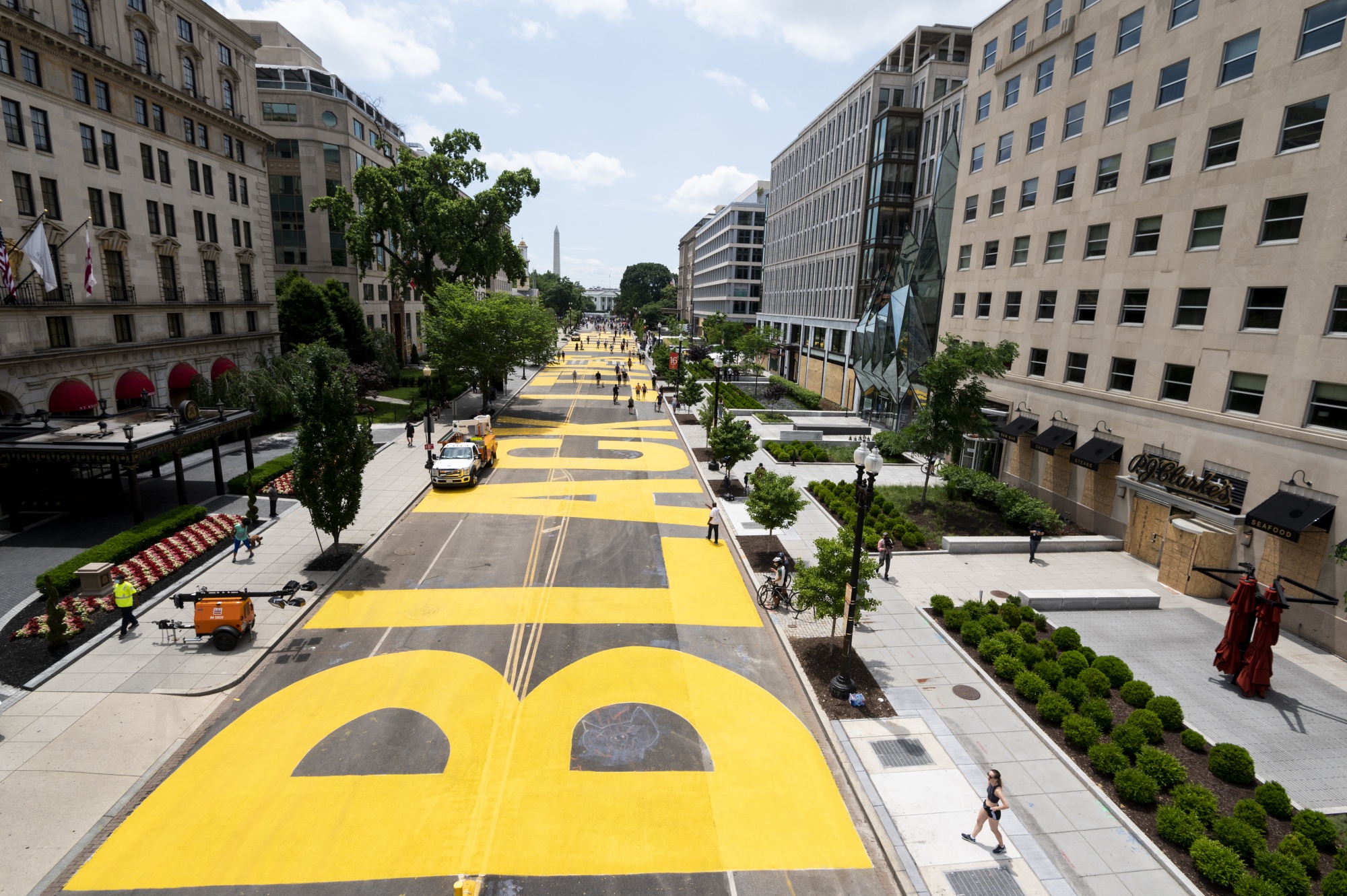 Photographer: Bill Clark/CQ-Roll Call, Inc.
Demonstrators elsewhere took notice: In the weeks and months that followed the deaths of George Floyd and Breonna Taylor at the hands of police, similar streetscapes popped up in cities in at least 25 states. Counter-protesters in law enforcement have used street murals to drum up support for police, too. It's a simple civic gesture, but an enduring one. D.C's block-letter BLM mural served as the stage for a mass celebration that drew thousands out of their homes and into the streets after networks called the race for President-elect Joe Biden on Nov. 7.
Broadly speaking, these boldface street murals fall into three categories: social-justice activism, reactionary law-and-order messaging, and, like the one on display in San Francisco, the corporate shaming campaign. 
The mural on Montgomery Street, where Jones Day has one of its 43 global offices, stretches 240 feet long. For as long as it's up, it probably won't be missed by any lawyer and client who stops by the firm's office, or any jogger or stroller that exits St. Mary's Square. Jones Day said in a statement on Tuesday that it is not representing Trump, or "any entity in any litigation challenging or contesting the results of the 2020 general election." Whether or not people interpret the law firm's participation in a vote-by-mail legal challenge as a part of that effort, the effect of the mural is far more blunt.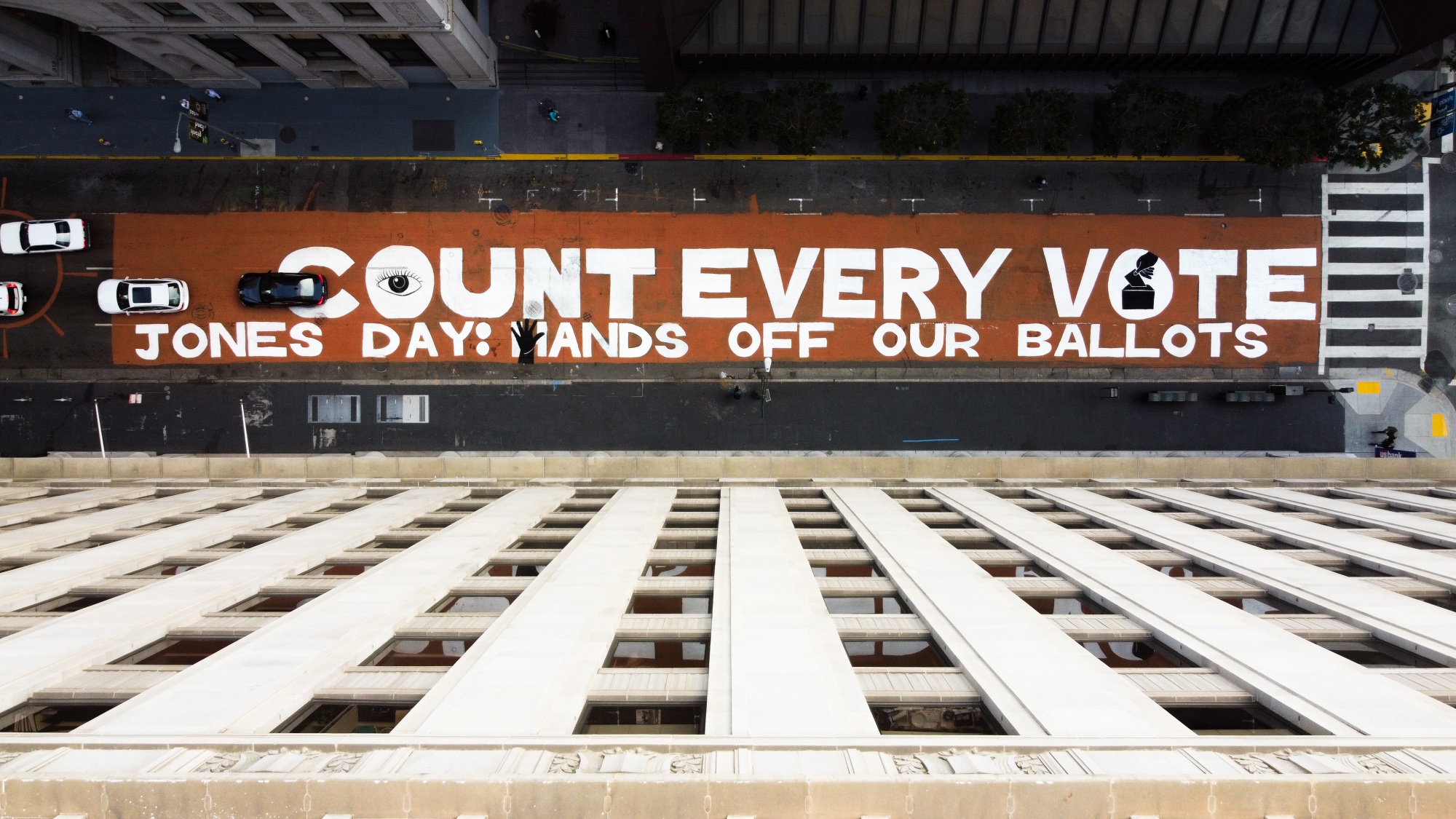 Photographer: Santiago Mejia/The San Francisco Chronicle via Getty Images
In spirit, the mural works a bit like a public boycott — an effort to raise the costs of doing business in a way that activists don't like. Since most consumers don't employ the services of an elite global corporate law firm, a traditional boycott wouldn't work against a company such as Jones Day. Instead, the mural is intended to raise the personal and social costs for lawyers of simply being affiliated with Jones Day. That cost could go up every time this highly visible imagery is carried by news broadcasts or shared over social media.
The campaign just might work. Amid growing pressure on these firms over Trump's campaign to discredit the election, two other firms, Porter Wright and Snell & Wilmer have dropped their election cases.
-Kriston Capps
[Disclosure: Bloomberg LP, the parent of Bloomberg CityLab, is a Jones Day client.]
What we're writing:
What we're taking in:
Have you seen/danced atop/protested around any road murals in your community? Let me know!
-Sarah Holder
| | |
| --- | --- |
| Follow Us | Get the newsletter |
You received this message because you are subscribed to Bloomberg's CityLab Daily newsletter.
Unsubscribe | Bloomberg.com | Contact Us
Bloomberg L.P. 731 Lexington, New York, NY, 10022