Brussels Edition: `This is move week'
Welcome to the Brussels Edition, Bloomberg's daily briefing on what matters most in the heart of the European Union.
It's hardly original to note that time is running out for the EU and the U.K. to get a deal on their future relationship. But the longer negotiations drag on without conclusion, the higher the risk of failure by accident, not least with the pandemic throwing curveballs like Boris Johnson needing to self-isolate just after dismissing two of his closest aides. After little progress was made in London last week, it's back to Brussels today for another shot. "This is move week," as Irish Foreign Minister Simon Coveney put it yesterday. Officials on both sides don't expect a deal in time for Thursday's video call of EU leaders, but they do talk of the next 10 days as being as close to "now or never" as it gets.
— Ian Wishart and Nikos Chrysoloras
What's Happening
Farm Fears | Denmark will update EU governments today on its efforts to prevent the spread of the coronavirus from minks to people, after backtracking on a cull of the country's entire population of the animals. During a video conference of EU agriculture ministers, some participants will also press the Commission to stand ready to offer emergency help to sectors such as beef, pork, poultry, dairy and wine hit by the pandemic-induced closure of restaurants and retrenchment of catering.
Vaccine Safety | Monitoring the safety of Covid-19 vaccines, especially those relying on novel technologies such as messenger RNA —  which essentially teach the body's cells to make their own protection — will be one of biggest challenges once shots are rolled out widely, according to Europe's new drug agency chief. Here's our interview with Emer Cooke, who becomes executive director of the European Medicines Agency today.
Selling Cars | Chinese appetite for high-end cars is proving a boon for eastern European economies that had earlier fretted about an over-reliance on the autos sector. The economies of Slovakia and the Czech Republic, which make the most cars in the world per capita, outperformed analyst estimates last quarter, amid strong sales in China.
Virus Update | Austria will take a cue from neighboring Slovakia's mass-testing of the entire population for the coronavirus. Germany warns we will have to live with "considerable restrictions" for at least the next four to five months. The EU's antitrust chief, Margrethe Vestager, is in quarantine. Here's the latest.
In Case You Missed It
Cyprus Dispute | During a visit to the Turkish-controlled north of Cyprus, Turkey's President Recep Tayyip Erdogan attended a picnic in the ghost town of Varosha, a flash point in the dispute that has kept the island divided for almost half a century. It's the latest sign that Erdogan formally advocates the formal partition of the country, a stance that could further fuel tension in Ankara's relations with the EU.
Belarus Protests | Belarus riot police detained hundreds protesting the death of a Minsk man taken into custody. The Sunday protests followed a pattern that's become familiar since the Aug. 9 presidential vote that President Alexander Lukashenko claims as a landslide win and opposition groups say was rigged.
Future World | We're all consumed with angst about what the next few months will bring, but that shouldn't make us lose sight of the big picture. Bloomberg Economics looks into the crystal ball and welcomes you to 2050, a world where Europe and America are in retreat and China has won the Cold War.
Walking Distance | Cities are attempting to give residents everything they need within a few minutes of their front doors. Can it work — without leaving anyone out? This example from Paris offers a glimpse of urban planning's new utopia.
Chart of the Day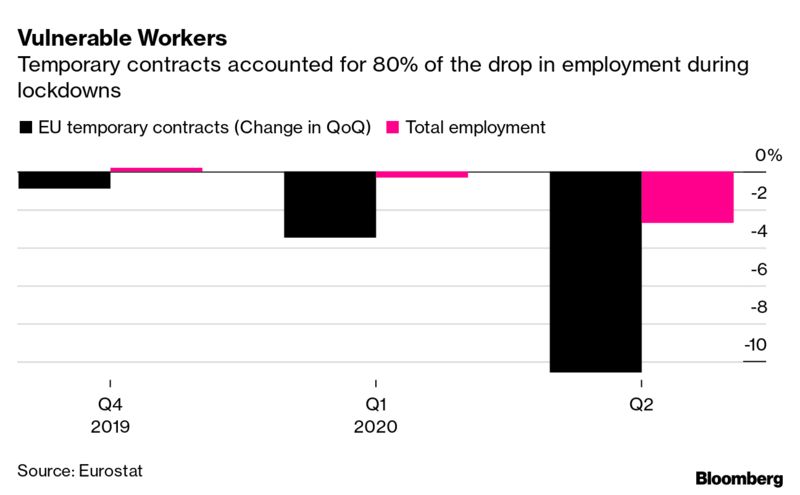 The economic impact of the coronavirus has been very uneven, with the most vulnerable, the young and the low paid particularly affected. Temporary contract employment in the EU plunged almost 11% during the lockdowns in the second quarter, compared with less than 3% for total employment, Eurostat says.
Today's Agenda
All times CET.
10 a.m. Video conference of EU agriculture ministers
10:30 a.m. Belgian Prime Minister de Croo, EU Executive Vice-President Timmermans, trade chief Dombrovskis speak at European Business Summit
2 p.m. German Chancellor Merkel holds talks with state premiers to assess partial lockdown measures
2:15 p.m. EU health chief Kyriakides debates pharmaceutical strategy with MEPs
5 p.m. The Civil Liberties Committee of the European Parliament will debate, with Home Affairs Commissioner Johansson and the German Presidency, EU tools to fight terrorism, organised crime and cyber threats, in the light of recent terrorist attacks
Negotiations for a post-Brexit trade accord continue
IAEA's Governing Council meeting starts in Vienna
EU Commission Vice-President Timmermans, Siemens CEO Kaeser, BioNTech CEO Sahin and others speak at Sueddeutsche Zeitung conference
Like the Brussels Edition?
Don't keep it to yourself. Colleagues and friends can sign up here.
For even more: Subscribe to Bloomberg.com for unlimited access to trusted, data-driven journalism and gain expert analysis from exclusive subscriber-only newsletters.
How are we doing? We want to hear what you think about this newsletter. Let our Brussels bureau chief know.
Before it's here, it's on the Bloomberg Terminal. Find out more about how the Terminal delivers information and analysis that financial professionals can't find anywhere else. Learn more.
You received this message because you are subscribed to Bloomberg's Brussels Edition newsletter.
Unsubscribe | Bloomberg.com | Contact Us
Bloomberg L.P. 731 Lexington, New York, NY, 10022