Brussels Edition: Testing values
Welcome to the Brussels Edition, Bloomberg's daily briefing on what matters most in the heart of the European Union.
Talking up European values has been in vogue in Brussels. The first draft of a ministerial statement due to be approved tomorrow urged migrants to endorse these principles, including by earning a living. The draft, which has since been watered down, didn't say how these values explain the  horrible conditions in Greek asylum camps or acknowledge that children of migrants in Europe have been earning a living. Some have  become NBA superstars while others are busy making a vaccine that may save us all from the pandemic. Today, the Commission will present its strategy for lesbian, gay, bisexual, trans, non-binary and queer equality. The EU's executive will promise legal protection against discrimination at work and hate crime and help cross-border recognition of rainbow families. What remains to be seen is how this strategy will apply to the LGBT-free zones of Poland or how Hungary can be swayed to change its discriminating laws against same-sex couples. 
— Nikos Chrysoloras and Stephanie Bodoni
What's Happening
Orban's Grip | On the subject of values, Viktor Orban is tightening his illiberal grip on Hungary, making it harder for opposition parties to join forces against him, revamping court procedures and loosening rules governing public funds. A record recession and the worsening pandemic situation may not be unrelated to the latest moves. 
Brexit Drama | Trade talks between the U.K. and EU are set to go on beyond this weekend's informal deadline and continue in Brussels next week — unless there's an unexpected breakthrough, or a breakdown. Access to energy markets has become a bargaining chip, while the U.K. is stepping up efforts to avert disruption. Here's how to make sense of it. 
ECB Support | The European Central Bank sees emergency bond buying and long-term loans to banks as its primary levers for providing further support to the euro-area economy. Christine Lagarde's latest comments may help rein in fears that the ECB will limit its stimulus in order to force countries to use the loans from the EU's recovery fund. 
Virus Update | Coronavirus cases in Italy are now topping 1 million, and German Chancellor Angela Merkel warned of a tough winter ahead as she expects the coronavirus to hurt more than it did in the spring. And, for the first time since the pandemic started, Sweden is imposing a partial lockdown on bars and restaurants while in neighboring Denmark, millions of minks are being culled out of fear of a new mutation of the coronavirus.
In Case You Missed It
Abrupt Exit | A senior aide to Boris Johnson has resigned despite being offered the role of his chief of staff, a move that threatens to destabilize the U.K. prime minister's powerful inner circle. The departure is a potential blow at a particularly sensitive time, with the country in a partial lockdown and the the death toll from the pandemic having passed 50,000. 
Tax Breaks | Why work from home, when you can work from the beach? Greece is promising white-collar workers and digital nomads who move there that half of their income will be tax-free for seven years. Check this out before packing your bags. 
Controversial Deal | London Stock Exchange rivals warn EU regulators that the company's promises to offer them access to data fails to resolve antitrust concerns over its $27 billion takeover of Refinitiv. The closely watched deal review could set a precedent for future mergers as exchange groups seek to diversify business models away from volatile trading revenues and into lucrative data and subscription services.
Saving chimpanzees | Ugandan activists are lobbying the EU to back them in a campaign to halt the clearing of part of the country's third-biggest forest, which is home to chimpanzees, forest elephants and unique plant species. Will the EU successfully leverage its soft power to do some good? Our dispatch from Kampala.
Chart of the Day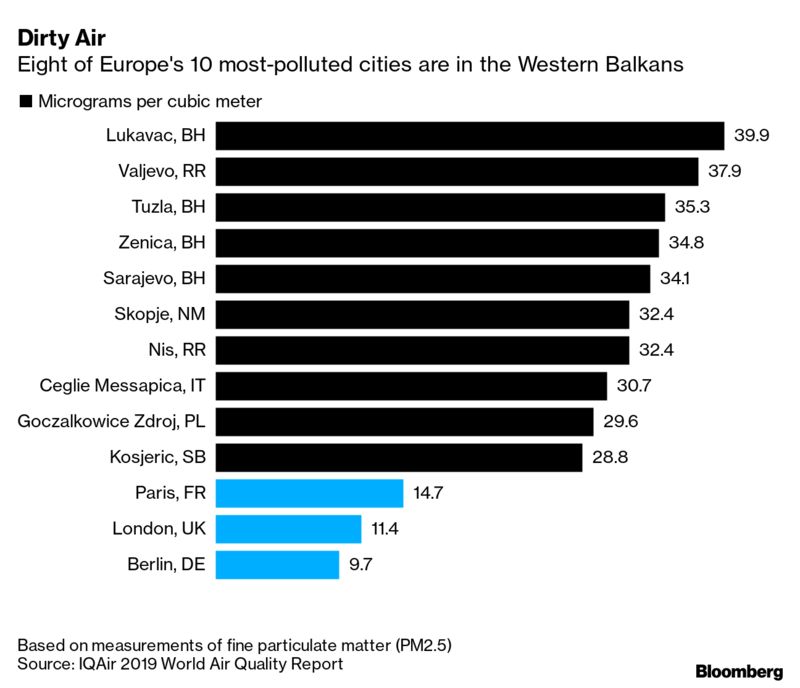 Coal-fired power plants generate more than half of the electricity in the Western Balkans. The countries, which seek to join the EU, must eventually comply with the bloc's climate commitments. But killing coal isn't going to be easy.
Today's Agenda
All times CET.
9:30 a.m. The EU's top court gives a non-binding opinion in a case where a Dutch court asks what effects recent issues over the rule of law in Polish courts can have
9:30 a.m. The EU's top court rules on a challenge by the Commission against Belgium, arguing they should be fined for failing to comply with rules guaranteeing the free movement of capital
12:30 p.m. Commission unveils its LGBTQ strategy
5 p.m. EU tech chief Margrethe Vestager speaks to the European Parliament's industry committee 
EU officials and member-state government heads participate in the Paris Peace Forum
Vestager delivers a keynote speech via video link at the annual EU Ambassadors Conference organized by the EEAS
Like the Brussels Edition?
Don't keep it to yourself. Colleagues and friends can sign up here.
For even more: Subscribe to Bloomberg.com for unlimited access to trusted, data-driven journalism and gain expert analysis from exclusive subscriber-only newsletters.
How are we doing? We want to hear what you think about this newsletter. Let our Brussels bureau chief know.
Before it's here, it's on the Bloomberg Terminal. Find out more about how the Terminal delivers information and analysis that financial professionals can't find anywhere else. Learn more.
You received this message because you are subscribed to Bloomberg's Brussels Edition newsletter.
Unsubscribe | Bloomberg.com | Contact Us
Bloomberg L.P. 731 Lexington, New York, NY, 10022