Brussels Edition: Illiberal push
Welcome to the Brussels Edition, Bloomberg's daily briefing on what matters most in the heart of the European Union.
EU leaders are due to have a tense and inconclusive video summit this afternoon. As the resurgence of Covid-19 pushes the continent back into recession, the effective veto by Poland and Hungary on the jointly-financed stimulus package agreed to in July threatens to delay the flow of funds into the region's battered economies. Officials in Brussels say they'd be surprised if a solution is found tonight — or anytime soon. The crucial question that still needs to be answered: is this just posturing from Warsaw and Budapest, designed only to show their domestic audiences that they put up a fight? In this case, the spat will eventually be resolved after some symbolic concessions and unwelcome delays. The other possibility is that what we see now is the start of an inevitable systemic crisis, triggered by the determination of eastern European governments to push ahead with an illiberal transformation that the rest of the EU can't possibly put up with.
— Nikos Chrysoloras and John Ainger
What's Happening
Climate Goals | The spat over the EU's recovery fund may dominate next month's summit and spill over into other policy areas. A senior EU official says the bloc's leaders may not be in a position to decide on a more ambitious emissions goal for 2030 without clarity about financing. A decision will be taken over the next 10 days on whether the summit's agenda is too full to decide on the future of the planet.
Harnessing Wind | Still, the Commission will today announce a roadmap for offshore wind energy, an important ingredient in the region's bid to become the word's first climate-neutral continent. Costing as much as 789 billion euros, the creation of new wind farms aims to boost the region's capacity 25 fold by 2050. Here's a glimpse.
Deadly Debate | It's been another deadly few weeks for migrants crossing the Mediterranean. Against that backdrop, EU lawmakers and Commission President Ursula von der Leyen will discuss how to improve the systems in the region. The bloc has attempted to water down some of its harshest rhetoric on integration, but it is still currently one of the most contentious issues between countries right now.
Belarus Blacklist | With the ink barely dry on the EU decision to sanction 15 more Belarusian authorities including President Alexander Lukashenko, the bloc's foreign ministers will weigh another expansion over the contested August election. The deliberations today via video conference follow what the EU called the "outrageous" death of a 31-year-old man whom Belarusian police had detained in Minsk.
Damage Control | Europe's small businesses have been left reeling by not one lockdown, but two. Here's how they are getting creative in a bid stay afloat.
Split Government | Angela Merkel's coalition is divided on how to handle a new wave of corporate bailouts, with the Social Democratic finance minister pushing for more state influence as a condition of bailout money. The chancellor's CDU wants to keep the government out of business decisions as much as possible.
In Case You Missed It
German Unrest | Berlin police used water cannons to break up a demonstration against Merkel's coronavirus policies, another sign of the growing pushback in Germany over renewed restrictions to stem infections. Thousands of demonstrators refused to abide by distancing and hygiene rules as they protested a law that will expand the government's powers.
Don't Stop | The EU's 27 member states are being urged to keep spending and support their economies through the latest wave of coronavirus restrictions without losing sight of how the measures will weigh on their future finances. The Commission's call to arms, though, did come with a warning to Italy and France.
Banking Exodus | Don't wait to move your staff from Britain to the EU: that's the message from the ECB to banks rolling out their Brexit plans. The coronavirus pandemic should be the baseline assumption for lenders, with less than two months to go until the Brexit transition period expires.
Vaccine Race | Pfizer said a final analysis of clinical-trial data showed its Covid-19 vaccine was 95% effective, paving the way for the company to be the first to apply for U.S. regulatory authorization within days. Developed with Germany's BioNTech, it was found to protect people of all ages and ethnicities, with no significant safety problems.
Rapid Testing | To help keep borders open, EU regulators offered governments guidelines on speedy testing for the coronavirus in the latest effort to prevent national health measures from hindering the free movement of people across the bloc. 
Chart of the Day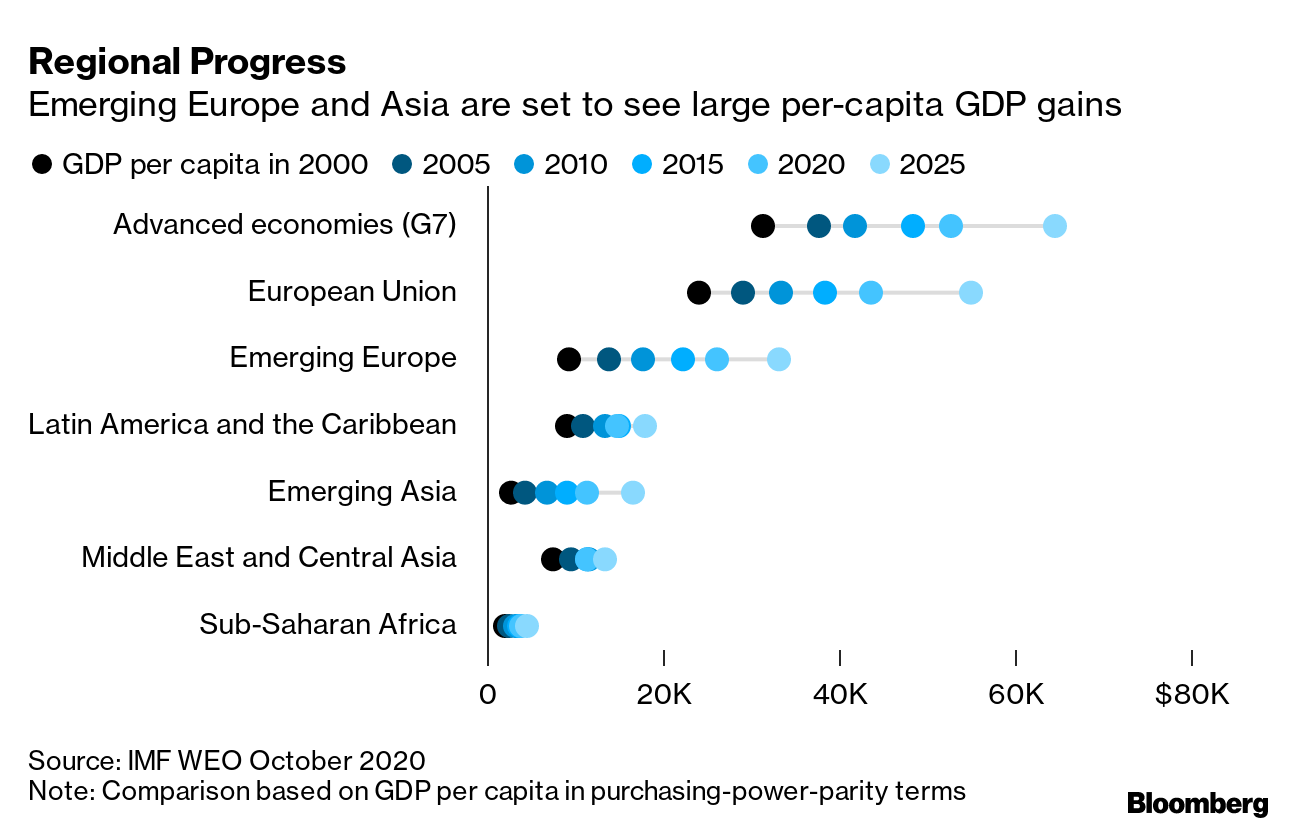 Among G-7 economies, average per-capita GDP is expected to rise to $64,582 in four years time from $31,471 in 2001. Italy is the only member forecast to fall sharply down the rankings, according to projections from the International Monetary Fund. Meanwhile, China's surging economy is set to overtake 56 countries in the world's per-capita income rankings during the quarter-century through 2025.
Today's Agenda
All times CET.
9 a.m. ECB President Christine Lagarde attends hearing at the European Parliament
9:30 a.m. Video conference of EU foreign ministers
10 a.m. MEPs and national MPs discuss managing migration and asylum in Europe. Speakers include EU Parliament President David Sassoli and the Commission's Von der Leyen
12 p.m. Press conference on the EU's offshore renewable energy strategy
4 p.m. Spain's Economy Minister Nadia Calvino speaks at Bloomberg Capital Markets Forum Spain
6 p.m. Video conference of EU leaders to discuss Covid-19 situation
Video conference of EU's industry ministers
Like the Brussels Edition?
Don't keep it to yourself. Colleagues and friends can sign up here.
For even more: Subscribe to Bloomberg.com for unlimited access to trusted, data-driven journalism and gain expert analysis from exclusive subscriber-only newsletters.
How are we doing? We want to hear what you think about this newsletter. Let our Brussels bureau chief know.
Before it's here, it's on the Bloomberg Terminal. Find out more about how the Terminal delivers information and analysis that financial professionals can't find anywhere else. Learn more.
You received this message because you are subscribed to Bloomberg's Brussels Edition newsletter.
Unsubscribe | Bloomberg.com | Contact Us
Bloomberg L.P. 731 Lexington, New York, NY, 10022