Brussels Edition: Confronting radical Islamism
Welcome to the Brussels Edition, Bloomberg's daily briefing on what matters most in the heart of the European Union.
About a week ago, government envoys in Brussels received the draft of a joint statement on terrorism that mentioned the word "Islam"' and its derivatives 15 times and tasked the EU Commission with coming up with a way to educate imams. The proposed ministerial statement, first reported by Bloomberg and since leaked elsewhere, drew a direct link between migration and terrorism. Yet the communique that EU home affairs ministers will issue today (on the anniversary of the Bataclan attacks in Paris) bears little resemblance to the original proposal. Diplomats have watered it down, and the last version we've seen doesn't mention Islam at all. Despite the tip-toeing, the risk remains that recent terror attacks will polarize EU politics to the point of stigmatizing the millions of Muslims in Europe and the millions of immigrants who have helped build the bloc's economy as dormant extremists. Ministers and EU leaders will revisit the issue next month.
— Nikos Chrysoloras and John Ainger
What's Happening
Brexit Unfocused | Brexit talks wrap up in London today before resuming on Monday back in Brussels. Signs of progress are getting more difficult to find, but after a tumultuous 24 hours in Downing Street, Boris Johnson may have other things on his mind.
Christmas Curfews | German Chancellor Angela Merkel has warned that current curbs designed to limit the spread of Covid-19 could be extended into the Christmas season, while the country's eastern neighbor Poland is battling an unprecedented jump in deaths. Still, there are some signs that the current wave may be cresting. Here's the latest.
Biden Bonding | From NATO to climate change, the relationship between the U.S. and Europe is in dire need of a reboot after four years of President Donald Trump's abrasive "America First" policies. As Joe Biden prepares to head to the White House, this is what's most urgent for him to fix.
Purchasing Power | From a pile of pending air-ticket refunds to a rebirth of single-use plastics, the pandemic has changed our consumption needs. The Commission will promise today to boost EU consumers' rights over the coming five years, ranging from working with China to make products sold online safer to easing access more sustainable and durable products.
Crisis Management | The EU's initial handling of the pandemic left something to be desired, a policy paper circulated by the Netherlands, Sweden and Romania acknowledges. The solution is to build a permanent crisis-management mechanism, including a working group, of course. 
In Case You Missed It
Polish Hiccup | Polish Prime Minister Mateusz Morawiecki joined his Hungarian counterpart in threatening to veto the EU's 1.8 trillion-euro budget over the bloc's efforts to make sure funds only go to countries that adhere to democratic standards. The stakes are high though. The country stands to lose around 23 billion euros in pandemic grants if it continues to hold out.
Vaccine Progress | After Pfizer's promising results for its vaccine this week, rival Moderna is the next company to enter the spotlight with its attempt at an inoculation. After racking up the necessary number of infections in its study, a preliminary analysis of the shot's effectiveness can now begin. What does this mean for defeating the virus?
Tax Talk | Things aren't looking so bad after all for Germany's coffers. While Europe's largest economy will have to borrow more than planned in 2021, Merkel's government raised its tax income estimate for 2020 by 10.6 billion euros from its September projection. It shows that its efforts to support the economy may be working.
Access Denied | A senior U.K. Treasury official urged the EU to match its attempts to preserve cross-border finance, calling it "really regrettable" that the bloc hasn't budged with weeks until the post-Brexit transition period expires. It's an issue that is proving increasingly frustrating for Britain's government.
School's Out | It's been one of the great debates of 2020: whether children should still attend school during the pandemic. A recent study has found that those who couldn't attend school due to the pandemic are likely to suffer the consequences for years, including lower earnings partly because they finish their education earlier. Here's more.
Chart of the Day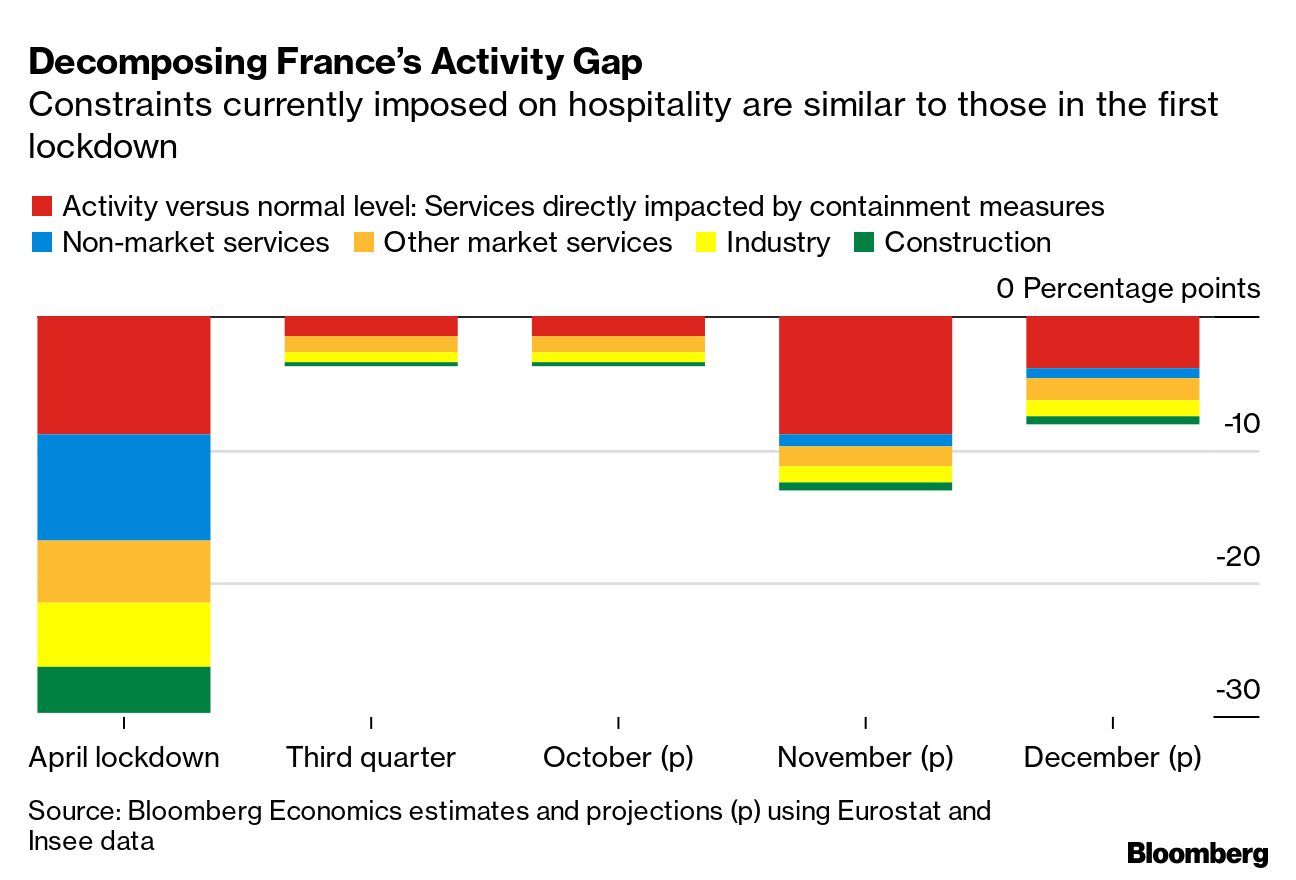 Constraints on French hospitality, recreation, retail, transport and household services are comparable to those imposed earlier this year, and Bloomberg Economics predicts a similar impact on these industries in the current lockdown. Still, businesses are better prepared this time and schools are likely to stay open, so the large-scale disruptions to factories, building sites and public services seen in April seem unlikely to be repeated. BE estimates that activity outside directly impacted industries will drop about 10% from the third quarter and that French GDP will contract by 4.7% in the final three months of the year.
Today's Agenda
All times CET.
11 a.m. Press conference by Commission Vice-President Vera Jourova and Justice Commissioner Didier Reynders on the New Agenda for Consumers
12 p.m. Video conference of EU home affairs ministers to discuss fight against terrorism, migration and asylum-reform proposals
EU foreign policy chief Josep Borrell delivers a speech at the virtual Paris Peace Forum
EU economy chief Paolo Gentiloni participates via videoconference in the G-20 Extraordinary Finance Ministers and Central Bank Governors meeting
Like the Brussels Edition?
Don't keep it to yourself. Colleagues and friends can sign up here.
For even more: Subscribe to Bloomberg.com for unlimited access to trusted, data-driven journalism and gain expert analysis from exclusive subscriber-only newsletters.
How are we doing? We want to hear what you think about this newsletter. Let our Brussels bureau chief know.
Before it's here, it's on the Bloomberg Terminal. Find out more about how the Terminal delivers information and analysis that financial professionals can't find anywhere else. Learn more.
You received this message because you are subscribed to Bloomberg's Brussels Edition newsletter.
Unsubscribe | Bloomberg.com | Contact Us
Bloomberg L.P. 731 Lexington, New York, NY, 10022