Welcome to the Brussels Edition, Bloomberg's daily briefing on what matters most in the heart of the European Union.
Euro-zone finance ministers are hoping to complete a key piece of unfinished business today by signing off on an overhaul of the region's bailout fund and its role as a backstop (earlier than originally planned) to the pot of money set aside for winding down failing banks. Approval for the two steps stalled amid infighting in Italy, where the ESM has become politically toxic, and an insistence by hawkish countries that banks first sufficiently reduce risks on their balance sheets. A deal would be an important signal that the currency area can build safety nets to weather future crises. But the real test will be whether it can start making headway on more contentious plans to complete its banking union via a joint deposit insurance. The pandemic crisis response has already broken many taboos that used to divide euro members: can it also give them the impetus to tackle this final frontier?
— Viktoria Dendrinou and Nikos Chrysoloras
What's Happening
Brexit Finale | This could be the last week of talks for a post-Brexit trade accord, before exhausted negotiators finally call it quits. Some public comments indicate the two sides are near a deal, but we've been here before, and the drama's grand finale promises to be a nail-biter. 
Budget Tensions | It's also the last week to get a deal on the EU's next multiannual budget and celebrated stimulus plan. If Poland and Hungary don't drop their veto by next Monday, the functioning of the EU will face serious disruption, raising fundamental questions about the future of the bloc. Germany will update EU government envoys about the latest today.
Online Terror | EU justice ministers will discuss later this week how to get internet platforms to take more responsibility for terrorist propaganda spread online. That includes providing the IP address of perpetrators and making sure that records of deleted content are kept, according to a policy document circulated by the German presidency. The tightening of security laws doesn't come without a backlash, as Saturday's violent protests in Paris showed.
Virus Update | The Czech government will reopen shops and restaurants on Thursday, while Poland reported the lowest number of new cases in more than a month. The premier of Germany's most populous state said cases were falling too slowly, and Christmas celebrations could trigger a new flareup. Here's the latest.
In Case You Missed It
Trade Supremo | As EU trade chief, Valdis Dombrovskis finds himself at the sharp end of European efforts to rebuild the western alliance that won the Cold War, dominated the world and was tipped into crisis by the presidency of Donald Trump. And he has a message for Joe Biden.
City Blues | The golden age of the City of London began with Margaret Thatcher's 1986 deregulation — known as the Big Bang. Now, it's ending with a whimper, Viren Vaghela reports. And things don't look any brighter for the U.K. capital's luxury industry either.
Vaccine Airlift | Laid low by a pandemic that's decimated passenger demand, airlines will be the workhorses of the attempt to eradicate it, hauling billions of vaccines to every corner of the globe. The equivalent of 8,000 loads in a 110-ton capacity Boeing 747 freighter will be needed for the airlift. Our dispatch from Frankfurt on the gargantuan task.
Orange Sales | Farmers in Spain, Italy and Greece got an unexpected lift this year when people sought to boost their immune systems with vitamin C. In some cases, orange prices quadrupled due to pandemic-induced buying in the spring. But now, despite a resurgence in the spread of the disease, prices are back to normal. Gone are the days when orange was the new black.
Chart of the Day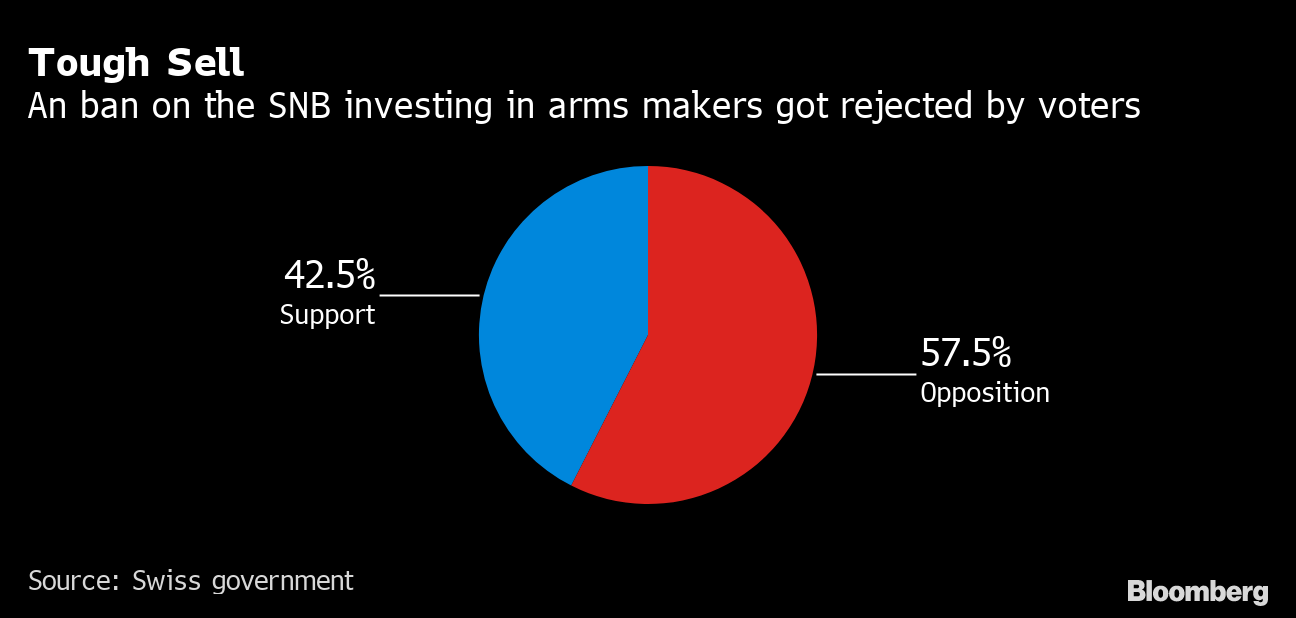 Two Swiss votes that had the potential to alter the corporate landscape of a country known for low taxes and light-touch regulation went instead with the status quo. Voters on Sunday rejected a measure that would have banned the Swiss National Bank from investing in defense companies. They also voted against a Responsible Business Initiative, which would have held multinational corporations responsible for human rights and environmental lapses abroad.
Today's Agenda
All times CET.
1 p.m. Pre-ministerial press conference of NATO Secretary General Stoltenberg
2 p.m. EU finance ministers video conference to discuss strengthening the bloc's banking union
2 p.m. Chancellor Merkel delivers speech on Germany's EU presidency at parliamentary forum
3:30 p.m. U.S. Permanent Representative to NATO briefs press in Brussels
5:30 p.m. European Parliament Civil Liberties Committee discusses latest developments related to rule-of-law in in Hungary and Poland
Video conferences of EU education and youth ministers
IMF releases annual `Article IV' report on euro-area economy
Like the Brussels Edition?
Don't keep it to yourself. Colleagues and friends can sign up here.
For even more: Subscribe to Bloomberg.com for unlimited access to trusted, data-driven journalism and gain expert analysis from exclusive subscriber-only newsletters.
How are we doing? We want to hear what you think about this newsletter. Let our Brussels bureau chief know.
Before it's here, it's on the Bloomberg Terminal. Find out more about how the Terminal delivers information and analysis that financial professionals can't find anywhere else. Learn more.
You received this message because you are subscribed to Bloomberg's Brussels Edition newsletter.
Unsubscribe | Bloomberg.com | Contact Us
Bloomberg L.P. 731 Lexington, New York, NY, 10022