Brussels Edition: Another Brexit hiccup
Welcome to the Brussels Edition, Bloomberg's daily briefing on what matters most in the heart of the European Union.
Another day, another hiccup on the long and winding road that is the U.K.-EU trade negotiations. Just as officials were beginning to get slightly optimistic that one final push could bring about a deal — maybe even as early as next week — a senior member of the EU team involved in the talks in Brussels tested positive for coronavirus. Discussions will go virtual for the time being. The U.K. party will head home as soon as it's safe to do so. Talks will resume in London at some point. To reinforce the view that things aren't going as smoothly as some suggest, French President Emmanuel Macron used a leaders' call last night to urge the EU to step up no-deal contingency plans.
— Viktoria Dendrinou and Ian Wishart
What's Happening
Economy Warning | The guardians of the global economy are warning that the recovery from this year's recession is at risk and could be derailed as the resurgence of Covid-19 forces fresh restrictions on households and companies. Both the IMF and the G-20 are sounding the alarm as leaders of the world's richest economies prepare for a virtual summit this weekend.
Climate Bickering | G-20 countries may be less united, however, on their environment message. European leaders are resisting backing a controversial climate plan pushed by Saudi Arabia that seeks to reduce emissions while capturing and reusing greenhouse gases produced by burning hydrocarbons.
No Shift | The timely disbursement of much-needed funds for the EU's battered economies remains in doubt after the bloc's leaders yesterday made no progress in bridging their divisions over the rule of law. Still, top officials, including German Chancellor Angela Merkel, promised to work hard toward a solution.
Blurry Boundaries | Hungary's central bank is about to take its $2.5 billion asset-purchase program to the next level as it prepares to buy the bonds of a company owned by one of its entities. The plan may further blur the already hazy boundary on what central banks around the world can and can't do to buoy economic activity during the pandemic.
Strategic Compass | EU defense ministers will discuss the bloc's first-ever analysis of its global and regional security threats. The confidential document — based on input from intelligence services in EU countries — is part of the development of a "Strategic Compass." 
In Case You Missed It
Climate Warning | UN Secretary General Antonio Guterres has a message for Europe before the December summit: the world needs you. He urged leaders to commit to a stricter emissions-reduction goal for 2030 in time for next month's international climate summit or risk slowing the fight against global warming. 
Virus Update | The Dutch government plans to make face masks in indoor public spaces mandatory, Greece will introduce compulsory rapid tests for people arriving at its land borders, and Ireland plans to cull its farmed mink. Meanwhile, University of Oxford's lead trial investigator said people should be able to mix coronavirus vaccines. Here's the latest.
Polish Measures | Poland won't allow women-led street protests to trigger a "revolution," a senior government official said, after police cracked down on a demonstration for abortion rights. The protests come at a tricky time for the administration, which is struggling to contain the pandemic and faces the worst economic crisis in three decades, while support for the nationalist ruling Law & Justice party has crumbled.
Review Handover | The U.K.'s competition authority will take over the EU's antitrust review of Liberty Global and Telefonica's British tie-up, a rare win for a regulator about to become a key player in many global deals. The handover comes as the British watchdog prepares to review mergers next year in parallel with the Commission, adding an extra regulatory hurdle to international deals.
Belarus Sanctions | The EU pledged to draw up more sanctions against Belarus as a result of President Alexander Lukashenko's continued crackdown on protesters following the country's disputed August election. The move comes after Lukashenko disregarded EU calls for "new free and fair elections," pursued a sometimes violent clampdown on demonstrators and moved closer to Russia. 
Chart of the Day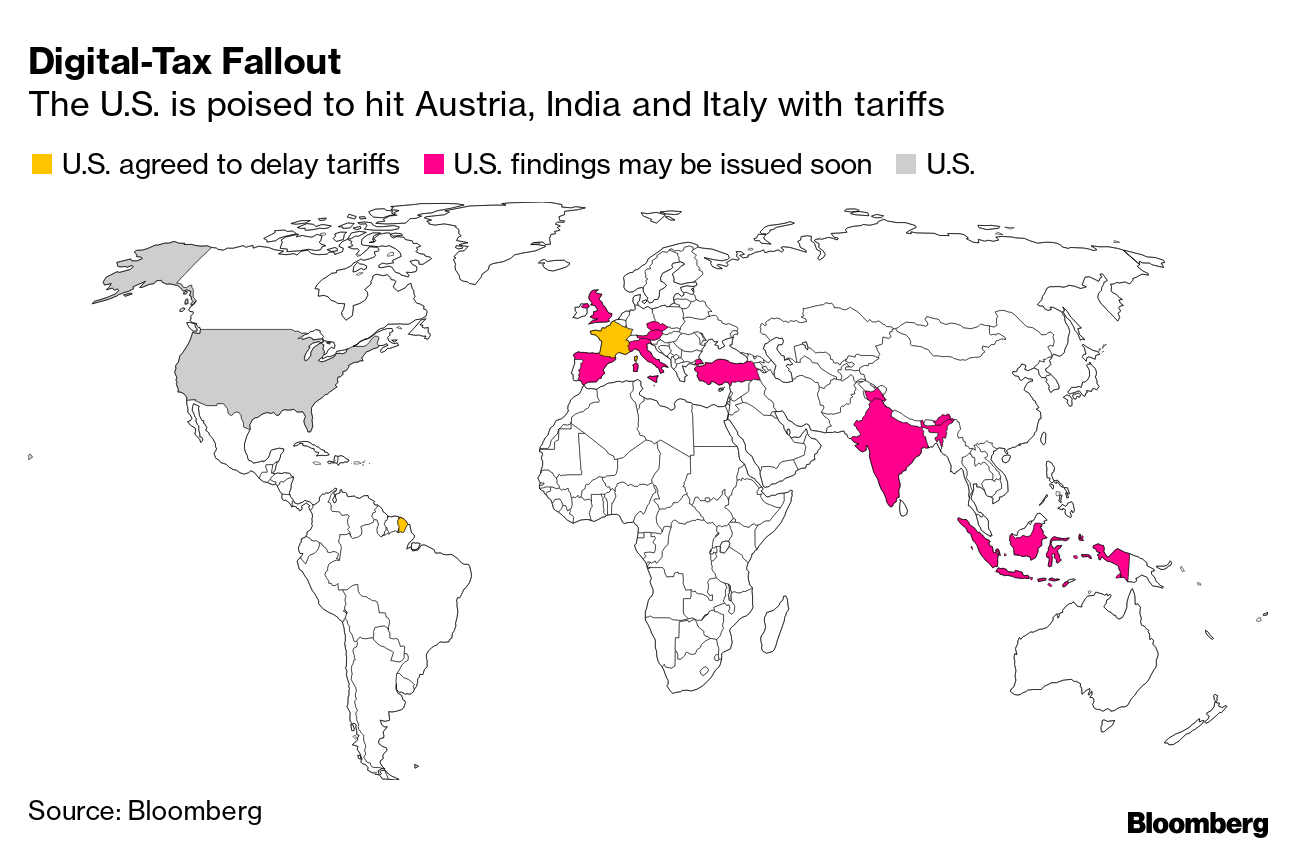 The U.S. will soon issue the results of probes into decisions by Austria, Italy and India to tax local revenue of Facebook, Google and other internet companies. That could pave the way for retaliatory tariffs, people familiar with the situation said. The three risk being targets after implementing so-called digital services taxes this year, with findings also possible on Indonesia, U.K. and Turkey.
Today's Agenda
All times CET.
9 a.m. Video conference of EU's space ministers
10 a.m. Video conference of EU's defense ministers 
12 p.m. Press conference by Commission President Ursula von der Leyen and EU Council President Charles Michel ahead of the G-20 summit 
EU economy chief Paolo Gentiloni participates in a virtual meeting of G-20 finance ministers and central bank governors
ECB's Christine Lagarde, Bundesbank's Jens Weidmann, Deutsche Bank's Christian Sewing speak at European Banking Congress
Like the Brussels Edition?
Don't keep it to yourself. Colleagues and friends can sign up here.
For even more: Subscribe to Bloomberg.com for unlimited access to trusted, data-driven journalism and gain expert analysis from exclusive subscriber-only newsletters.
How are we doing? We want to hear what you think about this newsletter. Let our Brussels bureau chief know.
Before it's here, it's on the Bloomberg Terminal. Find out more about how the Terminal delivers information and analysis that financial professionals can't find anywhere else. Learn more.
You received this message because you are subscribed to Bloomberg's Brussels Edition newsletter.
Unsubscribe | Bloomberg.com | Contact Us
Bloomberg L.P. 731 Lexington, New York, NY, 10022