Welcome to our weekly newsletter — a fresh, global perspective on the stories that matter for Australian business and politics. This week: The best and worst places to ride out the pandemic, short-lived hopes of detente and gender bias in the finance industry.
Ever wondered where the best and worst places in the world are to ride out the pandemic? Look no further. Bloomberg has crunched the numbers.
New Zealand comes out top in our Covid Resilience Ranking, which examines where the virus has been handled most effectively with the least amount of disruption to business and society. It's followed by Japan and Taiwan, with Mexico in last place at No. 53.
The index scores economies of more than $200 billion on 10 key metrics: from growth in virus cases to the overall mortality rate, testing capabilities and the vaccine supply agreements in place. The capacity of the local health-care system, the impact of lockdowns on the economy, and citizens' freedom of movement are also taken into account.
New Zealand locked down early before a single Covid-related death and pursued an elimination strategy. As a result, Kiwis are pretty much living in a Covid-free world with live music and large-scale social events back on. Australia, ranked No. 7, has just reached another milestone in its journey to a Covid-normal summer, with Victoria state going 28 days without new cases. But as the growing cluster in South Australia shows, there's an ever-present danger of the virus taking hold.
Stay tuned. The ranking will be updated as countries switch up their strategies, the weather shifts and the race intensifies for a viable vaccine.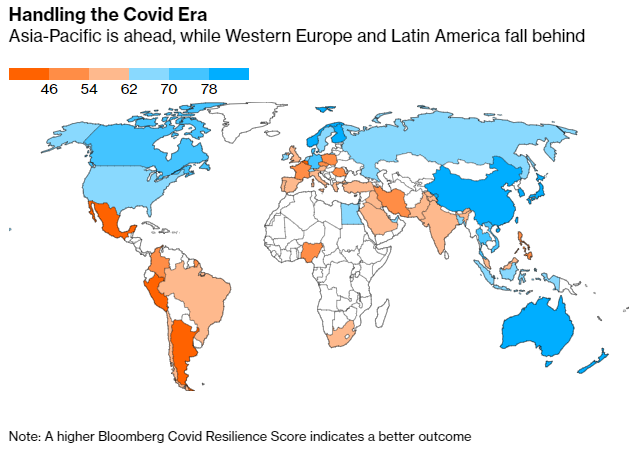 Short-Lived Hope
After months of deteriorating ties, Prime Minister Scott Morrison gave a speech this week that sought to ease the pressure between Canberra and Beijing.
He praised China for pulling its people out of poverty, said Australia wants a "mutually beneficial" relationship and insisted his government isn't siding with the U.S. to contain China. That went down well in Beijing, with the Ministry of Foreign Affairs noting the "positive comments."

But hopes of detente were short-lived as China moved to impose steep import duties on Australian wine. Meanwhile, some $500 million worth of Australian coal is on more than 50 ships anchored off Chinese ports — the growing queue offering a stark reminder of the steep cost of the diplomatic spat. Here's how our most-important trading relationship has steadily soured over the past two years.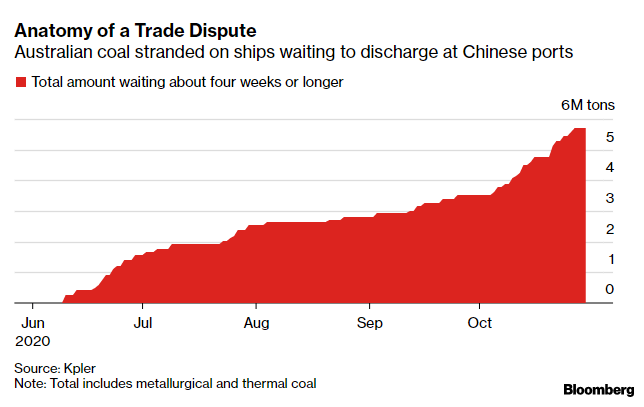 Gender Bias
Institutional gender bias is still alive and kicking in Australia's finance industry.
A survey of 2,000 professionals showed 76% of men were offered a promotion at least once without requesting it, compared with 57% of women.
It's "evidence of that culture that things come to men without asking," said Bronwen Whiting, who worked on the survey and is a senior lecturer in applied statistics at the Australian National University. "It can't all be on women to act differently to fix it."
Here are some of the other findings.
What We're Reading 
A few things from around the world that caught our attention:
The best in-depth reporting from Asia and beyond. Sign up to get our weekly roundup in your inbox.
You received this message because you are subscribed to Bloomberg's Bloomberg Australia newsletter.
Unsubscribe | Bloomberg.com | Contact Us
Bloomberg L.P. 731 Lexington, New York, NY, 10022