Bloomberg Australia: The lonely man
Welcome to our weekly newsletter — a fresh, global perspective on the stories that matter for Australian business and politics. This week: How Australia is becoming a climate change outlier, China's list of grievances and vaccine optimism.
Joe Biden's victory in the U.S. presidential election has made Scott Morrison that little bit more isolated on the world stage when it comes to climate policy.
When Biden takes the keys to the White House next year, the U.S. will join a growing list of nations committing to net-zero emissions by 2050, including Japan, China and South Korea.
That makes Australia is even more of an "outlier" among rich, developed economies, according to Adair Turner, co-chair of the London-based Energy Transitions Commission, who labels Morrison's approach to tackling global warming as "disappointingly unambitious."
The government's strategy seems increasingly out of step domestically too. Corporate capital is piling into renewables, big institutional investors are cutting exposure to high-emitting companies, climate litigation is rising, and — after our deadly summer of bushfires — polls show more Australians are demanding action.
But Morrison is showing no signs of turning and indeed has doubled down on fossil fuels and a "gas-led" economic recovery.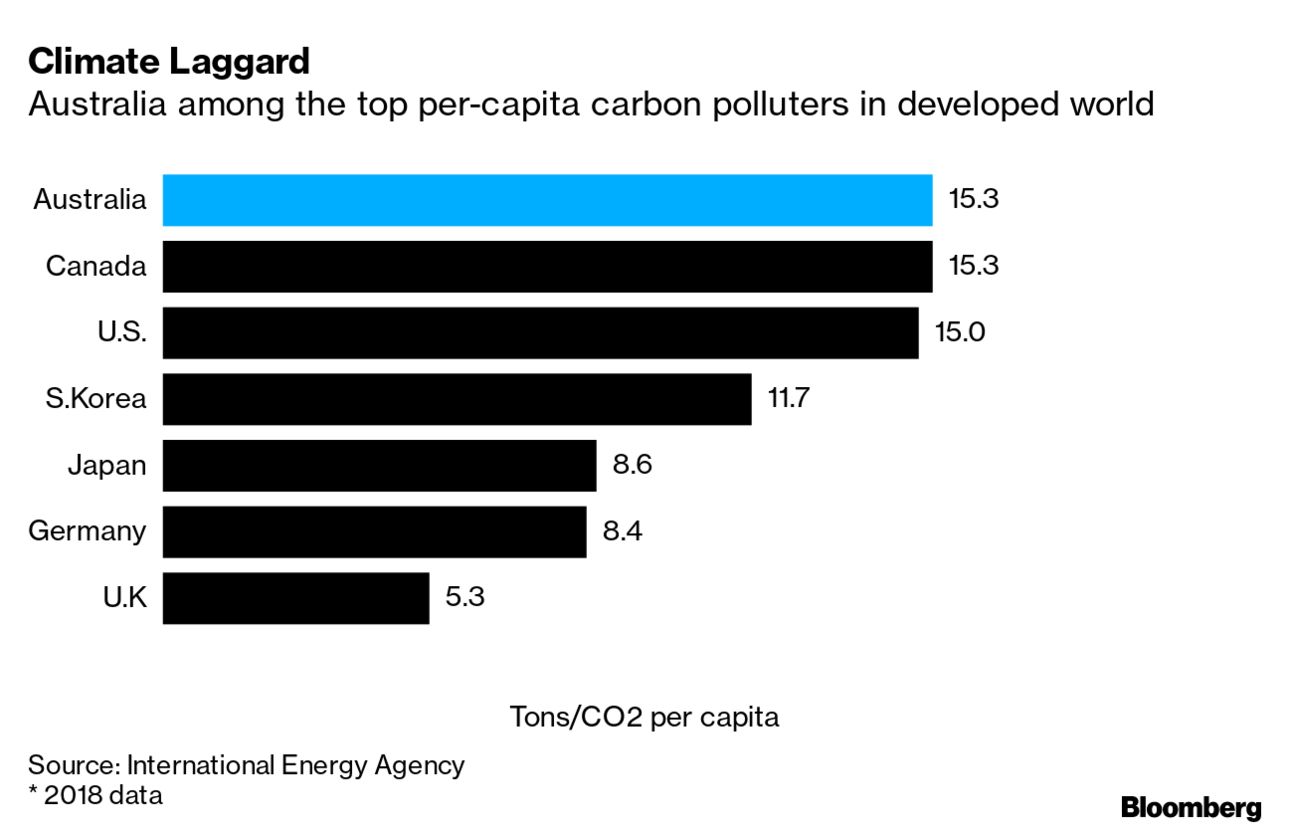 China's Grievances
The diplomatic tensions between Australia and China show no signs of easing. Officials in Beijing have unveiled a laundry list of grievances in recent days, from Canberra interfering in Hong Kong affairs, to Chinese investment getting blocked and the banning of Huawei from the 5G network.
Wang Wenbin, a spokesman for China's Ministry of Foreign Affairs, indicated that Australia needs to make the first move to get relations back on track.
"The one who ties the knot must be the one who unties it," he said.
Meanwhile, the impact on trade continues.
At least 20 giant bulk carriers are anchored off the Chinese port of Jingtang and unable to offload millions of tons of Australian coal, apparently the latest casualty of the row. Fifteen of the ships have been waiting since June.
Return to Normality?
Investors rushed to buy shares in airlines and airport operators this week on news of progress in developing a Covid-19 vaccine — hopeful that a return to normality was getting closer. But at least one high-performing fund manager wasn't swayed.
Instead, Castle Point Funds Management is focusing on long-term potential instead of short-term market gyrations.
"Trying to predict what sectors are going to do better than others in this period of extreme uncertainty is unlikely to be successful," said Richard Stubbs, whose Castle Point Ranger Fund has returned about 22% this year, beating 92% of peers. Here are some of his top stock picks. 
—Edward Johnson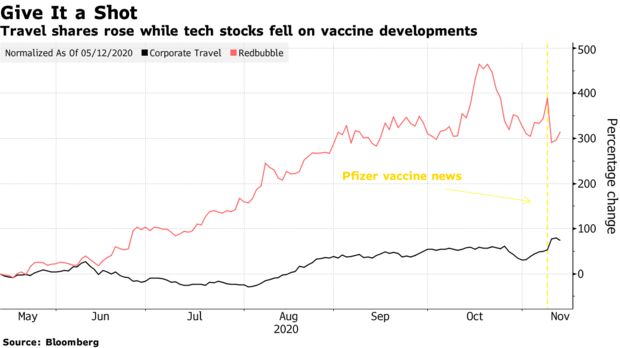 What We're Reading 
A few things from around the world that caught our attention:
You received this message because you are subscribed to Bloomberg's Bloomberg Australia newsletter.
Unsubscribe | Bloomberg.com | Contact Us
Bloomberg L.P. 731 Lexington, New York, NY, 10022