Another election twist
For months, political analysts have gone on and on about President Donald Trump's problems with female voters. That they were tired of his combative style and policies, and that would catapult Democratic presidential nominee Joe Biden into victory. Even Donald Trump begged suburban moms to like him. There was good reason for the anxiety. Women tend to vote at higher rates than men and some polls suggested the 2020 election might produce a historic gender gap in Biden's favor.
Instead, men appeared to be the issue for the President. Compared to his 2016 campaign, Trump underperformed among men by about 10 percentage points, according to CNN's exit polls, which were conducted by Edison Research on behalf of the National Election Pool. Overall, 49 percent of men of all races supported Trump, while 48 percent voted for Biden this year.
"Men split almost exactly evenly between Biden and Trump, which is shocking," said Kathy Dolan, a political scientist at University of Wisconsin Milwaukee, who studies gender in politics. "If former Vice President Biden, ends up winning and ends up prevailing in some of these Midwestern states, it's in good part because men moved a little more than we might have thought." (Exit poll results are only preliminary.)
The drop for Trump was particularly steep among White men, especially those with college degrees. While Trump's margin of victory among that group was 14 points in 2016, Biden won them with a two-point advantage, exit polls show. By contrast, Trump appeared to gain ground among White women by three percentage points. 
One reason more men might have thrown their support behind Biden this time around was because there were fewer significant third-party candidates to siphon their votes, said Dolan. 
In another twist, Trump gained support among Black and Latino voters of both genders, exit polls suggest. While Biden won over those groups handily, he attracted a smaller share than Hillary Clinton in 2016. This became crucial in Florida where Trump's share of Latino voters jumped from 35 percent in 2016 to 47 percent in 2020 to help him win the state. 
These gains played out in a campaign rife with controversy and rhetoric about police brutality, violent riots in cities and systematic racism. If these trends are confirmed, pollsters and pundits will have plenty of tricky questions about what led to these results. One thing is clear: The assumptions we make about how different demographic groups think can turn out to be very wrong.
The rise of remote work has many Americans wondering whether they might be able to move to a cheaper housing market. A recent survey found more than 11% of people in the U.S. planning to move, which would be three to four times higher than normal. Prime jobs in places like San Francisco and New York are no longer limited to workers who live within commuting distance of the cities.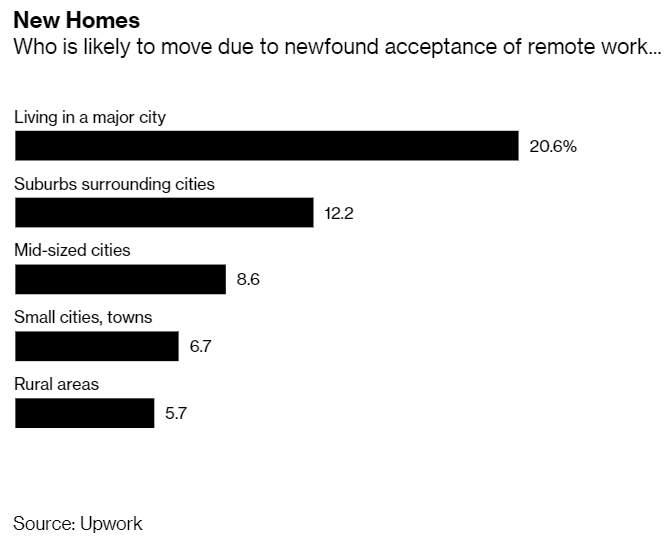 Canada's economy thrived on immigration, until the flow of new arrivals slowed. The government's plan? Entice visiting foreigners to stay.
Americans' votes are cast, but efforts to counter disinformation online can't stop now, when a dozen other elections are coming up this year. Propaganda is pernicious, Bloomberg Businessweek reports, because it is so global and so local.
South Africa requires mining companies to have some Black owners, in an effort to narrow the wealth gap left over from apartheid. Most deals do little for that cause. The law has, however, enriched a few Black businessmen, including the president.
No Playbook: Leading Through Uncertainty: Changes in the workplace have been accelerated by the pandemic and the ongoing U.S. reckoning on race. Join us Nov. 6 for the next Bloomberg Equality briefing as executives from Expensify and sponsor P&G discuss who is creating a blueprint for leading through these tumultuous times. Register here. 
Like getting the Bloomberg Equality newsletter? Subscribe to Bloomberg.com for unlimited access to trusted, data-driven journalism and gain expert analysis from exclusive subscriber-only newsletters.
Before it's here, it's on the Bloomberg Terminal. Find out more about how the Terminal delivers information and analysis that financial professionals can't find anywhere else. Learn more.
You received this message because you are subscribed to Bloomberg's Bloomberg Equality newsletter.
Unsubscribe | Bloomberg.com | Contact Us
Bloomberg L.P. 731 Lexington, New York, NY, 10022