5 things to start your day
Biden wins Georgia again, Mnuchin and Powell in disagreement, and governments rush to issue vaccine approvals.
Outrageous  
President-elect Joe Biden said President Donald Trump would "go down in history as bring one of the most irresponsible presidents" as he grows increasingly frustrated with the Trump administration's lack of cooperation on the transition. While the president's team continue to use legal avenues to challenge the election, a hand recount in Georgia showed Biden maintained his lead. The president-elect, who turns 78 today, said he has picked his Treasury secretary and will soon announce who it is. 
Fiscal dominance 
A disagreement has emerged between Treasury Secretary Steven Mnuchin and Federal Reserve Chair Jerome Powell over whether to preserve emergency lending programs designed to shore up the economy. Mnuchin wrote to the Fed demanding the return of money the government provides the central bank for lending to certain markets. The Fed issued a statement saying the "full suite" of measures needs to be maintained. While Mnuchin said he is merely carrying out the law prescribed by the Cares Act, markets reacted nervously to the signs of disagreement between the top two U.S. economic policymakers. 
Vaccine rush
The European Union could pay more than $10 billion to buy doses of the Pfizer Inc and BioNTech SE vaccine as the bloc moves to approve the shots as soon as the second half of next month. American hospitalizations hit a record close to 80,000 as the country's medical system comes under pressure from the rise in the pandemic. California imposed a 10:00 p.m. curfew on the vast majority of residents. Both Hong Kong and Japan are seeing a rise in cases. 
Markets mixed
While the disagreement between Mnuchin and Powell rattled U.S. futures, investors are holding on to optimism over vaccine progress. Overnight, the MSCI Asia Pacific Index added 0.3% while Japan's Topix index closed 0.1% higher. In Europe, the Stoxx 600 Index had gained 0.7% by 5:50 a.m. Eastern Time with energy and mining shares the strongest performers. S&P 500 futures pointed to little change at the open, the 10-year Treasury yield was at 0.842%, oil traded above $42 a barrel and gold was broadly unchanged. 
Coming up... 
Trump takes part in a virtual Asia-Pacific Economic Cooperation summit this morning. Dallas Fed President Robert Kaplan, Richmond Fed President Thomas Barkin, Atlanta Fed chief Raphael Bostic and Kansas City Fed President Esther George all speak later. The latest Baker Hughes rig count is at 1:00 p.m. Foot Locker Inc. is among the companies reporting results. 
What we've been reading
This is what's caught our eye over the last 24 hours.
And finally, here's what Emily's interested in this morning
The Fed chief says it's too soon put away its emergency tools to help markets and the economy. Now it looks like the Trump Administration will confiscate some of them.
Jerome Powell looked set this week to extend key lending facilities that were due to expire at the end of the year. The Treasury has other plans. Secretary Steven Mnuchin on Thursday sent the central bank a list of funds to be repaid, that would allow Congress to "re-appropriate" $455 billion that was earmarked for Fed support programs. That means a number won't be carried into the new year, including the Main Street lending facility, and backstops for the municipal- and corporate bond markets.
It's unclear when or how the reclaimed funds might be redeployed -- clearly they're not anywhere near the $2-trillion-plus spending bill proposed by the Democrats, or President Donald Trump's promise of something even bigger prior to the election.
It's fair to say that the market doesn't need help right now, but this action knocks out a safety net at a time when lawmakers have no clear plan. And no one needs reminding that the U.S. is heading into a tough winter, with infection rates setting daily records, renewed restrictions on activity, school shutdowns and more businesses closing.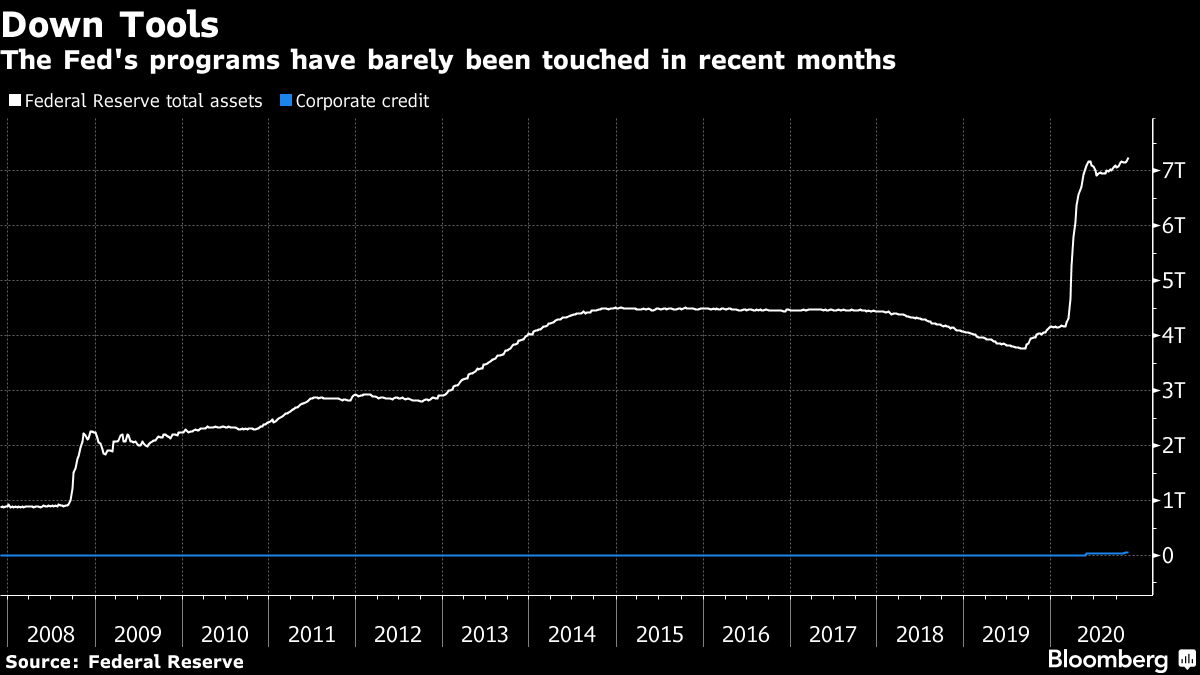 Moreover, terminating the programs on Dec. 31 means they may be tougher to restart under the new Biden Administration 20 days later. New funds will need Congressional authorization, though JPMorgan's Mike Feroli said the incoming Treasury Secretary could agree to restart the facilities with pre-CARES Act cash available in the department's Exchange Stabilization Fund, which he puts at just over $70 billion.
So for now the upshot is more delays and uncertainty over crucial support for the economy -- and more to come if the last Senate races in Georgia next month deliver another bitterly divided Congress.
Treasuries, unsurprisingly, rallied on the administration's message, sending the 10-year bond yield back toward 0.80%.
Evercore's Krishna Guha remarked on the "politicization of market stabilization policy," which he expects will force the Fed to more action at its Dec.16-17 meeting. That probably means laying out a more-detailed bond-buying plan, shifting its purchases to longer-dated Treasuries, and if needed, speeding up the pace.
"However, QE is a very imperfect substitute for a credit market backstop," Guha wrote.
The credit facilities have their detractors. The runup in asset prices since the primary- and secondary-market purchases were announced made even some investors queasy. And this month yields on lower-quality corporate bonds sank to record lows, a worrying sign for those warning of a zombie-company apocalypse.
But the key point of these and the municipal bond facilities were that they didn't need to be tapped. Their presence helped keep the market open for many borrowers, and gave investors confidence to lend. They are just no substitute for government action -- a point Powell himself emphasized many times to lawmakers in his testimonies alongside the Treasury Secretary.
Hopefully the "targeted stimulus" that Mnuchin touted in his contributions to the Congressional discussion will materialize, to see households and businesses through what's shaping up to be a painful holiday season.
Follow Bloomberg's Emily Barrett on Twitter at @notthatECB
Like Bloomberg's Five Things? Subscribe for unlimited access to trusted, data-based journalism in 120 countries around the world and gain expert analysis from exclusive daily newsletters, The Bloomberg Open and The Bloomberg Close.
Before it's here, it's on the Bloomberg Terminal. Find out more about how the Terminal delivers information and analysis that financial professionals can't find anywhere else. Learn more.
You received this message because you are subscribed to Bloomberg's Five Things newsletter.
Unsubscribe | Bloomberg.com | Contact Us
Bloomberg L.P. 731 Lexington, New York, NY, 10022