Follow Us


This is Bloomberg Opinion Today, a trade agreement of Bloomberg Opinion's opinions. Sign up here.
Today's Agenda
Social Media Takes Halting Steps in 2020 to Correct Failures of 2016
Yesterday's October Surprise was a report of extremely sketchy provenance supposedly proving Joe Biden and his son Hunter did a corruption in Ukraine. The whole thing was about to slip quickly beneath the roar of laughter over its resemblance to "Burn After Reading." Then Facebook and Twitter throttled access to the story, triggering the Streisand effect for Huntergate and outraged cries of censorship from the right. Twitter's Jack Dorsey apologized for not fully explaining the move and now may have to testify in the Senate about it. 
Here's the thing, though: Twitter and Facebook both did the right thing, writes Tae Kim. Sure, they could have handled it better. But the alternative was to just let misinformation and propaganda run wild on their platforms, as they did in 2016, which got us into this whole mess in the first place. It's a good thing they're trying, however haltingly, not to let it happen again. And repealing their Section 230 protections from liability for what appears on their platforms, as some Republicans want to do, would only make these social media companies more picky about what shows up in their feeds, Tae writes. 
BoJo's Brexit Bluff Busted
You may have missed it with everything else going on, but yesterday was Boris Johnson's arbitrary deadline for ending Brexit talks with the European Union. If there was no trade deal by Oct. 15, he declared last month, then there would be no deal ever. That would be an economic catastrophe for the U.K. and downright unpleasant for the EU.
Today, careful observers of the calendar will note, is Oct. 16, and … no catastrophe. Brexit talks are still ongoing. What happened? It turns out Johnson was bluffing. The EU called him on it and he backed down, Lionel Laurent writes. It's not the first round of hardball that has backfired on him. Each bit of faltering bluster only undercuts trust in Johnson while binding EU members closer together, Lionel writes. In the process, Johnson may unintentionally be creating an even more powerful trading rival than when this whole Brexit foolishness began. 
Of course, though the EU has the upper hand, a no-deal Brexit won't be good for it, either, writes Therese Raphael. Tempting though it may be, it can't push Johnson too far into a no-deal corner. There's still a very real deadline, and a real chance for catastrophe, rushing up at the end of the year.
Riding the Third Wave
Meanwhile, Johnson still has his hands full with a new coronavirus outbreak. He has resisted calls for new national pandemic-fighting restrictions, choosing to clamp down on selected hot spots. It's not a bad idea, writes Therese Raphael, except Johnson's government has built neither the needed rapport with local officials nor the testing-and-tracing capabilities that would make such unpopular restrictions worth the trouble. 
This third, or whatever, wave of the virus is a quandary for governments everywhere, assuming they don't just embrace the "what pandemic?" approach. In a Q&A with Justin Fox, epidemiologist Adam Kucharski suggests the key to any successful policy is consistency. That's one thing, at least, that Sweden's approach has going for it.
Still, it's far too soon to call Sweden's approach a success, writes John Authers, and there's plenty of evidence it was in fact a disaster.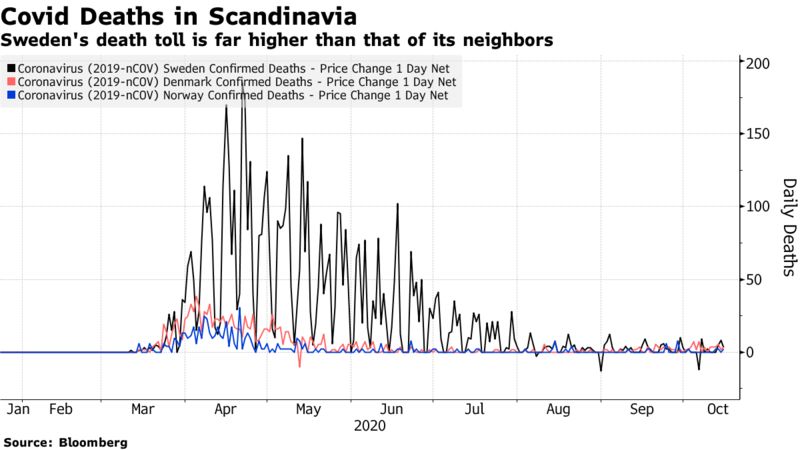 Back here in the States, the only national plan for fighting the new wave of cases amounts to surrender, with each state left to fend for itself. Unfortunately, the red states — those that voted for President Donald Trump in 2016 and have GOP governors — have the biggest case counts but also the least restrictions and testing capabilities, write Max Nisen and Sam Fazeli. With winter coming, it's a recipe for this wave to be the biggest yet.
Telltale Charts
Economic growth may have caused climate change, but killing the economy won't save the climate, writes David Fickling. We'll need growth to generate the mountains of capital that must be spent on green tech in the decades to come.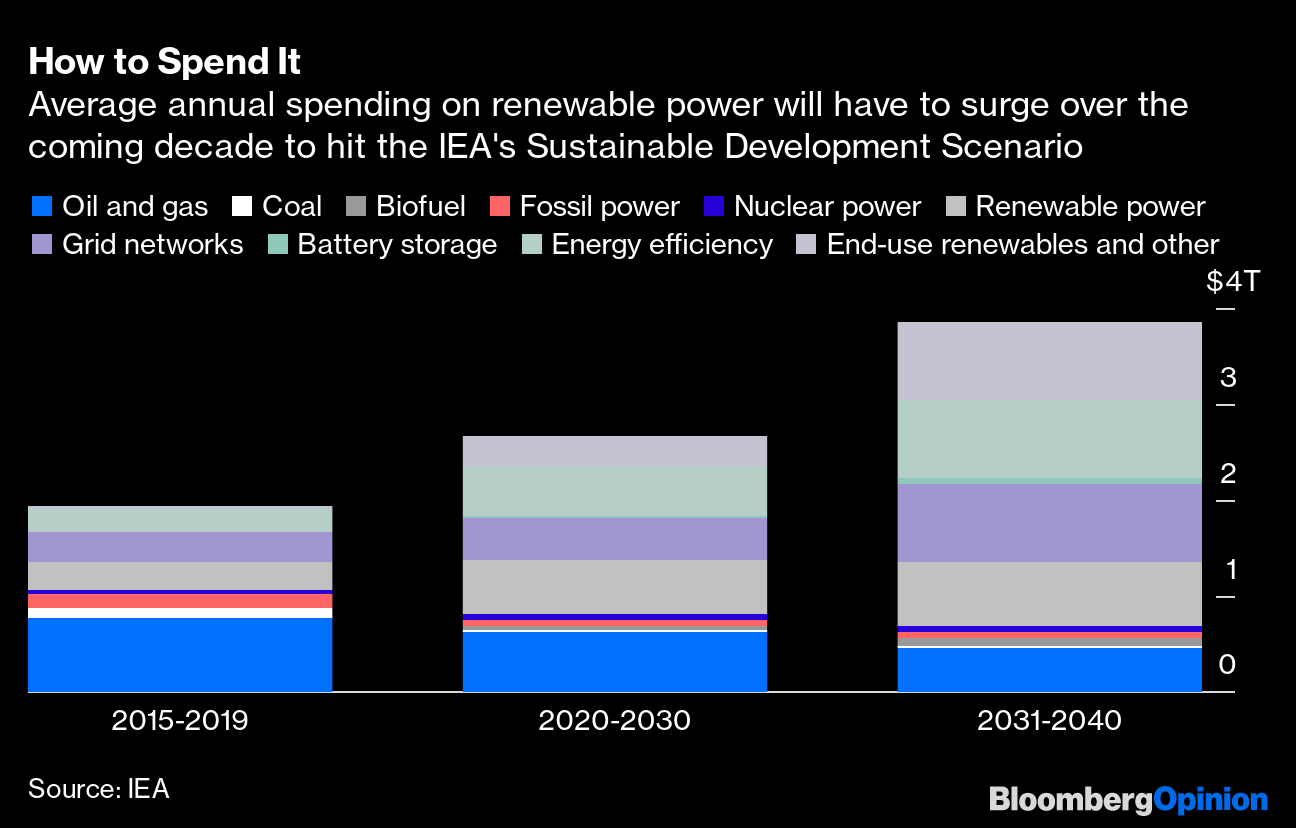 Hotels are getting some much-needed revenue from people renting rooms to work remotely because they're sick of working in spare bedrooms, writes Andrea Felsted.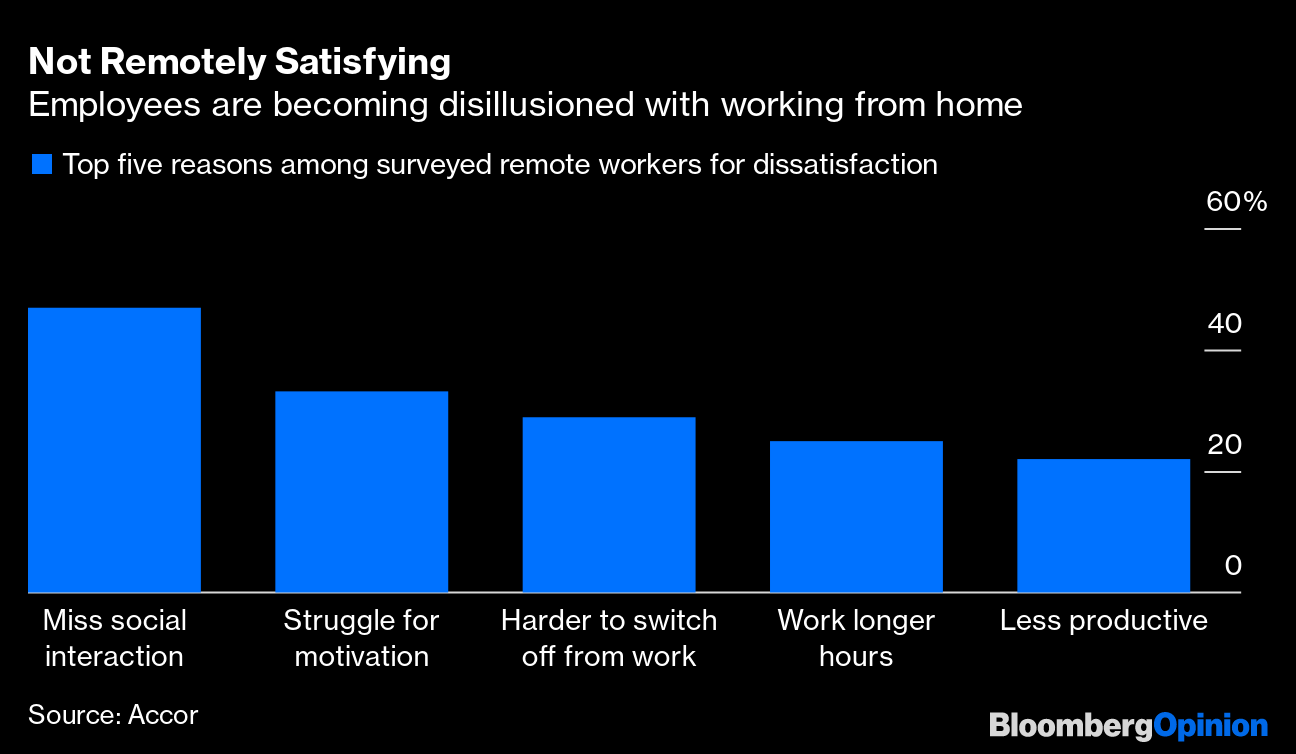 Rich people aren't spending money on traveling, so they're spending it on luxury goods, Andrea Felsted writes.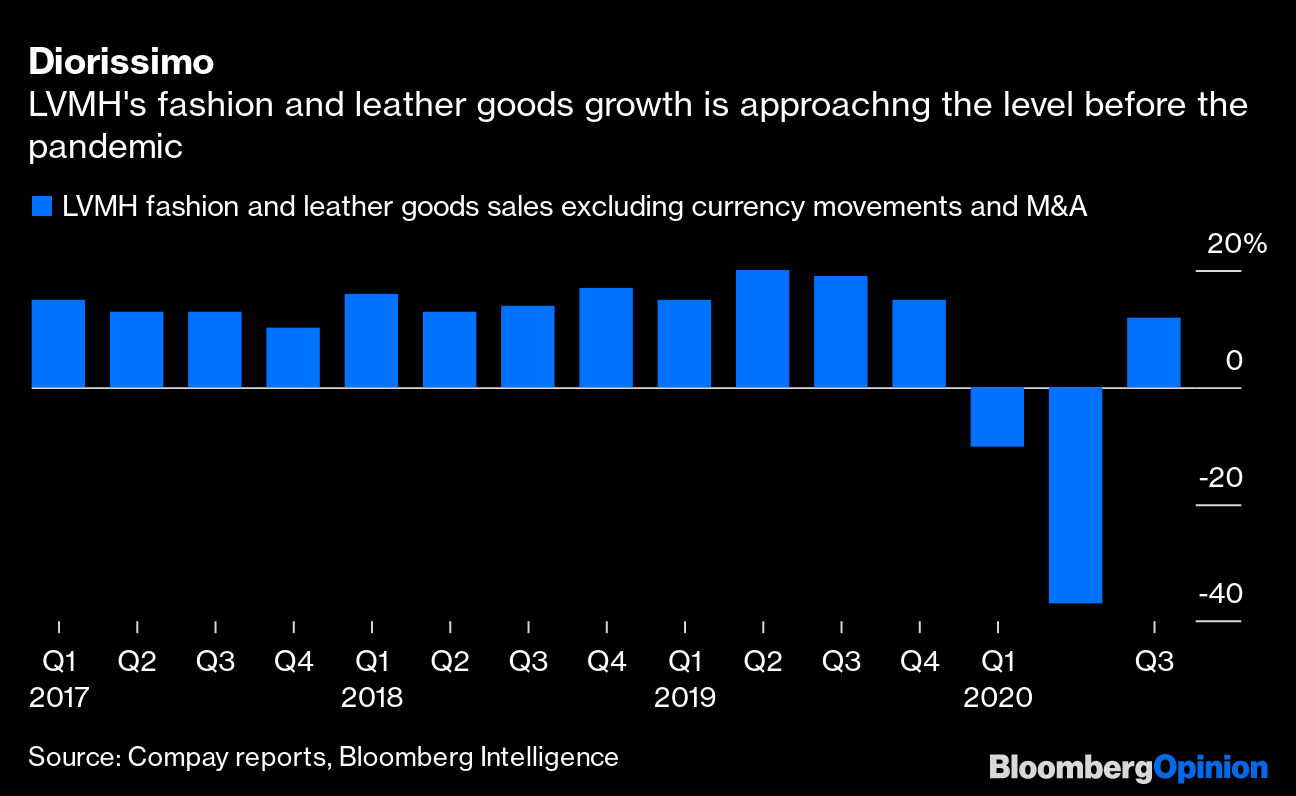 Further Reading
The stick of Trump's maximum pressure campaign on Maduro isn't working. It's time to try some carrots. — Bloomberg's editorial board 
Trump can't steal the election without a lot of help from people at all levels of government. This seems unlikely. — Noah Feldman 
Ingersoll-Rand realizes giving workers ownership gives it a competitive edge. — Brooke Sutherland 
The switch to SOFR can hardly be a Big Bang, given how telegraphed it is. — Brian Chappatta 
If you're lucky enough to have extra cash, you might be tempted to spend it. Resist. — Teresa Ghilarducci 
ICYMI
Biden's town hall got bigger ratings than Trump's.
Europe cleared Boeing's 737 Max to fly.
Billionaire Robert Smith admitted to evading taxes.
Birds really were louder during lockdowns.
Kickers
Coca-Cola is killing off Tab. (h/t Scott Kominers)
Please stop calling the police about the sunfish. (h/t Alistair Lowe)
Cows prefer live communication to Zoom. (h/t Mike Smedley)
Some planets may be better for life than Earth. (h/t Ellen Kominers)
Note: Please send Tab and complaints to Mark Gongloff at mgongloff1@bloomberg.net.
Sign up here and follow us on Twitter and Facebook.
Like Bloomberg Opinion Today? Subscribe to Bloomberg All Access and get much, much more. You'll receive our unmatched global news coverage and two in-depth daily newsletters, The Bloomberg Open and The Bloomberg Close.
Before it's here, it's on the Bloomberg Terminal. Find out more about how the Terminal delivers information and analysis that financial professionals can't find anywhere else. Learn more.
You received this message because you are subscribed to Bloomberg's Bloomberg Opinion Today newsletter.
Unsubscribe | Bloomberg.com | Contact Us
Bloomberg L.P. 731 Lexington, New York, NY, 10022