Those earnings calls better be upbeat ...
Have thoughts or feedback? Anything I missed this week? Email me at bsutherland7@bloomberg.net Have a good weekend!

It feels like just yesterday that companies were reporting their second-quarter earnings, but somehow the next batch of numbers is already upon us. Fastenal Co., a distributor of industrial odds and ends for the factory floor, is one of the first companies out of the gate next week and its results can often be a harbinger of what's to come as the rest of the results roll in later in the month. In general, it feels like the manufacturing economy has stabilized and may be on the mend. There have been a number of positive updates over the past few months from companies including Fortive Corp., Stanley Black & Decker Inc., Dover Corp. and Gates Industrial Corp. These are the kinds of companies you'd expect to see at the forefront of a rebound because their production cycles are shorter, allow them to respond more quickly to an uptick in demand, and they have tie-ins in to the more resilient consumer economy.
The recovery remains somewhat lopsided, with pockets of growth in things like residential air conditioners, gas-station pumps and hand tools for idiosyncratic reasons, and a slower-moving recovery elsewhere. But the pieces are there for a broader snapback. The manufacturing sector was already struggling with a drop-off in demand because of the vagaries of the trade war, so inventory levels were low going into the pandemic. That means industrial companies are more likely to meet new orders with fresh production rather than winding down existing stockpiles. While there has been some balancing out of inventories relative to new orders, the most recent update from the Institute for Supply Management showed there's still a favorable gap, as Bloomberg economist Andrew Husby noted in a report last week.
As with most things in life these days, sustained momentum is dependent on the absence of major new coronavirus outbreaks and lockdowns, but it does seem like things are pointing in the right direction. As I wrote last month, it's unlikely there will be many dramatic surprises in the third-quarter numbers themselves. Companies have a better handle on what's going on with their business than they did in April or even July and have been proactive about updating Wall Street on where things stand. Here's what to watch for instead:
2021: There's now less than three months left in a year we would all very much like to forget. Markets have already written it off and are pricing manufacturing stocks on the basis of a recovery in 2021 and 2022. Over the past few years, most companies have done away with the outlook meetings that used to be standard across the industry; with all the volatility from the trade war and the Trump administration, why put out guidance until you have to? I'd be surprised if we got much in the way of precise numbers for 2021 at this point, but this quarter may bring some early on-the-ground assessments from CEOs on the trajectory of a demand reboot. Joshua Aguilar of Morningstar makes the argument that any good news is already factored into stock prices that have rebounded sharply off the lows in late March, especially for higher-quality operators like Illinois Tool Works Inc. and pure-play companies with a long-term growth narrative such as Rockwell Automation Inc. The S&P 500 Industrial Index is essentially flat on the year, and nearly all of the losers are companies with high exposure to aerospace or the arguably more troubled oil and gas sector. Many companies are trading at or near all-time high valuations relative to their projected 2021 earnings. Downbeat views on next year could prove an unwelcome reality check.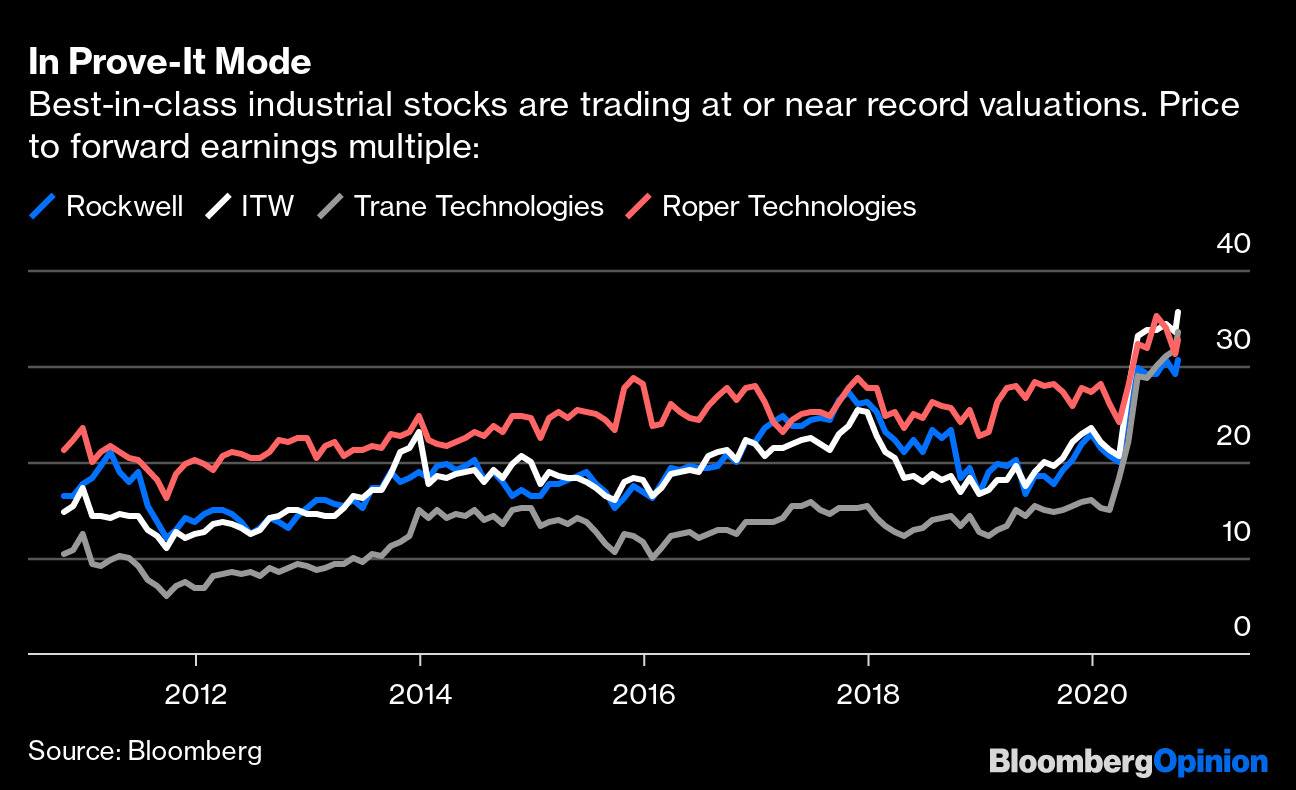 Capital Allocation: We talked last quarter about the potential for industrial companies to take advantage of stabilizing conditions to bring back share buybacks. Some did, including Johnson Controls International Plc, Eaton Corp. and Dover. Others including Honeywell International Inc., Trane Technologies Plc and Rockwell held off on or limited fresh buyback spending and said they were prioritizing investments in new technologies and business strategies. With stocks having regained so much ground, there's even less logic in repurchases, and that may keep a lid on additional activity in the near term. Indeed, at this point, investors may prefer to hear that companies with healthy balance sheets are spending through the crisis and seizing opportunities to gain market share. Carrier Global Corp. and 3M Co. announced modest increases to their capital expenditure plans last quarter; watch for other companies to follow suit. Given how circular the manufacturing industry is, any increase in spending by one company usually benefits another. It's a positive sign when CEOs are willing to put money to work. We've also seen a bounce back in M&A, particularly software-related deals, with Aveva Group Plc, Emerson Electric Co. and Roper Technologies Inc. announcing large transactions. Who's next? 
Politics: I know we're all a little sick of politics right now, but lost in the bitter theater is an understanding of how different policy stances might affect companies. With former vice president Joe Biden currently leading in the polls, that may be where most analysts focus their questions. The Biden plan with the widest implications is his call to roll back parts of the Trump administration's tax cuts, with a particular focus on raising rates for corporations and rethinking how levies are applied to overseas profits. Under the current Biden proposal, back-of-the-envelope math suggests multi-industrial companies would see their effective tax rates increase on average to around 27% from 20%, resulting in a 10% hit to earnings per share and a 1.5-to-2-point downshift in price-earnings multiples, Melius Research analyst Scott Davis wrote in a report last week. The most affected companies will be those that benefited the most from the Trump plan: mainly those with a focus on U.S. markets. That includes industrial distributors Fastenal and W.W. Grainger Inc. but also the railroads, trash haulers including Waste Management Inc. and Republic Services Inc. and the parcel delivery companies.
As to what might benefit companies, both parties have voiced support for infrastructure spending. To be fair, this was also the case during the last presidential election and there's been little progress. But it would make extra taxes go down easier. At least some companies are betting the momentum is there for something to finally get done. For example, Emerson's $1.6 billion acquisition of Open Systems International Inc., which specializes in software for utility-grid operators, seems to be a bet on that area being a focus for future investment. You'd be hard-pressed to name an industrial company that wouldn't benefit from a big infrastructure spending deal or a separate push for more localized supply chains, Davis of Melius Research said, creating a "rising tide lifts all boats" situation. 
Whither Airline Stimulus?
Honestly, no one knows. Standalone airline aid was on the table, then it wasn't. It now may be again as long as a broader package is also in the offing, which feels like an oxymoron, but welcome to Washington. Talks on any kind of stimulus were unilaterally called off by President Donald Trump, but now they appear to be back on again. Republican Senate Majority Leader Mitch McConnell on Friday said it was unlikely there was a deal on either broad stimulus or airline aid before the election. But later on Friday, White House Economic Adviser Larry Kudlow told Fox Business that Trump had signed off on a revised aid package. People familiar with the matter told Bloomberg News the White House is now willing to agree to a $1.8 trillion package, compared with the $2.2 trillion proposal from House Democrats. Trump then said he actually wanted even more stimulus money than Democrats were proposing, which ... what? I'm not holding my breath here for a deal but there does seem to be momentum to get something done, if only because we're getting real-time reminders of the consequences of a stalemate. American Airlines Group Inc. and United Airlines Holdings Inc. have started moving ahead with 32,000 job cuts and have warned of service reductions that will have knock-on effects for both the broader aerospace industry and the overall economy.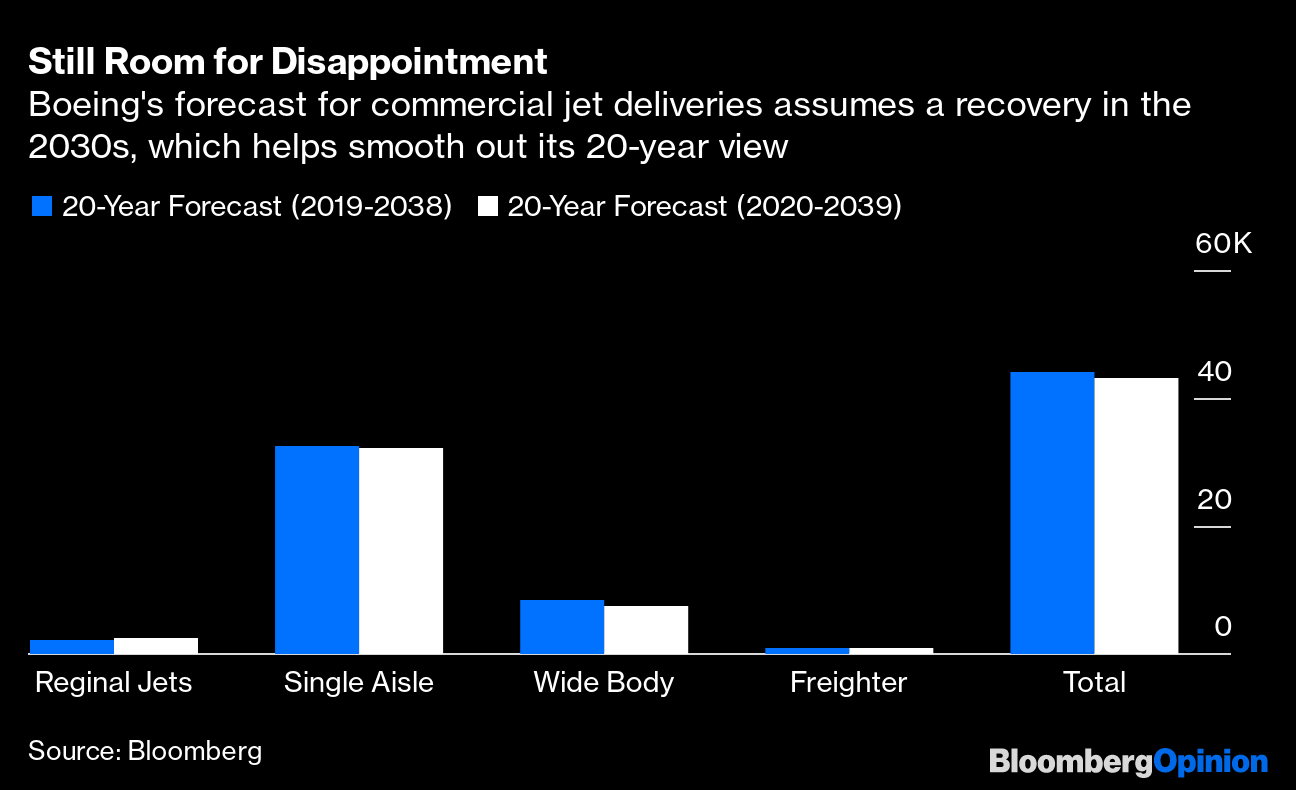 Even if a deal for a six-month extension of payroll support is reached, the reality is that demand for air travel may not look all that different in the spring than it does now. Boeing Co. this week released an updated commercial outlook that calls for an 11% drop in new jet deliveries through the end of the decade relative to previous expectations. The planemaker expects a recovery in the 2030s, but its 20-year forecast was still shaved by 2% relative to last year's view. The updated outlook at least shows Boeing is no longer pushing the narrative that the aerospace market can only go up, but Truist analyst Michael Ciarmoli warned in a note that even this revision may still be too optimistic. Interestingly, the only plane size for which Boeing's 20-year outlook improved was regional jets. In other good news for smaller planes, Honeywell said this week it expects private-jet flights to return to 2019 levels as soon as the middle of next year. Deliveries of new planes, though, won't recover until 2025, Honeywell said. Airbus SE is trying to capture some of that demand, unveiling a new corporate version of its A220 model this week that it says will have three times more cabin space and cost about a third less to run than rival models. Recall that earlier this year Boeing walked away from a joint venture with Embraer SA that would have given it a stronger competitor to the A220.
Deals, Activists and Corporate Governance 
General Electric Co. said this week it was warned by Securities and Exchange Commission that it may face civil injunctive action over the potential violation of securities laws. The so-called Wells notice focuses on GE's surprise disclosure in early 2018 of a $15 billion shortfall in insurance reserves that were supposedly stress-tested every year. GE hasn't officially been accused of wrongdoing and says it disagrees with the staff's recommendation. The company now has an opportunity to respond to the staff findings before the regulator proceeds with any enforcement process. But the notice was an unwelcome reminder of how many legacy issues still haunt the company. The SEC has fairly wide latitude to penalize GE if it comes to that, and the worry among some followers of the company is that an enforcement action will go beyond just a simple fine. According to GE, the SEC staff hasn't yet made a preliminary decision on other matters under investigation including accounting practices for long-term service agreements and the $22 billion goodwill writedown that was largely tied to the disastrous acquisition of Alstom SA's energy business. 
Perhaps more interesting than GE's past at this point is its future. GE also announced this week that it's rejiggering its leadership team. I feel like I need a diagram and a ledger to properly explain the moves, but here is an attempt at summarizing the highlights. Jennifer VanBelle, who already had an important job as GE's treasurer, will now also become the head of GE Capital, a business that is shrinking but as evidenced by the Wells notice still has plenty of unique challenges. Chris Pereira, GE's chief risk officer and chief corporate counsel, will now also find time in his day to be the company's chief strategy officer. Dan Janki is vacating his role as head of business transformation but will take on two new major (and I would argue quite disparate) roles as CEO of GE's power portfolio and chairman of the legacy insurance business. Russell Stokes, who had been CEO of the power portfolio, for some reason needs to keep a formal leg in the business as chairman even as he becomes CEO of GE's aviation services arm. If your head is spinning, I am sorry, I tried. But the fact that this is so confusing is a point in and of itself. I don't know of any other company that has chairmen of divisions or puts so many people in leadership roles in different businesses at the same time. For a company that claims to be committed to improving accountability and transparency, this revamp does the exact opposite. I can think of a few reasons why GE would do this anyway, but none of them are good. 
Caterpillar Inc. agreed to buy Weir Group Plc's oil and gas division for $405 million. Analysts had mixed views on the deal, with some calling it opportunistic and others worrying it only looks that way given the uncertain demand trajectory for crude and the potential for political momentum on renewable energy. But the deal does consolidate Caterpillar's position in a fracking services sector that was still too sprawling. For their part, Weir holders were ecstatic to be rid of the business: Shares of the company rose 16% on the news for the biggest gain since 2009. The company will use the proceeds from the deal to shore up its balance sheet and focus on a mining equipment business it sees as more resilient in a changing world. Julian Mitchell of Barclays Plc says the deal suggests there may be buyers for Ingersoll-Rand Inc.'s upstream pressure pumping business as well. 
BONUS READING
Exxon's Plans for Emissions Surge Revealed in Leaked Documents
Aviation Outsider Builds Supersonic Jet for Transatlantic Flight
28-Year-Old SPAC Billionaire Can't Splash the Cash: Chris Bryant
One Sector Leads Dealmaking's Revival With $100 Billion Haul
Would You Buy a Used Car From This Oil Trader?: David Fickling
Cruise Ships Sailing to Nowhere Depart Singapore From Next Month
Like Bloomberg's  Industrial Strength ? Your friends and colleagues can sign up  here . For more content like this,  subscribe for unlimited access  to trusted, data-based journalism in 120 countries around the world and gain expert analysis from exclusive daily newsletters, The Bloomberg Open and The Bloomberg Close.
Before it's here, it's on the Bloomberg Terminal. Find out more about how the Terminal delivers information and analysis that financial professionals can't find anywhere else. Learn more.
You received this message because you are subscribed to Bloomberg's Industrial Strength newsletter.
Unsubscribe | Bloomberg.com | Contact Us
Bloomberg L.P. 731 Lexington, New York, NY, 10022