Pennsylvania voting could become an election nightmare
This is Bloomberg Opinion Today, a haunted house of Bloomberg Opinion's opinions. Sign up here.
Today's Agenda
Election Night? More Like Fright Night, Am I Right?
Hey, kids. I know you're bummed Halloween won't be as much fun this year, what with the pandemic and all. Nobody wants to go trick-or-treating and come home with a sack full of Twix, Twizzlers and coronavirus. But gather around and let the Old Opinion Keeper spin you a terrifying yarn of what may come just three days after All Hallows Eve.
The setting is Pennsylvania (please read this in the voice of a spooky vampire saying "Transylvania"), which could be the tipping-point state for the presidential election. Former Vice President Joe Biden leads in polls there, but not by nearly enough to put a stake in any fears of 2016-style errors.
Let's say the vote is too close to call on election night, but President Donald Trump declares victory and demands an end to the counting of millions of absentee ballots. (He's already doing it!) This would trigger litigation that would quickly reach the Supreme Court, a 2000 election sequel more loathsome than "Friday the 13th Part VIII: Jason Takes Manhattan." Because this is where it gets truly scary, Noah Feldman writes. Four conservative justices seem eager to grant Trump his wish. Chief Justice John Roberts and the three liberals probably won't. That leaves Amy Coney Barrett as the potential swing vote, just days after being installed in office by one of the litigants. It's the kind of cliffhanger our nation's already fragile nerves don't need.
The very fact that Trump keeps calling to stop counting all votes on Election Day, regardless of state statute, is its own nightmare. It's also a violation of the oath he took to uphold the law, writes Jonathan Bernstein. Throw it on the stack with all the other rules and norms he's smashed and laws he's broken, from soliciting foreign interference to raking in profits from his office. If there was any justice, the election wouldn't even be close enough to be scary.
Further Political Reading: The suburban women that might help Biden win the White House could also help or hinder efforts to reform the Supreme Court. — Frank Wilkinson 
Stocks Relearn This Whole 'Falling' Thing 
The stock market at least took a break today from a three-day selloff that has been one of the most violent on record, based on volatility indexes, writes John Authers. The truly scary thing is how indiscriminate it's been. Even safe havens such as gold have been tossed out the window. 
Ostensibly this selloff is about the new, and worse, wave of the pandemic in the U.S. and Europe. But Marcus Ashworth reads the market positioning and sees signs traders are also clearing out of risky trades ahead of what could be the nightmare election scenario mentioned above. You might want to vote as if your nerves and portfolio depend on it.
No, That GDP Number Doesn't Mean We Don't Need Stimulus
Though the stock market is not the economy, it also can't completely ignore that this new pandemic wave will lead to more economic destruction. I mean, it could ignore that, as it ultimately did in the spring, if there were hope of some fiscal stimulus on the way. But there is no such hope, at least not for now. Congress and the White House have simply decided to snooze until the election, Bloomberg's editorial board writes, a dangerous abdication of responsibility.
If you only get your economic news from presidential tweets, you might be confused. Didn't the government this morning report that the third quarter was the "Biggest and Best in the History of our Country"? Actually, no. As Justin Fox warned us yesterday, it reported a record annualized quarterly percentage gain that merely recovered some of the miles of ground lost in the second quarter. The truth is that the economy is still in a deep hole and needs much more stimulus to avoid backsliding, write Nir Kaissar and Tim O'Brien. 
It doesn't help that the U.S. and some European governments have wasted months of experience with the virus by not building solid systems for fighting it that don't involve broad, painful lockdowns, writes Mohamed El-Erian. The economy's best hope is that they'll learn their lesson this time around and that this new wave will be the worst of it.
Telltale Charts
Box-office sales were in decline even before the pandemic hit, writes Tara Lachapelle. Now that we're all used to streaming movies, the box office may never recover.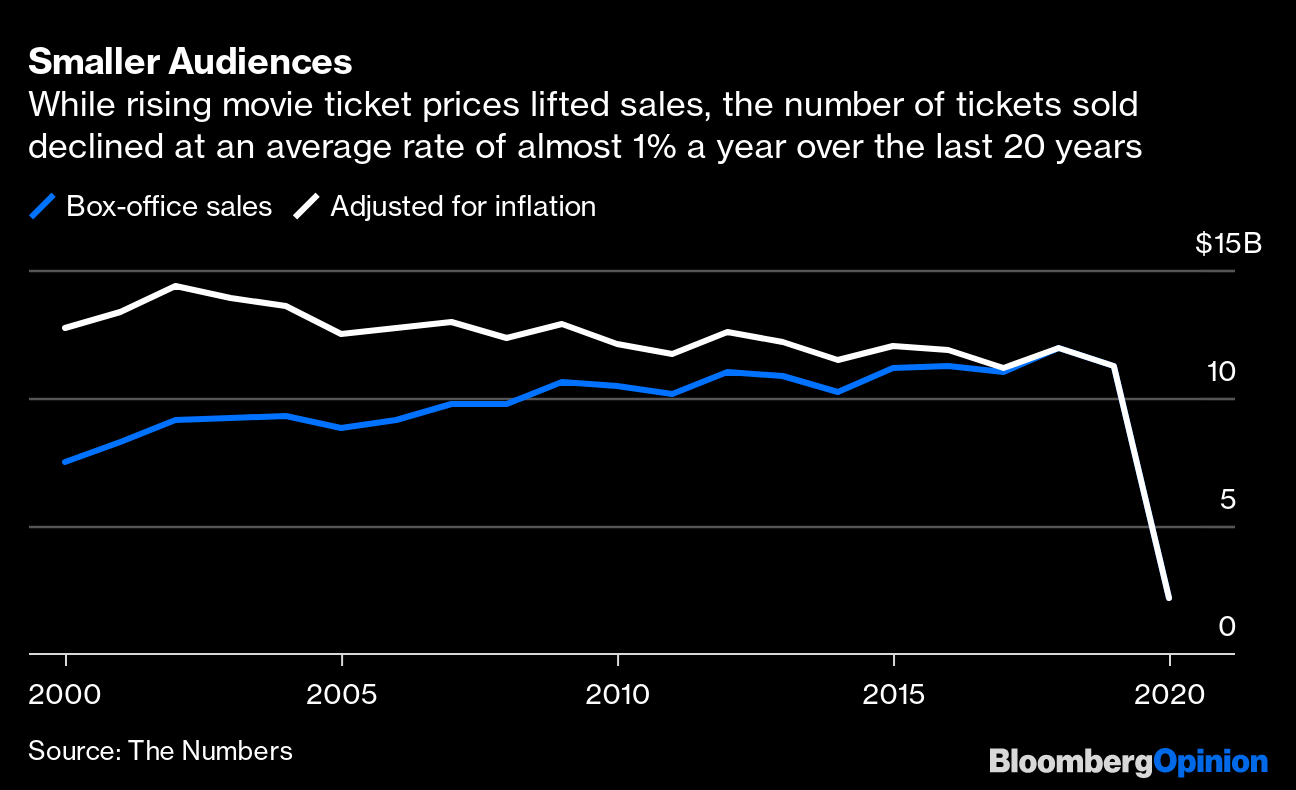 China needs a better, more independent central bank if it hopes to avoid a financial crisis, write Shuli Ren and Anjani Trivedi.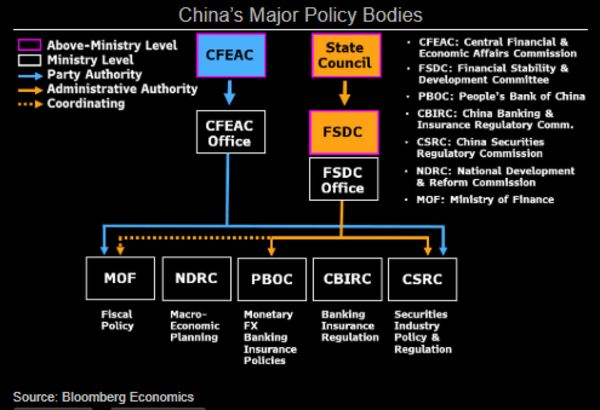 Further Reading
We need a real conversation about social media's Section 230 protections. Yesterday's Senate circus wasn't it. — Joe Nocera 
Want to make government even worse? Keep in place Trump's misguided order giving presidents and political appointees the right to fire civil servants for disloyalty. — Cass Sunstein 
Don't worry about studies showing Covid antibodies going away. That's what's supposed to happen. — Sam Fazeli 
To fix Labour's culture, Jeremy Corbyn had to go. — Therese Raphael
Emmanuel Macron and Muslim leaders must respond to the Nice terror attacks with leadership, not more hate. — Bobby Ghosh 
ICYMI
The government's small-business relief program was buried in fraud.
Taiwan has gone 200 days without a local Covid case.
Democrats dream of turning Texas blue.
Kickers
Scientists capture the first images of a rams-horn squid. (h/t Ellen Kominers)
Happy Sea Slug Day. (h/t Scott Kominers)
Bad news: The Laptev Sea hasn't frozen.
Twenty-one fever dream endings for the Trump Show (co-starring Tim O'Brien).
Note: Please send sea slugs and complaints to Mark Gongloff at mgongloff1@bloomberg.net.
Sign up here and follow us on Twitter and Facebook.
Like Bloomberg Opinion Today? Subscribe to Bloomberg All Access and get much, much more. You'll receive our unmatched global news coverage and two in-depth daily newsletters, The Bloomberg Open and The Bloomberg Close.
Before it's here, it's on the Bloomberg Terminal. Find out more about how the Terminal delivers information and analysis that financial professionals can't find anywhere else. Learn more.
You received this message because you are subscribed to Bloomberg's Bloomberg Opinion Today newsletter.
Unsubscribe | Bloomberg.com | Contact Us
Bloomberg L.P. 731 Lexington, New York, NY, 10022