Next China: Jack Ma conquers finance
Finance in China has long been the domain of sprawling state-owned behemoths such as Industrial and Commercial Bank of China. At least it was until Ant Group's IPO this week.
The initial offering not only raised a record-breaking $34.5 billion but also vaulted Ant's valuation to at least $315 billion, pushing it well past ICBC's $250 billion and China Construction Bank's $180 billion. China's most-valuable finance firm is now a private-sector company founded by a former English teacher named Jack Ma.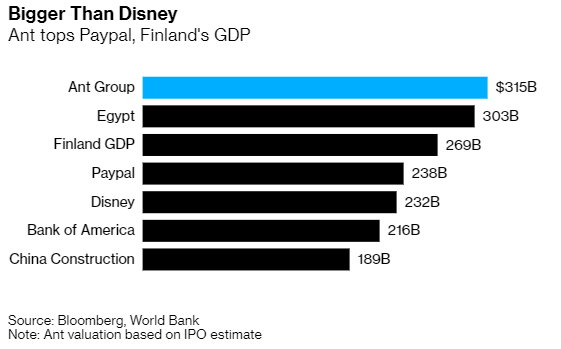 Ant isn't China's first record-setting finance IPO. It was in 2006 that ICBC raised more than $19 billion in what was then the world's largest ever initial offering. That IPO also marked the culmination of efforts to modernize China's financial system, which included Beijing spending some 3.5 trillion yuan between 1998 and 2005 to recapitalize the country's banks.
History may well remember Ant's listing as a similar milestone. The popularity of its services are a big reason why most transactions in China are now cashless and why personal finance has become inseparable from the mobile phone.
Just as notable is how the company has leveraged technology and data to evaluate the credit worthiness of borrowers. China's big state-owned banks now pay Ant billions in fees for originating loans to consumers and small businesses.
But success breeds its own species of problems. Today, the fintech powerhouse's leading position in everything from payments to consumer leading makes it the subject of intense regulatory scrutiny from Beijing. Even Washington has discussed imposing sanctions against Ant on the grounds that its payment systems are a threat to national security.
Ma touched on this point when he spoke recently at a financial forum in Shanghai. Global financial regulators, he said, have focused too much on controlling risk, to the extent that it has stifled innovation. This is something China should avoid, Ma went on to argue, because the country needs more innovation to build a healthy local industrial eco system.
To what degree Beijing agrees with that sentiment will do much to determine how Ant fares atop China's finance industry.
Planning Ahead
Hundreds of senior Chinese Communist Party officials gathered in Beijing this week to discuss two economic roadmaps for the country's future; one for the next five years and the other for the next 15. They emerged from the four-day conclave with a communique that emphasized quality growth over speed and the need to make China technologically self-sufficient and  strong. Given the growing confrontation between Washington and Beijing over everything from trade to tech, these are not surprising objectives. What's yet to be released, however, are the specifics of the plans. That will come over the next few days as state media publishes more detailed accounts of the conclave. With that will also emerge a more complete picture of what Chinese President Xi Jinping sees as China's priorities.
Uneven Recovery
China's recovery from the pandemic has been the best among the world's largest economies, but it has not been even. Some provinces have rebounded rapidly, others slowly and a handful have seen their economies continue to contract. One region, however, stands out for the severity of its condition. In the first nine months of 2020, Hubei province's economy shrunk by 10.4% from a year earlier. Hubei and its provincial capital Wuhan were of course where the coronavirus first emerged. They were also the hardest hit region in China, accounting for the preponderance of the country's infections and deaths. Though even in Hubei, the trend is encouraging. The province's GDP rose 74% in the second quarter as compared to the first quarter, when a strict lockdown was imposed on the region. And it was up 11% in the third quarter as compared with the second quarter. That such momentum has still not brought Hubei back to pre-pandemic levels illustrates how deep a hole the coronavirus put the economy into in early 2020.
Currency Reform
The yuan completed its best quarter in 12 years last month and has since then traded near a two-year high. That appears to have given Beijing the confidence to do something it hasn't done in quite a while: loosen up. Already this month, China has scrapped a rule designed to prevent traders from shorting the currency, signaled they intend to let more money exit the country and rejigged how the exchange rate is calculated to remove a smoothing factor. Many of these since-lifted measures came into place after a surprise devaluation in 2015 shocked global markets and a plunge in the yuan forced Beijing to defend the currency. Paring them back now should encourage greater global usage of the yuan, which in the longer term could help reduce China's need for U.S. dollars. And with the yuan's fundamentals stronger than they've been in many years thanks to a robust economic recovery from the pandemic, now seems an ideal time to act. Indeed, Standard Chartered's chief China economist Ding Shuang believes more is on the way. The next focus, Ding thinks, will be making it easier for capital to enter and leave China.
Taiwan Missiles
In the last two weeks, the U.S. State Department has signed off on two different batches of missile sales to Taiwan. The deals have not only exacerbated tensions between Washington and Beijing, which claims the island as part of its territory, they've also revealed a more pronounced shift in strategy. Taiwan has lived under the threat of invasion since the Kuomintang Party fled there from the mainland seven decades ago after being defeated by Mao Zedong's Communist Party in a civil war. The recent missile purchases, however, suggest that the island is moving away from basing its defense on more traditional weapons such as tanks and warplanes and instead adopting a "hedgehog" strategy. The idea is to arm Taiwan with missile that can inflict maximum pain instead of taking on an invading force head-on. Wang Ting-Yu, a Taiwanese lawmaker who co-chairs its Foreign Affairs and National Defense Committee, explained it this way. "When a lion tries to swallow a hedgehog, it will hurt – so no lion will try to swallow a hedgehog."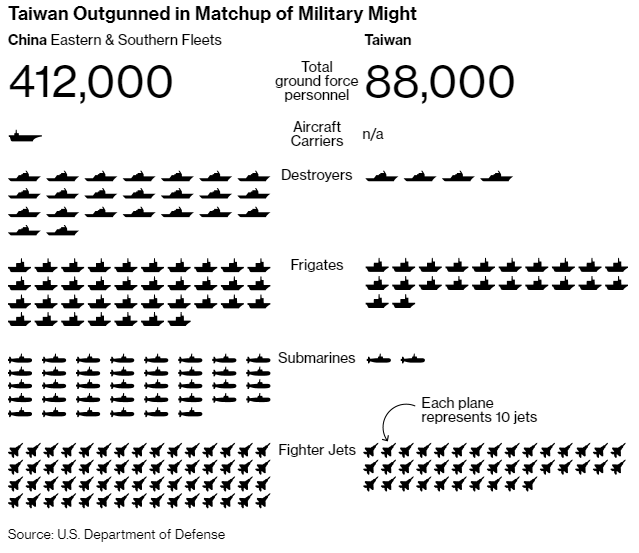 What We're Reading
And finally, a few other things that caught our attention:
The world's most influential leaders will be there. Will you? Click here to join Bloomberg New Economy Forum for a virtual Global Town Hall on November 16-19 and be part of change in real time.
Like getting the Next China newsletter? Subscribe to Bloomberg.com for unlimited access to trusted, data-driven journalism and gain expert analysis from exclusive subscriber-only newsletters.
Before it's here, it's on the Bloomberg Terminal. Find out more about how the Terminal delivers information and analysis that financial professionals can't find anywhere else. Learn more.
You received this message because you are subscribed to Bloomberg's Next China newsletter.
Unsubscribe | Bloomberg.com | Contact Us
Bloomberg L.P. 731 Lexington, New York, NY, 10022