Donald Trump's foreign policy has often appeared chaotic, with abrupt changes of course and big plans that never materialized. But it has had a material effect.
Take the Middle East.
When the president arrived in the White House, Islamic State was terrorizing the world while ruling over swaths of Iraq and Syria, the Arab-Israeli conflict was the region's defining political schism, and the Iran nuclear deal had put America's Arab allies on the defensive. Four years on, all of that has changed.
Trump didn't just pull the U.S. out of the Iran pact. He's been a big friend to Israel and pushed back against Congressional efforts to take a harder line on Saudi Arabia and Turkey. And he's brought Israel and Gulf Arab states closer together.
As he trails in opinion polls ahead of the Nov. 3 election, leaders who've arguably benefited from his time in office will be pondering what a Joe Biden presidency might mean for them.
As Ivan Levingston, Zainab Fattah and Vivian Nereim explain, the biggest worry for Israel and Gulf Arab states is the U.S. will rejoin the Iran accord. Saudi Arabia, Turkey and Egypt may face more of the traditional American scolding over human rights and a restoration of the diplomatic norms bypassed by Trump.
Still, Biden probably won't want to want to jeopardize the thaw between Israel and Arab countries. And there are few votes for any U.S. leader in re-engaging in conflicts there. Even if Trump is voted out, his impact on the Middle East may stick.
Echo chambers? | Trump's refusal to hold a virtual debate with Biden after his hospitalization for the coronavirus has created one of the stranger events of the 2020 campaign — separate town halls before different audiences in different cities at the same time. It could be one of Trump's last opportunities to reverse his slide in the polls.
The concurrent hour long events start at 8 p.m. New York time with Trump on NBC and Biden on ABC.
Campaign 2020
There are 19 days until the election. Here's the latest on the race for control of the White House and Congress.
The Senate Judiciary Committee will hear from outside witnesses during the final day of hearings on Amy Coney Barrett's Supreme Court nomination. Democrats, who have little recourse to stop her appointment, yesterday pressed Barrett for her views on Trump's suggestion the election be delayed and his claim he has "an absolute right to pardon" himself should the need arise. She declined to answer both.
Other developments
Sign up to receive daily election updates as a direct mobile notification on Twitter. Simply click on this link and like the tweet.
Coming up empty | Whipsawed by Trump's changing positions and hobbled by the diverging agendas of the top Republican and Democrat in Congress, Washington has fallen short of delivering more stimulus for the ailing economy before the election. Now, as Billy House and Laura Davison explain, voters will help decide what happens next.
Panic stations | The pandemic continues to surge in Europe with Germany, Italy and the Czech Republic reporting record virus infections. France imposed a 9 p.m.-to-6 a.m. curfew in Paris and other big cities, while London will move to "Tier 2" restrictions from Saturday, barring households from mixing indoors. European authorities are struggling to slow the virus without resorting to the national lockdowns that decimated economic activity in the second quarter.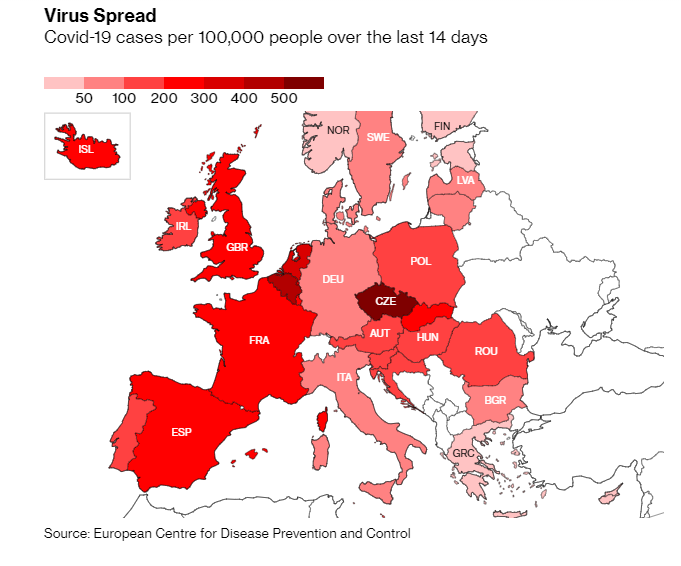 Act of defiance | Thai anti-government protesters plan a fresh rally today despite a state of emergency announced by Prime Minister Prayuth Chan-Ocha in the capital. Tens of thousands broke through police lines yesterday in a march to Prayuth's office, an escalation of demonstrations that began in early July. A special cabinet meeting tomorrow will approve the emergency decree.
Stalled trade | With hundreds of trucks stuck at Nigeria's border with Benin and curbs on foreign participation in the retail trade in Ghana, protectionism is on the rise for West Africa's economic powerhouses. As Tope Alake and Ekow Dontoh write, such actions are undermining Africa's vision for a continental free-trade agreement.
What to Watch
U.K. Prime Minister Boris Johnson told European Union leaders last night he's disappointed by the slow progress of Brexit trade talks, saying he'll decide when a leaders' summit wraps up tomorrow if it's worth continuing to work for a deal.
Russia is set to miss its target to produce 30 million doses of an experimental Covid-19 vaccine this year due to setbacks maintaining the serum's stability while expanding output.
Nigeria's army said it's ready to help authorities maintain law and order amid protests against police brutality that have left at least 10 people dead.
And finally ... Torched trucks, hunger strikes — the campaign for compensation by Chile's indigenous Mapuche people for their land taken in the timber-producing south has intensified. As Eduardo Thomson explains, Chileans are voting this month whether to ditch their constitution, a legacy of the Pinochet dictatorship in the 70s and 80s, and draft a new one. And that could pave the way for reparations.
Photographer: Martin Berneti/AFP via Getty Images
Like Balance of Power? Get unlimited access to Bloomberg.com, where you'll find trusted, data-based journalism in 120 countries around the world and expert analysis from exclusive daily newsletters.
You received this message because you are subscribed to Bloomberg's Balance of Power newsletter.
Unsubscribe | Bloomberg.com | Contact Us
Bloomberg L.P. 731 Lexington, New York, NY, 10022