Disunited Kingdom
Boris Johnson seems to be upsetting just about everyone at the moment.
The U.K. prime minister has top health officials warning his new "tiered" system of coronavirus restrictions is not enough to combat an autumnal spike in cases. A key scientific advisory body recommended a short "circuit breaker" national lockdown late last month, warning of the peril of "not acting now." That advice was not heeded.
Meanwhile he's increasingly at odds with local mayors and even lawmakers in his own party, who say they haven't been consulted enough on targeted restrictions in parts of northern England that could further hit already damaged regional economies.
Johnson, a libertarian at heart, is caught between the need to protect people from a virus that has left the U.K. with the highest death toll in Europe and ensuring some life remains in the economy. Data today show job cuts jumped the most on record in the three months through August.
In trying to walk that line, Johnson is struggling to keep any group happy. The northern parts of England, including areas facing spikes in cases, are potentially important to him politically. Those were former Labour heartlands, dying industrial areas that he wooed over in last December's election with promises of revitalization. Voters there are not hard-core Tories, and their allegiance to him could prove fleeting.
It's getting so bad that one minister described Johnson as tired, longing to be popular and not enjoying a job he took on triumphantly just last year. With the deadline looming to sort out the Brexit arrangements and arguments continuing with Brussels, it's unlikely to get any better for him soon.

— Rosalind Mathieson
Day two | Senate Democrats, including vice presidential nominee Kamala Harris, will get their first crack today at questioning Amy Coney Barrett during her Supreme Court confirmation hearing. They plan to focus on how she might move the court in a more conservative direction on issues such as health care and abortion. Drawing whatever answers they can from Barrett may be all Democrats can hope to achieve, since Republicans have the numbers and the determination to seat her before the Nov. 3 election.
Campaign 2020
There are 21 days until the election. Here's the latest on the race for control of the White House and Congress.
Donald Trump returned to the campaign trail last night, boasting at a rally in Florida he felt "so powerful" after his recovery from Covid-19 that he wanted to walk into the audience and "kiss everyone." The president tested negative on consecutive days for the virus and isn't infectious, his doctor said, even as Anthony Fauci, the top U.S. infectious disease expert, warned that Trump's planned events this week threaten to advance the spread of the disease.
Other developments
Sign up to receive daily election updates as a direct mobile notification on Twitter. Simply click on this link and like the tweet.

Spike risk | Europe's hospitals have largely coped with the region's reemergence as a virus hotspot, but pressure is growing as infections surge and the northern winter approaches. Authorities are imploring pandemic-weary citizens to focus on hygiene and distancing rules amid an uptick in hospitalizations, with countries from Spain to Ukraine posting record increases in cases.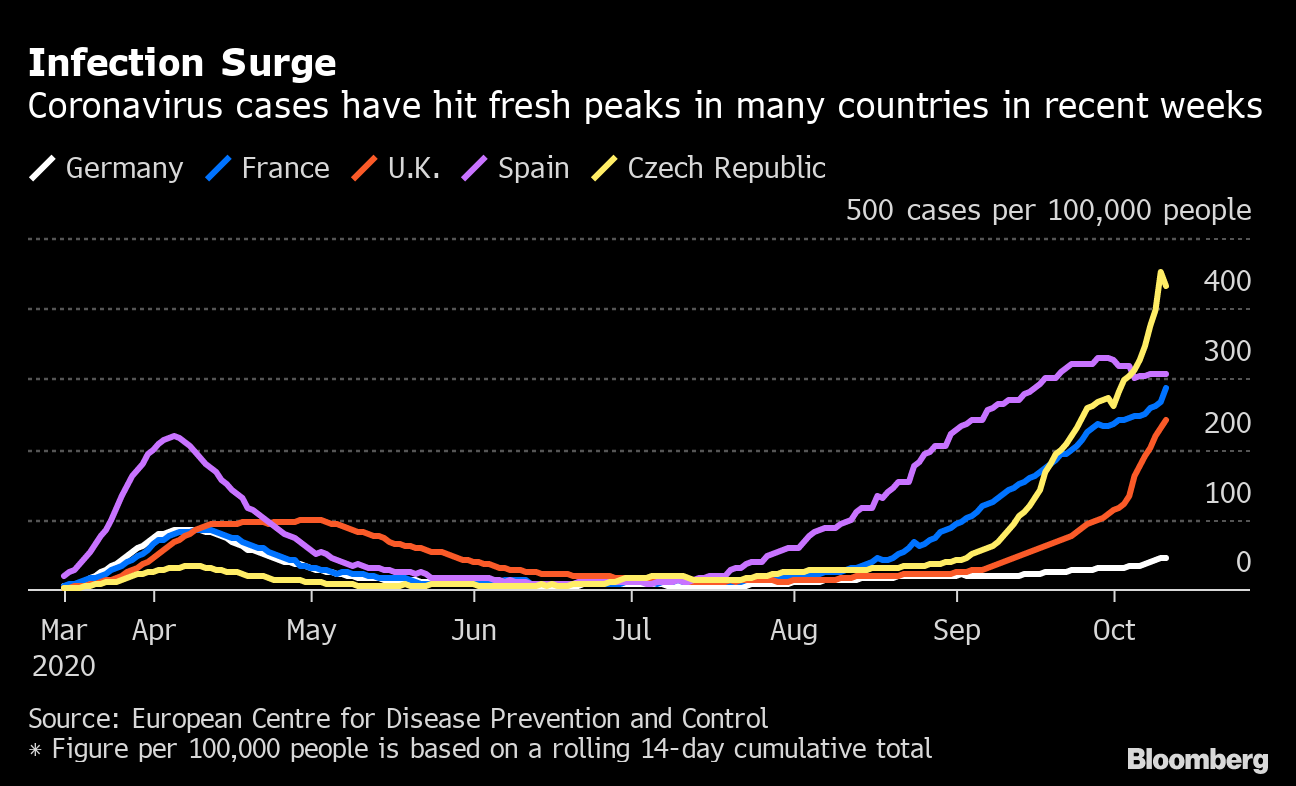 Bigger browsing | In a quiet experiment of just two weeks, China has provided millions of people access to long-forbidden foreign websites like YouTube and Instagram. The trial via the Tuber browser app suggests the Communist government is moving toward giving citizens greater access to the global internet — while still attempting to control who sees what.
Risk of rupture | Mexico's ruling party is in danger of splitting, with the two main leadership candidates accusing each other of trying to illegitimately take over the movement. As Max de Haldevang explains, the feud casts doubt over whether the Morena party founded by President Andres Manuel Lopez Obrador can stay together to face mid-term elections next year.
Tightening grip | As the West African nation of Guinea gears up for Oct. 18 elections, social media is dominated by the ruling party's slick campaign that describes 82-year-old President Alpha Conde as a savior of the nation. As Pauline Bax and Loni Prinsloo report, there's growing unease across the continent that online platforms such as Facebook are becoming a key tool for governments to drown out opposition voices.
What to Watch
And finally ... K-pop megastars BTS face a social media backlash in China after member Kim Nam-joon, known as RM, talked about U.S.-South Korea ties and "the history of pain that our two nations shared together and the sacrifices of countless men and women" during the Korean War. The comment spurred calls for a boycott as RM was accused of failing to highlight China's own part in a conflict that pitted American troops against the Chinese military.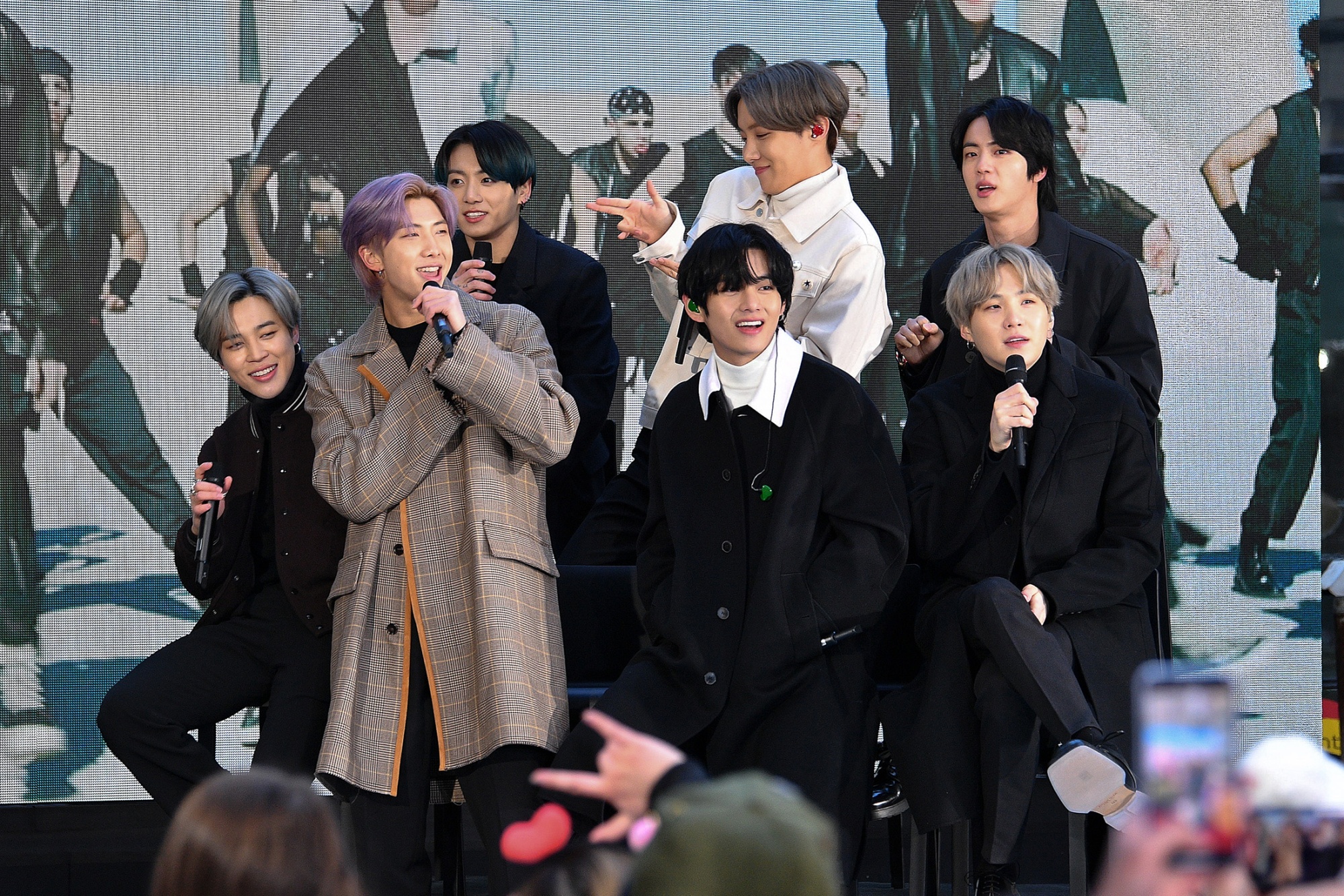 Photographer: Dia Dipasupil/Getty Images North America
Like Balance of Power? Get unlimited access to Bloomberg.com, where you'll find trusted, data-based journalism in 120 countries around the world and expert analysis from exclusive daily newsletters.
You received this message because you are subscribed to Bloomberg's Balance of Power newsletter.
Unsubscribe | Bloomberg.com | Contact Us
Bloomberg L.P. 731 Lexington, New York, NY, 10022