Corporate America has become Pandemic Inc.
Follow Us


This is Bloomberg Opinion Today, a corporate restructuring plan of Bloomberg Opinion's opinions. Sign up here.
Today's Agenda
Companies Making the Best of a Bad Situation
Some people have coped with this whole pandemic thing better than others. Some of you are using your idle time to learn new recipes or write books. Others of us manage to shower occasionally. 
Companies are the same, sort of. Amazon.com Inc. is like that inspirational, by which I mean annoying, person who teaches her kids Mandarin on her quarantine downtime. Everybody's shopping on Amazon more than ever because nobody wants to go into stores. Even its goofball Prime Day holiday, which is nothing more than a way to get people to spend even more money on Amazon, is more awesome for Amazon and more miserable for its rivals in this terrible year, writes Sarah Halzack, because the pandemic forced it to bump the thing right smack into the middle of prime back-to-school/holiday shopping season.
BP Plc, on the other hand, is that parent leaving its kids with a box of Cheerios and a dodgy Wi-Fi connection while it struggles to make ends meet. Oil was a slowly dying business before the pandemic made everybody stop using it. To its credit, BP is trying to improve itself, with a plan to spend a bunch of money to turn greener. But investors aren't convinced it can make the shift, Chris Hughes writes. For now they're punishing BP and compatriot BT Group Plc for the spending both will need to transform their challenged business models.
Then there's Delta Air Lines Inc., which may be one of the best-run airlines but still suffers when people don't want to fly, writes Brooke Sutherland. So it's turning itself into a smaller airline, which is bad news for its many suppliers, including the already struggling Boeing Co. 
In between these extremes is Walt Disney Co. Lots of people are subscribing to its Disney+ streaming service, but nobody's going to its parks or to see its movies in theaters. So it's making big changes, too, notes Tae Kim, putting streaming at the core of its model. In this case, investors are happy, possibly starting with Dan Loeb, who had agitated for just this change.
These companies are being permanently changed by the pandemic. Others are only temporarily disrupted, but in huge ways. Johnson & Johnson, for example, is still a massive conglomerate with its rubber-gloved fingers in many medical pies (do NOT try that recipe at home). But all anybody cares about these days is how its coronavirus vaccine is coming along, writes Max Nisen. J&J just halted a study of its vaccine candidate when a patient got sick, making markets nervous. But Max reminds us this just shows the study is proceeding as it should, and everybody needs to chill. (Of course, it won't help that Eli Lilly & Co. just halted a trial of its antibody therapy, too.)
Fastenal Co., meanwhile, is best known as an industrial bellwether, making stuff factories need to make other stuff. But the pandemic has turned it into a company that makes masks, writes Brooke Sutherland. Right now, in fact, it may even be making too many masks, considering how many other companies are making them, too. That's not great for Fastenal's bottom line, but it's great news for the rest of us. Because we'll need masks for a long while yet. Maybe we'll even have time to finally write that book.
Election Forecast: Mostly Weird With a Chance of Shenanigans
Every day that passes with Joe Biden holding a large polling lead makes it more likely we'll have a normal-ish election this November, giving markets one less thing to worry about. Then again, plenty of weirdness is already afoot, from hours-long voting lines in Georgia already to Republicans planting fake ballot boxes in California. Between the pandemic and unusually high voter interest, Jonathan Bernstein writes, we need to be mentally prepared for unusual happenings on election night or in the weeks after. 
Lately the stock market has been pricing in a blue wave that will lead to more stimulus. Even Big Tech stocks are ignoring the potential threat of Biden and a Democratic Senate regulating them more, John Authers writes. China's yuan is rallying, meanwhile, on the belief a Dem government will ease trade tensions, writes Shuli Ren. And markets are never wrong.
What Are Words For?
The Senate Judiciary Committee spent another day considering President Donald Trump's latest pick for the Supreme Court, Amy Coney Barrett. Throughout this process and her career, she has called herself an "originalist" like her mentor Antonin Scalia, dedicated to applying the original words of the Constitution to any question before her. This sounds great, but there are a couple of problems. For one thing, not even the Founders expected such strict adherence to their words. As Cass Sunstein points out, the Constitution is riddled with language that's difficult to interpret and has no obvious application to modern problems. It's an insult to people's intelligence to suggest otherwise. Scalia wasn't a strict originalist because it's not a thing anyone can actually be. He applied his own predilections to his decisions, and so will Barrett. 
Telltale Charts
JPMorgan Chase & Co. setting aside much less than expected for loan losses doesn't mean the economy is at a turning point, writes Brian Chappatta. It just means things aren't getting worse. Yet.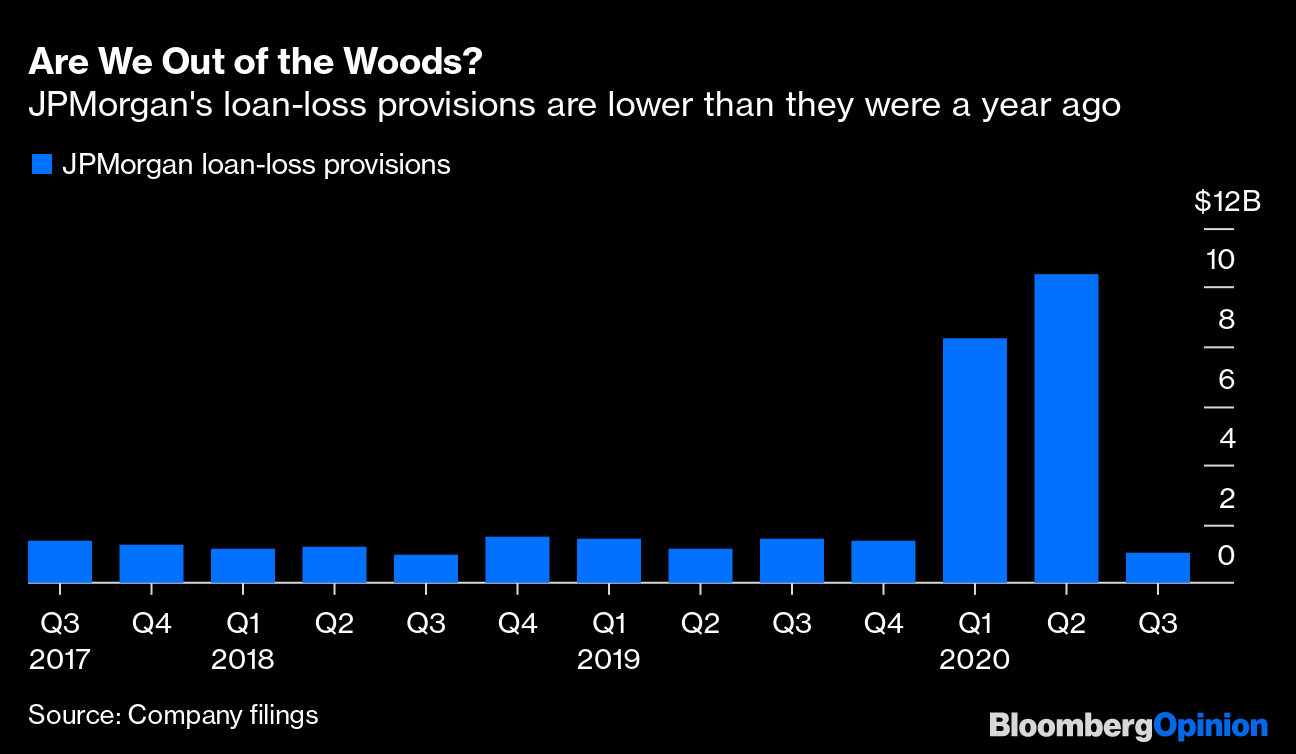 Americans are falling out of love with iceberg lettuce as tastes and demographics change, writes Justin Fox. (Momofuku's David Chang disagrees.)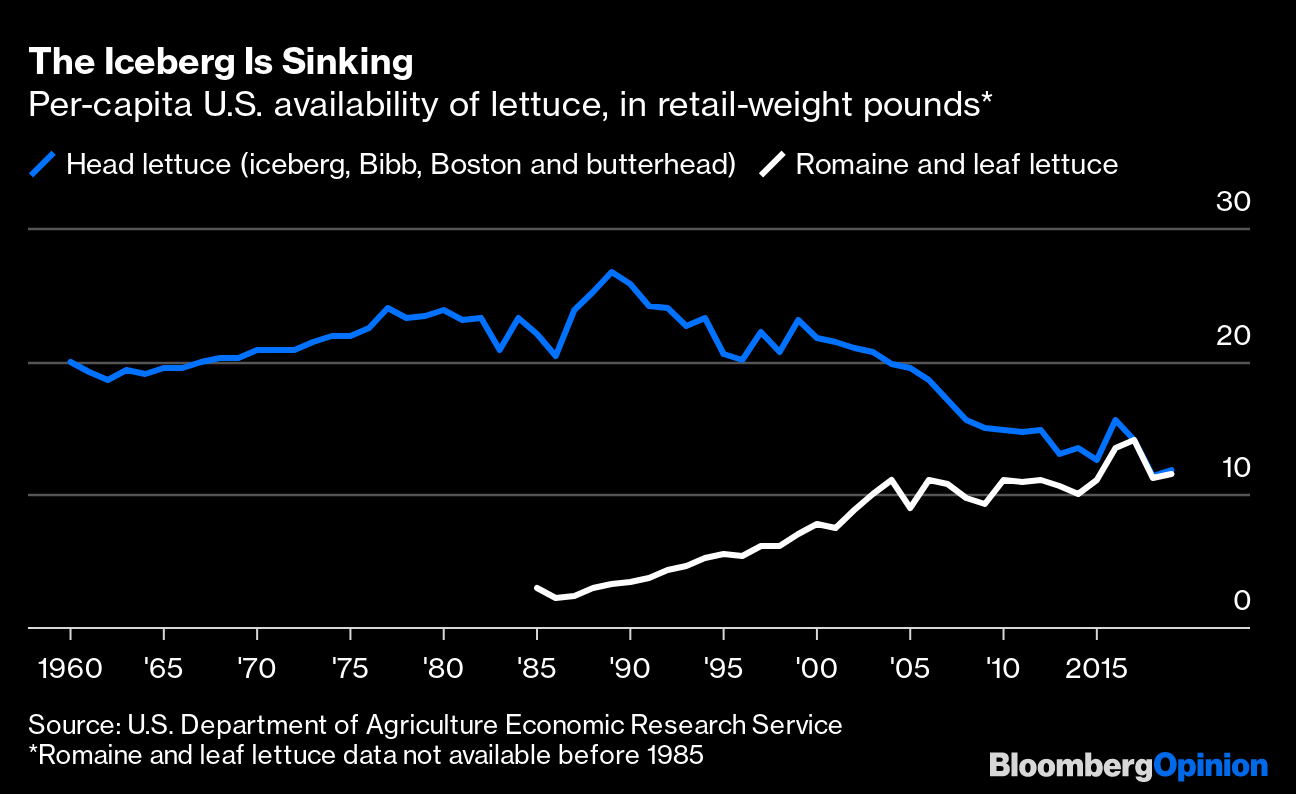 Further Reading
International curbs on shipping emissions are changing far too slowly for us to avoid the worst global warming. — Bloomberg's editorial board 
If we do get more stimulus, we'll need more safeguards on how it's spent than we had in the first round. — Tim O'Brien 
Trump's plan to make it harder for African students to study here will hurt the economy and cede influence to China. — Judd Devermont and Aubrey Hruby 
Deflation is still far likelier than inflation. — Gary Shilling 
Masa Son's new SPAC makes sense for him and may not be so terrible for investors. — Tim Culpan 
It's unusually easy to pay off student loans right now, but that doesn't mean you should. — Erin Lowry 
ICYMI
Stimulus talks are still stalled.
Apple's got new stuff for us to buy.
San Francisco apartment rents have cratered.
Kickers
Prehistoric footprints offer a vivid snapshot of daily life. (h/t Ellen Kominers)
Machu Picchu reopened for one stranded tourist. (h/t Scott Kominers)
Black hole "spaghetti-fies" a star. (h/t Mike Smedley)
The rise and rise of creativity.
Note: Please send spaghetti and complaints to Mark Gongloff at mgongloff1@bloomberg.net.
Sign up here and follow us on Twitter and Facebook.
Like Bloomberg Opinion Today? Subscribe to Bloomberg All Access and get much, much more. You'll receive our unmatched global news coverage and two in-depth daily newsletters, The Bloomberg Open and The Bloomberg Close.
Before it's here, it's on the Bloomberg Terminal. Find out more about how the Terminal delivers information and analysis that financial professionals can't find anywhere else. Learn more.
You received this message because you are subscribed to Bloomberg's Bloomberg Opinion Today newsletter.
Unsubscribe | Bloomberg.com | Contact Us
Bloomberg L.P. 731 Lexington, New York, NY, 10022