Welcome to the Brussels Edition, Bloomberg's daily briefing on what matters most in the heart of the European Union.
Call it the "no-deal" day. EU leaders will say today that not enough progress has been made for a post-Brexit agreement. They'll also discuss climate policy, and likely conclude that they need more time to decide on a more ambitious emissions target for 2030. Meanwhile, there's no sight of a deal in the talks between member states, or between governments and the EU Parliament, over a 1.8 trillion-euro, jointly-financed budget and economic recovery package. But "no-deal" situations in the EU are rarely conclusive; negotiators will continue their search for consensus and the summit that starts today is an opportunity to narrow divisions and lay the groundwork for compromises. That's the way the EU does things — one small step at a time.
— Nikos Chrysoloras and John Ainger
What's Happening
Problem Child | A leading opponent of a stricter climate target most likely won't be at the table when it's discussed by leaders this evening: Poland's Prime Minister is in quarantine in Warsaw. The Visegrad group, which also includes Hungary, the Czech Republic and Slovakia, wants more assurances on aid for the EU's green transformation.
Tax Spats | Poland and Hungary last year won rare victories in separate fights with the European Commission over taxes EU regulators had classified as illegal state aid. An adviser to the top EU court will today issue non-binding opinions that will give an indication about whether the commission has a chance of winning its appeals. It's not had much success lately though.
Tariff Decision | The EU won World Trade Organization permission to hit $4 billion of American goods with tariffs but will likely hold fire until after the U.S. presidential election next month, according to three officials familiar with the bloc's thinking. The idea is to wait until after the Nov. 3 vote to see if a deal with the victor is possible.
Lockdown Risk | The Commission will deliver two messages when it unveils a proposed vaccine strategy today: first, that states must adopt measures now to avoid a second full lockdown; and second, that they should make preparations to be ready to inoculate populations as soon as a vaccine is available. The second part won't be easy: only 28 percent of logistics firms feel well prepared to handle Covid-19 vaccines.
Virus Battle | France imposed curfews in major cities, Ireland banned household visits and Germany — which today recorded the most new cases since the start of the pandemic — put limits on bars and restaurants in hot spots. Italy and Portugal also reported record new cases. Here's the latest.
In Case You Missed It
Lagarde Scoresheet | It's been almost a year since Christine Lagarde took over from Mario Draghi as President of the ECB. And what a 12 months it's been. Here's how she's faired.
Tech Tax | France will go ahead with plans to collect its contentious digital-services tax in mid-December, keeping Europe on course for a trade battle with the U.S. over the taxation of tech giants like Facebook and Google.
Building Bauhaus | The Commission is seeking to at least double the annual rate of renovations of the continent's building stock, under a plan to create a hub for architects, engineers, and artists which will advance sustainable design. Here's what the second Bauhaus movement means for Europe.
Navalny Blacklist | The EU is poised to blacklist six people and one entity in Russia over the attempted murder of opposition leader Alexey Navalny. EU member-state envoys in Brussels cleared the way yesterday for bloc-wide asset freezes and travel bans on individuals. Their identities will be disclosed when the sanctions take effect.
African Heritage | The severed heads of the resistance fighters were first displayed in a market square. Then they were shipped back to private collections in Paris. For decades, they were boxed up in a museum basement and finally, this July, President Emmanuel Macron sent them home. Here's a glimpse into how African nations are turning their backs on the former colonial power.
Walking in Athens | In May, the Greek capital embarked on an ambitious plan to transform its traffic-clogged downtown with bike lanes and pedestrian walkways. But things didn't quite work out as planned.
Chart of the Day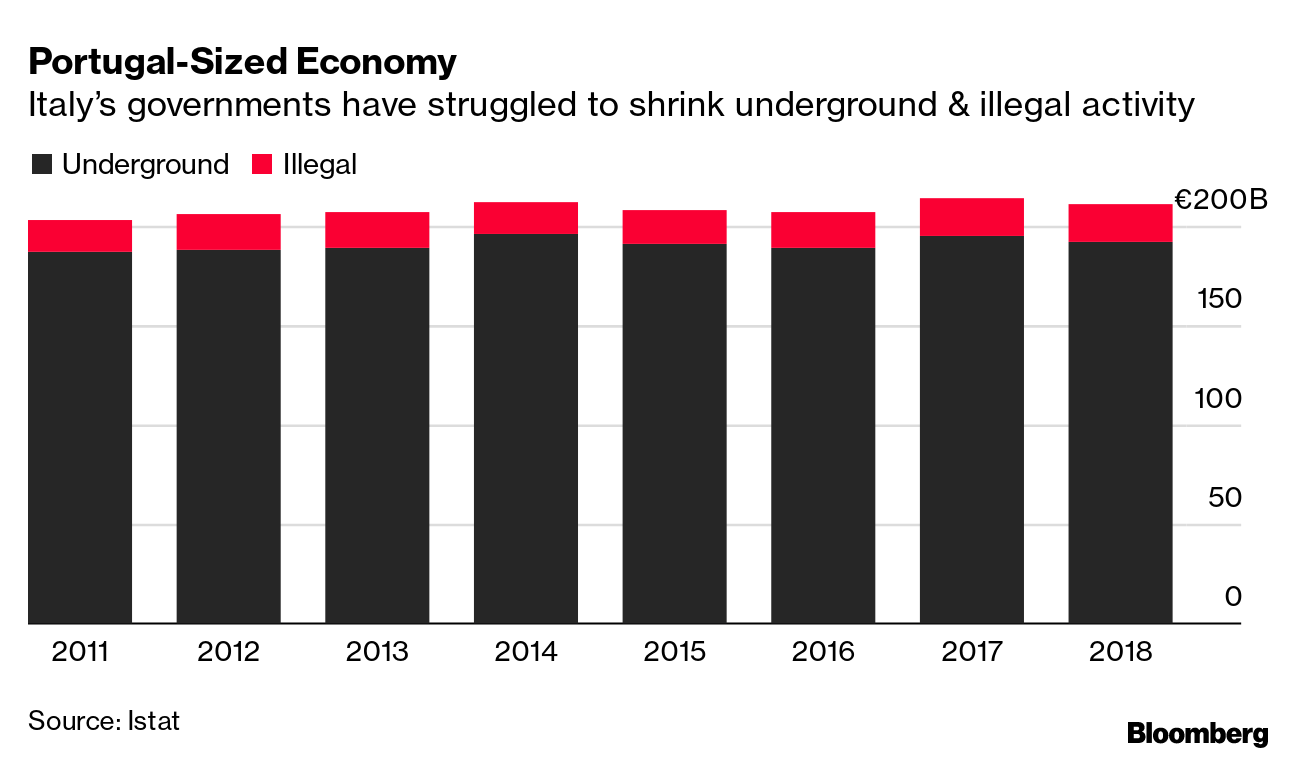 Italy has a hidden economy, encompassing anything from undeclared transactions to drugs and prostitution, that is about the size of Portugal's, according to the latest estimate. The country's statistics agency estimates that the amount of underground and illegal activity that took place there in 2018, the latest year available, was about 211 billion euros, making the undeclared portion of Italy's gross domestic product about 11.9%.
Today's Agenda
All times CET.
9:30 a.m. EU's top court gives non-binding opinion in European Commission's challenge against Poland's lower court victory to topple EU decision that classified a tax on retail sector as illegal
9:30 a.m. EU's top court issues non-binding opinion in European Commission appeal against lower tribunal's decision to annul decisions that classified tax regime of four Spanish professional football clubs including Barcelona as state aid
11 a.m. Press conference by EU Commission Vice-President Schinas and Commissioner Kyriakides on vaccination strategy
3 p.m. EU leaders meet in Brussels to discuss climate policy, Brexit, relations with Africa, Covid-19
EU's top court gives non-binding opinion in European Commission's bid to overturn lower court's decision in favor of Hungary's advertising tax
Finance Ministers, Central Bank Governors take part in IMF/World Bank meetings
Like the Brussels Edition?
Don't keep it to yourself. Colleagues and friends can sign up here. We also publish the Brexit Bulletin, a daily briefing on the latest on the U.K.'s departure from the EU. 
For even more: Subscribe to Bloomberg All Access for full global news coverage and two in-depth daily newsletters, The Bloomberg Open and The Bloomberg Close.
How are we doing? We want to hear what you think about this newsletter. Let our Brussels bureau chief know.
Before it's here, it's on the Bloomberg Terminal. Find out more about how the Terminal delivers information and analysis that financial professionals can't find anywhere else. Learn more.
You received this message because you are subscribed to Bloomberg's Brussels Edition newsletter.
Unsubscribe | Bloomberg.com | Contact Us
Bloomberg L.P. 731 Lexington, New York, NY, 10022