Brussels Edition: Buying time
Welcome to the Brussels Edition, Bloomberg's daily briefing on what matters most in the heart of the European Union.
A deluge of data releases today will show how the European economy entered the current surge of coronavirus infections that forced a new round of severe curbs on activity across the region. Going forward, we're going to see this "stop-and-go" repeated, Bruegel Director Guntram Wolff told us in a chat last night. Lockdown-induced slumps will be followed by brief rebounds and then another "WW economic situation." The European Central Bank yesterday bought some time for governments, leaving little doubt that it'll step up stimulus at its next meeting in December. President Christine Lagarde also sent a clear message to Brussels, calling for an implementation of the EU's recovery fund without delay. That looks unlikely to happen. With talks remaining deadlocked over the European Parliament's demands for additional funds and rule-of-law standards, once again, it's going to be national coffers — supported by the ECB — serving as the first line of defense. 
— Alexander Weber and Nikos Chrysoloras
What's Happening
Health Check | EU's health ministers will today conclude that the World Health Organization needs an overhaul, according to a draft of their joint statement we've seen. The wording suggests that they are particularly unhappy about the WHO's failure to recommend travel restrictions to China at the beginning of the pandemic, and they will ask that the next time there's an outbreak, independent teams are deployed in high-risk zones instead of the WHO relying on data from national governments. 
Virtual Summit | The video conference of health ministers follows last night's call between EU leaders, where some of them acknowledged they were a bit too quick to lift pandemic measures, too slow to reinstate them, too inefficient in deploying contact-tracing apps, and too relaxed in building testing and health-care system capacity. Otherwise, nicely done so far.  
Week-Ahead | Officials in Brussels are keeping their fingers crossed that U.S. voters will elect Joe Biden as their next president on Tuesday, after Donald Trump spent the past four years questioning the transatlantic alliance. Next week may also bring a long-awaited accord over a post-Brexit trade deal. EU finance ministers hold video calls Tuesday and Wednesday, while the European Commission releases its quarterly economic forecast on Thursday. 
Polish Test | Poland's most powerful politician is used to targeting what he sees as the nation's enemies, whether "self-serving elites," judges or the gay community. Now he's turned on women's rights protesters. But Law & Justice party leader Jaroslaw Kaczynski's message to the country this week underscored how the latest battle in Poland's culture war risks becoming the biggest threat to the populist government since it came to power five years ago.
In Case You Missed It
Slovakian Experiment | The European nation that protected its population better than any other from Covid-19 at the start of the global pandemic is now trying to do one better: test its entire population for the virus. Here's how Slovakia plans to become the world's first country to know the full scope of contagion within its borders. 
Islamic Extremism |  Emmanuel Macron said France will stand firm in the face of Islamist extremism after a knifeman killed three people and injured several others in the Mediterranean city of Nice — the second such attack in as many weeks. The French President is now waging what he called an "existential battle" with two massive crises. 
Facebook Probes | Facebook may be able to slow down, but not derail, EU antitrust investigators' demands to turn over vast amounts of data following a court order that sets ground rules for efforts to build a case against the U.S. tech giant. In a decision yesterday that isn't a decisive victory for either side, the president of the EU's second-highest court said the Commission can't force the social-media giant to hand over potentially sensitive records without a detailed review.
Terrible Timing | Berlin's new airport will finally welcome passengers after an eight-year delay, opening its doors just as the coronavirus crisis hammers travel demand. But the soft opening may give the facility the breathing space to overcome the damage the hapless project caused to Germany's image.
Chart of the Day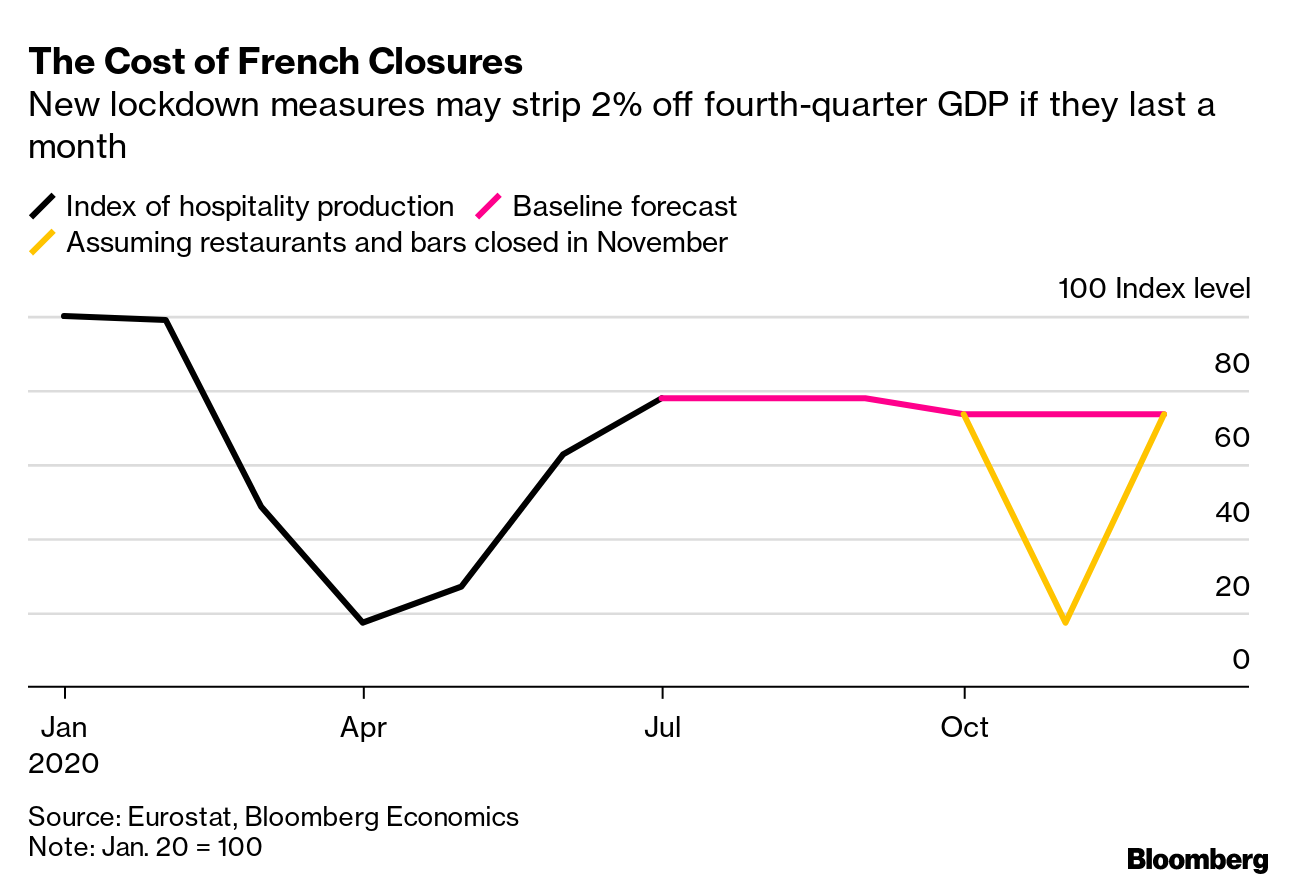 New measures to contain the coronavirus in France are slightly looser than in the first lockdown. Even so, Bloomberg Economics estimates that if the restrictions last a month, they could strip a further 2% off fourth-quarter gross domestic product on top of the 1.1% decline already forecast, with risks clearly to the downside.
Today's Agenda
All times CET.
10 a.m. German Economy Minister Peter Altmaier presents updated GDP forecasts
10 a.m. EU tech chief Margrethe Vestager discusses transparency in digital regulation at EPC event
11 a.m. Eurostat to release flash estimate for October inflation in the euro area, a preliminary flash estimate for third-quarter GDP and an unemployment reading for September 
11:10 a.m. Vestager gives a speech on rules to check massive state subsidies during the coronavirus crisis at German legal event
12:30 p.m. Press conference following video conference of EU health ministers 
Commission President Ursula von der Leyen participates via videoconference in the Conference on Green Power for Europe
EU trade chief Valdis Dombrovskis participates via videoconference in the Citizens' Dialogue online event on EU trade policy
Like the Brussels Edition?
Don't keep it to yourself. Colleagues and friends can sign up here. 
For even more: Subscribe to Bloomberg All Access for full global news coverage and two in-depth daily newsletters, The Bloomberg Open and The Bloomberg Close.
How are we doing? We want to hear what you think about this newsletter. Let our Brussels bureau chief know.
Before it's here, it's on the Bloomberg Terminal. Find out more about how the Terminal delivers information and analysis that financial professionals can't find anywhere else. Learn more.
You received this message because you are subscribed to Bloomberg's Brussels Edition newsletter.
Unsubscribe | Bloomberg.com | Contact Us
Bloomberg L.P. 731 Lexington, New York, NY, 10022