America's undecided
Stay tuned for special Election Night editions of Balance of Power.
Heading into the final weekend before the U.S. election, Donald Trump and Joe Biden will be busily campaigning, yet it's unclear how much the late flurry will matter.

More than 80 million Americans have already voted, far outpacing the last election in 2016. A poll last month by the Washington Post found than more than 60% of registered voters planned to make their choice before Election Day.

That means a lot of people have already made up their minds. Many will have voted before data yesterday showing the U.S. economy grew at a record 33.1% annual rate from July to September, a figure that could burnish Trump's economic credentials even as the pandemic continues to sweep through the country.

The president has a full campaign slate today in Michigan, Wisconsin and Minnesota. Biden, his Democratic rival who leads in most opinion polls, will also be in Minnesota and Wisconsin, along with Iowa.

There are states where last-minute campaigning might matter. Trump goes to Iowa on Sunday, his second trip in less than three weeks to a state he won in 2016 but where polls suggest he and Biden are essentially now tied.

The question is how much support Trump can garner at this late stage. The president seems to want to focus less on the economic figures and more on unproven allegations against Biden's son. In the wee hours of this morning he was busily tweeting the hashtag BidenCrimeFamily.

With time fast running out, that may prove a missed opportunity to win over Americans who may vote purely on bread and butter issues come Nov. 3.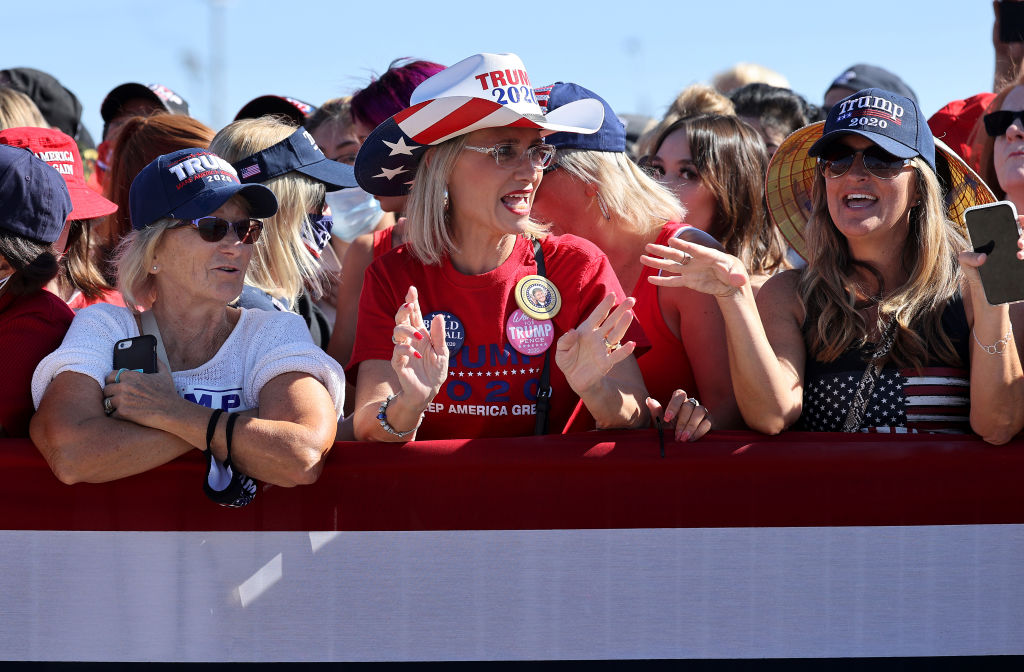 Photographer: Chip Somodevilla/Getty Images North America
Click here for this week's most compelling political images. Tell us how we're doing or what we're missing at balancepower@bloomberg.net.
China scorecard | Trump ran for office pledging to rewrite the U.S. economic relationship with China, which he blamed for hollowing out America's manufacturing base and impoverishing its workers. But as Jenny Leonard explains, economists say the unprecedented trade war he launched, breaking Republican free-trade orthodoxy, ended up costing American factory jobs. China's state support for companies that Trump pledged to confront meanwhile remains intact.
Campaign 2020
There are four days until the election. Here's the latest on the race for control of the White House and Congress.
Biden appealed to Hispanic voters in Florida, a battleground state where a win next week would give him the presidency. A federal appeals court ordered Minnesota election officials to segregate mail-in ballots that arrive after Nov. 3 in case a future court order requires the votes to be purged from the count.
Other developments
Don't miss the biggest election headlines as they happen. Download Bloomberg's app for Android or for iOS and turn on push notifications.
Under attack | France suffered another suspected jihadist attack yesterday that left three dead at a church in Nice. President Emmanuel Macron, who has been widely criticized by Muslim leaders for comments interpreted as hostile, said France was being attacked for its values. His foreign minister attempted to reach out, sending "a message of peace to the Muslim world."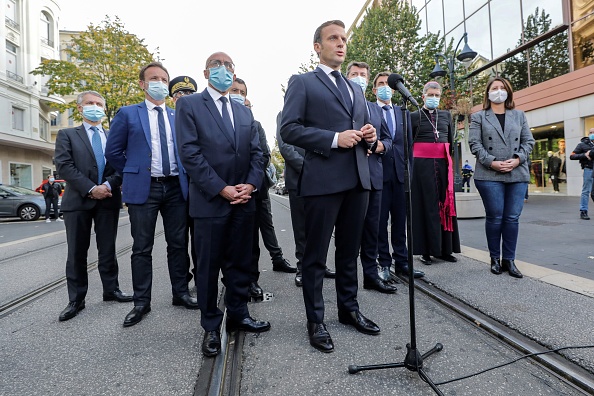 Photographer: Eric Gaillard/AFP
Opposition splits | Former U.K. opposition leader Jeremy Corbyn was suspended from the Labour Party after he failed to accept in full the findings of an anti-Semitism investigation. Corbyn was backed by more than 30 lawmakers, even though the probe found the party broke the law on his watch. As Alex Morales and Emily Ashton report, that threatens to reopen divisions in Labour after six months of calm under Keir Starmer.
Tech decoupling | China said it needs to build its own core technology because it can't rely on buying it from elsewhere, as the Communist Party laid out plans for greater economic self-sufficiency. Announcing details of its new five-year economic plan, senior party officials said the nation would accelerate development of the kind of technology needed to spur the next stage of economic development.
Italy's transformation | Something is changing at Italy's state bank. Since taking charge in 2018, Chief Executive Officer Fabrizio Palermo has been re-engineering CDP to put its $556 billion of assets to work supporting Prime Minister Giuseppe Conte's industrial strategy. But as Chiara Albanese reports, the 49-year-old also aims to be taken seriously as a private investor after hiring a clutch of investment bankers from top international firms.
What to Watch
Ivory Coast President Alassane Ouattara will seek another five-year term in tomorrow's election, after reneging on a promise to step down.
Georgians elect a new parliament tomorrow with the ruling party founded by billionaire Bidzina Ivanishvili seeking a third consecutive term.
Algerians vote Sunday on constitutional amendments aimed at ending sustained protests. President Abdelmadjid Tebboune was transferred to a German hospital this week after going into self-isolation when several aides tested positive for Covid-19.
Pop quiz, readers (no cheating!). Which leader first called for a boycott of French goods over Macron's stance on Muslims? Send us your answers to balancepower@bloomberg.net.
And finally ... Poles are expected to take to the streets again today to protest the government's support for still tighter restrictions on abortion. The demonstrations are morphing into a wider show of defiance that is beginning to look like a critical moment for ruling Law & Justice party leader Jaroslaw Kaczynski. As Wojciech Moskwa and Marek Strzelecki report, the movement could become the populist government's biggest threat yet.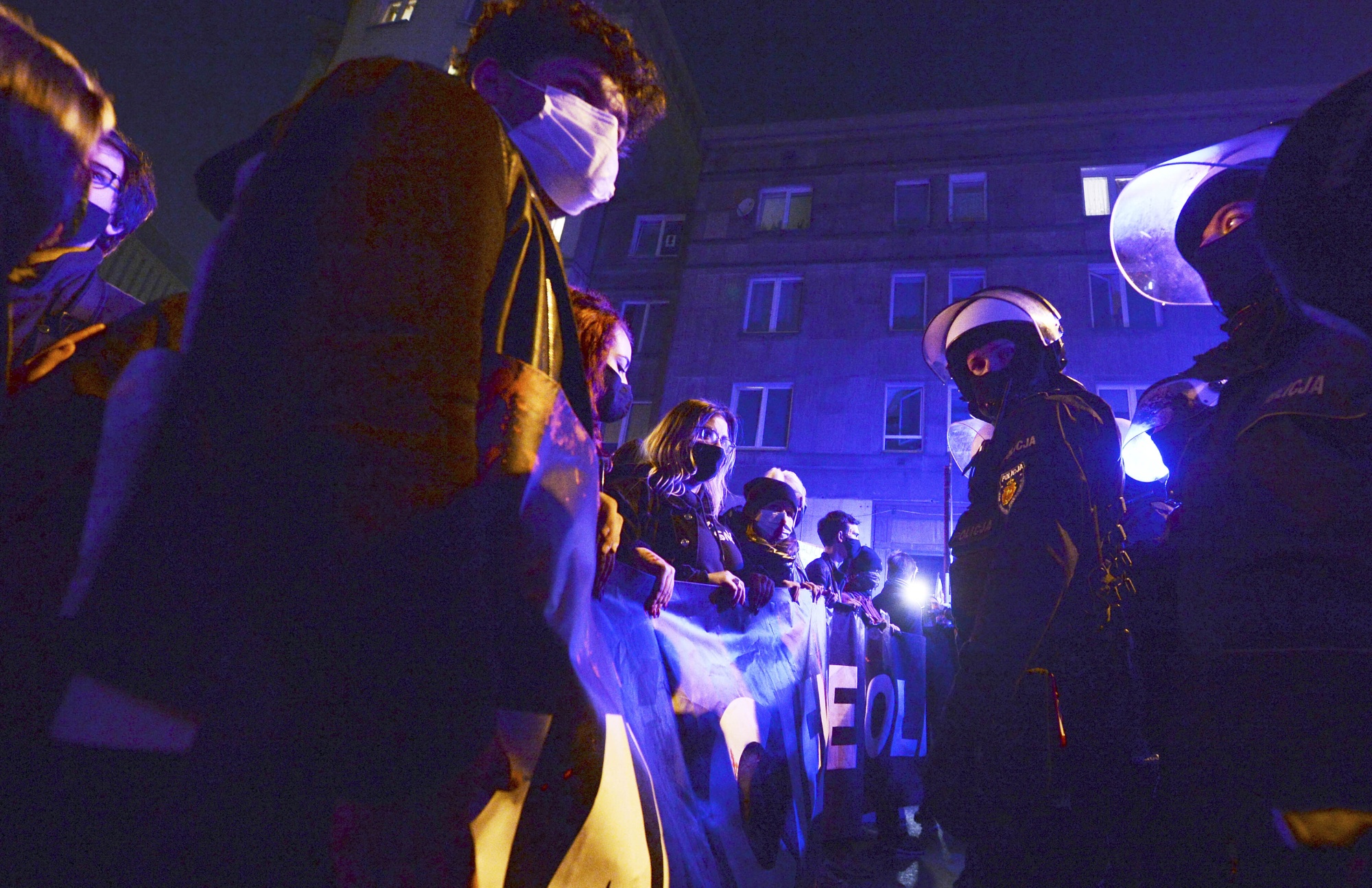 Photographer: Czarek Sokolowski/AP Photo
Like Balance of Power? Get unlimited access to Bloomberg.com, where you'll find trusted, data-based journalism in 120 countries around the world and expert analysis from exclusive daily newsletters.
You received this message because you are subscribed to Bloomberg's Balance of Power newsletter.
Unsubscribe | Bloomberg.com | Contact Us
Bloomberg L.P. 731 Lexington, New York, NY, 10022