5 things to start your day
Setback in vaccine trial, another oil warning, and a raft of corporate news.
Halted
Johnson & Johnson halted clinical trials of its Covid-19 vaccine after a participant fell ill. AstraZeneca Plc ran into a similar problem last month, before restarting in most countries except for the U.S. While late-stage trial halts are not unusual, pressure to find a vaccine means they will gain much more attention. Hopes of a vaccine by election day have been all but dashed as Food and Drug Administration safety measures extend the timeline for approval. There remains little sign that the outbreak is under control in Europe or the U.S. 
Peak oil 
The Paris-based International Energy Agency said that the pandemic will have a permanent effect on global oil demand. In its latest report, it predicts that consumption of crude will plateau around 2030, but at a lower level than previously forecast. The agency also said that achieving net-zero greenhouse gas emissions by 2050 would be a mammoth task for governments and policymakers. OPEC publishes its monthly report later today, and the CEOs of some of the world's biggest oil producers speak at the Energy Intelligence Forum today. 
Earnings, Apple
Bank earnings season kicks off today with JPMorgan Chase & Co. and Citigroup Inc. reporting results before the bell. Analysts will be watching for how much lenders are setting aside for loan losses, with estimates compiled by Bloomberg suggesting U.S. banks will add about $10 billion to provisions. Apple Inc. is holding an event later at which the company will launch a range of 5G iPhones. While Apple is far from the first phonemaker to include 5G compatibility in its products, many networks in the U.S. have yet to roll out the technology in a way that supports consistently higher data speeds.  
Markets mixed
Global equities are little changed as investors digest the setback in a vaccine trial and await the start of Wall Street earnings season. Overnight the MSCI Asia Pacific Index gained 0.2% while Japan's Topix index closed 0.3% higher. In Europe, the Stoxx 600 Index was 0.2% lower at 5:50 a.m. Eastern Time with defensive stocks among the best performers. S&P 500 futures pointed to little change at the open, the 10-year Treasury yield was at 0.757% and gold was slightly lower. 
Coming up...
U.S. inflation data for September at 8:30 a.m. is expected to show a 0.2% increase in prices from August. The IMF publishes its World Economic Outlook. Richmond Fed President Thomas Barkin and San Francisco Fed President Mary Daly speak later. Democrat lawmakers get their chance to question Supreme Court nominee Amy Coney Barrett. President Donald Trump speaks at a rally in Pennsylvania. As well as the big banks, Johnson & Johnson, BlackRock Inc. and Delta Air Lines Inc. report earnings. 
What we've been reading
This is what's caught our eye over the past 24 hours. 
And finally, here's what Joe's interested in this morning
In this space, I write a lot about fiscal policy, and the question of whether in the post-crisis world, governments will use their ability to spend more aggressively in stabilizing the economy. There are lots of good reasons to think this might become more of a thing, as my colleague Alaa Shahine discusses here. Central banks have set rates around zero throughout the developed world, and while they may still have tools at their disposal, their efficacy is questioned. Furthermore, we've seen that governments have the ability to run historically large deficits, reviving consumption without creating high levels of inflation during this crisis -- offering a sort of proof of concept of what fiscal policy can achieve. And then beyond that the intellectual landscape is changing. MMT is shifting the public debate, helping to remove deficit-phobia. Mainstream economists have been talking more about the potential for government spending for awhile now. Even the IMF is exhorting government to spend more.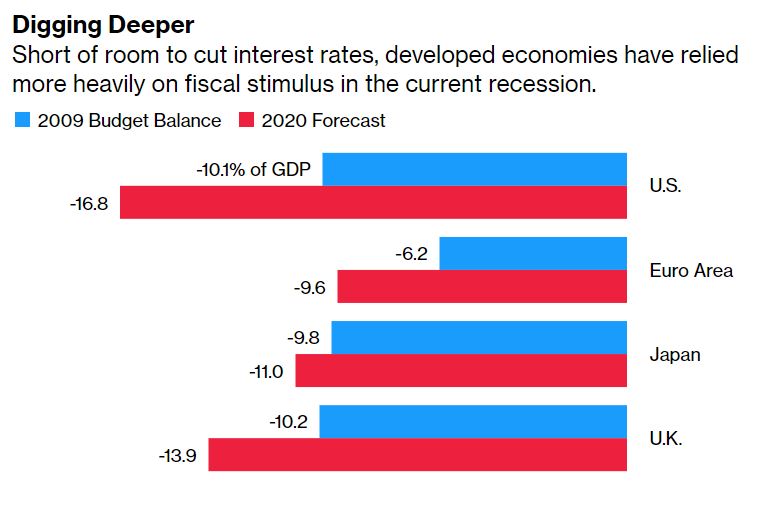 Photographer: Weisenthal, Joe

But for all the hype, we're still far away from some elegant handoff from monetary authorities to fiscal ones. Take the U.S. The CARES Act proved to be incredibly effective and beneficial, and yet stimulus talks have gone nowhere since then. The expanded benefits to the unemployed got taken away, and fairly few people in D.C. seem to feel much urgency to get them going again. Earlier this month, U.K. Chancellor Rishi Sunak talked up the importance of making hard choices to get borrowing under control. The EU, which has perhaps made the most impressive strides in terms of activating its ability to spend, has had challenges getting its recovery fund going. 

The fight over the U.S. stimulus is instructive. In theory, there's a wide swathe of politicians who would be inclined to spend more money right now. In practice, there's a high degree of mistrust, fear about giving the other side a "win" so close to an election, and concerns over which constituencies actually get the money. For Republicans, the idea of spending money to shore up the finances of "blue state" local governments is politically toxic.
And therein lies the real issue. The distributional politics of fiscal policy are overt. You can see it in the law. Someone gets more money. Someone gets less. This is what politicians are elected to fight about. Monetary policy has its own embedded distributional politics (you can listen to PIMCO's Paul McCulley on that) but it's in the background. It's slower moving over time. Even if a more robust policy transition takes place, it's hard to imagine there won't be ongoing disputes and tension about who's getting the checks and who isn't.
Joe Weisenthal is an editor at Bloomberg.
Like Bloomberg's Five Things? Subscribe for unlimited access to trusted, data-based journalism in 120 countries around the world and gain expert analysis from exclusive daily newsletters, The Bloomberg Open and The Bloomberg Close.
Before it's here, it's on the Bloomberg Terminal. Find out more about how the Terminal delivers information and analysis that financial professionals can't find anywhere else. Learn more.
You received this message because you are subscribed to Bloomberg's Five Things newsletter.
Unsubscribe | Bloomberg.com | Contact Us
Bloomberg L.P. 731 Lexington, New York, NY, 10022