You can't save the climate with a dying economy
Follow Us


This is Bloomberg Opinion Today, a public-private partnership of Bloomberg Opinion's opinions. Sign up here.
Today's Agenda
How to Save the Economy and Planet
The pandemic threw the global economy into sharp reverse this year, which you might think would be great news for the environment. Less flying, shopping and commuting means less fuel burned and less carbon spewed into the atmosphere, right? But the effect was minimal: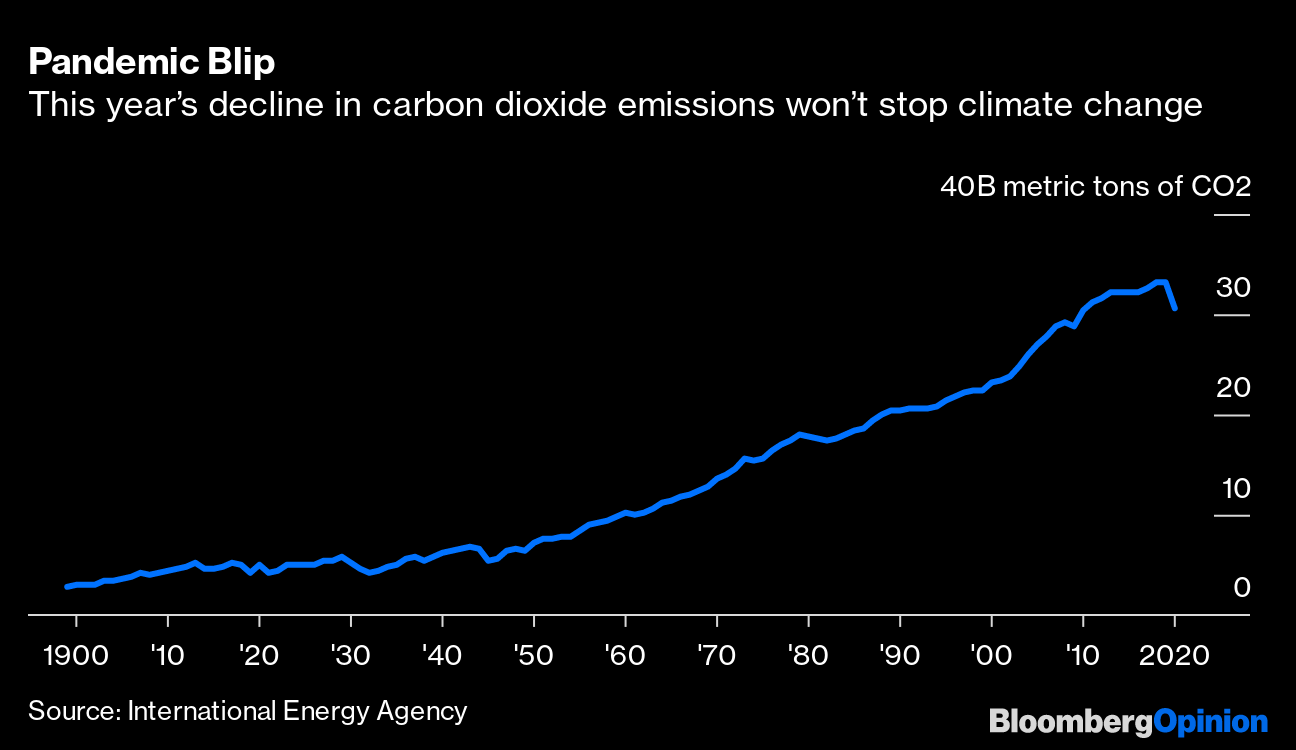 Repeating this feat enough to make a real dent in global warming would mean widespread economic destruction and misery, notes Meghan O'Sullivan. In fact, the best environment for a shift to green energy is one of strong growth, she writes. This raises energy costs, fueling demand for cleaner sources and the capital to meet it. When the economy is dying, governments throw climate concerns into the furnace along with whatever else it takes to make the pain go away.
It is possible to stimulate the economy without sacrificing our future, though, writes Andreas Kluth. Using the proceeds of a carbon-emissions trading system to bankroll public works and social programs would do the trick. This wouldn't be a stretch for the European Union, which has not only carbon trading but also a world-class green stimulus package already: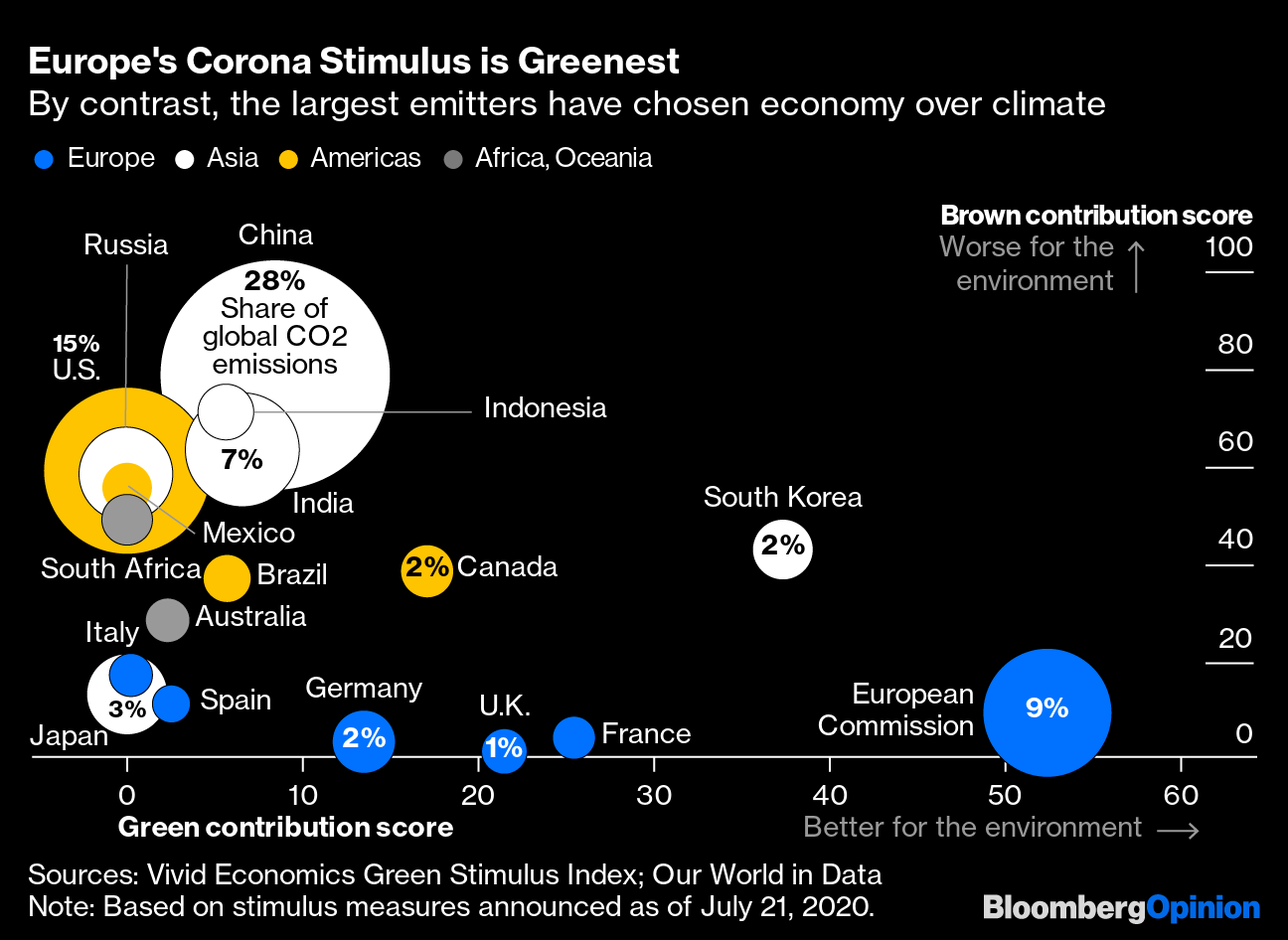 Bonus Energy Versus Economy Reading: The 1970s oil shock changed the U.S. economy forever. — Noah Smith
New York's Old-Timey Comeback Plan
Some people — typically those with lots of friends who have fled to the suburbs — say New York City will never recover from the coronavirus pandemic. It has certainly seen better days. It has also seen much worse days. Back in 1979 "The Warriors" was closer to documentary than camp. But the city climbed out of its pit then, and it will again, write Nir Kaissar and Tim O'Brien. The new rescue plan could be very much the same as the old one: a public-private partnership to lend money to the city to fill its yawning budget deficits. Not only New York but all of America's cash-starved cities could benefit from such an idea.
Because they're probably not going to get help from Congress anytime soon. Democrats want to give state and local governments hundreds of billions in relief as part of a new stimulus plan. Republicans don't, and they run the Senate. The Problem Solvers Caucus this week proposed a bipartisan compromise that is probably dead on arrival. But something must be done soon, writes Karl Smith. Any relief the economy got from the earlier stimulus is fading fast.
Further Politics Reading: Congress must pass a funding bill soon to avoid a shutdown. That could be messier than it sounds. — Jonathan Bernstein
TikTok and You Don't Stop
When you consider the story of TikTok, it's kind of incredible. First this goofy video-sharing app became the opium of masses of teens. Then it became a pawn in a global trade war. President Donald Trump declared the Chinese-owned company a menace to user data and threatened to end its existence. Now the whole controversy may be defused by letting one of Trump's biggest campaign donors make money babysitting it, while milking its user data.
All of this happened in the space of a year, which is apparently more than enough time for everybody to get inured to the ridiculousness and shamefulness of the whole debacle. As Joe Nocera writes, everything about this saga is unsavory and anti-capitalist. Shutting down a rival country's best technology company because reasons is the sort of thing China does, Joe notes. Giving its business to one of your cronies is the sort of thing Russia does. None of it is the sort of thing the U.S. should do. And yet nobody really seems to care, as the Trump administration keeps smashing American norms.
Bonus Trade-War Reading: Rather than wrecking the WTO, the U.S. should be trying to fix it to keep China in check. — Bloomberg's editorial board
Telltale Charts
There will be many more Venezuelas around the world as oil demand collapses, warns David Fickling.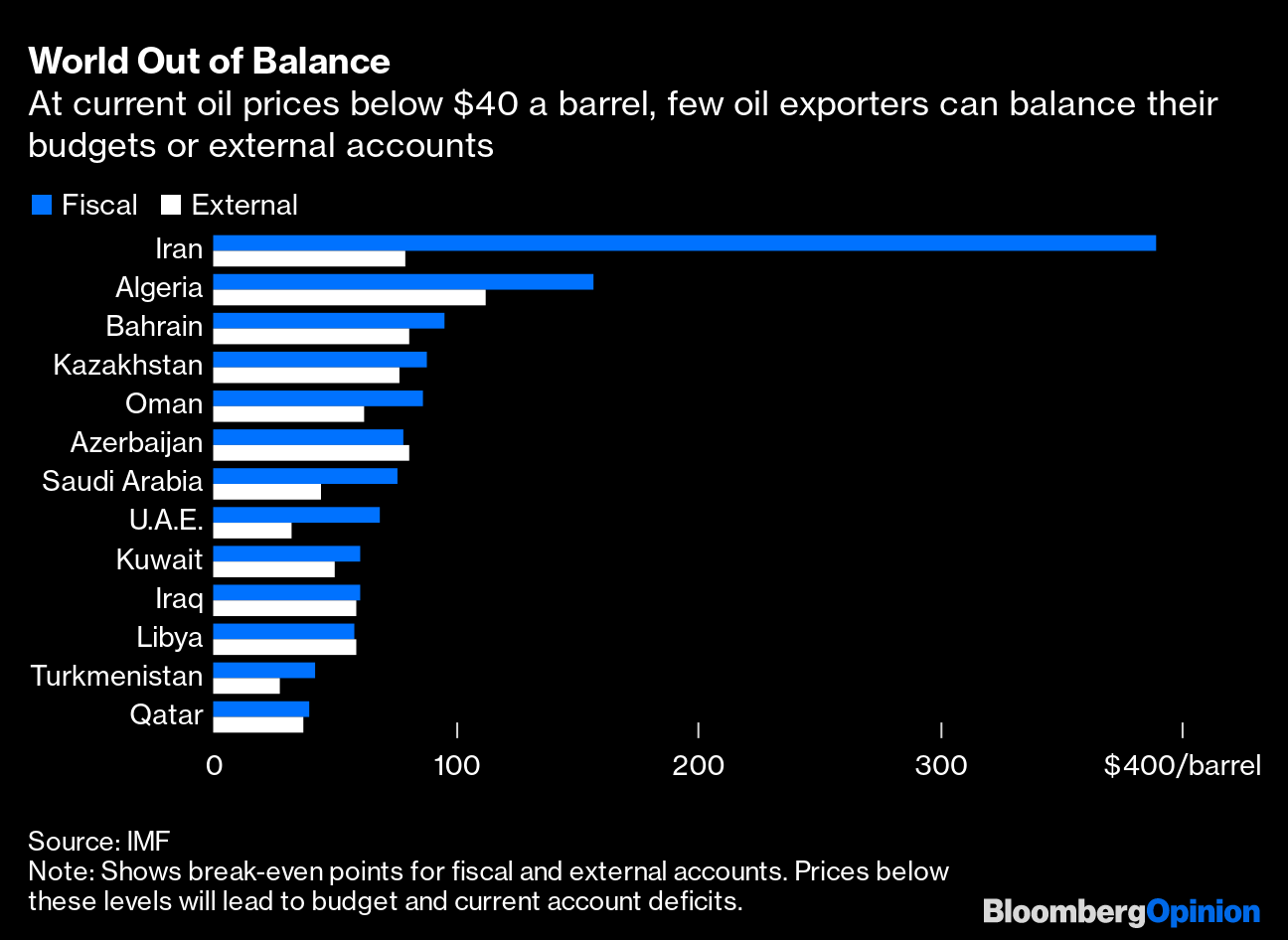 Further Reading
FedEx is thriving in the pandemic, flattering if not vindicating Fred Smith's overhaul efforts. — Brooke Sutherland
Demand for fast fashion is surprisingly strong as people slowly get out of the house. — Andrea Felsted
European banks need to get over their aversion to cross-border mergers. — Ferdinando Giugliano
Should private equity be available to retirement plans? — Nir Kaissar and Barry Ritholtz debate
Judges are starting to look askance at lockdown orders, meaning officials will have to be more careful applying them. — Noah Feldman
Louisville's big payout to Breonna Taylor's family could discourage more police shootings than any reform. — Stephen Carter
ICYMI
New York prepares for a second coronavirus wave.
Amazon plans to put 1,000 warehouses in the suburbs.
Most 18- to 29-year-old Americans live with their parents.
Kickers
Dave Grohl is losing his drum war with a 10-year-old girl.
The "Fresh Prince" house is for rent. (h/t Scott Kominers for the first two kickers)
Birds are falling out of the sky in a mass die-off in the American Southwest.
Killer whales are orchestrating attacks on boats.
Note: Please send drum solos and complaints to Mark Gongloff at mgongloff1@bloomberg.net.
Sign up here and follow us on Twitter and Facebook.
Like Bloomberg Opinion Today? Subscribe to Bloomberg All Access and get much, much more. You'll receive our unmatched global news coverage and two in-depth daily newsletters, The Bloomberg Open and The Bloomberg Close.
Before it's here, it's on the Bloomberg Terminal. Find out more about how the Terminal delivers information and analysis that financial professionals can't find anywhere else. Learn more.
You received this message because you are subscribed to Bloomberg's Bloomberg Opinion Today newsletter.
Unsubscribe | Bloomberg.com | Contact Us
Bloomberg L.P. 731 Lexington, New York, NY, 10022