Vaccine hold-up
A vaccine front-runner is held up by political tensions. China's stock market rebound impresses across the board. And China's top leaders gear up for a new economic strategy. Here are some of the things people in markets are talking about today.
One of the world's fastest-moving efforts to develop a Covid-19 vaccine is falling behind rivals. Its advance has seemingly been stymied by political tensions between China and Canada, as well as concerns its shot may not work as well as others. CanSino Biologics, the Chinese company which in March started the world's first human tests on an experimental coronavirus shot, has yet to kick off critical final-stage trials. It's curious, because rivals like U.S.-based Moderna and Britain's AstraZeneca, as well as China's Sinovac Biotech and Sinopharm, are well into this last phase of testing. CanSino, meanwhile, was supposed to send its vaccine candidate — developed with Canadian technology — to Canada so that final-stage tests could begin on Canadians, as per an agreement with the country's government. The vials never arrived. Guy Saint-Jacques, a former Canadian ambassador to China, said it's clear this isn't just a bureaucratic glitch, because the company appears to have shipped to countries friendly to China. Meanwhile, experts say there isn't enough evidence to recommend the plasma therapy touted by U.S. President Donald Trump. Here's everything you need to know about the vaccine race.
Stocks in Asia were poised for a mixed start despite another record high for U.S. stocks in the wake of tech shares advancing and as investors snapped up work-from-home winners. Futures rose in Japan and Australia, while contracts in Hong Kong declined. Zoom earlier led a rally in companies well positioned for stay-at-home orders, while Apple pulled the S&P 500 Index to an all-time high. The dollar erased losses as data showed U.S. manufacturing expanded last month at the fastest pace since 2018. Treasury yields dipped. Elsewhere, crude oil climbed toward $43 a barrel on a pickup in economic activity in the U.S. and China.
The record-setting rally in U.S. equities gets all the attention but China's stock market boasts a broader rebound. The CSI 300 Index has 79% of its members trading above their 200-day moving average — almost twice the five-year average — while the figure for the S&P 500 Index is 62%, a sign of fewer stocks buttressing the rally there. The proportion is 86% for the ChiNext Index, versus about 50% for the Nasdaq Composite. So what gives? Technology and related sectors have powered the S&P 500 to multiple highs this year but the rally has been concentrated in a handful of stocks that investors see as well-suited for a stay-at-home economy. In China, the rebound has spread to laggards including industrials and materials, a trend that is consistent with a recuperating economy. Still, the recovery may not be even — Chinese consumers are back to binging on luxury handbags, cosmetics and cars, but still won't eat out at restaurants.
China's top leaders next month will lay out their economic strategy for the next five years that will include a new ambition to ramp up domestic consumption and make more critical technology at home. Described as a strategy of "dual circulation" in recent speeches by President Xi Jinping, the plan is for a more self-reliant domestic economy. Trump's aggressive efforts to curb Chinese companies' activities is accelerating this shift inwards. It's a policy change that may have knock-on implications for the flow of goods and services around the world if it drives a concerted effort to replace imports. Meanwhile, the Pentagon is warning that China's rapid military buildup means the country is closer to joining the U.S. and Russia among the top nations capable of deploying nuclear weapons on land, in the air and at sea.
Tesla is capitalizing on its status as the world's most valuable automaker with a share offering to fund growth. The Palo Alto, California-based company will sell as much as $5 billion in shares "from time to time" through an agreement with several banks, according to a regulatory filing Tuesday. Tesla plans to use the proceeds to strengthen its balance sheet and for general corporate purposes as Chief Executive Officer Elon Musk makes the most of surging demand from retail investors for the company's shares. Tesla is expanding with new factories going up in Germany and Austin, Texas, following the recent completion of a plant in Shanghai. It's a pivotal time for the manufacturer, which faces more competition from established automakers and startups alike aiming to chip at its lead in electric-vehicle sales.
What We've Been Reading
This is what's caught our eye over the past 24 hours:
And finally, here's what Cormac's interested in this morning
Japan's market tea leaves aren't the best help in judging the race to replace Prime Minister Shinzo Abe. For one, strategists seem to be voicing a near-consensus that there will be little, if any change, to the country's economic agenda. The Topix fell Friday on Abe's shock resignation before recovering Monday (Warren Buffett's interest in Japan's trading houses certainly helped). But underneath the surface, it does seem traders are betting on Abe's right-hand man, Yoshihide Suga. That's if we take the relative performance of Japan's telecom stocks as a proxy for the Chief Cabinet Secretary. He has yet to lay out a policy platform but he has called for cheaper mobile phone rates in the past, and the Topix is duly outperforming the unfortunate telcos since Friday.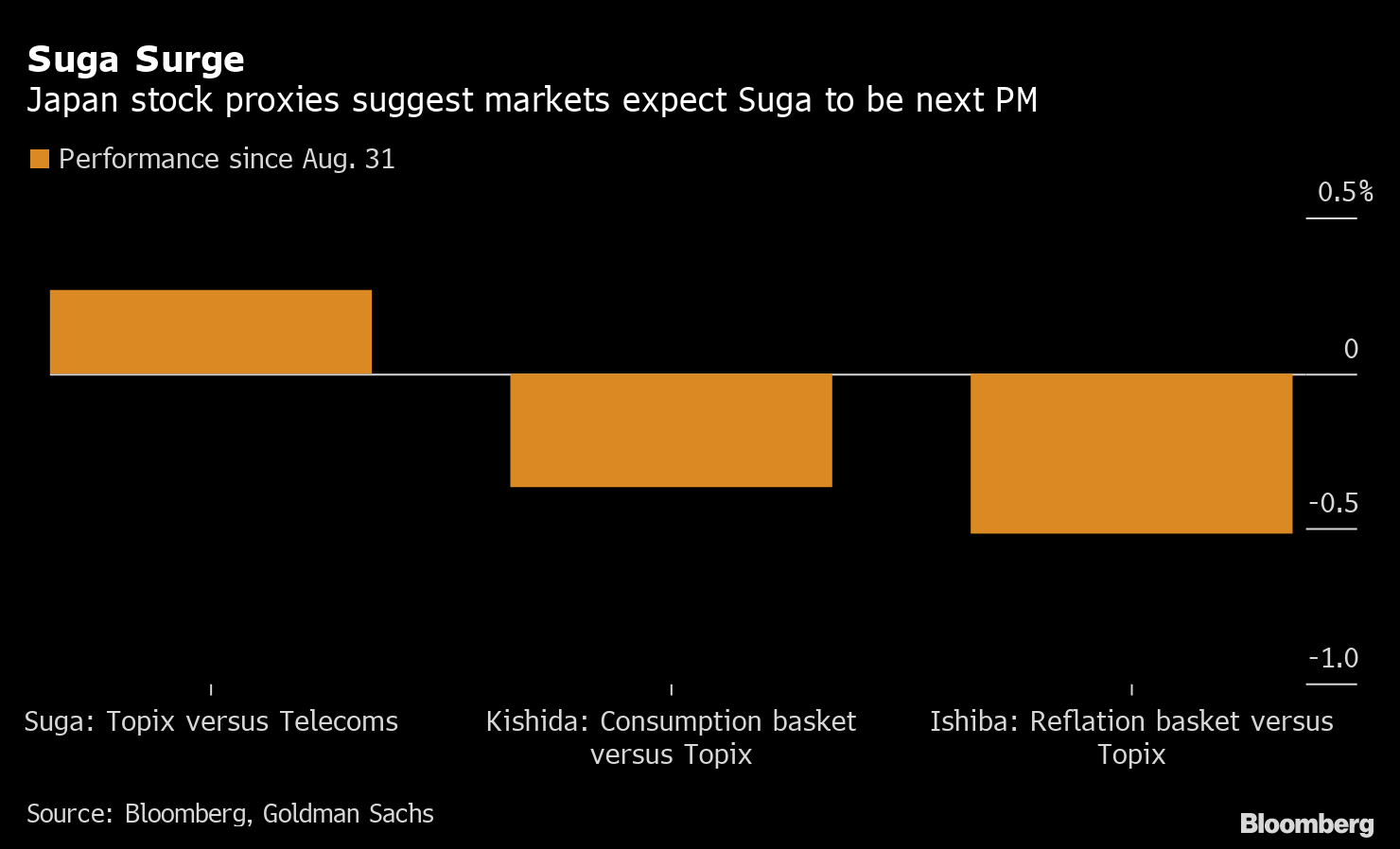 The voters' preferred choice — former defense minister Shigeru Ishiba — is way down the pecking order, if we use a Goldman Sachs basket of reflation-themed names as his equity proxy. We choose this because he has called for reinvigorated domestic demand while casting doubt on the sustainability of the Bank of Japan's monetary policy. In with a better shout of winning is former foreign minister Fumio Kishida. His equity proxy — a Goldman Sachs basket of consumption names chosen because he is pro-spending but still in favor of low interest rates — is doing better than Ishiba's, though still trailing Suga's. Though the moves are small and the links may be tenuous, the proxies do seem to tally with the political pecking order so we'll be keeping an eye on them ahead of the likely mid-September vote.
Cormac Mullen is a Cross-Asset reporter and editor for Bloomberg News in Tokyo.
Before it's here, it's on the Bloomberg Terminal. Find out more about how the Terminal delivers information and analysis that financial professionals can't find anywhere else. Learn more.
You received this message because you are subscribed to Bloomberg's Five Things - Asia newsletter.
Unsubscribe | Bloomberg.com | Contact Us
Bloomberg L.P. 731 Lexington, New York, NY, 10022