This post-election scenario should worry Wall Street
Follow Us


This is Bloomberg Opinion Today, a color revolution of Bloomberg Opinion's opinions. Sign up here.
Today's Agenda
Peaceful Transitions Are So 1900s
A scary article making the rounds reports that President Donald Trump is exploring plans to toss out election results and reinstall himself in a second term, raising all sorts of wild potential scenarios, including the possibility we get to Inauguration Day with Trump, Joe Biden and Nancy Pelosi all holding claim to the presidency. And you thought 2020 was terrible!
Trump hasn't helped, by refusing to commit to a peaceful transfer of power, something that has long set this republic apart from banana-flavored ones. A contested election is one thing, but what Trump seems to contemplate is the end of democracy, warns Jonathan Bernstein. Encouragingly, several Republicans, including Mitch McConnell, appeared to rebuke Trump today, vowing any power transfer would indeed be peaceful. Now we just need them to stick to that all the way to the inauguration, which may become uncomfortable if, as the polls currently suggest, Democrats are poised to take the White House and both houses of Congress.
It would also help to know how the Supreme Court justice Trump and McConnell mean to jam onto the bench before Nov. 3 would rule if some Trump election ploy comes before the court, writes Francis Wilkinson. If we actually get confirmation hearings for this justice, then Frank suggests Minnesota Senator Amy Klobuchar could be the ideal questioner.
The growing threat of unprecedented political turmoil is starting to worry Wall Street, notes John Authers (though stocks today mostly looked to the thin promise of fiscal stimulus in the near future). And it should worry investors, writes Noah Smith. Typically, political turmoil and anti-democratic coups are very bad news for economies.
Some Trump supporters warn it's Biden who will refuse to accept defeat. Some even say the Deep State is planning to overthrow Trump with a "color revolution" of the sort seen in Ukraine and elsewhere. Eli Lake writes this gets both Democrats and color revolutions wrong. But the fact that such ideas even have to be debunked is not a great sign.
Bonus Politics Reading: Trump has papered over farmers' problems with cash, but the money is dwindling and the problems are getting worse. It's starting to cost him political support. — Adam Minter
Making Working From Home Work
Being able to work from home during a pandemic is a luxury that would have been almost unthinkable a generation ago. Those of us who can do it are grateful, especially if we no longer have to travel through New York's Penn Station, the world's only train depot built entirely from chicken bones and sadness. And yet! We also must confess it isn't always the most productive work environment, writes Lionel Laurent. Too many of us are working on clunky old technology and fighting our remote-learning children for precious WiFi bandwidth. If this is going to be a long-term thing, and it seems like it is, then employers will need to start chipping in to make it more productive.
And much of the stuff that makes economies hum and lives worth living are only accessible in the physical world, writes Virginia Postrel. Much of a book she recently wrote was based on research found only in now-closed libraries and the serendipity that happens when you mingle with other humans.
Bonus Pandemic Reading: How is Italy managing to avoid a second coronavirus spike? Strong testing and tracing and mask-wearing are helping. — Ferdinando Giugliano
California Dreaming Small
California's plan to ban the sale of any new gasoline-powered cars by 2035 sounds ambitious until you realize:
California is on fire right now thanks to climate change; and
Other places are moving much more quickly, as Chris Bryant writes.
Even Norway, the Saudi Arabia of Europe, plans its gas-car ban to take effect a whole decade earlier. And people will still be able to buy used gasoline-powered cars in California after 2035. We already have the technology to do better. Also did we mention the state is on fire?
Telltale Charts
Thanks to government stimulus, this pandemic recession has seen surprisingly few bankruptcies and a whole lot of new businesses, writes Justin Fox.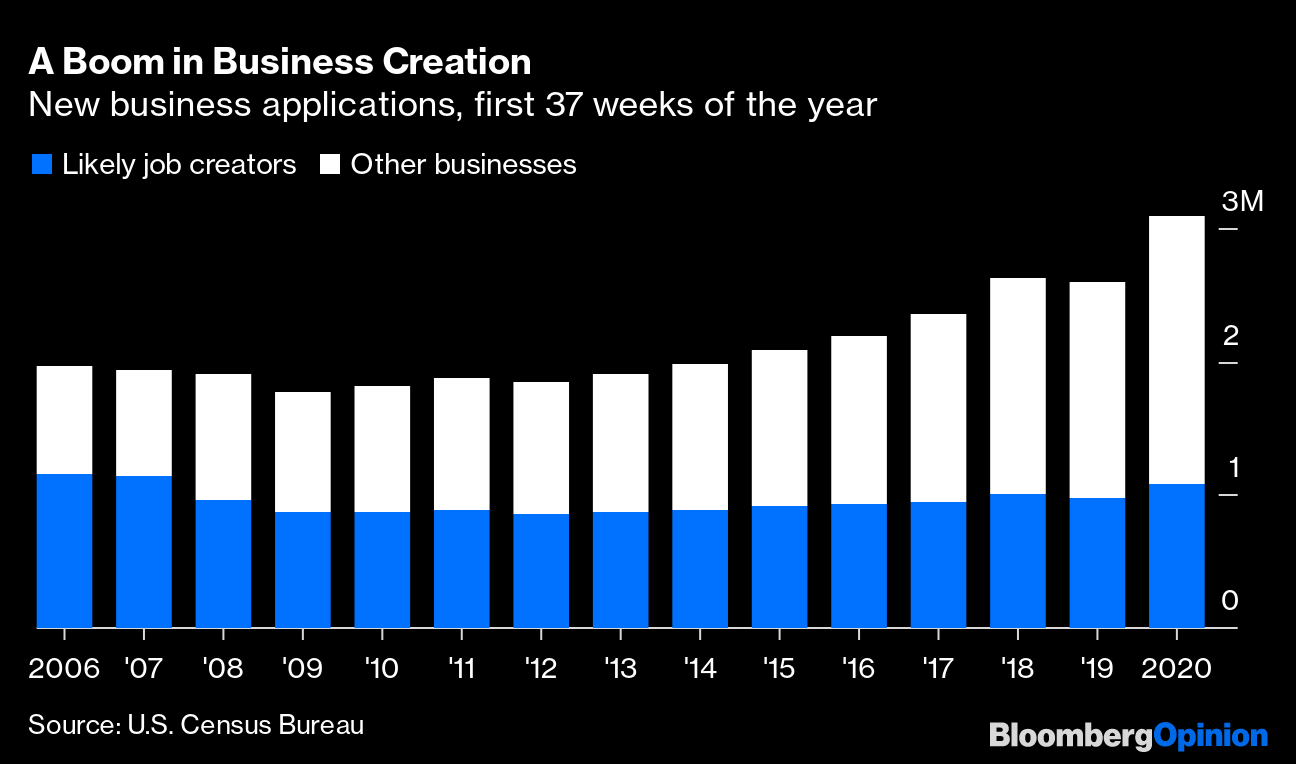 Streaming services looking for entertainment to bundle in a pandemic content drought could do a lot worse than Discovery's reality-heavy lineup, which includes Food Network, HGTV and TLC, writes Tara Lachapelle.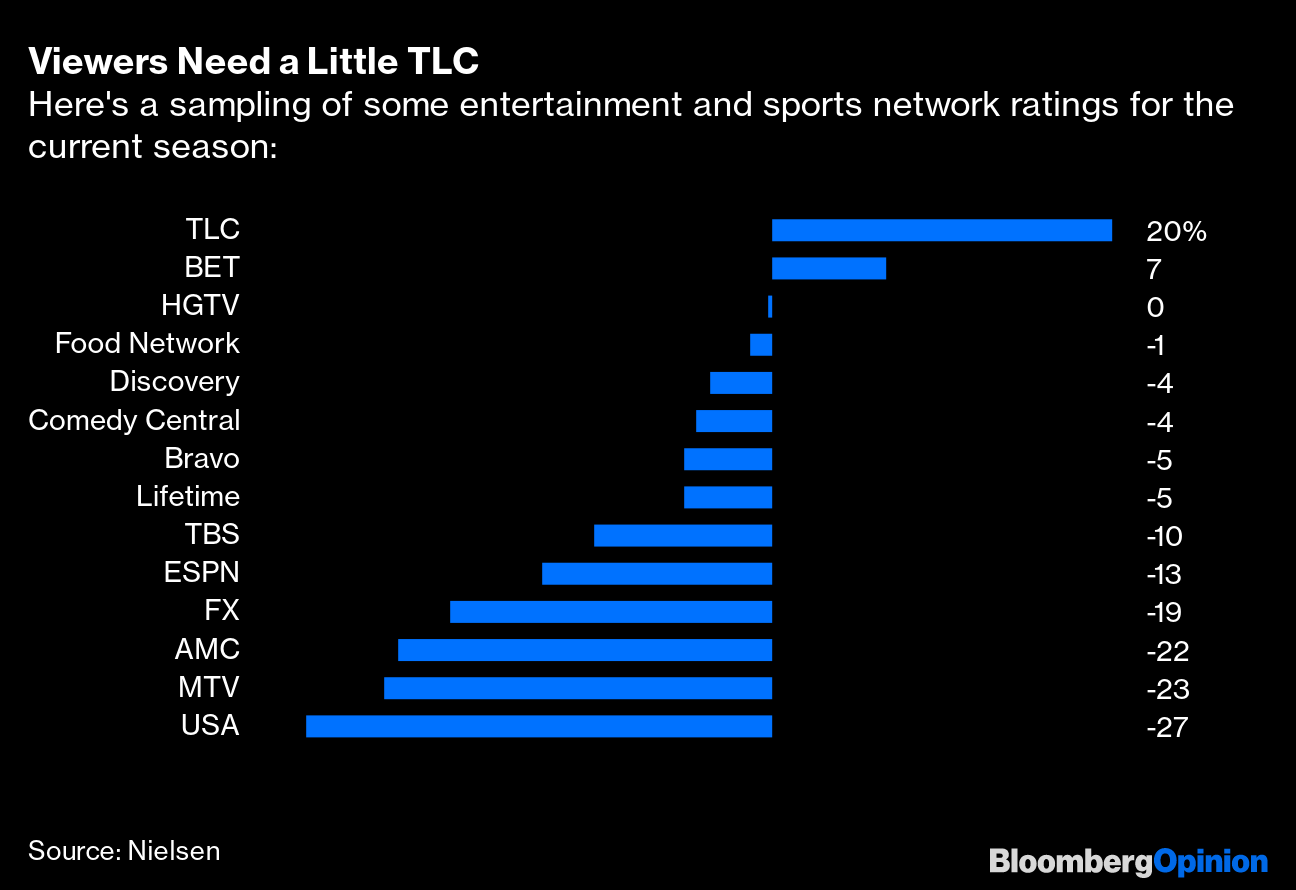 Active fund managers keep covering themselves in the opposite of glory, writes Mark Gilbert.
Further Reading
Apple's App Store is actually a benefit to both consumers and developers. — Bloomberg's editorial board
Read the fine print on the TikTok deal; China will still have control even if it doesn't have most of the shares. — Shuli Ren
China's aggression is bringing Asian nations together to oppose it. It won't be an Asian NATO, but something short of that could work. — Hal Brands
There aren't many truly great editors. Harold Evans was one. — John Micklethwait
ICYMI
Extreme heat makes Covid-19 deadlier.
Brooklyn real estate is hotter than ever.
What every home needs: a flying security camera.
Kickers
If you can get a 1,000-pound safe out of this house, it and its mystery contents are all yours. (h/t Scott Kominers)
Man dies from eating too much licorice. (h/t Mike Smedley)
Scientists find 115,000-year-old human footprints in Saudi Arabia.
Bush did North Dakota.
Note: Please send safes and complaints to Mark Gongloff at mgongloff1@bloomberg.net.
Sign up here and follow us on Twitter and Facebook.
Like Bloomberg Opinion Today? Subscribe to Bloomberg All Access and get much, much more. You'll receive our unmatched global news coverage and two in-depth daily newsletters, The Bloomberg Open and The Bloomberg Close.
Before it's here, it's on the Bloomberg Terminal. Find out more about how the Terminal delivers information and analysis that financial professionals can't find anywhere else. Learn more.
You received this message because you are subscribed to Bloomberg's Bloomberg Opinion Today newsletter.
Unsubscribe | Bloomberg.com | Contact Us
Bloomberg L.P. 731 Lexington, New York, NY, 10022