Near zero
The Fed holds interest rates near zero. Trump isn't happy with Oracle's TikTok bid so far. And Singapore's construction industry takes a hit from ongoing virus cases at migrant worker dormitories. Here are some of the things people in markets are talking about today.
Federal Reserve officials held interest rates near zero and signaled they would stay there for at least three years, vowing to delay tightening until the U.S. gets back to maximum employment and 2% inflation. The Federal Open Market Committee "expects to maintain an accommodative stance" until those outcomes are achieved, it said in a statement Wednesday. The fresh guidance is the Fed's first step in an evolving communication strategy after it unveiled a new long-term policy framework to allow inflation to overshoot their 2% target after periods of under-performance. "This very strong, very powerful guidance shows both our confidence and our determination," Powell told a press conference following the decision. The Treasuries yield curve steepened slightly Wednesday after the decision. 
Asian stocks headed for a cautious start Thursday after the Fed's latest comments, and tech shares retreated in the U.S. Futures were flat in Japan while those in Hong Kong and Australia slipped. The S&P 500 Index earlier erased gains to end the session lower after Powell said he's not sure if the faster-than-expected recovery will continue. A tumble in tech behemoths such as Apple and Facebook also dragged down the gauge. The Treasury yield curve steepened as Powell stopped short of offering new specifics on the Fed's approach to the monthly bond purchases that have buttressed markets. Some traders may have been expecting signals regarding plans to target longer maturities. The dollar was little changed. Elsewhere, oil surged after government data showed shrinking U.S. crude stockpiles.
President Donald Trump said he's not happy with what he's heard about the terms of Oracle's bid for the Chinese-owned video app TikTok but added he won't be briefed on details until Thursday morning. "Just conceptually, I can tell you I don't like that," he said after a reporter told him that TikTok's Chinese owner, Bytedance, would retain a majority of the company's assets, with Oracle acquiring a minority stake. Top Trump administration officials have raised concerns that Bytedance could still access the data of around 100 million app users in the U.S. even if the transaction is approved. Oracle would be responsible for storing user data in the U.S. under the proposed restructuring.
Australia's food exporters are facing a challenging year, with the value of shipments set to drop by 10%, as the country grapples with souring Chinese ties, shrinking meat sales and a virus-driven downturn in demand. Government forecaster Abares expects agricultural exports to shrink to A$43.5 billion ($31.7 billion) as prices for many of its exports, including meat, wheat, barley and wine, slump because of the pandemic and Chinese trade restrictions. Lower meat output, as rains spur farmers to retain cattle rather than slaughter them, is set to reduce the volume and value of exports, while rising grains production will offset the negative impact on shipments of lower prices.
A new leader taking over from a long-term incumbent can often make investors skittish. Yet as Yoshihide Suga settles in as prime minister of Japan, market participants can take solace in one fact — no modern Japanese leader taking over from a long-serving premier has seen stocks fall on their watch. Every successor to a Japanese leader who has been in office for around five years or more has lasted at least a year in office, and local stocks have risen during each of those terms, according to data compiled by Mizuho Securities. Granted, the data set is small. Japan's political system tends not to lend itself to long terms in office, with the average incumbency for post-occupation leaders just over two years. Before Shinzo Abe, whose record term in office ended Wednesday, only four premiers among the 30 leaders had lasted about five years or more.
What We've Been Reading
This is what's caught our eye over the past 24 hours:
And finally, here's what Cormac's interested in this morning
Having reached the business end of its ever-narrowing recent trading range, traders have pushed the dollar-yen lower in a break of its March uptrend. They will be looking to see if the breakout can hold as a signal for the short-term direction of the Japanese currency, as investors mull the implications of the new cabinet formed by incoming Prime Minister Yoshihide Suga.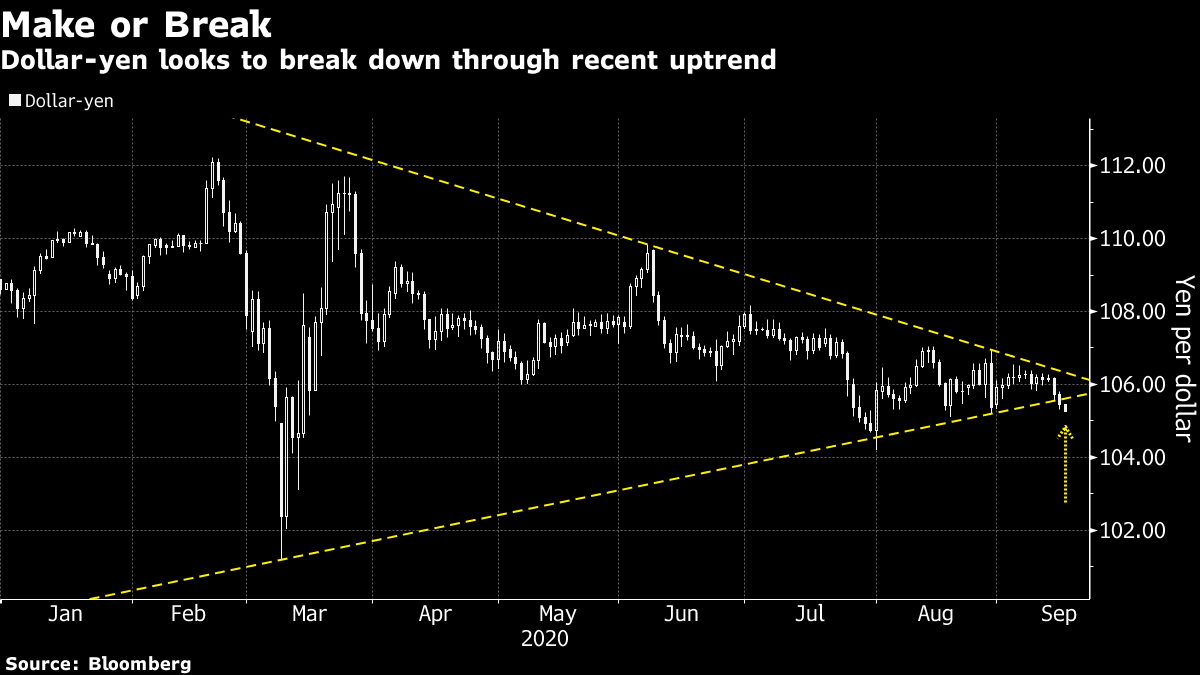 The move has parallels with yen strength in late July when traders mulled the sustainability of a break through 105 per dollar. It failed back then thanks to a combination of reduced repatriation flows and U.S. dollar demand from local investors, and there's no reason to believe those factors have substantially changed. However, the weaker dollar narrative has become much stronger now, and if the greenback renews its slide against major peers, the yen could mount another run at the closely watched 100 level.
Cormac Mullen is a Cross-Asset reporter and editor for Bloomberg News in Tokyo.
Before it's here, it's on the Bloomberg Terminal. Find out more about how the Terminal delivers information and analysis that financial professionals can't find anywhere else. Learn more.
You received this message because you are subscribed to Bloomberg's Five Things - Asia newsletter.
Unsubscribe | Bloomberg.com | Contact Us
Bloomberg L.P. 731 Lexington, New York, NY, 10022