Navigator: A prison newspaper's prescient warning comes too late
The coronavirus began spreading rapidly at San Quentin State Prison in June. After inmates were transferred from Chino, another California prison, men and guards started getting sick. Some died. The growing crisis became a national story — a particularly egregious example of an epidemic unleashed on the state's overcrowded prison population, trapped in cells with little ventilation. But the one newspaper that could offer a singular perspective on the issue was unable to report on it: During the lockdown, the San Quentin News, a monthly paper produced by incarcerated people at San Quentin and distributed to all 35 California state prisons, stopped printing.
"We actually had April's newspaper about 80% done on the computer," said Jonathan Chiu, who worked on the paper, writing crosswords and doing layout, until he was released from San Quentin in May. "Unfortunately, we weren't able to get back to it and print it." 
As of last month, however, the paper is up and running again after five months of silence, supported by a $75,000 grant from the Chan Zuckerberg Initiative, and with the permission of the California Department of Corrections and Rehabilitation. Until the journalists inside can safely meet, it's being produced by formerly incarcerated alumni that are now on the outside: Like Chiu, who is now living in transitional housing in Oakland; and Jesse Vasquez, a former San Quentin News editor-in-chief who was paroled in 2019; and Aly Tamboura, another former staffer who now works at the Chan Zuckerberg Initiative as a criminal justice reform manager. They're corresponding — slowly, mostly by mail — with Marcus Henderson, the paper's current editor-in-chief, and other writers who are still in San Quentin.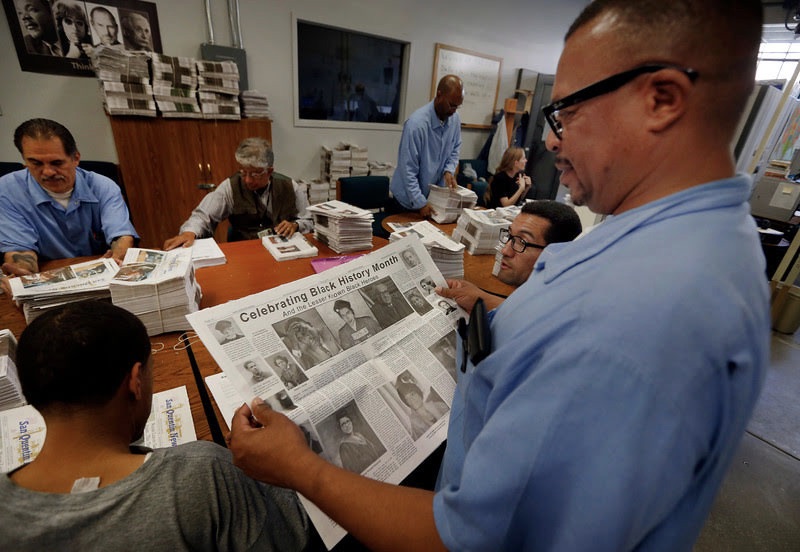 (Courtesy San Quentin News)
The choice to support the group in relaunching the paper is partly a strategic one on the part of the corrections department, Tamboura says: With so much bad news about Covid transmission in prison, this is a bright spot to latch onto. (The department can review the paper's content before it goes out to its 30,000 readers.) But the staff hasn't brushed over the failures of the spring.
In the August issue, they printed a piece on the threat coronavirus posed to San Quentin, written by staff writer Timothy Hicks right as shelter-in-place took effect in the Bay Area and only 100,000 people worldwide had tested positive. It would have been prescient if it could have been published at the time it was written. "It foretells the disaster that would unfold at prisons generally and at San Quentin in particular," an editor's note reads. It features advocates pressing the prison to release vulnerable inmates and expedite releases, strategies the state ended up pursuing at a broad scale after more months of pressure.
There's another story about an elderly inmate fearing for his life, written in June, when only a third of the prison was infected. (By July, half the prison was.) On the final page are portraits of 11 men who died of coronavirus on Death Row. (25 people died total in the prison after contracting the disease, but because of health privacy regulations, the paper could only release the names of the 11 death row inmates.)
"There has to be a certain dignity and a certain reverence when it comes to deaths, because it's something that everybody's going to be touched with one day or another," said Vasquez. "So we want to make sure to put that out there and highlight these guys' stories so it's not just another number. It's not just, 'two other men died on death row,' and then the list of their crimes."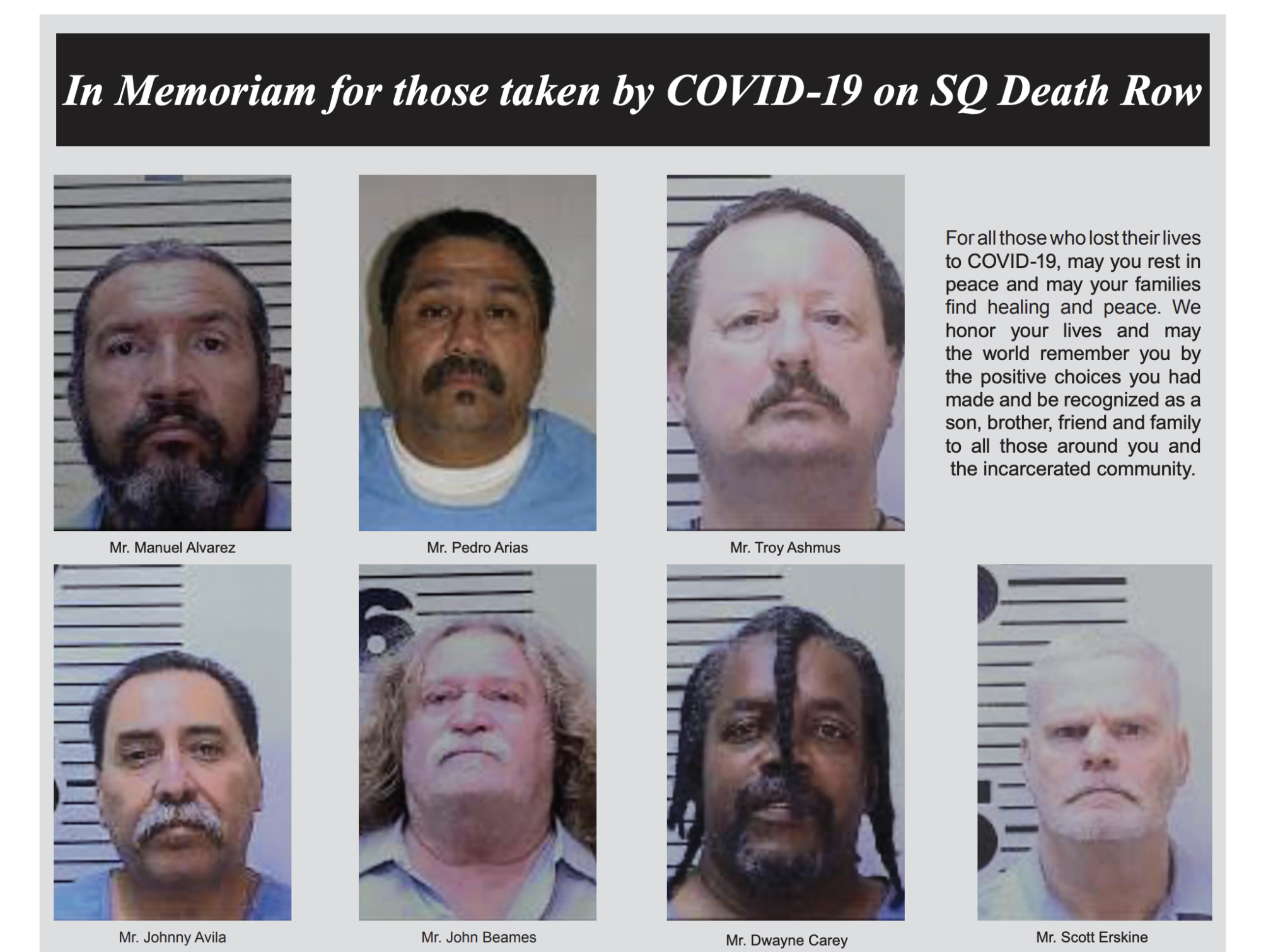 (Screenshot: San Quentin News)
As the rate of infection has gotten under control at San Quentin, the outside media attention has died down. But other prisons across the country are dealing with their own outbreaks and the health effects of wildfire smoke, and the San Quentin News staff says they hope to keep drawing attention to the disasters' toll within the carceral system.
Chiu says the next issue will also include another crossword, a list of organizations that can help support people with reentry when they leave prison, and other resource guides. They're trying to keep the mission as close as possible to its original one — covering important policy decisions and profiling inmates instead of dramatizing prison violence, for example; highlighting the perspectives of guards and staff as well as prisoners.
"The same things that impact society are what impacts us on the inside," said Vasquez. "The only difference is that at least on the outside, you get to die under the care of people that actually want to help you, versus people that are paid to try and help you if they can, and if not, well, okay, fine, let them go."
—Sarah Holder
What we're writing:
What we're taking in:   
Views from the ground: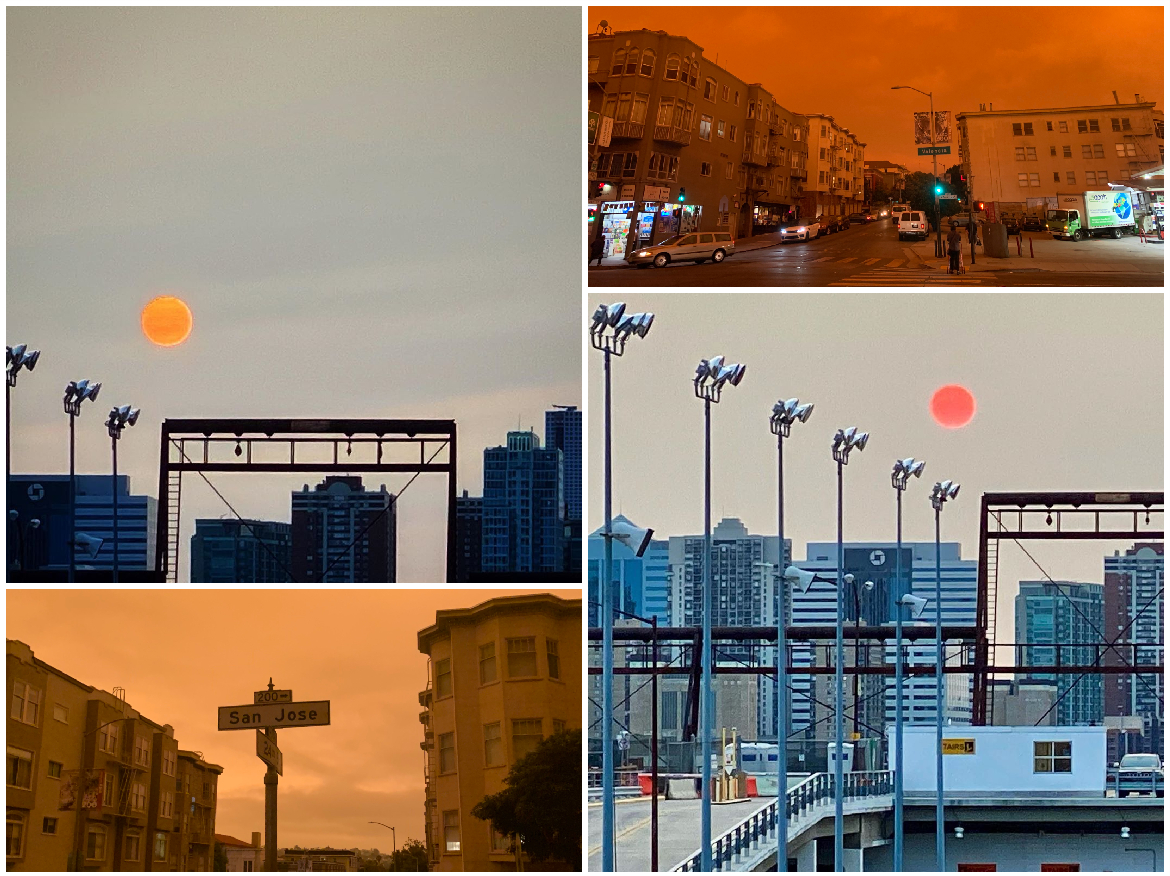 Sarah Holder captured the orange skies in San Francisco on Wednesday, September 9 (top right, bottom left).
By the next week, @rznagle looked up to see the wind had blown smoke into the skies of New York. (top left, bottom right) 
Showcase your photos with the hashtag #citylabontheground and we'll feature it on CityLab's Instagram page or pull them together for the next edition of Navigator.
| | |
| --- | --- |
| Follow Us | Get the newsletter |
You received this message because you are subscribed to Bloomberg's CityLab Daily newsletter.
Unsubscribe | Bloomberg.com | Contact Us
Bloomberg L.P. 731 Lexington, New York, NY, 10022