Milton Friedman: mistaken or misunderstood?
Follow Us


This is Bloomberg Opinion Today, a corporate mission statement of Bloomberg Opinion's opinions. Sign up here.
Today's Agenda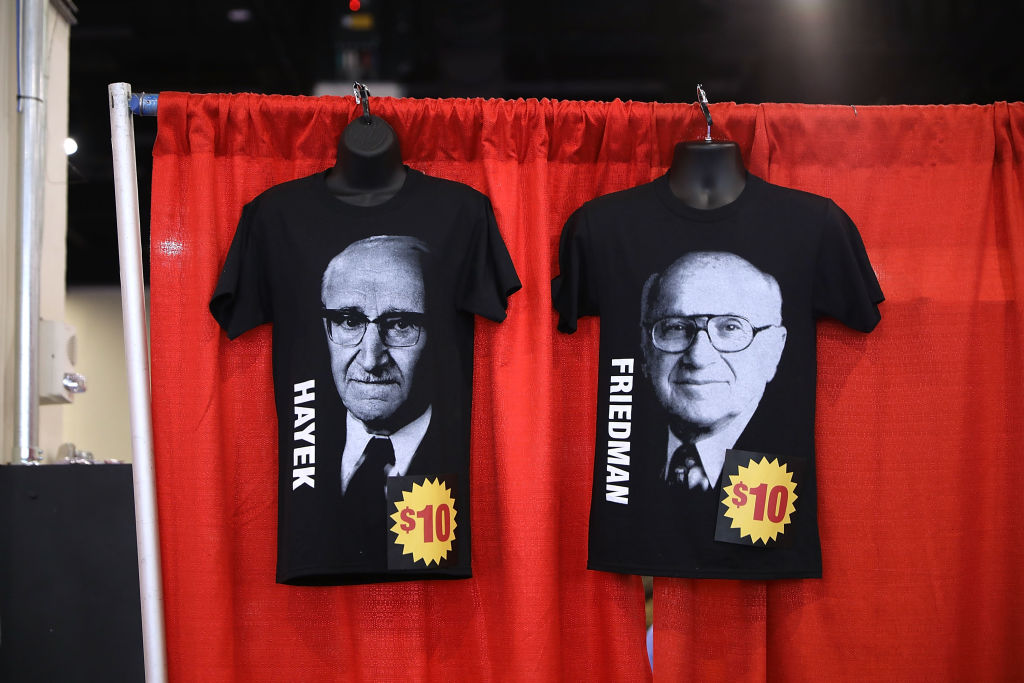 Photographer: Chip Somodevilla/Getty Images North America
Debating Milton Friedman
For much of the past 50 years, the decree of economist Milton Friedman that "the social responsibility of business is to increase its profits" has been as important to American life as any major religion. But as religions often do, it's suffering from a schism.
Many businesses have lately decided they have other priorities than maximizing shareholder return. The Business Roundtable, which in 1997 declared its fealty to Friedman's fatwa, last year announced its members would now serve all "stakeholders," many of whom don't rank profits as highly as, say, a clean environment or social justice. They're on the true path to enlightenment, argues Joe Nocera. He chronicled the early crusades of Friedmanites such as T. Boone Pickens and Carl Icahn to convert companies to this new religion. And he watched as it made increasingly less sense, with companies such as Enron taking the dictum too far and such ills as inequality and global warming worsening under its influence. "Friedman's doctrine has warped our understanding about the people an economy is supposed to serve," Joe writes.
But Michael R. Strain argues Friedman has merely been misunderstood. The key part of his rule, Michael writes, is that companies ultimately serve their owners, the shareholders. If those owners want green energy and social justice, then a company seeking such things is still fulfilling its responsibility. And Friedman always said profit-seeking shouldn't break society's rules. Even the recent converts to anti-Friedmanism are still Friedmanites in disguise, Michael writes: "Given the preferences of their customers, this corporate branding will increase their profits. That irony helps prove the rule."
Stonks Give This New 'Falling' a Try
You might want to sit down for this, but we are hearing word that stocks don't only go up. They have fallen quite a bit this week, in fact, particularly the Big Tech stocks that led a bonkers and seemingly invincible pandemic rally. Mohamed El-Erian writes market skeptics are finally having their revenge, with the Fed now sidelined until after the election and Congress on what seems to be a permanent vacation. But John Authers suggests the dumping of Big Tech winners, matched by a rotation into the rally's previous losers, is actually a sign of optimism. The Fed may not be taking new steps, but it will never step away from the market.
Further Markets Reading:
Trump's Insult Problem
For much of this election, one of President Donald Trump's key messages about Joe Biden has been that he's too addled to resist the leftist anarchists taking over his party. And yet in key moments Biden keeps demonstrating normal brain functioning. First there was his perfectly normal convention speech. Then last night he had a town hall that was so normal, some Trump supporters suggested he must have cheated. Still, town halls are typically super easy formats for candidates, notes Jonathan Bernstein. You know what the issues are; all you have to do is answer questions about them. But Trump struggled with his recent town hall, and Biden got the job done. It remains to be seen what will happen when these two brains tangle in debates.
There's a good chance they'll involve Trump hurling insults such as "Sleepy Joe," a go-to tactic of his that many of us first found shocking, then endearing, then boring. But these insults have poisoned our discourse almost subconsciously, Cass Sunstein writes. CNBC's Jim Cramer recently demonstrated this when he addressed the speaker of the House of Representatives as "Crazy Nancy." We're all doing it now, and it may be a hard habit to break.
Also poisoning the discourse, with perhaps slightly more decorum, is Attorney General Bill Barr. It feels like only yesterday we were writing about how he was eroding confidence in democracy. Since then he has, among other things, threatened to charge Black Lives Matter protesters with sedition, which Noah Feldman writes is about as anti-democratic as it comes. There was a brief moment when people hoped Barr would be an institutionalist, but he is lighting the Justice Department on fire in service of his boss.
Further Trump Reading: Tories have a special love for Trump, but it's time they got over him. — Therese Raphael
Telltale Charts
Factory activity bounced back from a deep blow, but the recovery is already turning into a slog, writes Brooke Sutherland.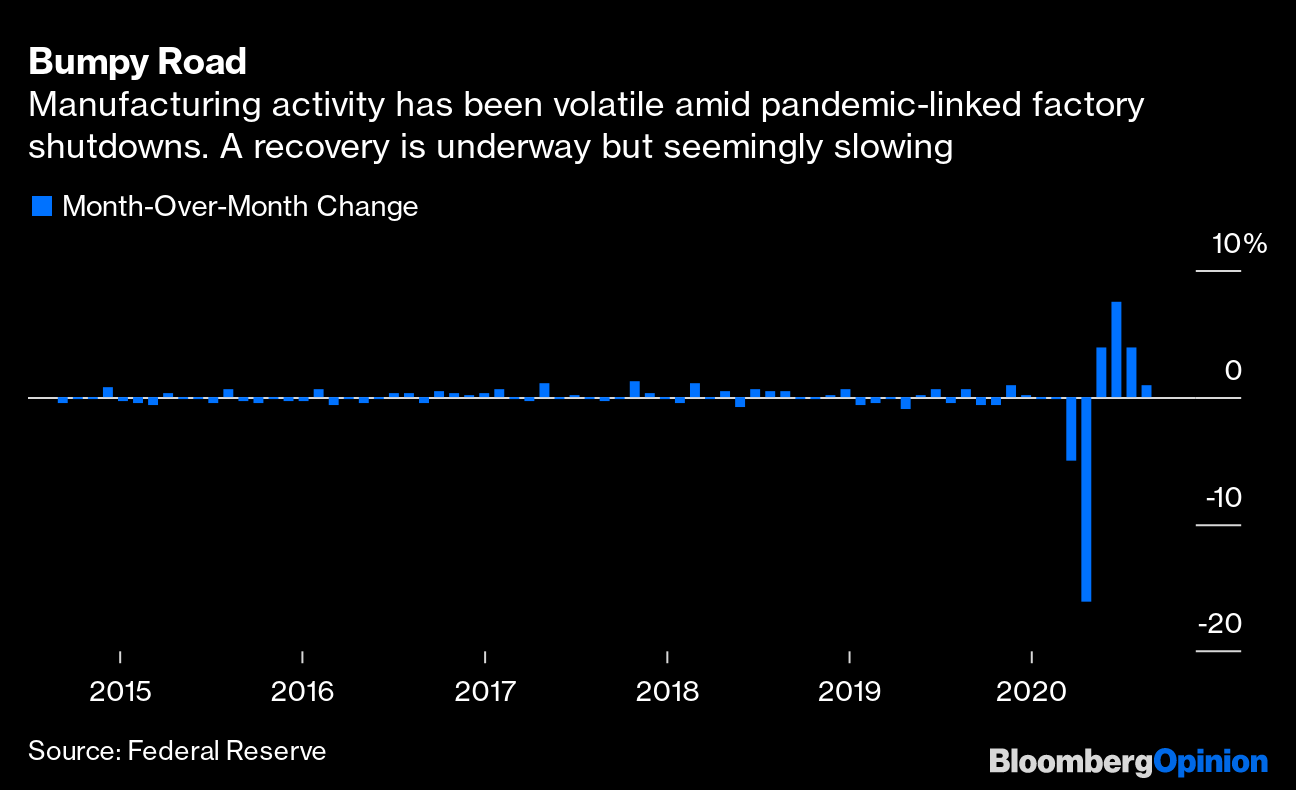 American public opinions about abortion seem entrenched, but in the rest of the world they're far more fluid, writes Ben Schott.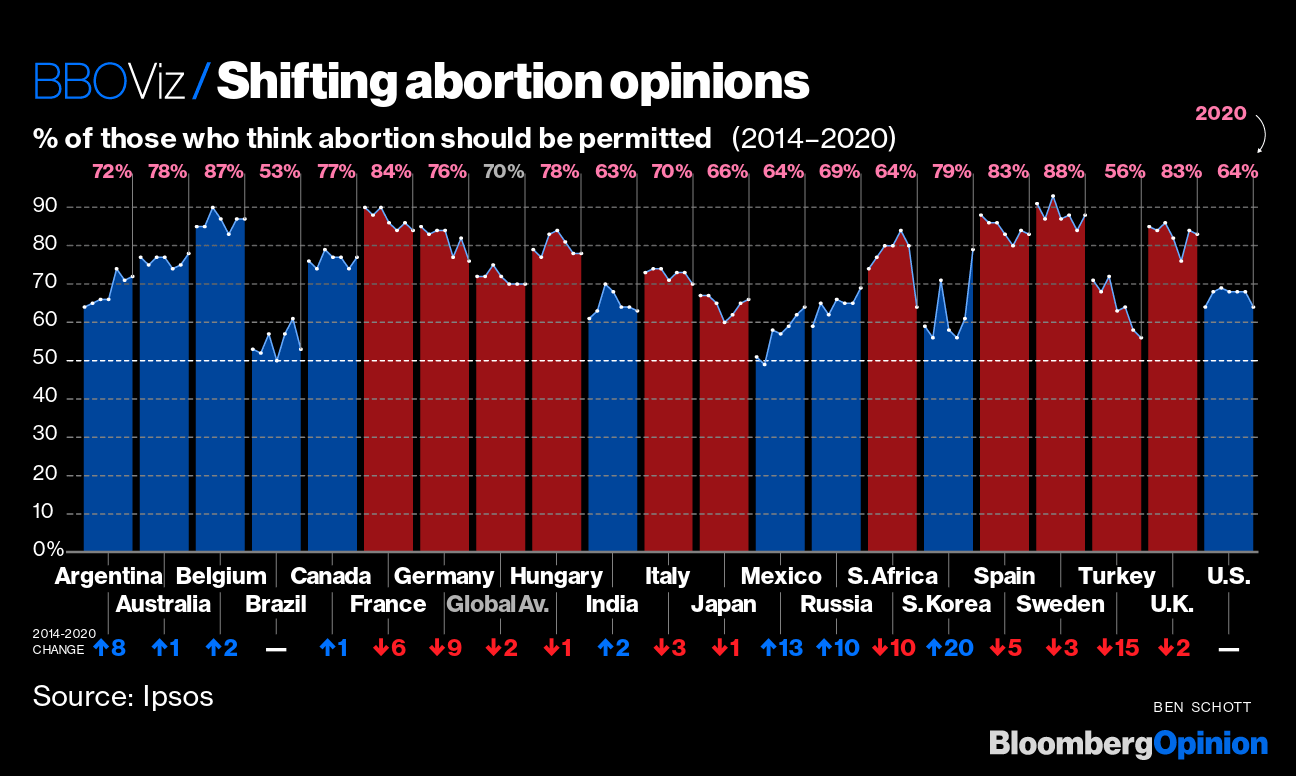 One company probably hoping TikTok gets banned in the U.S. is Facebook. Its competing Reels feature on Instagram could get some of the short-video app's booming business in pitching luxury fashion to kids, writes Andrea Felsted.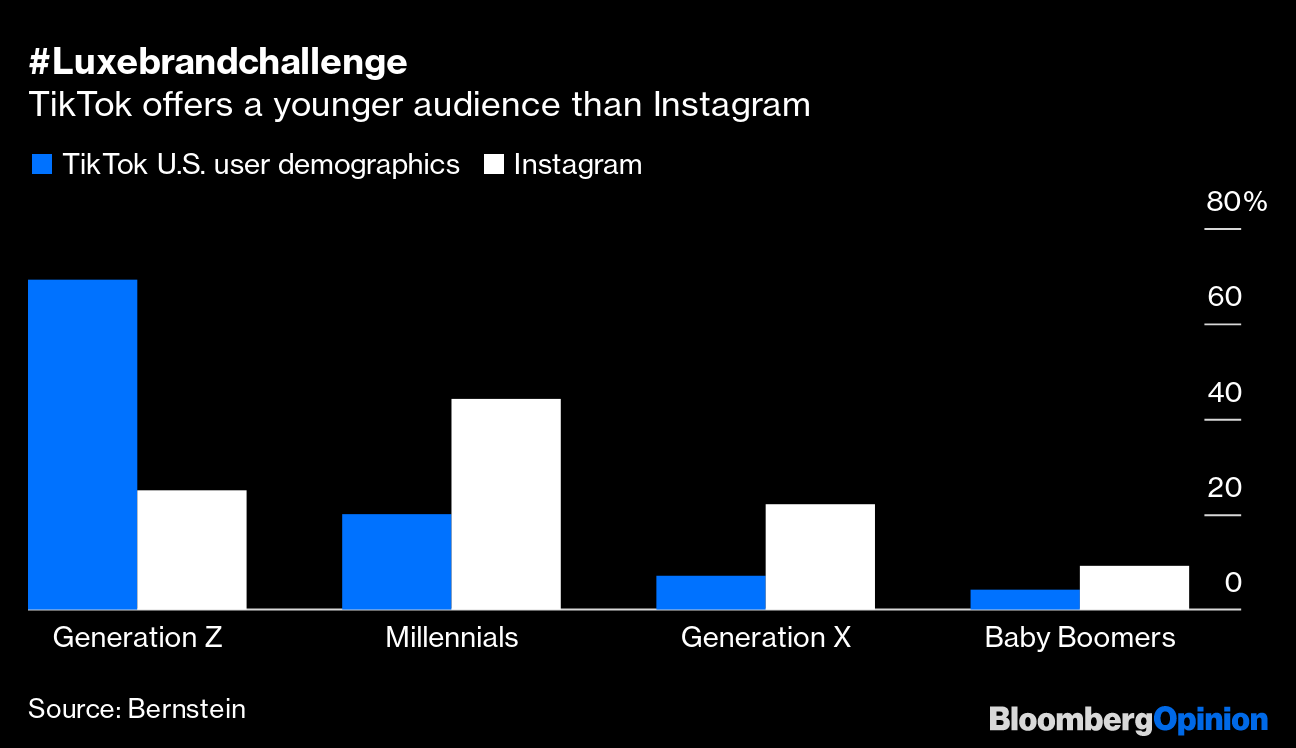 Further Reading
Trump is letting coal plants pollute our waters just to save $140 million a year — Bloomberg's editorial board
China dominates the market for rare-earth metals, which are vital to defense and electronics. Here's how America can break its grip. — James Mattis, James O. Ellis Jr., Joe Felter and Kori Schake
Trump's WeChat ban is baseless and will only give China another propaganda win. — Tim Culpan
It took a pandemic, but employers are finally taking child-care needs seriously. — Sarah Green Carmichael
ICYMI
Facebook was accused of watching Instagram users through their cameras.
WFH culture is a boon to Lake Tahoe.
Some places are canceling Halloween.
Kickers
Facebook has been a disaster for the world.
Firefighting tech is stuck in the past.
The Hubble telescope captures a crisp image of Jupiter and Europa.
"Jaws" is a great movie with terrible science.
Note: Please send Halloween candy and complaints to Mark Gongloff at mgongloff1@bloomberg.net.
Sign up here and follow us on Twitter and Facebook.
Like Bloomberg Opinion Today? Subscribe to Bloomberg All Access and get much, much more. You'll receive our unmatched global news coverage and two in-depth daily newsletters, The Bloomberg Open and The Bloomberg Close.
Before it's here, it's on the Bloomberg Terminal. Find out more about how the Terminal delivers information and analysis that financial professionals can't find anywhere else. Learn more.
You received this message because you are subscribed to Bloomberg's Bloomberg Opinion Today newsletter.
Unsubscribe | Bloomberg.com | Contact Us
Bloomberg L.P. 731 Lexington, New York, NY, 10022