MapLab: Sounds of distant forests
This spring, as Covid-19 made social distancing a global norm, the Icelandic Forest Service encouraged its nation to hug trees, not people. Given the many pandemic anxieties aswirl, that made sense: Cozying up to nature has been shown to carry numerous physical and psychological benefits, namely reduced stress. 
Now coronavirus cases are once again accelerating, and as colder temperatures force people indoors this fall, mental health concerns are growing as well. One small consolation: Merely listening to nature noises may be a way to relax. A pandemic-era mapping project offers one helpful resource for that. "Sounds of the Forest" collects crowdsourced audio recordings from woodlands and forests around the planet and stitches them onto a digital world map. Wild Rumpus, a U.K.-based community interest company that organizes large-scale events focused on arts and nature, created the project after cancelling their annual Timber Festival in England's National Forest due to Covid-19.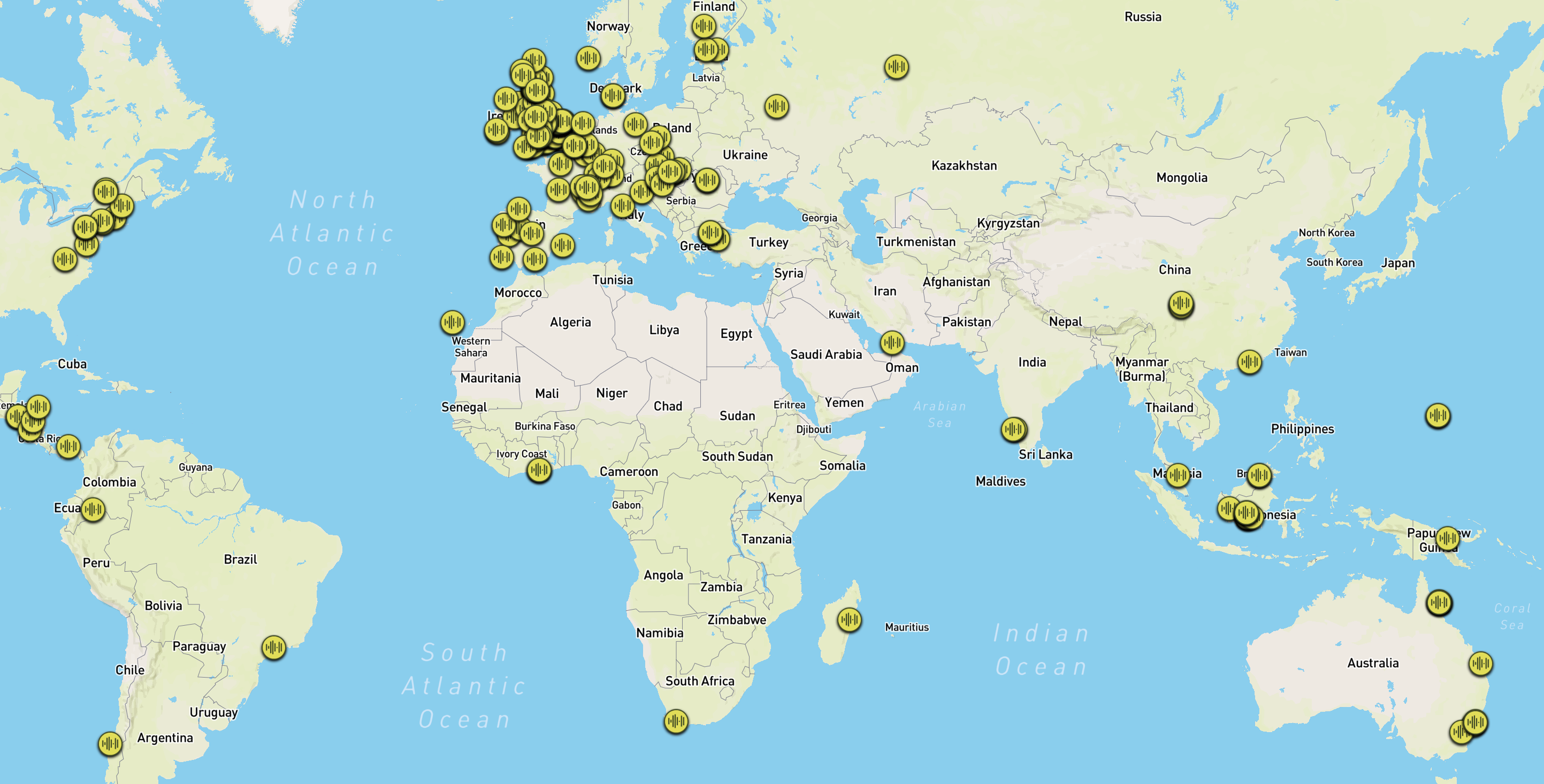 Courtesy of Wild Rumpus
Anyone who is inclined can submit their own MP3 along with a location and description of where it's from to the project, which presents the sounds as an open-source library. That also means the audio can be downloaded and listened to anywhere. Take in the bowerbirds of a Papua New Guinea conservation reserve, the calls of lemurs in a Madagascar rainforest, the patter of rain in one of England's many wooded parks, or wherever else in the world your ears might travel.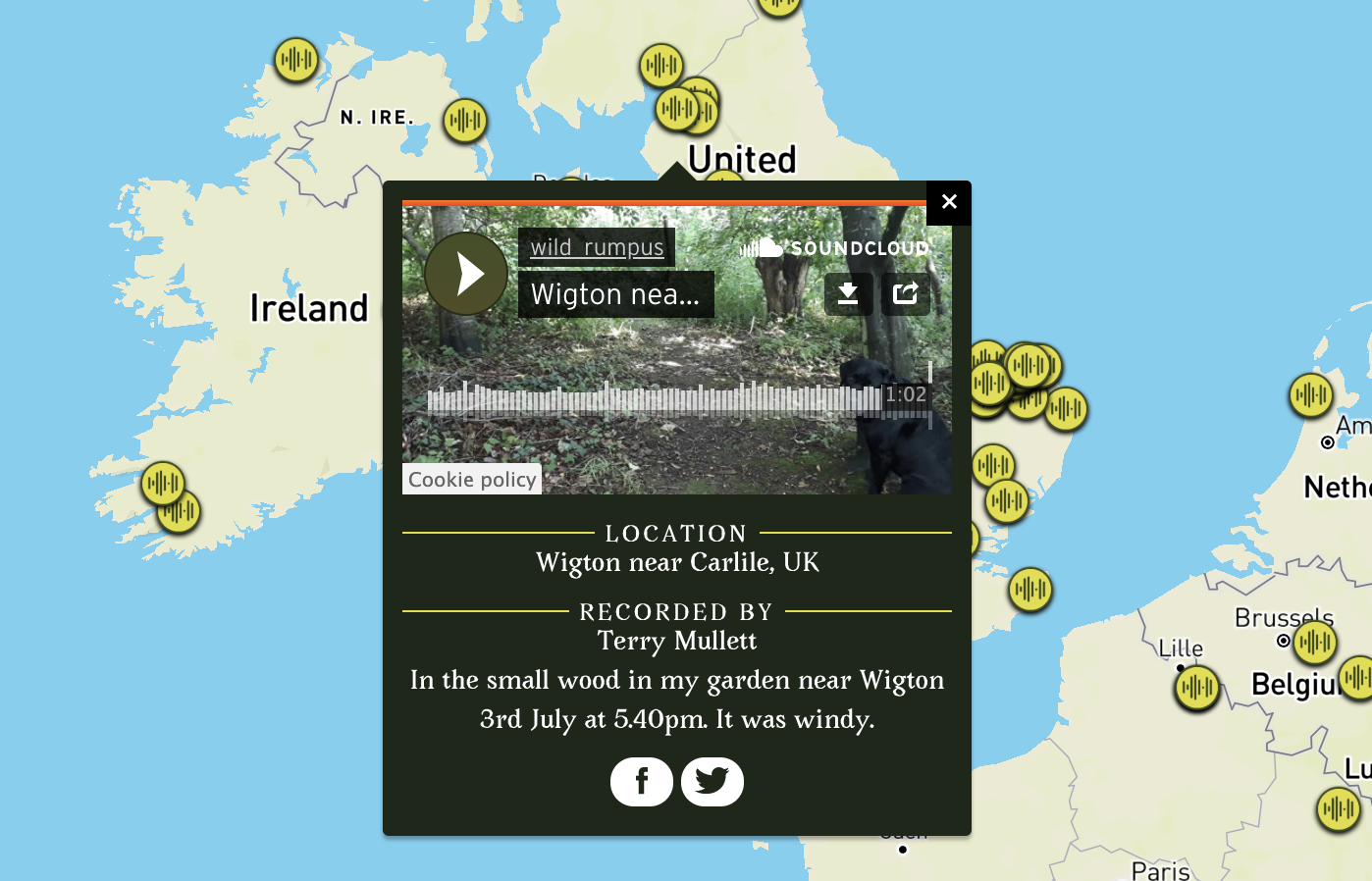 Courtesy of Wild Rumpus
Rory Clifford, a graphic designer at Wild Rumpus who coordinates the project, said that he has "been amazed" by the contributions that poured in from outside the U.K. after the map was launched and circulated on social media this summer. While some come from professional sound artists, the sounds are largely generated by the general public, including a number of school children and forest managers. Clifford has heard from a number of listeners that by hearing the sounds of familiar forests, "they're able to conjure up the sights and smells, too," he wrote in an email.
That was poignantly true as I listened to the sounds of a redwood grove in Santa Cruz, California, recorded in May. The area has since been badly burned by this summer's historic wildfires. In that sense, the map also serves as an archive of ecosystems being rapidly transformed by climate change. Clifford's hope is for the map to provide a measure of solace and connection, even as much is being lost, as well as the basis for new creations. Next year's Timber Festival, which takes place in a regenerated forest once stripped by mining, will present four pieces of commissioned artwork that makes use of the forest sounds. 
Other variations on sound mapping can be found  here,  here, and  here. 
The citizen scientists mapping smoke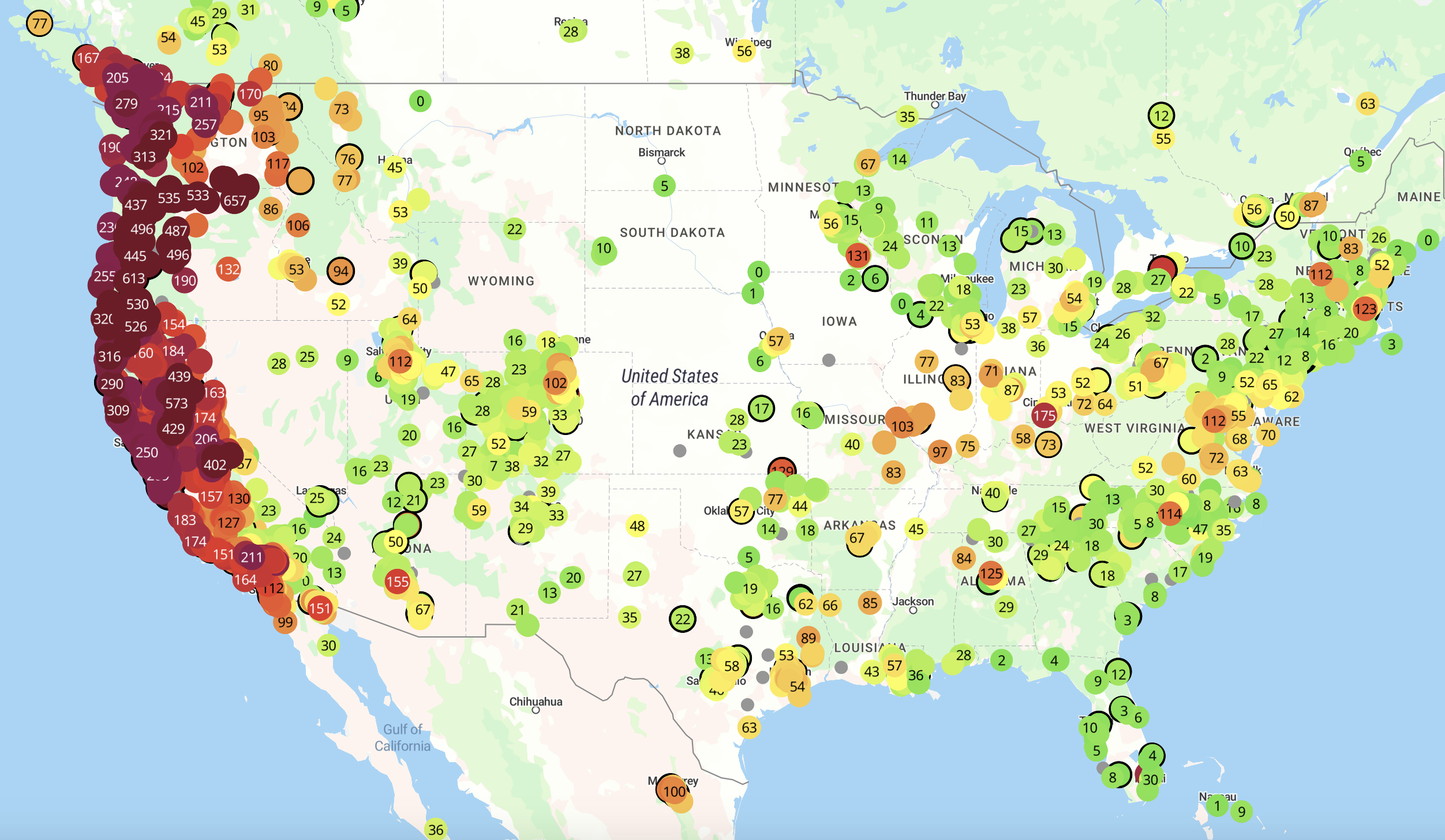 Photographer: PurpleAir
This month, real-time air quality data from than 9,000 commercial-grade sensors became a critical source of information as millions of people in the Western U.S. found their skies blanketed in wildfire smoke. I wrote about the growing community of self-described computer nerds and health-conscious people who own PurpleAir sensors. Many of them combine their "fascination with data and gadgetry with a certain level of interest in their communities, as well as in the community that they themselves form." Read my story here. 
Map links
| | |
| --- | --- |
| Follow Us | Get the newsletter |
You received this message because you are subscribed to Bloomberg's CityLab MapLab newsletter.
Unsubscribe | Bloomberg.com | Contact Us
Bloomberg L.P. 731 Lexington, New York, NY, 10022