It's not vaccine vs. mask. We need both
It's not vaccine versus mask. We need both
Vaccine versus mask became a point of Covid-control contention this week. In Senate testimony Wednesday, U.S. Centers for Disease Control Director Robert Redfield said face masks are the most important, powerful public health tool we have.
"I might even go so far to say that this mask may be more guaranteed to protect me against Covid than when I take a Covid vaccine," he said. Redfield also noted that he thinks a vaccine won't allow a return to regular life until mid-2021.
His boss begs to differ. At a news conference later that day, President Donald Trump said Redfield was mistaken on both fronts, called masks a "mixed bag," claimed that Covid-19 vaccines will be "extremely strong" and predicted that mass inoculation would begin "very soon."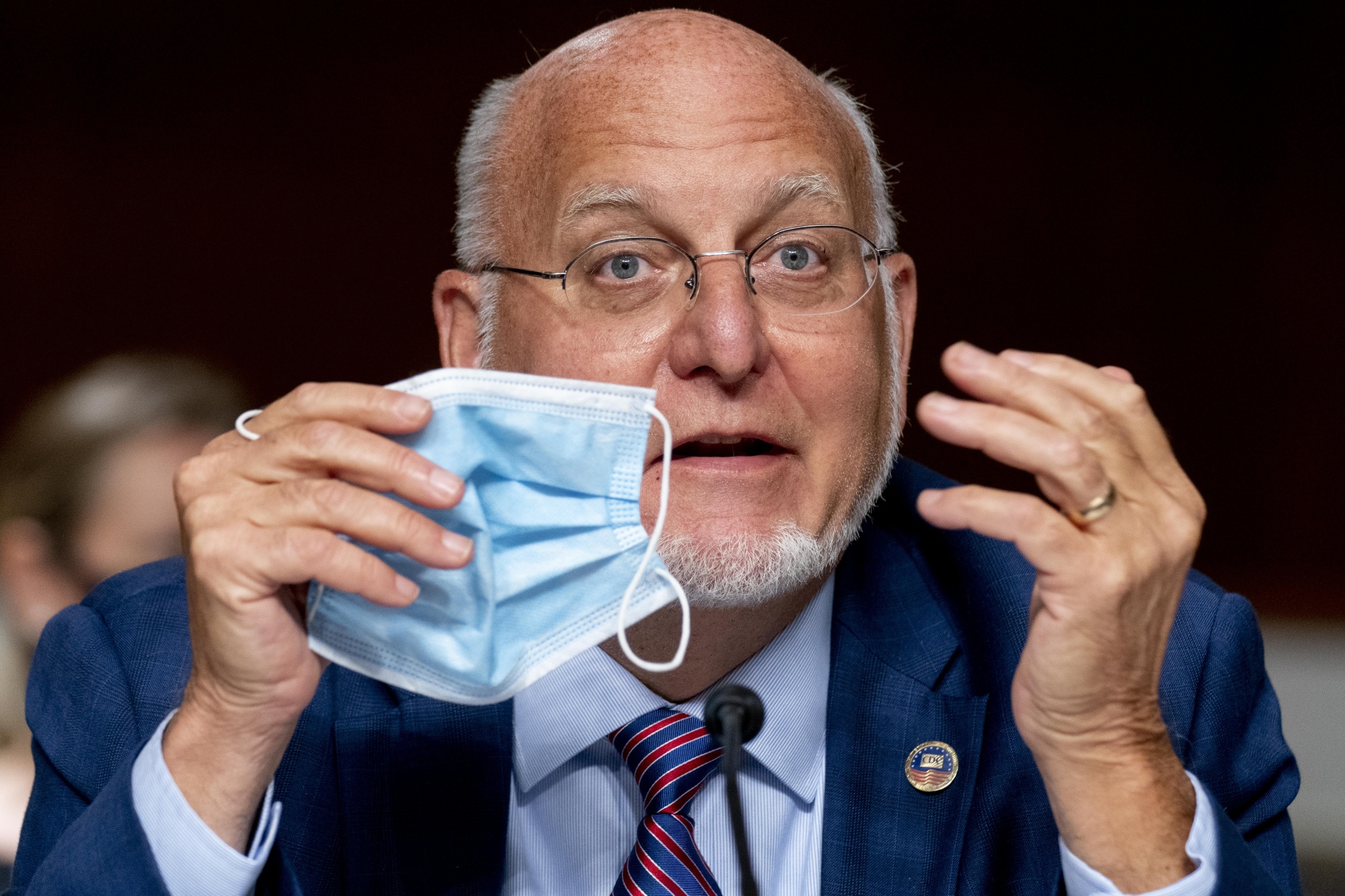 Photographer: Andrew Harnik/AP Photo
Redfield has it right. There's broad consensus that properly worn masks offer protection against infection and transmission. We know little about when vaccines will become available or how well they will work.
The answer to the mask vs. vaccine question is "both"; face coverings will remain essential in risky settings well into next year, even when shots become widely available.
The 2020 case to keep masking is obvious; there won't be enough vaccines at first whenever one succeeds. Drugmakers are scrambling to manufacture shots, but leading candidates require two doses, and early supply won't match massive demand.
The notion of wearing a mask post-vaccination may be harder to swallow. While vaccines are essential to beating the pandemic and saving lives, Redfield's point is that they aren't magic.
Food and Drug Administration guidance says a Covid vaccine must prove 50% more effective than a placebo to receive approval. The main target for leading vaccine trials is preventing symptomatic disease, not infection. A vaccine may be approved without evidence that it keeps people from contracting or spreading the virus.
Even if a vaccine is 70% effective in damping disease, a significant minority of those vaccinated will still be at some risk.
Add the lingering possibility of passing the virus to others, and you get a compelling case to cover your face until its spread is firmly quashed.—Max Nisen
Eight months after the first case of the new coronavirus was reported in the U.S., the death toll is on the verge of surpassing 200,000, the highest of any country in the world. A surge in cases during the summer pushed the death count higher, even after early, deadly outbreaks in Seattle and New York City were largely controlled. Thirty-two states have reported more than 1,000 deaths from Covid-19.

Click on the headline above for a  graphic that allows you to search the country by zip code or place name to see virus data.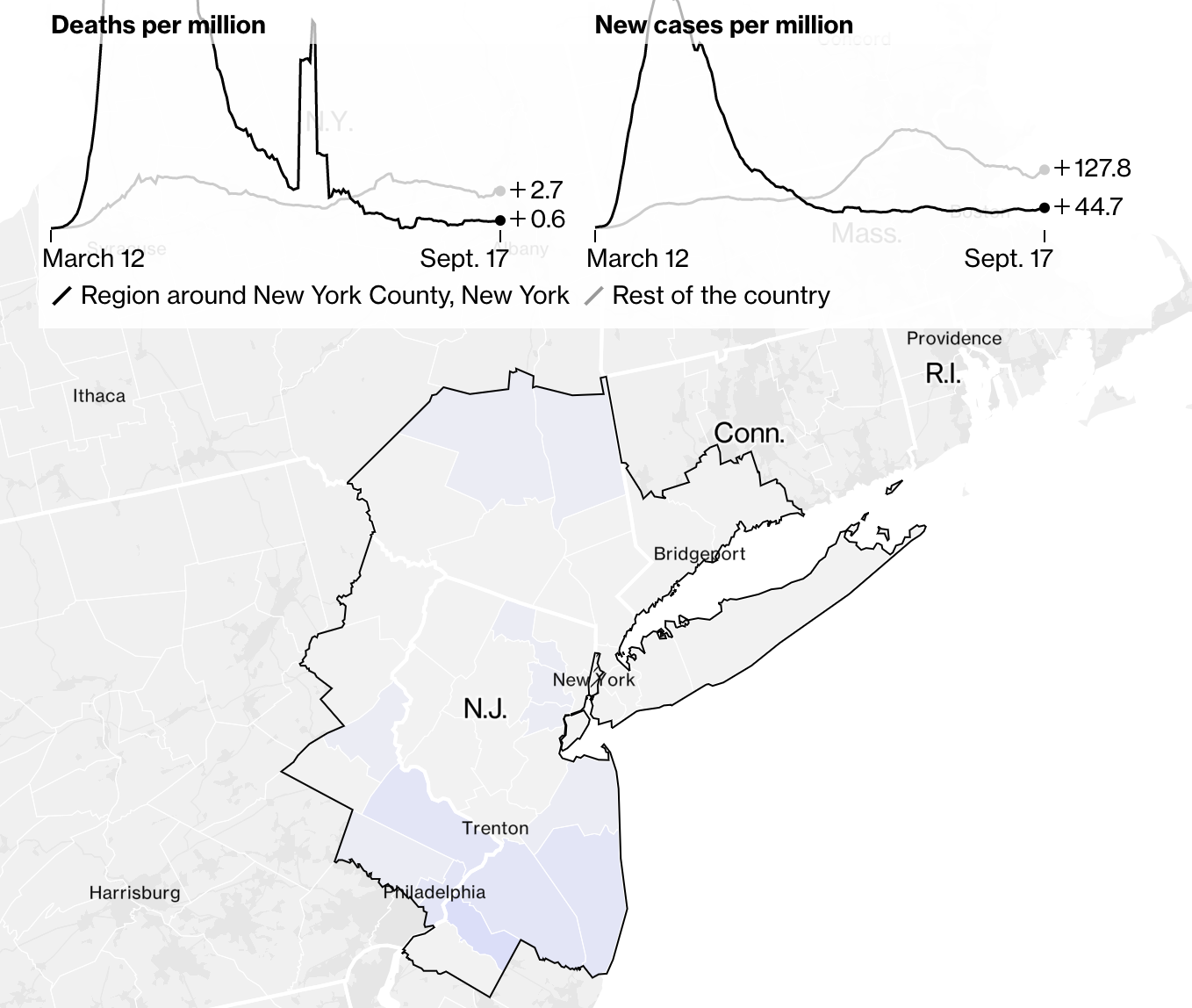 Bloomberg Graphics
Seafarers everywhere are describing deteriorating conditions.
Huge surge in demand for virus tests was not predicted.
Joyce went without pay from early March until August amid crisis.
Extensions of pandemic-related ban may do more harm than good.
Farming crisis brewing as India in desperate struggle with virus.
You received this message because you are subscribed to Bloomberg's Coronavirus Daily newsletter.
Unsubscribe | Bloomberg.com | Contact Us
Bloomberg L.P. 731 Lexington, New York, NY, 10022