Ginsburg's Death Sets Up Fight Over Supreme Court: Weekend Reads
U.S. Supreme Court Justice Ruth Bader Ginsburg, who championed gender equality, died yesterday at age 87. The second woman on the court, she embraced her role as a dissenter, writing minority opinions on topics ranging from environmental law to intellectual property and civil rights.
Her death gives President Donald Trump a chance to try to shift the already conservative nine-member court further to the right by choosing a successor who, if confirmed in time, could strengthen his hand in legal disputes over the November election.
Only days before her death, National Public Radio reported that Ginsburg dictated this statement to her granddaughter Clara Spera: "My most fervent wish is that I will not be replaced until a new president is installed."
Photographer: Andrew Harrer
Elsewhere, U.K. Prime Minister Boris Johnson is facing dissent within his own party over his proposal to tear up parts of the Brexit deal he reached less than a year ago.
And in Japan, the first new prime minister in almost eight years, Yoshihide Suga, pledged to focus on fighting the coronavirus, which has devastated the economy. 
We hope you enjoy these and other of our top stories from the past seven days in this edition of Weekend Reads.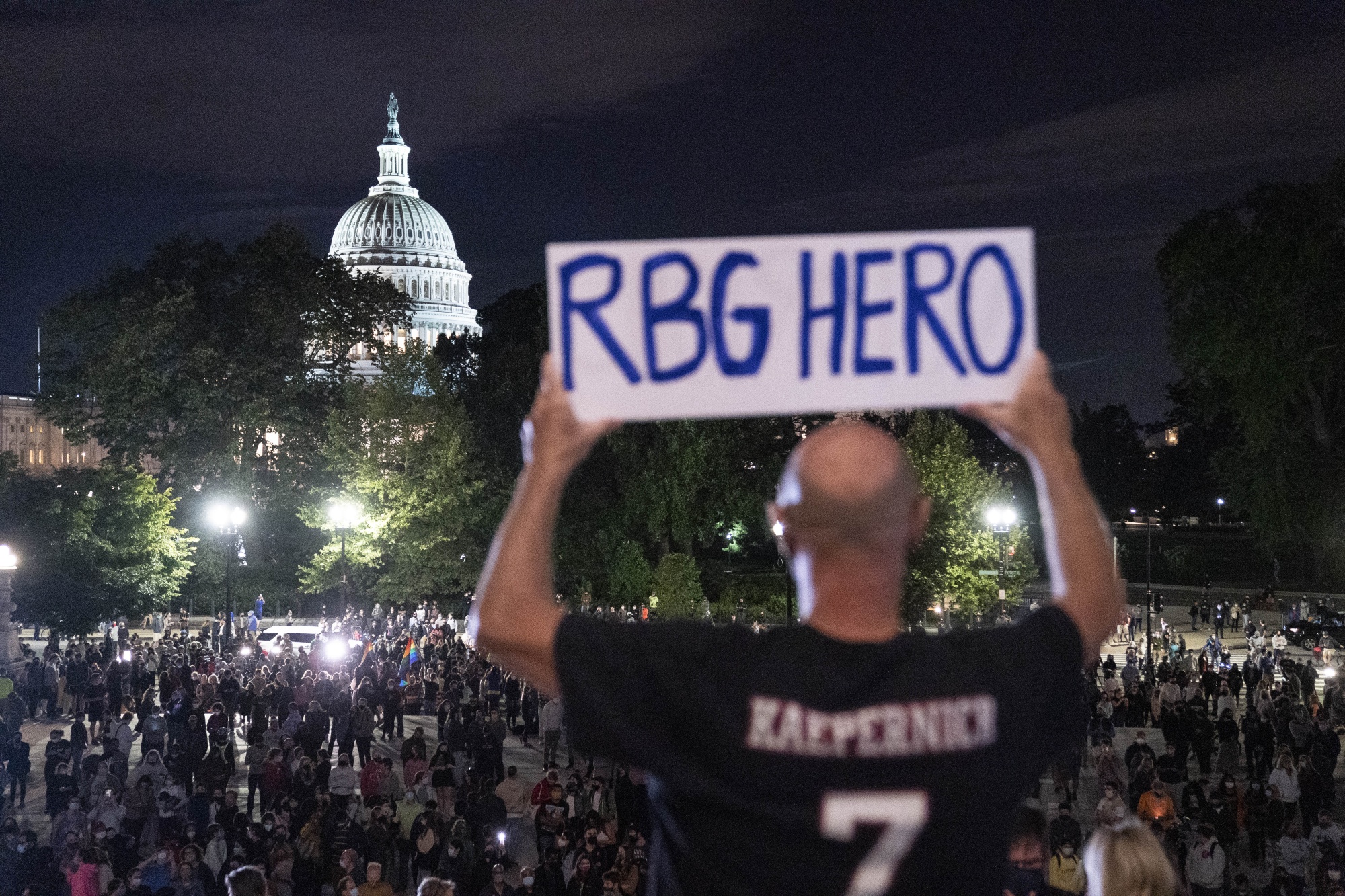 Photographer: Sarah Silbiger/Bloomberg
Click here for Bloomberg's most compelling images from the past week. Tell us how we're doing or what we're missing at balancepower@bloomberg.net.
Ruth Bader Ginsburg, Second Woman on Supreme Court, Dies at 87
Ginsburg's 27-year tenure as a Supreme Court justice was the culmination of a legal career dedicated to advancing the rights of women. Greg Stohr and Laurence Arnold detail the legacy of the liberal icon.
Facebook Needs Trump Even More Than Trump Needs Facebook
Mark Zuckerberg cares passionately about Facebook's ubiquity and its potential for growth. Sarah Frier and Kurt Wagner write how critics say that intense focus has fostered an alliance of convenience between the world's largest social network and the White House.
Johnson's Charm Runs Out With Brexit Deal on a Knife Edge
Addressing the U.K. Parliament this week, Johnson admitted he didn't know if a top U.K. government law officer had resigned. As Tim Ross and Alberto Nardelli explain, the episode revealed the chaos engulfing the British leader as a result of his proposal to renege on the exit treaty with the European Union.

Trump Backs Threats Against China With TikTok, WeChat Bans
The Trump administration issued a ban on WeChat and TikTok from Apple and Google's app stores. Shelly Banjo, Jenny Leonard and Josh Wingrove write that the move helps Trump bolster his tough-on-China stance before the Nov. 3 election. The president hasn't said if he'll accept a deal to allow Oracle and other investors to buy a minority stake in the music video app.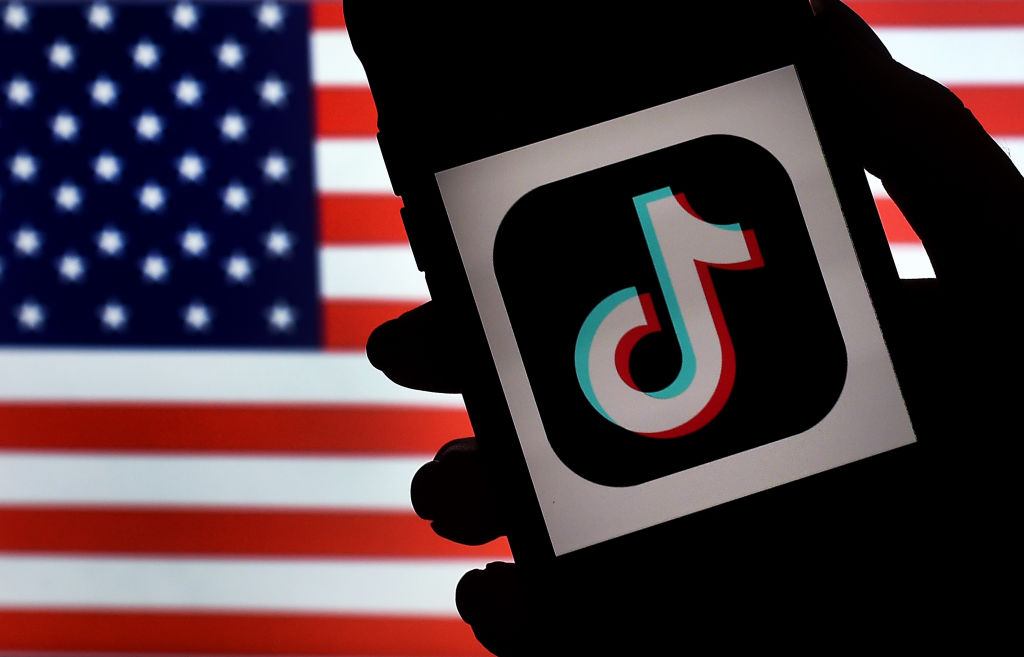 Sloppy Poisoning of Alexey Navalny Turned Merkel Against Putin
What Western officials call a botched attempt to kill a leading opposition figure has triggered a new downward spiral in Russia's ties with Europe, and above all with German Chancellor Angela Merkel, Henry Meyer and Patrick Donahue report.

Time Is Running Out to Save the Last of the World's Rainforest
Fires are burning again across South America, Africa and Asia, bringing the familiar public outrage and government pledges to halt the ruin. Will it make a difference? Adam Majendie, Pablo Robles, Kevin Varley, Adrian Leung and Hannah Dormido address that question in this special report.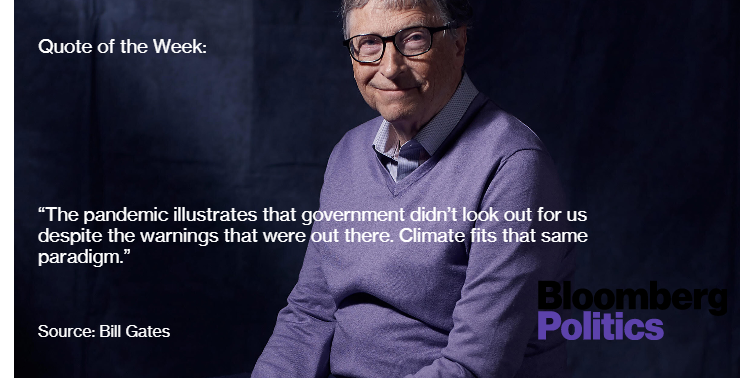 Read excerpts of Erik Schatzker's interview with the Microsoft co-founder about a vaccine to combat the coronavirus and innovations to mitigate climate change, the nightmare that is misinformation, and the difference between Elon Musk and Steve Jobs.

Five Takeaways from Japanese Prime Minister Suga's New Cabinet
Hours after being formally elected Japan's new prime minister, taking over from his former boss, Shinzo Abe, Yoshihide Suga announced a new cabinet. Isabel Reynolds looks at the key takeaways.

Worst Shipping Crisis in Decades Puts Lives and Trade at Risk
The pandemic has shattered the norms of the highly fragmented shipping industry, and with countries wary of relaxing port and border restrictions, violations of worker protections have become common.  K. Oanh Ha, Jack Wittels, Khine Lin Kyaw and Krystal Chia investigate.
Secret Tibetan Military Force Raises Stakes in India-China Clash
At a funeral last week, a top aide to Prime Minister Narendra Modi paid respects to a member of a secretive Indian military unit killed on the front lines of deadly clashes with China. Most significant, Sudhi Ranjan Sen and Archana Chaudhary report, was the suggestion that India questioned China's sovereignty over Tibet.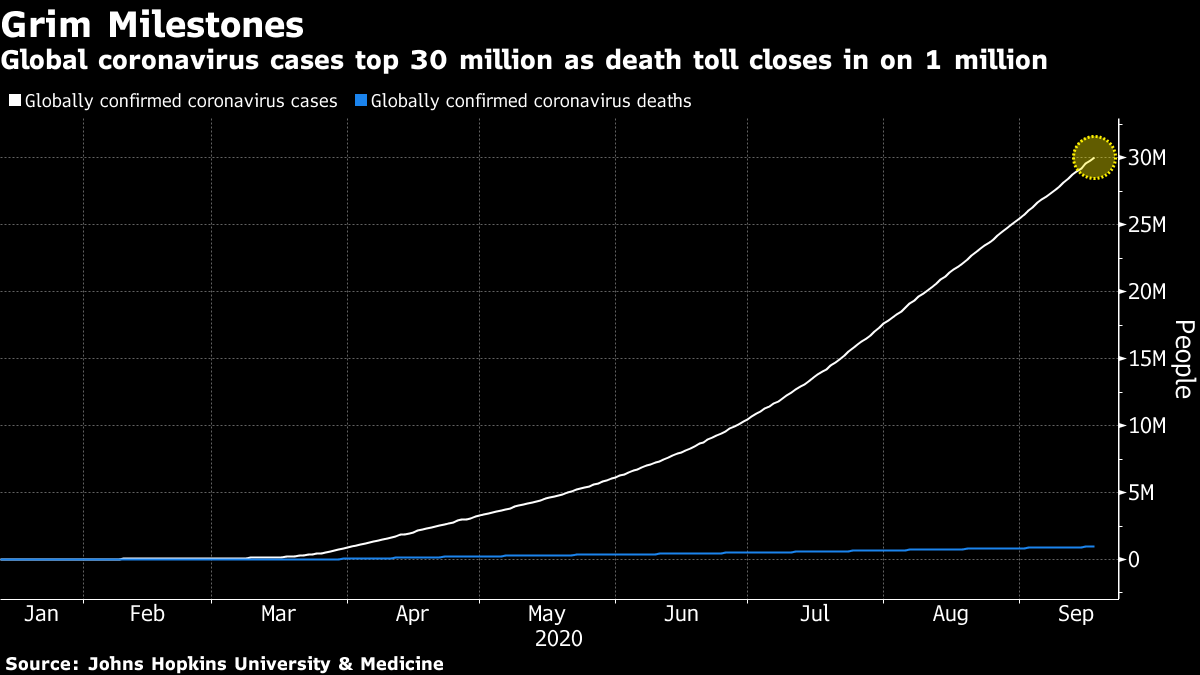 .
Read here how France's finance chief contracted Covid-19 as Europe faces a growing risk of the kind of lockdowns that crippled the economy in the second quarter. Keep up with the latest on Covid-19 with our virus update.

A Nigerian Farmer's Murder Shows Food Security at Tipping PointAt a time when Africa's most populous nation needs its agriculture most, with the pandemic disrupting supply chains and sending food prices soaring, an upsurge in sectarian and criminal violence is driving more farmers off the land. Ruth Olurounbi, Agnieszka de Sousa, William Clowes and Mustapha Adamu report.
And finally ... Pregnant women left alone in hospitals to give birth, water taps running dry and more than half the population needing food aid: As Antony Sguazzin, Ray Ndlovu and Brian Latham explain, two decades of mismanagement in Zimbabwe have ruined a nation once considered one of Africa's shining stars.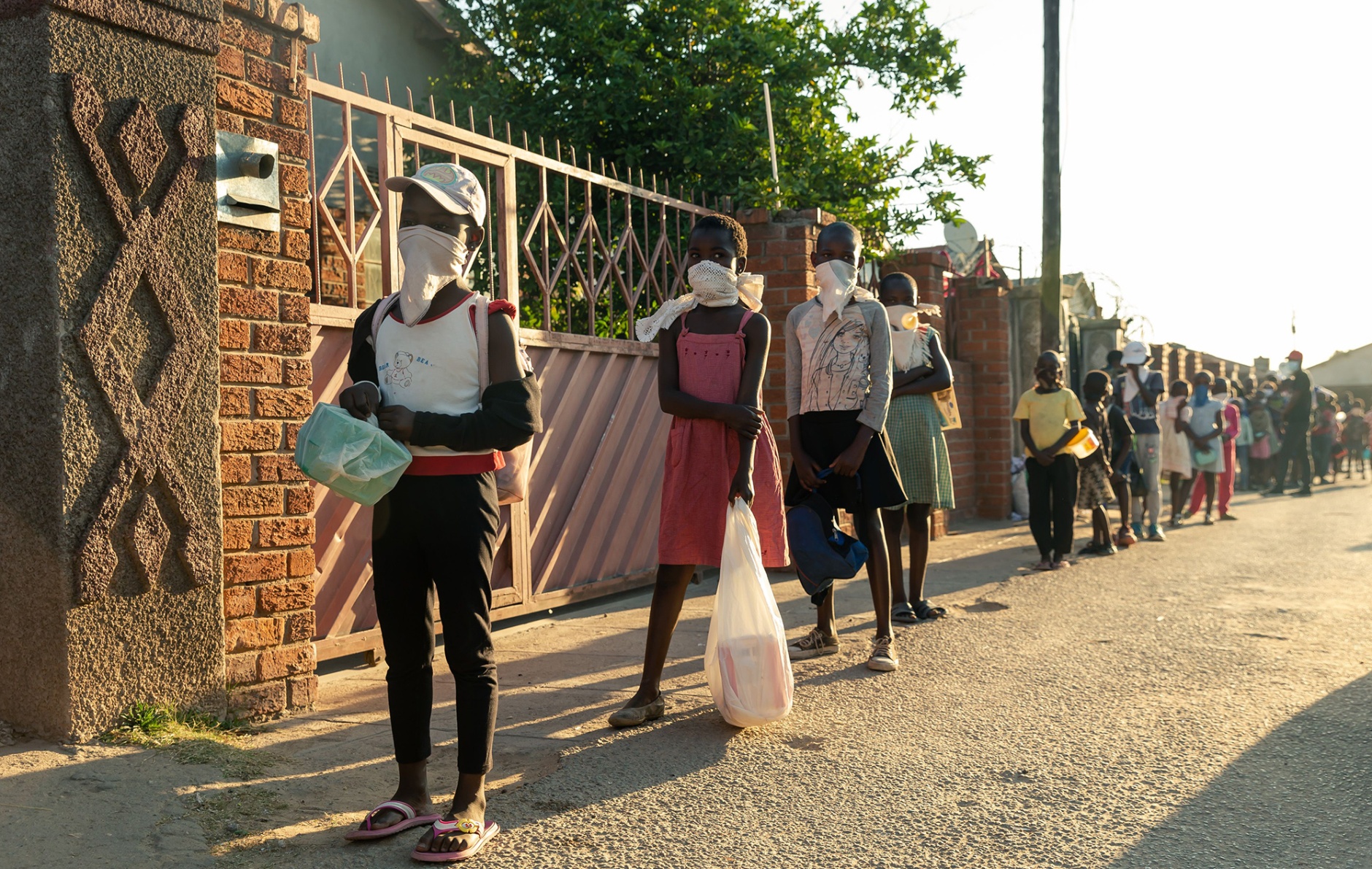 Photographer: Jekesai Njikizana/AFP
Like Balance of Power? Get unlimited access to Bloomberg.com, where you'll find trusted, data-based journalism in 120 countries around the world and expert analysis from exclusive daily newsletters.
You received this message because you are subscribed to Bloomberg's Balance of Power newsletter.
Unsubscribe | Bloomberg.com | Contact Us
Bloomberg L.P. 731 Lexington, New York, NY, 10022