Falling short
Trump gets almost nothing he wanted from the TikTok deal. Banks moved $2 trillion, defying money-laundering orders, a new investigation finds. The dollar's dark quarter may get even worse. Here are some of the things people in markets are talking about today.
The TikTok deal Donald Trump signed off on Saturday does almost none of what the president initially called for. In July, Trump threatened to ban the app used by 100 million Americans unless China handed over control of the company, its algorithms and data to the U.S. Hearkening back to his New York real estate days, he also insisted the U.S. government get compensated in the process. But China's ByteDance Ltd. remains the majority shareholder in a new U.S. company that will include fresh investments by Oracle and Walmart in a future fundraising round. The algorithm itself — the thing that makes TikTok TikTok — will still belong to ByteDance, so national security concerns remain, experts said. And the government payout? That turned into a vaguely worded promise of $5 billion in new tax dollars to the U.S. Treasury. Meanwhile, ByteDance is seeking a valuation of $60 billion for TikTok in the deal, according to a person familiar with the matter. And the Trump administration's curbs on WeChat were put on hold by a judge, upending an effort to halt use of the Chinese-owned app in the U.S.
A new investigation by the International Consortium of Investigative Journalists alleges that global banks made more than $2 trillion in transactions between 1999 and 2017 that were flagged by financial institutions' internal compliance officers as possible money laundering or other criminal activity. Banks "kept profiting from powerful and dangerous players" in the past two decades even after the U.S. imposed penalties on these financial institutions, according to the report, which was based on leaked documents obtained by BuzzFeed News and shared with the consortium. The top two banks were Deutsche Bank, which disclosed $1.3 trillion of suspicious money in the files, and JPMorgan, which disclosed $514 billion, the analysis found.
Equities in Asia were set for a softer start after a dip on Wall Street on Friday, while U.S. stock futures slipped as trading began for the week. The offshore yuan edged higher. Currencies elsewhere saw small moves, with the dollar largely steady against its main G-10 peers. Japan's equity market is shut for a holiday and cash Treasuries won't trade until the London open. Stock futures signaled modest declines in Australia and Hong Kong. Crude oil retreated. Investors remain watchful for any signs of progress on a U.S. fiscal stimulus package, while Federal Reserve Chair Jerome Powell will testify before Congress from Tuesday to Thursday to discuss pandemic relief efforts. Covid-19 cases in the U.S. steadied as deaths approached 200,000 and over in the U.K., the Health Secretary said the country is at a "tipping point."
The dollar's weakest quarter in a decade may get even worse as investors respond to the effects that massive American equity-market gains have had on the composition of their portfolios. The Bloomberg dollar index has plunged close to 5% this quarter and is on track for its biggest slide since 2010 as America's economy shows signs of recovering from its pandemic-induced slump. That more upbeat narrative has helped to underpin a 7% rally in the S&P 500 Index that puts to shame to gains in stocks from Japan to the euro area and Canada — not to mention losses for U.K. and Australian equities. In the days ahead, that could lead to investors selling dollars and buying currencies linked to underperforming share markets, such as the British pound and Australian dollar. 
Democratic presidential nominee Joe Biden blasted Republican efforts to speed through a replacement for the late Justice Ruth Bader Ginsburg on the Supreme Court, warning that such a process would "inflict irreversible damage" on the country. "There's so much at stake," Biden said Sunday. "The right to health care, clean air, clean water, the environment, equal pay for equal work, the rights of voters, immigrants, women, workers. And right now, our country faces a choice: a choice about whether we will come back from the brink." Ginsburg's death of cancer at age 87 on Friday has reshaped the presidential race with just 44 days until the election, and gives Trump the opportunity to push the high court far to the right by replacing a liberal justice. Trump said Saturday he would nominate his pick, almost certainly a woman, this week. The frontrunners appear to be appellate court judges Amy Coney Barrett and Barbara Lagoa.
What We've Been Reading
This is what's caught our eye over the past 24 hours:
And finally, here's what Adam's interested in this morning
The upcoming U.S. election is understandably creating angst within financial markets. But the lingering concerns over fiscal spending in the world's largest economy are also providing good reason for investors to brace for a protracted period of volatility in markets in the coming months.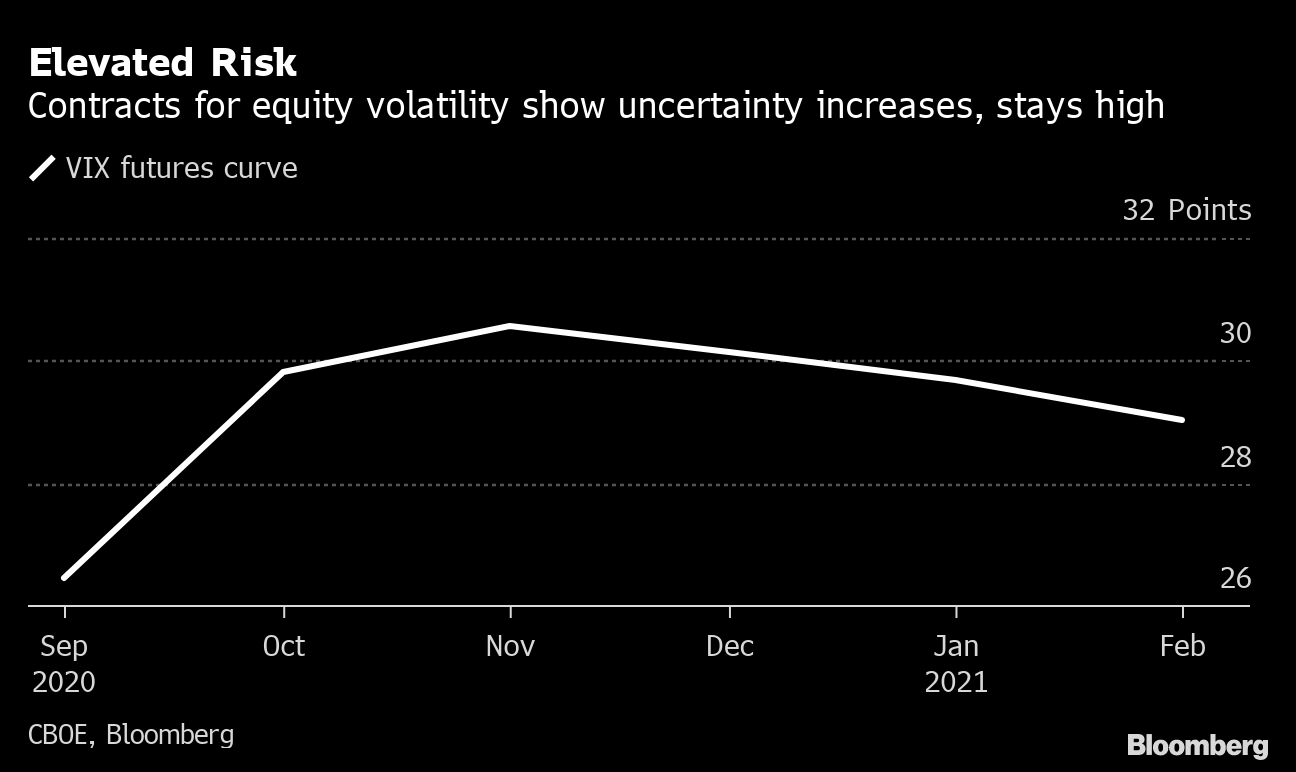 The chart shows the curve for VIX futures, for every month from October to February. There is a clear bump going into November, the month of the election, but what is perhaps most notable now is the lack of a material decline in the subsequent months. VIX futures are priced for volatility to remain elevated for some time. With Democrats and Republicans yet to break a months-long deadlock over the size of the next stimulus package, markets suggest a resolution is not expected any time soon.
Adam Haigh is an editor covering global markets for Bloomberg News in Sydney.
Before it's here, it's on the Bloomberg Terminal. Find out more about how the Terminal delivers information and analysis that financial professionals can't find anywhere else. Learn more.
You received this message because you are subscribed to Bloomberg's Five Things - Asia newsletter.
Unsubscribe | Bloomberg.com | Contact Us
Bloomberg L.P. 731 Lexington, New York, NY, 10022