Brussels Edition: Safeguarding the single market
Welcome to the Brussels Edition, Bloomberg's daily briefing on what matters most in the heart of the European Union.
It's something of an Achilles heel for the EU — the ability of national governments to impose pandemic-induced travel curbs that undermine the bloc's prized and prosperous single market. EU ministers will today take another stab at preventing the re-emergence of internal borders amid a spike in coronavirus cases across the continent. Industries including airlines, hotels and restaurants have stepped up calls for an end to the patchwork of national approaches and for a unified set of rules on such matters as quarantines. After the European Commission joined the push for more coherence with a proposal earlier this month, the ministerial discussion today will do little more than prepare the ground for more talks aimed at reaching an agreement in coming weeks.
— Viktoria Dendrinou and  Jonathan Stearns
What's Happening
Brexit Solutions | Ministers for European affairs are set to line up behind chief Brexit negotiator Michel Barnier when they meet today in Brussels, as France warned that any British violation of the Withdrawal Agreement would end the push for a free-trade deal. With the fallout from the U.K. government's plan to unpick the agreement affecting the mood, this week will see informal contact between the two sides before a full negotiating round next week.
Nuclear Ruling | Four years after EU regulators approved Electricite de France's plans to build the U.K's first new nuclear plant in two decades, Austria will find out whether it has won its hitherto unsuccessful court challenges to the deal. The 20 billion-pound project in southwest England could start generating power by the middle of next decade.
Sanctions Stalemate | EU leaders meeting in Brussels this week face an impasse over sanctions against Belarusian officials after Cyprus asked that they also sanction Turkish companies involved in drilling activities in its maritime zone. German Chancellor Angela Merkel and European Council President Charles Michel will today hold a call with Turkish leader Recep Tayyip Erdogan as the bloc seeks to defuse tensions in the region. 
Testing Woes | When the coronavirus first swept across Europe, only the sickest could be tested, leaving health officials in the dark about how widely Covid-19 had spread. Now, with the virus surging again, capacity has expanded dramatically, helping authorities identify thousands of infected individuals, but also straining labs, slowing results and complicating the contact tracing that's crucial to contain the virus.
In Case You Missed It
Conte Boost | Italian Prime Minister Giuseppe Conte saw off a challenge from opposition rival Matteo Salvini in local elections, bolstering his administration as he oversees the drafting of the 2020 budget. Investment projects for Italy's expected 209 billion-euro share of pandemic recovery grants and loans from the EU are also on his to-do list.
ECB Options | Christine Lagarde said the ECB has room to add stimulus and can adapt its already expansive toolkit if the economy needs more help. Her comments come as the central bank pays close attention to the euro's appreciation, and as economists expect the ECB to expand its emergency bond-buying program this year.
Energy Rules | The European Commission toughened criteria for state aid linked to the EU's carbon market from next year, focusing on companies that are at the biggest risk of relocating abroad amid increasingly strict climate policies.
Farming Wind | The U.K.'s National Grid and Dutch power transmission operator Tennet Holding are developing a plan to link the two countries' power markets via giant wind farms at sea. The move could open new markets to sell electricity and cut down on times when wind farms are shut off due to oversupply.
Virus Casualty | The Czech health minister quit yesterday, saying the government needs a different strategy to tackle a spike in new coronavirus cases. The deterioration comes after the Czech Republic was one of the most successful EU nations in clamping down during the spring outbreak thanks to early and strict quarantine measures.
Chart of the Day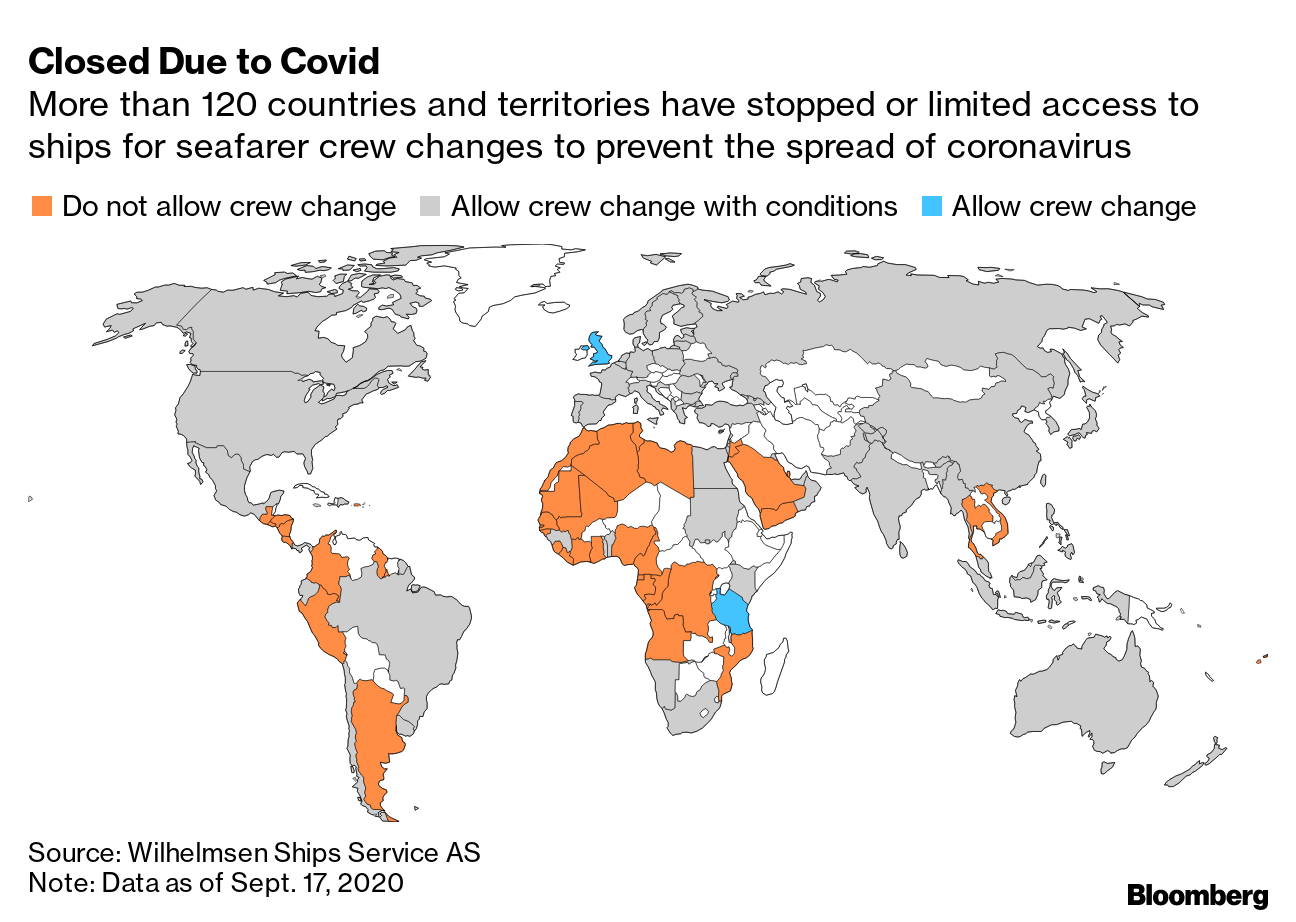 The Covid-19 pandemic has upended life as we knew it for the past eight months — but one thing that's remained uninterrupted is the flow of goods transported by ships. Cargo containers, bulkers and other merchant vessels have continued to transport everything from medicines to electronics to oils. The vessels rely on more than 1.6 million seafarers globally to operate the ships — the pandemic has stranded nearly 20% of seafarers, due to closed ports and borders and cut air flights.
Today's Agenda
All times CET.
9 a.m. EU top court gives binding ruling on Austria's bid to overturn the approval of U.K. aid to help Electricite de France SA build Britain's first new nuclear plant in decades
10 a.m. European affairs ministers to discuss EU budget, Brexit
10.40 a.m. EU Council President Charles Michel holds call with Japanese Prime Minister Yoshihide Suga
5 p.m. European Business Summit live debate with Paolo Gentiloni, European Commissioner for the Economy; Nick Clegg, Facebook Vice President for Global Affairs
EU Council President Michel and German Chancellor Angela Merkel hold call with Turkish President Recep Tayyip Erdogan
EU lawmakers from the Public Health and the Industry Committees hold public hearing with researchers and representatives from pharmaceutical companies and civil society organizations on how to secure access for all to COVID-19 vaccines
EU trade chief Valdis Dombrovskis participates in the G-20 Trade Ministerial Meeting via videoconference
Top EU court issues guidance on status of judges serving in disciplinary chamber of Polish Supreme Court
U.K. Prime Minister Boris Johnson's contentious Internal Market Bill is likely to get a rough ride in the House of Lords
Like the Brussels Edition?
Don't keep it to yourself. Colleagues and friends can sign up here. We also publish the Brexit Bulletin, a daily briefing on the latest on the U.K.'s departure from the EU. 
For even more: Subscribe to Bloomberg All Access for full global news coverage and two in-depth daily newsletters, The Bloomberg Open and The Bloomberg Close.
How are we doing?  We want to hear what you think about this newsletter. Let our Brussels bureau chief know.
Before it's here, it's on the Bloomberg Terminal. Find out more about how the Terminal delivers information and analysis that financial professionals can't find anywhere else. Learn more.
You received this message because you are subscribed to Bloomberg's Brussels Edition newsletter.
Unsubscribe | Bloomberg.com | Contact Us
Bloomberg L.P. 731 Lexington, New York, NY, 10022