Bloomberg Australia: Drawing a line in the sand
Welcome to our weekly newsletter — a fresh, global perspective on the stories that matter for Australian business and politics. This week: Facebook defends its turf, exporters brace for more China reprisals, and how household savings could fuel the economic recovery.
After years of regulatory assault on its market dominance, Facebook has chosen Australia as the battleground where it will fight back.
The digital giant this week lobbed a grenade at planned legislation that will force it to pay media companies for stories. If the law passes, it will simply block Australians and publishers from sharing news on its platforms.
As my colleague Angus Whitley writes, Facebook is drawing a line in the sand in Australia, fully aware that this distant market is a test case that regulators around the world are watching closely.
"This is a microcosm for other markets and what may happen as Facebook defends its turf," said Dan Ives, an analyst at Wedbush Securities in New York. The company has come out "throwing punches," he said.
Meanwhile, the government says it won't buckle to "coercion or heavy-handed threats."
The scene is now set for an acrimonious fight.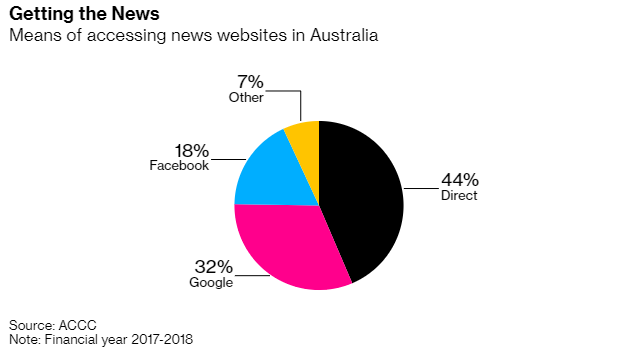 Nervous Exporters
As relations between Beijing and Canberra continue their downward spiral, the commodities sector is bracing for more disruption.

Beef, wine and barley have already been jolted by the worsening diplomatic tensions and 

other industries are now on alert.

Australia is the most China-dependent developed economy in the world, with the giant trading partner taking 39% of our shipments in the most recent fiscal year. We took a closer look at what exports could be hit next if China decides to turn the screw. 
War Chest
It's official. Australia is now in the grip of its first recession in almost 30 years.
The economy contracted by a massive 7% last quarter, the biggest fall in records dating back to 1959. And the prospects of recovery are being hampered by Victoria's renewed Covid outbreak and state border closures.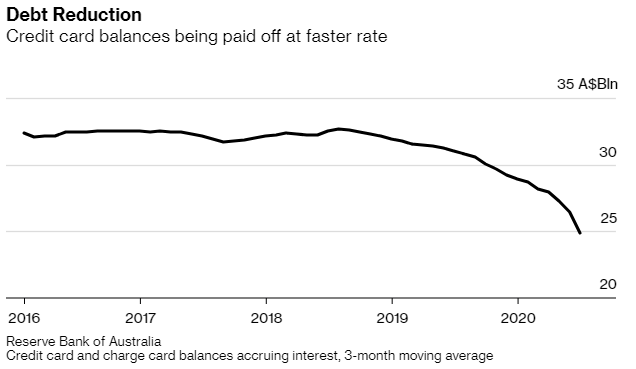 But there is hope. Unable to spend on leisure activities during the lockdown, Australians have salted away cash, taking the savings ratio to a 46-year high. That should leave households well-placed to drive an economic rebound once the virus is contained. —Edward Johnson
What We're Reading 
A few things from around the world that caught our attention:
The best in-depth reporting from Asia and beyond. Sign up to get our weekly roundup in your inbox.
You received this message because you are subscribed to Bloomberg's Bloomberg Australia newsletter.
Unsubscribe | Bloomberg.com | Contact Us
Bloomberg L.P. 731 Lexington, New York, NY, 10022