5 things to start your day
Virus fears rise again, Supreme Court fight, and bank shares plunge.
200,000  
Deaths from coronavirus in the U.S. are approaching 200,000. Former FDA Commissioner Scott Gottlieb said he expects "at least one more cycle" of the virus before the end of the year. In Europe, Germany's health minister said the trend there is "worrying" while expectations are growing for a reintroduction of restrictions in London. The worsening situation, after the optimism at end of lockdowns in the summer, is making investors nervous. The one silver lining is that the virus is growing less deadly thanks to improving treatments of the disease.
Court battle 
The death of Ruth Bader Ginsberg on Friday has set off a high-stakes battle over whether to fill the vacancy on the Supreme Court ahead of the election. President Donald Trump is expected to nominate a replacement this week, and has said he will likely select a woman. Appeals Court judges Amy Coney Barrett and Barbara Lagoa are said to be on his shortlist. Democrats are strongly opposed to the selection of a new justice ahead of the November's election, but will need the support of four Republican senators to stop the process. So far, they only have two. A bitter battle in the Senate may also hurt the chances of passing any stimulus deal soon. 
Laundering
Bank shares are taking a hit this morning after a report published over the weekend pointed to more than $2 trillion in transactions over an almost 20-year period which were flagged as possible money laundering. Shares in Deutsche Bank AG dropped more than 7.5%, while HSBC Holdings Plc fell to a 25-year low. JPMorgan Chase was also one of the top banks named. Between 2012 and 2015, nine big banks paid a total of $20 billion in fines for money laundering. 
Markets tumble
Investors are waking up to a range of worries this morning, and are acting accordingly. Overnight, the MSCI Asia Pacific Index slipped 0.7%, with Japan's markets closed for a holiday. In Europe, the Stoxx 600 Index had plunged 2.6% by 5:50 a.m., with banks and travel stocks among the worst performers as all 19 industry groups were in the red. S&P 500 futures also tumbled, the 10-year Treasury yield was at 0.666% and gold dropped. 
Coming up...
The Chicago Fed National Activity Index is at 8:30 a.m. The Federal Reserve holds an open meeting on the Community Reinvestment Act at 10:00 a.m., with Fed Governor Lael Brainard speaking on the issue at 12:00 p.m. President Trump is on the campaign trail in Ohio, while Joe Biden is in Wisconsin. Apple Inc. CEO Tim Cook and Delta Air Lines CEO Ed Bastian speak at the Atlantic Festival later. 
What we've been reading
This is what's caught our eye over the weekend.
And finally, here's what Joe's interested in this morning
There's an amazing book by the Danish philosopher Ole Bjerg which traces the co-evolution of capitalism and the game of poker. The basic gist: Capitalism used to primarily be about companies buying and selling real things (widgets.) In those early days, there were antique versions of the game of poker, which were primarily were about performing correct calculations of the odds. Over the years, capitalism became less and less about the things being made and sold, and more about finance. It became more about trading pieces of paper, with increased sophistication, with a less direct connection to an underlying widget being sold. At the same time, poker became less about simple calculation, and more about betting and bluffing. In a game like No-Limit Texas Hold 'Em, the betting is the game itself. The actual cards each player holds is less relevant. I'll get back to this point in a second.

In the meantime, on the latest episode of Odd Lots, I spoke with Catherine Coley, the CEO of the major crypto exchange Binance US, about how this year's crypto boom is different than the boom in 2017. Coley is one of the best proponents of crypto that I've talked to, and her career story is interesting, having worked in traditional finance in Asia for several years, before jumping into this new wild world. In our interview she explained that while traditional finance has been able to massively narrow the spreads on a range of assets, the spreads in crypto trading were gigantic, and so she saw a huge opportunity to be part of making that market even more efficient.

What's striking about crypto right now is how sophisticated it's getting. There's all kinds of futures and derivatives and lending products and products that pay yield, and decentralized exchanges and innovations in decentralized governance and so forth. But with all these hundreds of coins out there, it's still hard to see the "what for." With traditional finance, all of these bets people place at least, in theory, help expand the availability of credit or liquidity to people who are doing something real. (Buying a house, insuring a shipment, financing an M&A deal, building a factory, and so forth.) With crypto it's great that spreads are getting narrower, and the derivatives more sophisticated, but there doesn't seem to be much that's real being done with it all. Mostly it's just more layers of coins. The crypto community likes talking about "DeFi" a lot these days which is a form decentralized finance, or basically lending products that don't need a bank, just a blockchain. But it's not clear what exactly is being financed. It's just the trading part.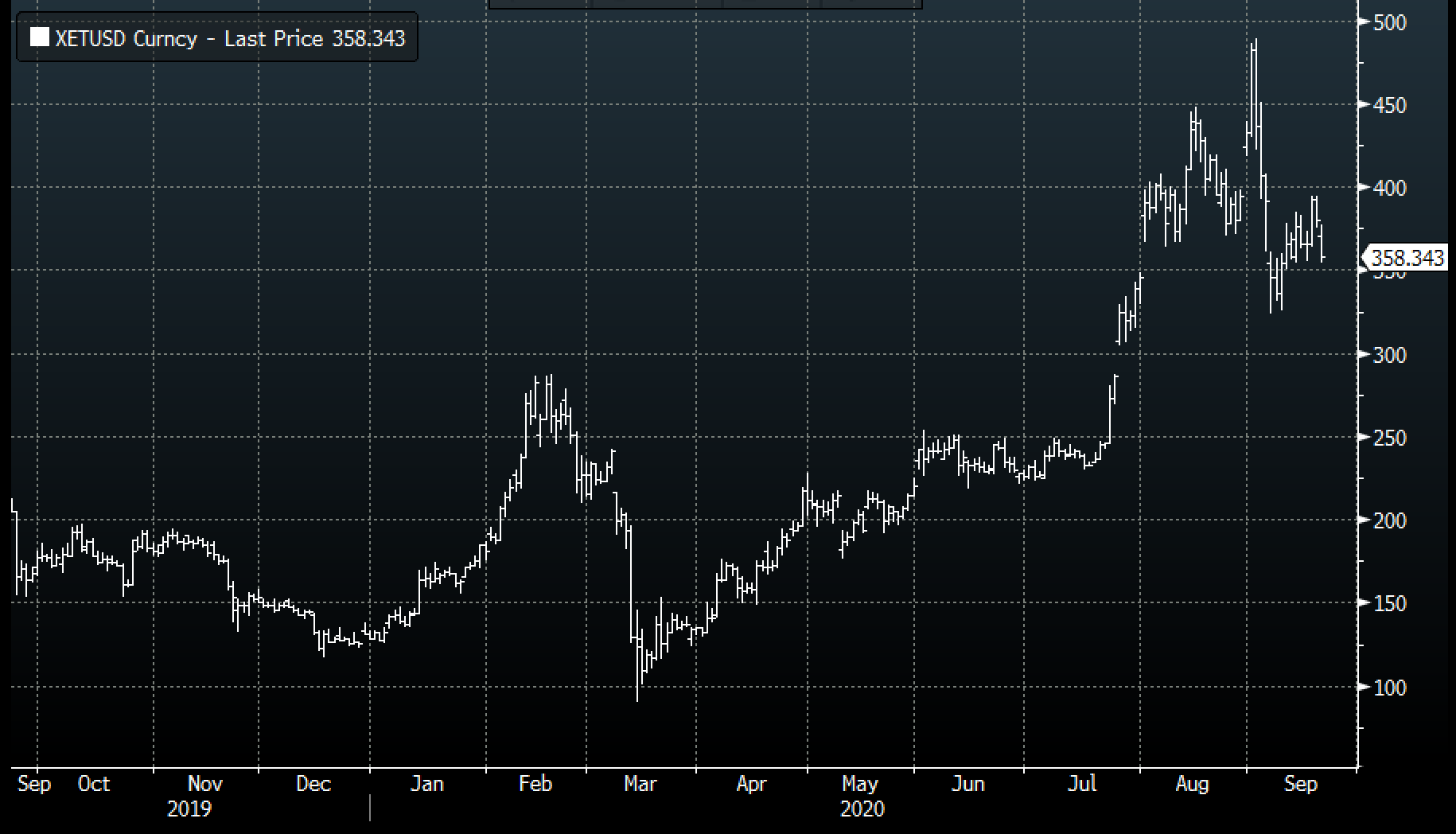 And so, going back to the beginning, you can think of "crypto" -- and I'm not talking about Bitcoin here, but rather the universe of numerous other coins -- as being the ultimate marriage of capitalism and poker. It's a trading game, but without the pretense of there being something real at the end that's being financed. Speculation but without the widgets. It's no wonder that if you looked at the population of people trading crypto, there's almost certainly a massive crossover with people who play online poker or at least did so during the boom.

And while this may seem unsustainable, it's impossible to say when or why it will end. And besides, the difference between the crypto game and, say, SPAC investing in a company with a notional plan to build fancy new technology years into the future probably isn't that great.
Joe Weisenthal is an editor at Bloomberg. 
Like Bloomberg's Five Things? Subscribe for unlimited access to trusted, data-based journalism in 120 countries around the world and gain expert analysis from exclusive daily newsletters, The Bloomberg Open and The Bloomberg Close.
Before it's here, it's on the Bloomberg Terminal. Find out more about how the Terminal delivers information and analysis that financial professionals can't find anywhere else. Learn more.
You received this message because you are subscribed to Bloomberg's Five Things newsletter.
Unsubscribe | Bloomberg.com | Contact Us
Bloomberg L.P. 731 Lexington, New York, NY, 10022