Supply Lines: Hunt for Hogan's heir
The European Union may struggle to match the stature of departing trade chief Phil Hogan — and not just because he literally towers over most allies and adversaries.
Hogan, 60, resigned late Wednesday amid a public outcry over attending an Aug. 19 dinner in his native Ireland that broke the country's rules to fight the coronavirus. Known as "Big Phil" in Brussels for his 6-foot-5-inch height, he was also a dominant policy figure in nine months as EU trade commissioner.
In a 27-member club where top jobs like his are jockeyed for and filled based on a Byzantine combination of nationality, party affiliation and experience, Hogan was proof that such a system doesn't always come at the expense of competence.
His five-year stint as EU agriculture commissioner from 2014 to 2019 was reason enough for European Commission President Ursula von der Leyen to hand him the trade portfolio when she took office in December. As farm chief, Hogan had helped the bloc forge landmark tariff-cutting agreements with Japan and the Mercosur group of Argentina, Brazil, Paraguay and Uruguay.
In political terms, Hogan also fit the bill for the broader trade portfolio because he was the first member of Europe's Christian Democrats to take on the job (other than on a caretaker basis) in 20 years. Liberals from Sweden and Belgium and Socialists from the U.K. and France held the post in the interim.
Unity in Crisis
The Christian Democrats are the EU's biggest political family and include German Chancellor Angela Merkel. At a time of heightened global commercial tensions triggered by everything from greater U.S. protectionism to pandemic-induced shocks to supply chains, Hogan bolstered the bloc's unity and weight in trade matters.
Last week he proved icy Brussels-Washington trade relations could start to thaw with officials including U.S. Trade Representative Robert Lighthizer, whose middle name is Emmet — after the Irish patriot of the late 18th and early 19th centuries called Robert Emmet.
Hogan and Lighthizer on Friday announced a surprise deal to eliminate EU tariffs on goods including American lobster, barely a blip in the overall trade relationship in dollar terms but valuable enough politically for President Donald Trump to sound like a winner. It was a long way from late 2019, when Hogan irked U.S. officials by accusing them of protectionism and criticizing Trump's "America First" trade doctrine.
Now, von der Leyen has her work cut out finding a replacement for a key member of her team. While the Irish government is responsible for nominating a new commission appointee from the country, von der Leyen will decide on the person for the trade portfolio.
Regardless of who the next appointee from Ireland is, she might opt to give the trade role to one of the remaining 25 commissioners now handling other policy matters. At the moment, there's no obvious pick in that group.
Whoever gets the job will face serious challenges ranging from the EU's post-Brexit ties with the U.K. and China's commercial rise to a high-profile dispute with the U.S. over aircraft subsidies and deadlock at the World Trade Organization. So von der Leyen can't afford to pick unwisely.
—Jonathan Stearns in Brussels
Charted Territory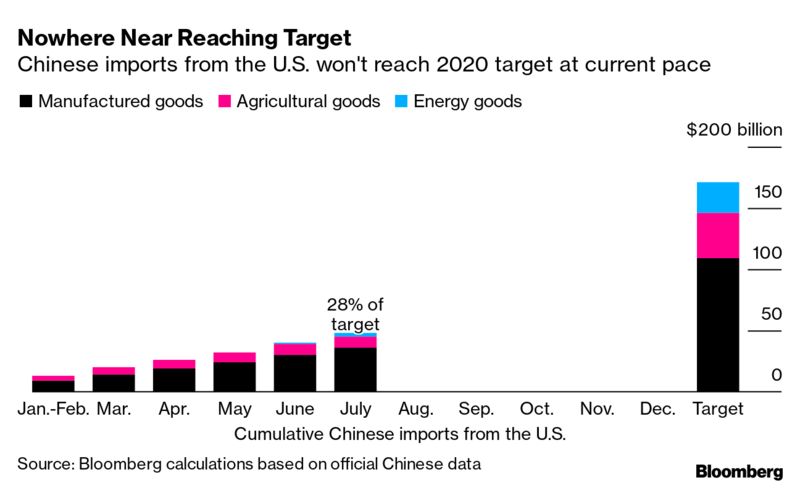 China increased its purchases of U.S. goods in recent months, and with signs that soybean purchases may also rise as the election nears, that may be enough to salvage the trade deal even if it won't reach what it promised, according to Bloomberg calculations based on Chinese Customs Administration data.The U.S. Department of Agriculture's forecasts paint a similar picture.
Today's Must Reads
On the Bloomberg Terminal
Like Supply Lines?
Don't keep it to yourself. Colleagues and friends can sign up here. We also publish Balance of Power, a daily briefing on the latest in global politics.
For even more: Follow @economics on Twitter and subscribe to Bloomberg All Access for full global news coverage and two in-depth daily newsletters, The Bloomberg Open and The Bloomberg Close.
How are we doing? We want to hear what you think about this newsletter. Let our trade tsar know.
Before it's here, it's on the Bloomberg Terminal. Find out more about how the Terminal delivers information and analysis that financial professionals can't find anywhere else. Learn more.
You received this message because you are subscribed to Bloomberg's Supply Lines newsletter.
Unsubscribe | Bloomberg.com | Contact Us
Bloomberg L.P. 731 Lexington, New York, NY, 10022