MapLab: The fight for fair voting maps
The 2020 U.S. Census is nearing its close, and next year, states will redraw electoral districts based on the size and characteristics of their new population count. Though it might not be as attention-grabbing as postal service delays, closed polling sites or purged voter registrations, this is another voting rights issue with a lot at stake.
That's partly because the data gathered in the Census is likely to be questionable. It's unclear how many people are going to be willing to open their doors to census takers in an age of social distancing, and undocumented immigrants may be even less likely to respond than in the past, due to President Trump's attempts to use the survey to inquire about citizenship status. Moreover, as with any map, it matters who draws those new electoral districts. Many states use districting commissions that are appointed by governors or by the party that controls the state legislature.
This frequently results in electoral maps that are "gerrymandered," or favorable to that dominant party. It's a practice that goes back the early days of electoral districting; below, a graphic from a 2018 Bloomberg Businessweek article shows the basics.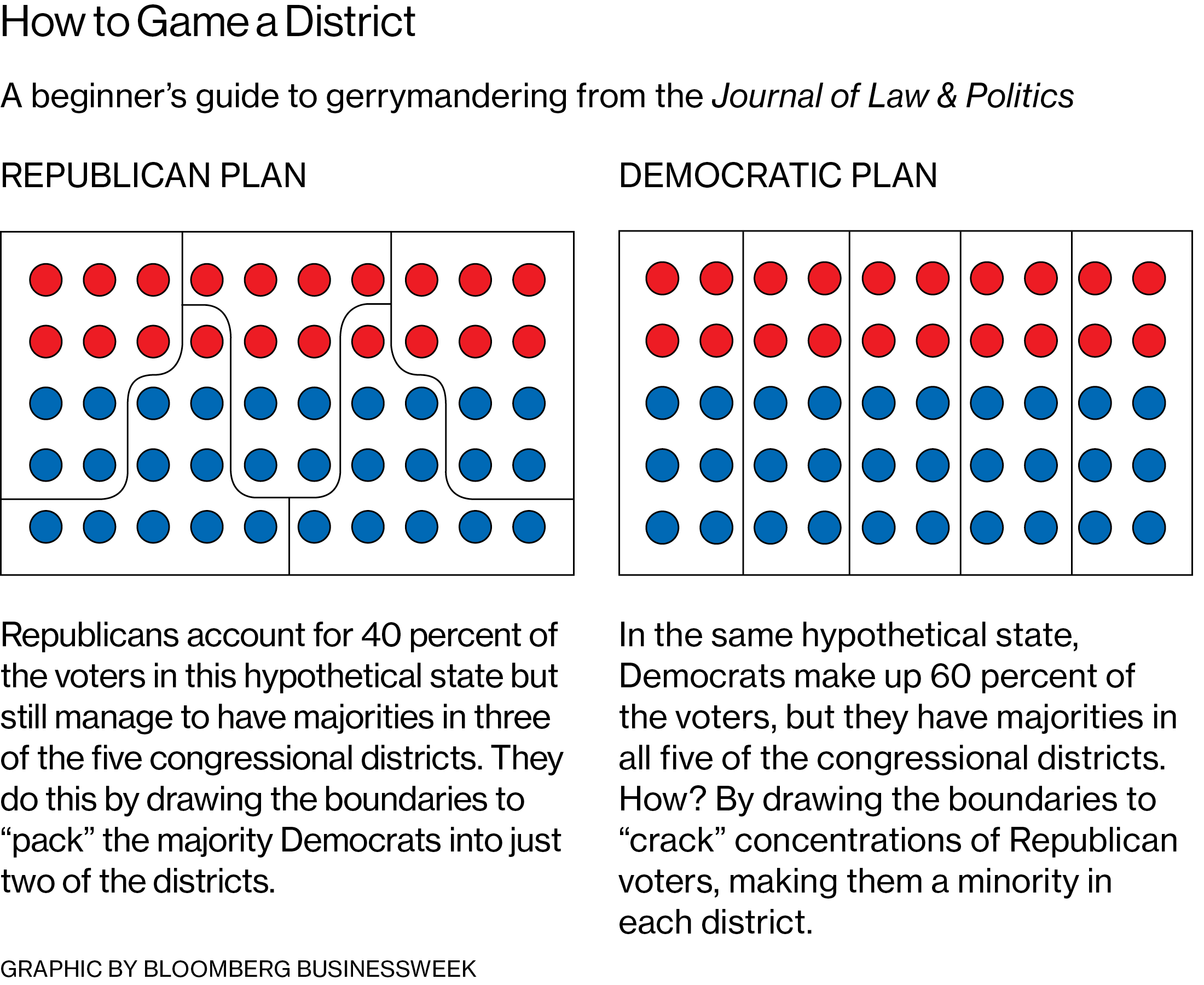 Recent lawsuits filed by citizen groups have challenged gerrymandered maps in several states, most of them with districts skewed to benefit Republicans (who control most statehouses) but some to benefit Democrats. These legal battles took a big turn last year when the Supreme Court ruled that federal courts were powerless to intervene when politicians make maps that entrench their own advantage. 
For the past year, state and local groups have been tackling the issue, proposing ballot measures to reform partisan districting in various ways. Meanwhile, some legislators are working on ways that could further tilt the power balance towards them. This year, pandemic-related delays in gathering signatures and legal hold-ups mean that several proposed ballot measures to create new independent voting commissions — such as ones in Oregon, Nevada, and North Dakota — likely won't make it to voters this November as planned.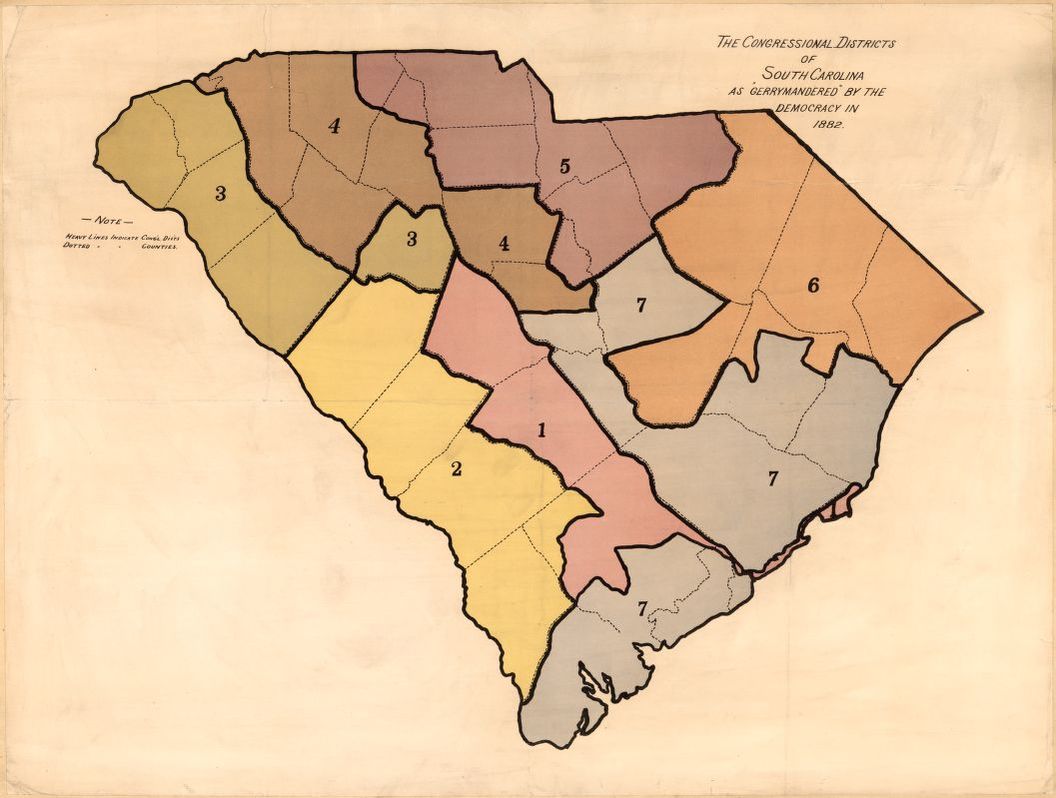 Library of Congress
But there are several important redistricting-related votes coming up:
Arizona: An amendment proposed by Republican legislators would set stricter rules about how much voting districts can differ in population. Proponents say the change would give greater representation to voters in more populated districts. Critics argue that it could dilute the will of minority voters, specifically Native Americans and Latinos in rural districts. 
Missouri: An amendment put forth by a Republican state senator would remove redistricting responsibility from the state's nonpartisan state demographer, whose role was established through a 2018 ballot measure, and revert to the previous system, in which a bipartisan committee nominated by the governor drew the lines. The amendment would also change mapping criteria. However, the language of the ballot measure presenting this proposed amendment to voters emphasizes the small changes to campaign contribution rules that it would also make. This month a county judge ordered lawmakers to rewrite the measure, noting that "it fails to even allude to [the amendment's] central feature: the wholesale repeal of voter-approved rules for redistricting and replacing them with prior redistricting rules designed to benefit incumbent legislators."
New Jersey: An amendment proposed by Democratic lawmakers would delay the state's redistricting process by about a year, due to what will likely be delays in the delivery of Census data. 
Virginia: An amendment to establish an independent redistricting commission, composed of eight citizens and eight state legislators with equal party representation, would replace the current system where the state legislature sets boundaries. This is a highly consequential vote for a state that has recently turned from a Republican stronghold to solidly Democratic.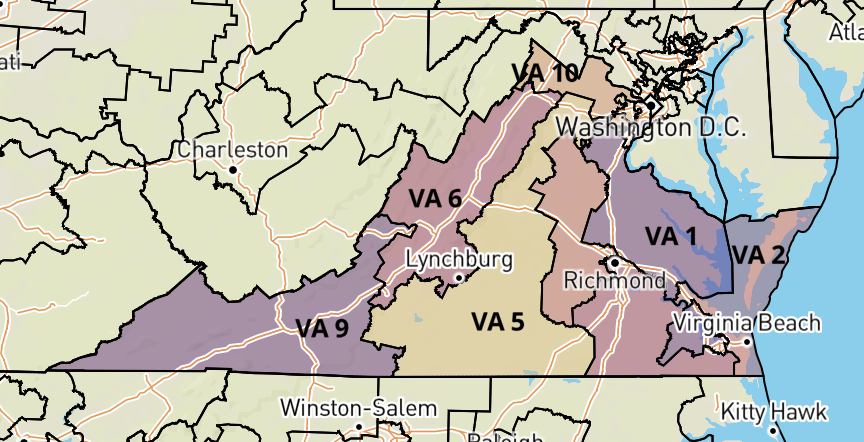 GovTrack
Map links
The extent of California's devastating wildfires, 2020 edition. (New York Times) + How satellites tracking the spread of California wildfires, hour by hour, show up in your palm. (The Verge) +  Here come hurricanes Laura and Marco. (NBC) + Google Maps gets a visual upgrade. (Guardian) + North Americans: Text this number to find out whose native land you're sitting on. (Hyperallergic) + Where racist symbols lurk in your neighborhood. (Fast Company) + Where mangroves are disappearing, and why. (NASA)
Breathe safely out there. Sign up for MapLab here.
| | |
| --- | --- |
| Follow Us | Get the newsletter |
You received this message because you are subscribed to Bloomberg's CityLab MapLab newsletter.
Unsubscribe | Bloomberg.com | Contact Us
Bloomberg L.P. 731 Lexington, New York, NY, 10022