Manufacturers' software future collides with conglomerate past
Have thoughts or feedback? Anything I missed this week? Email me at bsutherland7@bloomberg.net Have a good weekend!
M&A is back in manufacturing, and it's all about software.
This week brought two significant transactions in software designed to make factory equipment and heavy-duty machinery run more efficiently and cost effectively. Aveva Group Plc is spending $5 billion to acquire OSIsoft, which is known for its process information (PI) system that collects and stores real-time data in a simplified infrastructure that enables users to draw on the information to improve their operations. Aveva is 60% owned by Schneider Electric SE following the 2018 merger of the two companies' software businesses. Emerson Electric Co., meanwhile, is paying $1.6 billion to acquire Open Systems International Inc. (OSI). The company specializes in automation software for utility-grid operators, but "we see a lot of opportunity to take this outside what I call the core power and water distribution side into the generic process" automation markets, Emerson Chief Executive Officer Dave Farr said on a call to discuss the transaction. Process automation focuses on products produced in batches, such as chemicals or oil derivatives, as opposed to discrete automation that deals with distinct items such as cars on a factory assembly line.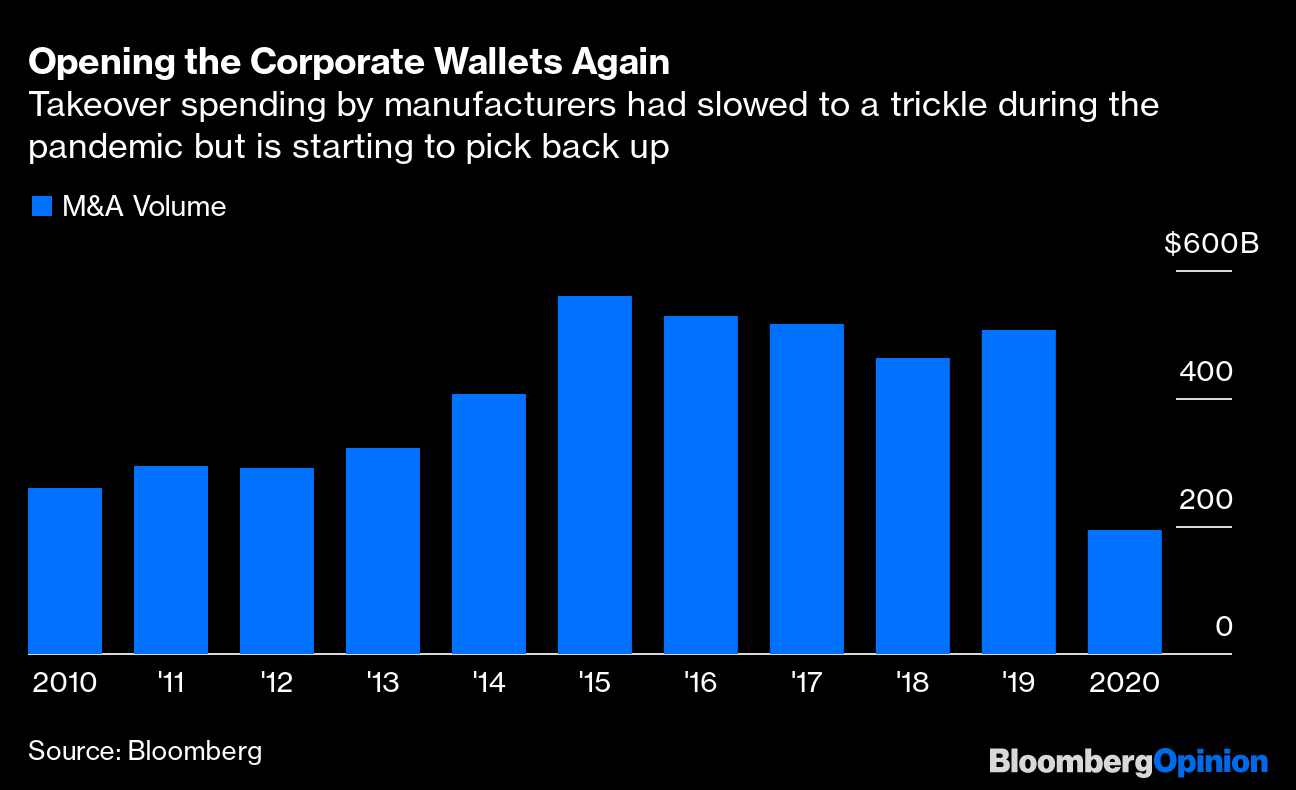 It's telling that this is where industrial companies are focusing their M&A attention. After two weeks of contentious politicking at the Democratic and Republican conventions, one rare patch of common ground is a desire to revive America's factories. For the first time in a long time, a wide swath of manufacturers are talking about this, too. A survey of global analysts published by Bank of America Corp. last month found that companies in more than 80% of the world's industries experienced supply-chain disruptions because of the pandemic, and about three-quarters of them are planning to accelerate and expand reshoring initiatives as a result. A $1 trillion capital expenditure push — spread out over five years — would support the relocation of all foreign export-related manufacturing work in China, the analysts, led by head of global research Candace Browning Platt, estimate. It's a huge number but "not prohibitive," they write. That $1 trillion of spending doesn't reflect higher operating costs inherent in more developed markets, though; the report found a "universal" declaration among the analysts it surveyed of the intent to use automation to help mitigate that additional burden. And the companies that make automation equipment and factory software are preparing accordingly.
Neither of these recent deals are cheap: Aveva is paying a whopping 33 times OSIsoft's trailing 12-month adjusted operating profit and Emerson is paying nearly 24 times OSI's projected Ebitda over the next year. The difference, though, as Barclays Plc analyst Julian Mitchell notes, is that in Aveva's case, the multiple is fairly comparable to how the company itself is valued in the stock market, whereas Emerson is paying a stark premium. Aveva shares rallied on the deal news and ended up nearly 20% for the week; Emerson shares declined about 1% on the day the OSI deal was announced. It helps in Aveva's case that majority owner Schneider is backing a $3.5 billion equity raise to help fund the deal; a more diverse group of institutional holders may not have been as thrilled about stumping up a third of the company's market value, as my colleague Chris Hughes notes. But this divergence in reactions also underscores the logic of Schneider's decision to merge its software business with Aveva and make that an independent entity rather than buy the company outright. That structure lets Schneider do software-related M&A through Aveva, rather than on its own, as Mitchell notes.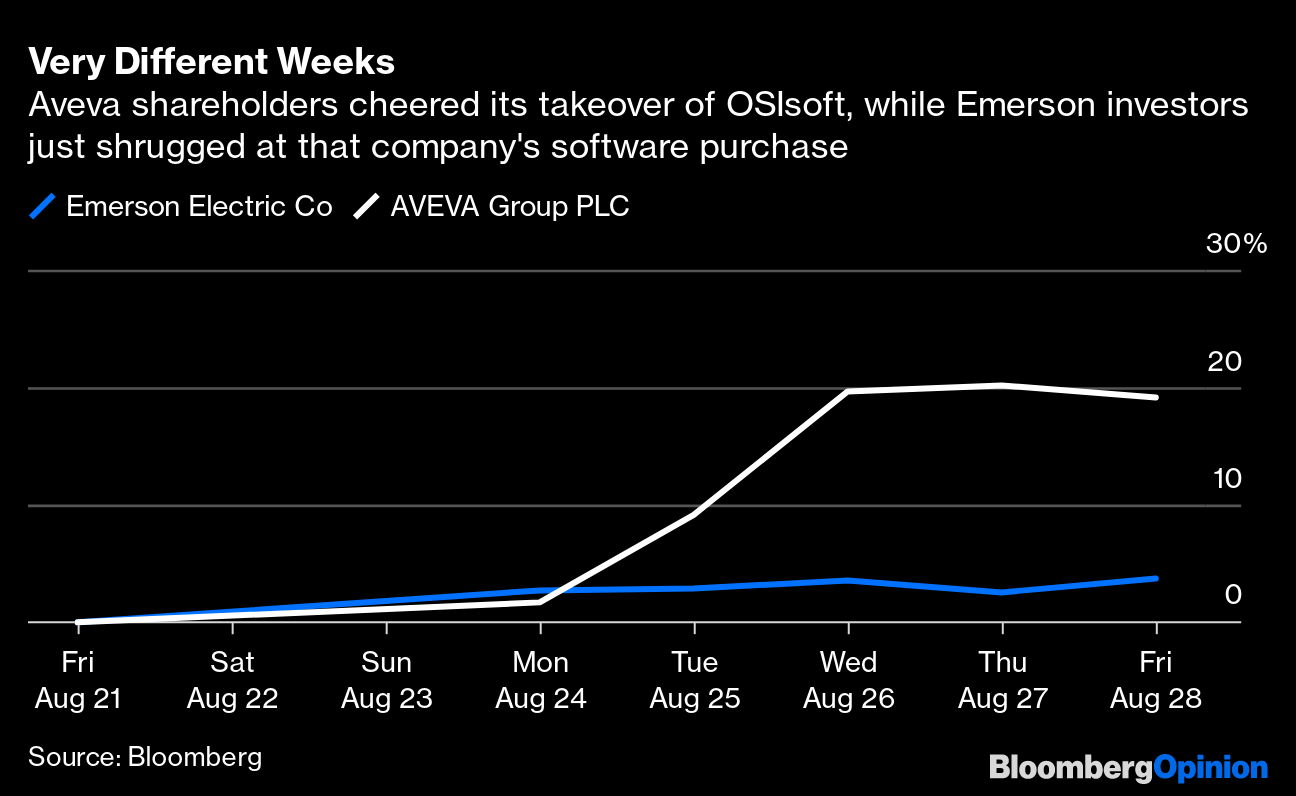 The contrast between the two deals raises fresh questions about whether these industrial software businesses are best grown within manufacturing companies or if they operate better (and get more buy-in from shareholders) as separate entities. It's similar to the calls for General Motors Co. to carve out its electric-vehicle business. It's very easy these days for manufacturers to spend loads of money on building a software business and actually be decent at running it and yet get little credit from investors who can't see past legacy manufacturing operations. Practically every industrial company has some kind of software or digital strategy; few of them trade anywhere close to software or digital valuations. The ones that do are companies such as Roper Technologies Inc., which ironically focuses more on software that has little to do with its industrial businesses but rather operations like financial planning and health care. The company agreed earlier this month to buy insurance-software provider Vertafore for $5.35 billion. 
"To build a software business, you have to run as a software business," Aveva CEO Craig Hayman said on a call to discuss the OSIsoft transaction. "It's not a weekend sport." In an interview, he emphasized the overlap of the Aveva and OSIsoft cultures, from the emphasis on environmental and social initiatives to a vision for a more digitized industrial world. You don't get the same effect when you merge a software company with an old-school industrial giant. Aveva has said it won't furlough or lay off workers in response to the pandemic, and Hayman doesn't expect job cuts in connection with the OSIsoft acquisition either. Burdened with a bloated legacy infrastructure and under more pressure from the slump in macroeconomic conditions, Emerson said earlier this month that it was increasing its cost-cutting efforts. 
ONE STEP FORWARD, TWO STEPS BACK
Boeing Co. got a piece of good news this week when Europe's aviation regulator said it was sufficiently satisfied with the redesign of the grounded 737 Max to conduct a flight test. The European Union Aviation Safety Agency will send pilots to Canada to get around travel restrictions on the U.S. because of the pandemic. Boeing is working to add a suite of virtual sensors to the Max to meet EASA's demands for a backup to the angle-of-attack vanes, which generated erroneous readings blamed in part for the jet's two fatal crashes. Given the complexity of developing such synthetic air-data systems, EASA has reportedly compromised and agreed not to hold up the Max's recertification as long as Boeing spells out a plan for future improvements. In less good news, Boeing said its Starliner spacecraft would attempt a second unmanned trip to the International Space Station before early 2021 after its initial try was aborted because of software glitches. It's lagging Elon Musk's Space Exploration Technologies Corp., which completed its first round trip with astronauts on Aug. 2. And to top it off, Boeing said Friday that it had found two manufacturing issues affecting its 787 Dreamliner that must be repaired before continued operation. This only affects eight planes, and most airlines have grounded their wide-body jets anyway on the slump in international travel. So it's hardly catastrophic, but it's not a great look. Meanwhile, U.S. airlines appear to be stepping up pressure for an extension of government payroll aid. American Airlines Group Inc. said this week that it would have to cut 19,000 positions, mostly through furloughs, unless Congress agreed on additional stimulus. United Airlines Holdings Inc. and Delta Air Lines Inc. warned they would have to furlough nearly 5,000 pilots combined. White House Chief of Staff Mark Meadows said the Trump administration is examining ways to support airline workers through executive action, but it's unclear how feasible that is. 

DEALS, ACTIVISTS AND CORPORATE GOVERNANCE
Garrett Motion Inc., the maker of automotive turbochargers that was spun off from Honeywell International Inc. in 2018, said this week that it was evaluating options for restructuring its balance sheet. These include issuing new equity, converting liabilities into equity or canceling existing common stock. Garrett blames Honeywell for exacerbating its current struggles by setting it up with a capital structure that was inappropriate for such a cyclical business. Garrett and another Honeywell spinoff — the Resideo Technologies Inc. thermostat and home-security business — incurred a collective $2.8 billion of debt to make cash distributions to Honeywell as part of their separations and entered into indemnification agreements for legacy liabilities that require them to pay Honeywell up to a combined $315 million a year. Garrett sued last year, contending the indemnity agreement was "oppressive and unconscionable" and was foisted upon it without proper arms-length negotiations. Payments have been deferred until 2023 as part of a relief agreement, but Garrett says the looming cash crunch is impeding access to capital and its ability to execute its operational strategy. Honeywell, for its part, told Bloomberg News that Garrett's comments appear to be "a pressure tactic designed to encourage creditors to provide concessions, and Honeywell has no intention of being swayed." Bloomberg Intelligence analyst Holly Froum says Honeywell has the upper hand in the lawsuit, but as I wrote last year, this case raises deeper philosophical questions of whether all these industrial spinoffs are in everyone's best interest or if the fad has gone too far. 

Dow Jones Shakeup. The powers that be behind the Dow Jones Industrial Average announced they were remodeling the benchmark to account for Apple Inc.'s stock split and the growing importance of technology-related companies to the overall equity markets. The headline was that Exxon Mobil Corp. is getting booted in favor of Salesforce.com Inc., a sign of the times as energy falls from grace and the cloud becomes ever more relevant to our daily lives. But this reshuffling also included the decision to kick out Raytheon Technologies Corp. and replace it with Honeywell. This may reflect the fact that Raytheon is now a focused aerospace and defense company, creating some overlap with Dow-member Boeing. Honeywell is more diversified and captures a broader swath of the industrial market. 

Gogo Inc. shares surged more than 40% this week on speculation that satellite company Intelsat is interested in buying the in-flight connectivity company's commercial aviation business. Gogo last week announced a special bonus plan for certain employees tied to the successful legal separation of its business-aviation division and the consummation of a transaction for its commercial one, so management clearly has an incentive to get a deal done. But Roth Capital Partners analyst Scott Searle says a reported $500 million valuation is aggressive. It's worth noting that Intelsat filed for bankruptcy protection in May. The company sought approval this week for an unspecified transaction funded with money from its bankruptcy lenders. Gogo's commercial aviation operations are more likely to fetch around $200 million, Searle estimates. This would leave it with a profitable business jet unit that Searle estimates could justify a stock price of $4 to $9 a share on its own, with a path toward a valuation in the high-teens if Ebitda targets are met. Recall that Boingo Wireless Inc., which provides WiFi for airports and train stations, has also received takeover interest. Global Eagle Entertainment Inc., a provider of in-flight and at-sea WiFi, filed for Chapter 11 bankruptcy in July. 

Desktop Metal Inc. will go public through a combination with special-purpose acquisition company Trine Acquisition Corp., with a post-transaction equity valuation of up to $2.5 billion. This is part of a flurry of dealmaking by so-called blank-check companies, although it's somewhat unique in that for once the target isn't an electric vehicle maker but rather an additive manufacturing, or 3D-printing, firm. Trine is led by technology investor Leo Hindery Jr. and HPS Investment Partners. Assuming no redemptions by Trine's holders, Desktop Metal's existing investors — including Ford Motor Co. and the venture capital investment arm of Alphabet Inc. — will own about 74% of the company. 

BONUS READING
Restaurants Can't Find Workers Even Amid Historic Unemployment
Seven-Day Virus Killer Is Cleared for American Air Planes
Rolls-Royce Is Fast Becoming a British Calamity: Chris Bryant
Ford CEO's Vow for Flawless Launches Tested by High-Stakes F-150
Is Your Morning OJ a National Security Issue?: David Fickling
GM White-Collar Staff Roll Up Sleeves to Make In-Demand Pickups
Like Bloomberg's Industrial Strength? Your friends and colleagues can sign up here. For more content like this, subscribe for unlimited access to trusted, data-based journalism in 120 countries around the world and gain expert analysis from exclusive daily newsletters, The Bloomberg Open and The Bloomberg Close.
Before it's here, it's on the Bloomberg Terminal. Find out more about how the Terminal delivers information and analysis that financial professionals can't find anywhere else. Learn more.
You received this message because you are subscribed to Bloomberg's Industrial Strength newsletter.
Unsubscribe | Bloomberg.com | Contact Us
Bloomberg L.P. 731 Lexington, New York, NY, 10022