Johnson's poor marks
Boris Johnson needs a win.

After months of missteps in the U.K. government's response to the coronavirus pandemic, the prime minister is under fresh pressure. Many students hoping to go to university or college were given grades that did not match their predicted outcomes, due to a complicated algorithm that was designed to make up for the fact final exams were scrapped.

In particular, the algorithm appeared to downgrade more students from poorer or disadvantaged areas.

After an outcry, and with students protesting in the streets, the government yesterday pulled a U-turn and agreed to grade pupils on their teachers' assessments.

A snap YouGov poll found 75% think the government handled the whole thing badly. Around 40% say Education Secretary Gavin Williamson should resign.

Johnson tends to stand behind his ministers when they're struggling. But it follows a series of errors on Covid-19, which has killed more than 41,000 in the U.K.

And Johnson and Williamson still need to get schools open again next month.

The government is also under pressure to extend support for workers, which it wants to stop in October despite warnings it could lead to mass unemployment, including in former industrial heartlands Johnson pledged in his election campaign to rejuvenate.

One glimmer of hope comes from the University of Oxford, which is leading the race for a virus vaccine. Being first on that would be, as Suzi Ring explains, the ultimate prize for a government needing to redeem itself.
Middle ground | Presidential contender Joe Biden will send an unmistakable message about his vision for Democrats' future tonight — and it will sound a lot more like him than the party's progressive wing. Rather than the traditional convention keynote that can fuel one star's rise — like young Senate candidate Barack Obama in 2004 — Biden's team chose 17 people to share in delivering the coveted slot, and many of them align with his center-left philosophy.
Campaign 2020
There are 77 days until the election. Here's the latest on the race for control of the White House and Congress.
Tonight's keynote speakers at the Democratic National Convention include voting rights activist Stacey Abrams and progressive favorite Alexandria Ocasico-Cortez. Democrats kicked things off yesterday with a rallying cry fueled more by animosity toward Donald Trump than affirmations for their nominee. Michelle Obama painted a dark picture of Trump's America, while Bernie Sanders took a rare turn as a party unifier.
Other developments:
Sign up to receive daily 2020 election updates as a direct mobile notification on Twitter. Simply click on this link and like the tweet.
Photographer: Chris Delmas/AFP
'Nothing short of bullying' | China denounced the U.S.'s decision to curb Huawei's access to commercially available chips, the latest move in an increasingly tense relationship between the two biggest economies. The changes announced by the Commerce Department yesterday add 38 Huawei affiliates in 21 countries to an economic blacklist as the U.S. seeks to limit adoption of the company's 5G technology.
Protest momentum | Workers across Belarus went on strike and joined mass protests against longtime ruler Alexander Lukashenko, who was met with jeers and calls to resign when he visited a factory yesterday in the capital. Lukashenko insisted he won't step down and instead proposed changes to the constitution, something he's suggested repeatedly without giving specifics.
Canadian feud | Finance Minister Bill Morneau resigned amid a rift with Prime Minister Justin Trudeau, leaving a hole in the cabinet as it crafts an economic recovery plan. Morneau was seen as more fiscally cautious and disagreed with Trudeau over how to direct $182 billion in Covid-19 emergency spending. Trudeau didn't immediately name a replacement, but Deputy Prime Minister Chrystia Freeland's name has circulated.
Succession politics | Chancellor Angela Merkel will attend a cabinet meeting today in North Rhine-Westphalia to give a boost to Armin Laschet, the premier of Germany's industrial heartland. He has stumbled in his bid to win the leadership of Merkel's Christian Democratic Union, a role that would make him the front-runner to replace her. She's due to step down after elections next year.
What to Watch
And finally ... One of the most visible Chinese leaders in the struggle over Hong Kong's future said she's having trouble using her credit cards after the U.S. imposed sanctions earlier this month. The financial hub's chief executive, Carrie Lam, is one of 11 officials targeted for their roles in curtailing political freedoms amid the implementation of national security legislation imposed by Beijing.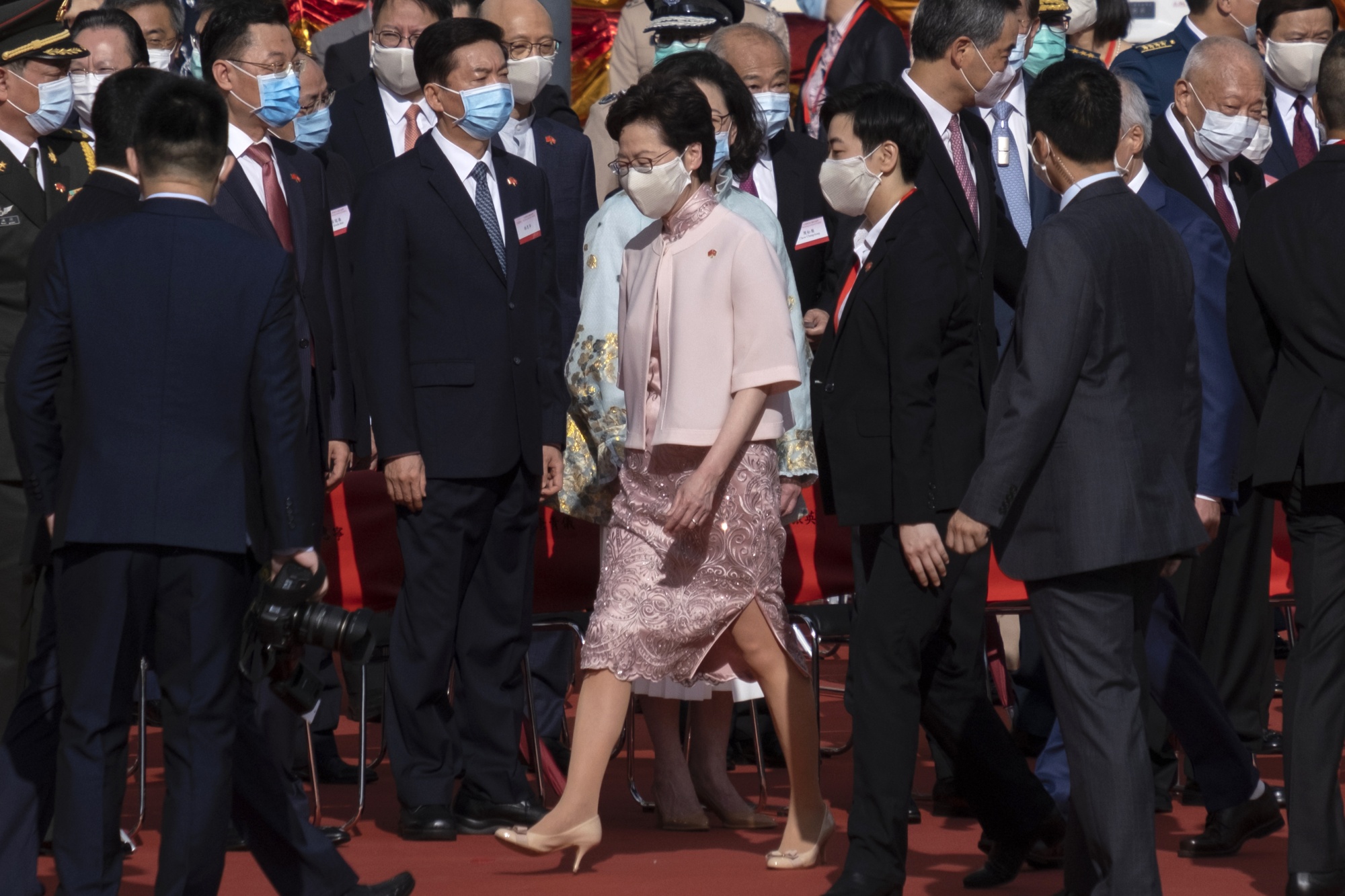 Photographer: Roy Liu/Bloomberg
Like Balance of Power? |  Get unlimited access to Bloomberg.com, where you'll find trusted, data-based journalism in 120 countries around the world and expert analysis from exclusive daily newsletters.
You received this message because you are subscribed to Bloomberg's Balance of Power newsletter.
Unsubscribe | Bloomberg.com | Contact Us
Bloomberg L.P. 731 Lexington, New York, NY, 10022