Division and violence
Can a leader win re-election on a law-and-order campaign to quell violence he himself is accused of stoking?
With the U.S. economy cratering during a coronavirus epidemic that has killed more than 180,000 people in the U.S., Donald Trump is trying.
The chaos the president has warned may sweep the U.S. if his Democratic rival Joe Biden wins November's election has already arrived in Portland, Oregon and Kenosha, Wisconsin under his own watch.
In a tweetstorm yesterday, Trump labeled Black Lives Matter protesters in Washington as "agitators and thugs" and praised a convoy of his supporters in Portland as "GREAT PATRIOTS" after some drove into people demonstrating against police violence and shot tear gas and paint balls into the crowd.
That ended with one right-wing counterprotester shot dead. Trump honored him in a tweet, in contrast to the silence he displayed after a teen supporter of the president gunned down two people and wounded another last week in Kenosha. Trump heads to that city tomorrow despite the mayor's exhortation that he stay away.
Democrats are trying to hit back. Biden said Trump is "recklessly encouraging violence." Portland Mayor Ted Wheeler told the president: "It's you who have created the hate and the division."
But Trump, whose average job-approval rating is lower than any other president's since the 1940s, has shown he consistently thrives on conflict over issues from China and the Middle East to climate change, epidemic science and race relations.
What Democrats must now grapple with is that the violence could become the dominant election theme, and for Trump that may be the point.
Fresh clashes | India said its troops clashed with Chinese solders along their contested Himalayan border over the weekend in the latest flareup of tensions between the nuclear-armed neighbors who've been in a standoff since May. The skirmish took place along Pangong Tso — a glacial lake at 14,000 feet — along the more than 2,160 mile Line of Actual Control. There's no word yet on casualties or captured soldiers.
Campaign 2020
There are 64 days until the election. Here's the latest on the race for control of the White House and Congress.

Despite Republicans puling out all the stops at their convention to persuade female voters that the president cares about their interests, polls show that he's losing ground among women. They are put off by both his persona and his preference for a heavy, militaristic response to racial-justice protesters, according to surveys.
Other Developments:
Sign up to receive daily election updates as a direct mobile notification on Twitter. Simply click on this link and like the tweet.
TikTok trouble | Plans to sell the U.S. operations of short-video app TikTok have been thrown into jeopardy now China has asserted its authority over the deal that was already under scrutiny by the Trump administration. Beijing stepped into the thorny negotiations over ByteDance's prized asset, claiming it could block a sale to Microsoft or Oracle with tighter restrictions on artificial intelligence exports.
Covid famine | The world is facing an unprecedented hunger crisis at a time of enormous global food surpluses as the pandemic upends food supply chains, cripples economies and erodes consumer purchasing power. As Megan Durisin, Elizabeth Rembert and Tatiana Freitas report, some projections show that by the end of the year, Covid-19 will cause more people to die each day from hunger than from virus infections.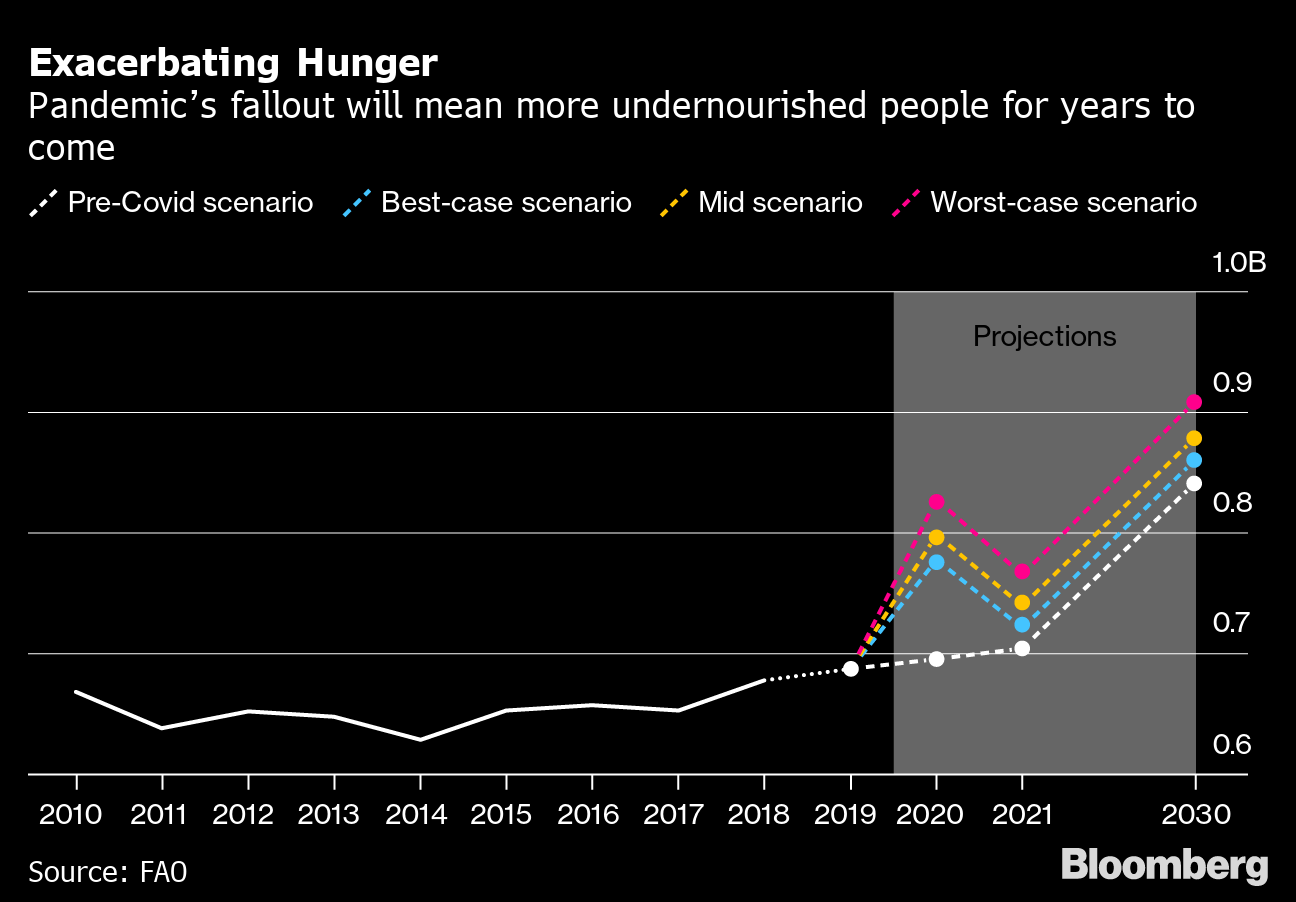 Political blowback | Germany's blame game over Wirecard's collapse is focusing on why authorities failed to take a harder look at the payments company before it became the country's biggest accounting scandal in living memory. Lawmakers will question a top adviser to Chancellor Angela Merkel today before grilling financial industry watchdogs tomorrow as the fraud that burned investors engulfs the country's political establishment.
Continuity candidate | Shinzo Abe's right-hand man is reportedly set to enter the race to succeed his boss, who announced his resignation as Japan's premier Friday because of a flare-up of a chronic health condition. Chief Cabinet Secretary Yoshihide Suga may make a formal announcement after the ruling party decides tomorrow how it will pick a new leader. If only sitting lawmakers are allowed to vote rather than all party members, Suga would be the favorite.
What to Watch This Week 
Thanks to all who responded to our pop quiz Friday and congratulations to Frank Aguilera, who was the first to correctly name Sudan as the country which U.S. Secretary of State Michael Pompeo last week became the highest-ranking U.S. official to visit in more than a decade.
And finally ... A military coup in Mali this month drew condemnation from its neighbors and major powers such as the EU and the U.S. Yet as Katarina Hoije explains, at home many see the soldiers' action following months of mass protests as a chance to end corruption, restore democratic principles and tackle an enduring Islamist insurgency.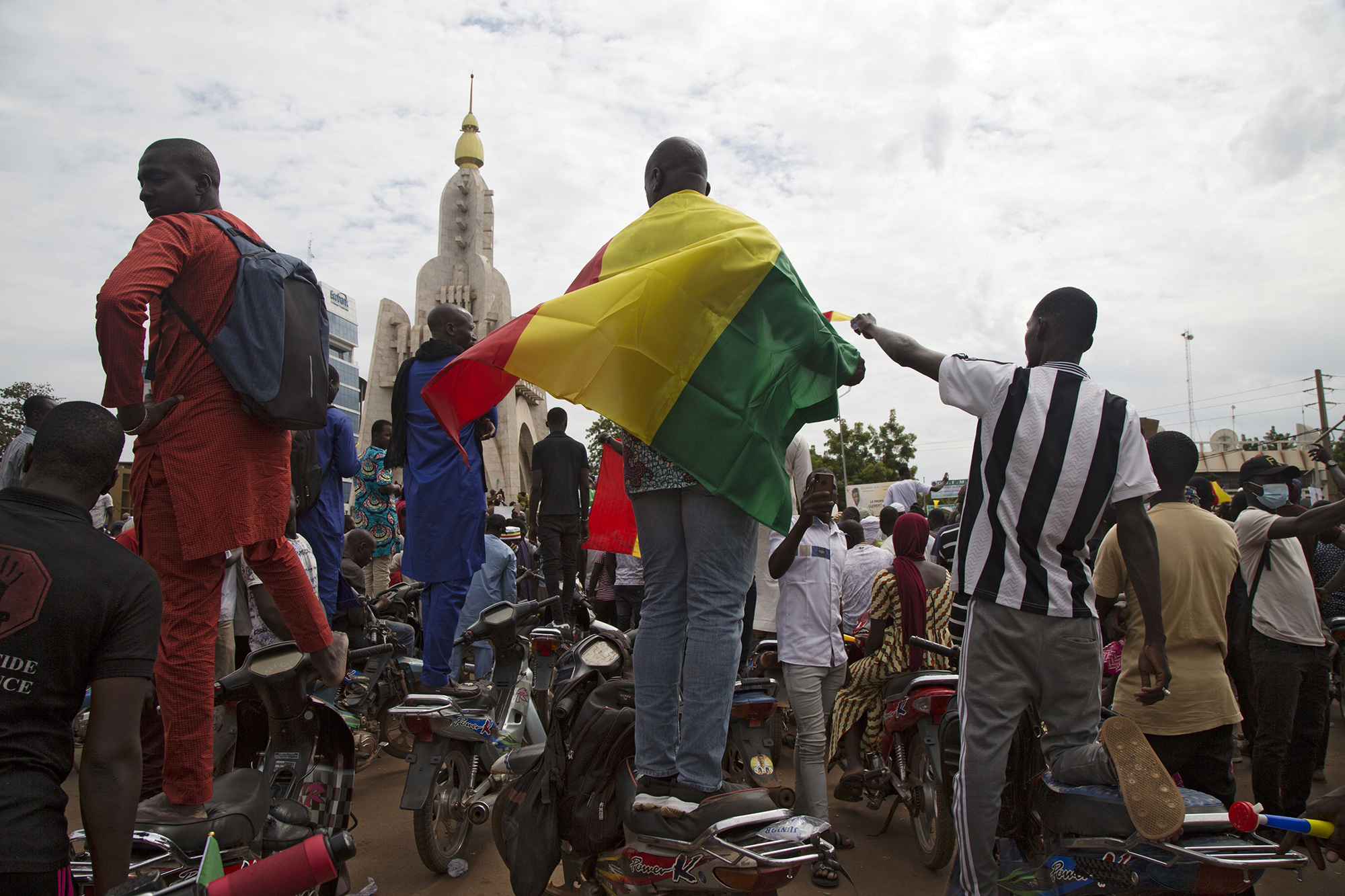 Photographer: Annie Risemberg/AFP via Getty Images
Like Balance of Power? |  Get unlimited access to Bloomberg.com, where you'll find trusted, data-based journalism in 120 countries around the world and expert analysis from exclusive daily newsletters.
You received this message because you are subscribed to Bloomberg's Balance of Power newsletter.
Unsubscribe | Bloomberg.com | Contact Us
Bloomberg L.P. 731 Lexington, New York, NY, 10022