CityLab Daily: Can Planting Trees Make a City More Equitable?
Arbor day: A new endeavor to green America will involve planting and restoring 855 million trees by 2030 — part of the global Trillion Trees Initiative aimed at encouraging reforestation to capture carbon and slow the effects of global heating. But it's where the trees will go that's striking: The U.S. effort will focus on urban planting as a way to improve air quality in communities that have been disproportionately affected by pollution and climate change. 
Large-scale tree planting has become a popular solution to lowering carbon emissions; one study found that more than two-thirds of the carbon stored in New York City's trees can be found in forests growing in parks and nature preserves, which make up just a quarter of the city's overall tree canopy. The new effort recognizes that urban forestry efforts must address historic disparities in tree cover to be effective, writes Patrick Sisson. Disinvested communities lack the cooling, shade and green space seen in more affluent areas, and are far more likely to bear the brunt of extreme heat. Today on CityLab: Can Planting Trees Make a City More Equitable?
-Linda Poon
More on CityLab
Detroiters were refusing city-sponsored "free trees." A researcher found out the problem: She was the first person to ask them if they wanted them.
A new report from the National Association of City Transportation Officials shows big gains for e-scooters before the pandemic — and signs that the micromobility boom could go on. 
Just after passing resolutions to elevate the needs of Black and Hispanic residents, the Arlington City Council took an unusual stand on drilling. 
Even before the pandemic there were places where not commuting was a pretty normal thing to do.
History on repeat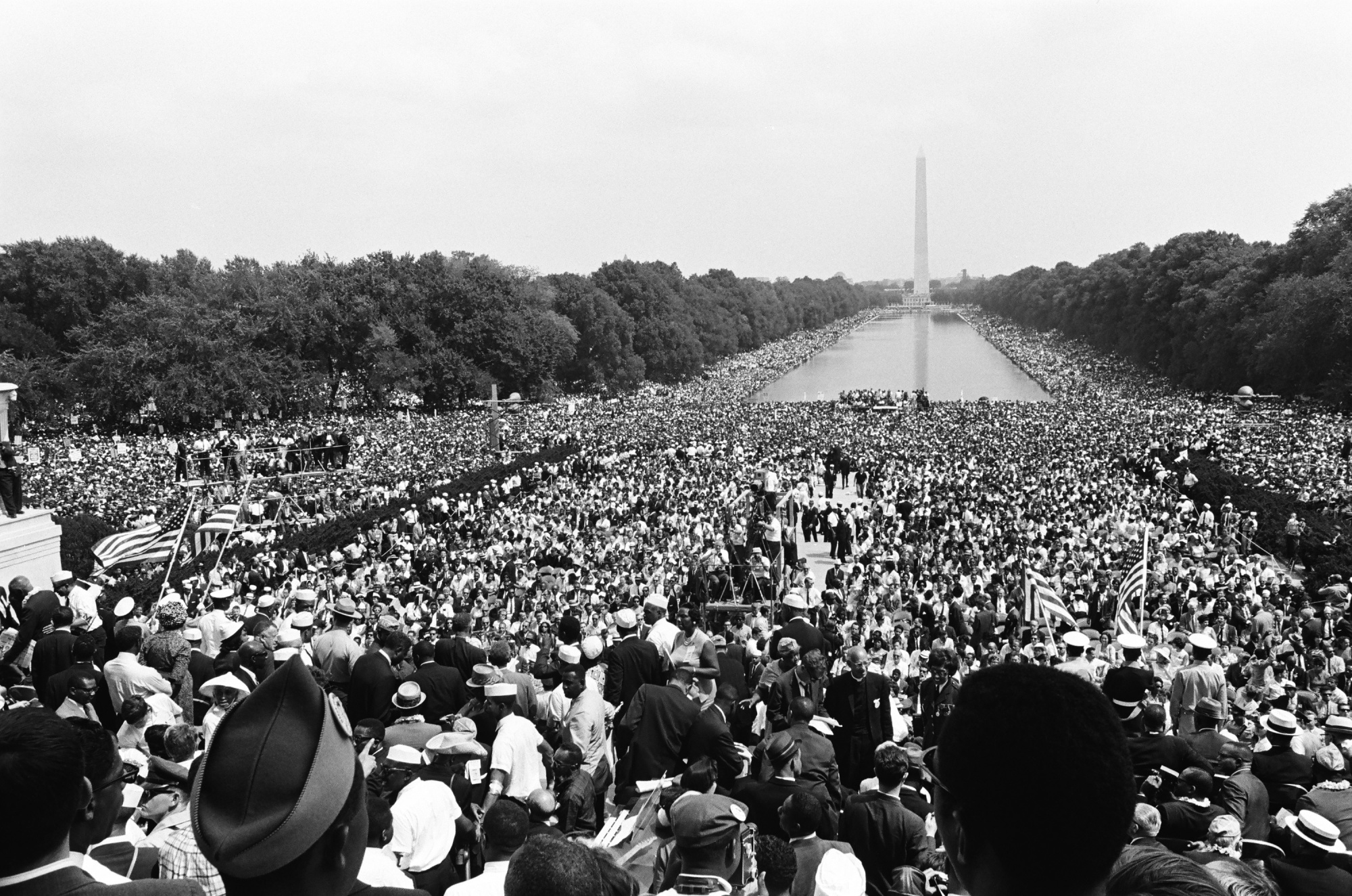 Photographer: NBC/NBCUniversal
On August 28, 1963, Dr. Martin Luther King Jr. delivered his momentous "I Have a Dream" speech on the steps of the Lincoln Memorial, in front of a quarter million people who had gathered on the National Mall for the March on Washington for Jobs and Freedom. Exactly 57 years later, a new generation of civil rights activists and marchers are retracing those steps to call out the continuing racial injustice against Black Americans. The "Get Your Knee Off Our Necks" March — which comes just hours after President Donald Trump accepted the Republican nomination for president at the White House — is being led by Reverend Al Sharpton and the families of police brutality victims, and will continue the themes that dominated this summer's wave of protests.
The ongoing Covid-19 pandemic means the arrangements look very different this time: Masks are required, and limited seating is available in socially-distanced chairs, while standing room along the Reflecting Pool will be divided into grids, according to DCist. During a time of travel restrictions, organizers are expecting a far smaller crowd than the original march. For those who can't go in person, the NAACP is hosting a Virtual March on Washington.
But the coronavirus hasn't stopped out-of-state attendees. As the Washington Post reports, a group of some 70 protesters arrived this morning from Milwaukee, Wisconsin — on foot. "We made it, wasn't nothing going to stop us," one person told the Post.
What we're reading
| | |
| --- | --- |
| Follow Us | Get the newsletter |
Stay on your game | Get unparalleled access to two world-class news desks, covering developments across finance, economics, technology and sports. Subscribe to Bloomberg.com today and get complimentary access to The Athletic.
You received this message because you are subscribed to Bloomberg's CityLab Daily newsletter.
Unsubscribe | Bloomberg.com | Contact Us
Bloomberg L.P. 731 Lexington, New York, NY, 10022