Bad debt wave
Who will replace Japanese Prime Minister Shinzo Abe? TikTok's U.S. operations can't be sold without Chinese government approval. China's big banks have their worst profit declines in more than a decade. Here are some of the things people in markets are talking about today.
The race to replace Japan's Prime Minister Shinzo Abe is starting to take shape. Candidates are declaring interest to their inner circles just days after the leader said he's resigning due to health reasons. Chief Cabinet Secretary Yoshihide Suga told a senior ruling party leader he intends to seek the role of president in the Liberal Democratic Party, Kyodo News reported on Sunday, citing a source it didn't identify. The LDP has run the country for most of the last 65 years, and the party leader is almost assured of serving as prime minister. Former Defense Minister Shigeru Ishiba plans to declare his intention on Monday to run for the election, Sankei newspaper reported on Friday, without saying where it got the information. Other names mentioned in local media on Sunday included Defense Minister Taro Kono and former Foreign Minister Fumio Kishida.
ByteDance will be required to seek Chinese government approval to sell the U.S. operations of its short-video TikTok app under new restrictions Beijing imposed on the export of artificial intelligence technologies, according to a person familiar with the matter. The new restrictions cover technologies ByteDance uses in TikTok and will require the company to seek government approval for any deal, according to the person, asking not to be identified because the details aren't public. The new rule is aimed at delaying the sale and is not an outright ban, the person said. President Donald Trump's administration has said ByteDance must sell the U.S. operations of its popular video-sharing app because of alleged national security risks. Microsoft and Oracle have submitted rival bids to ByteDance to acquire TikTok's U.S. business, while Centricus Asset Management and Triller were said to have made a last-minute pitch on Friday to buy TikTok's operations in several countries for $20 billion.
Currencies were steady early Monday and Asian stocks looked set for a muted open after U.S. equities chalked another week of fresh gains. The dollar is trading near a two-year low against major peers. S&P 500 Index futures ticked higher when they opened in Asia. Chinese manufacturing data this week will give the latest reading on how the world's second-largest economy is emerging from the coronavirus shutdown. The benchmark S&P 500 closed at an all-time high for a sixth consecutive trading session Friday, while the Nasdaq Composite also reached unseen levels. Treasuries rose. Oil was little changed around $43 a barrel. Gold edged up.
China's biggest banks posted their worst profit declines in more than a decade as bad debt ballooned and the government called on them to help backstop the slumping economy, putting pressure on plans to pay dividends next year. Profit at Industrial & Commercial Bank of China (the world's largest lender by assets), China Construction Bank (the second largest), Agricultural Bank of China and Bank of China dropped by at least 10% in the first half, the lenders said on Sunday. Loan loss provisions jumped between 27% and 97% at the four banks. China's $45 trillion banking system has been put on the front-line of helping alleviate the worst economic slump in 40 years, triggered by a large scale shutdown due to the virus outbreak. Authorities have required lenders to forgo 1.5 trillion yuan ($218 billion) in profit by providing cheap funding, deferring payments and increasing lending to small businesses struggling with the pandemic.
Ant Group's potentially record-sized initial public offering could propel technology capital-raising in 2020 past the dizzying heights of the dotcom bubble, an extraordinary showing in a pandemic-stricken year fraught with geopolitical uncertainty. Jack Ma's Chinese financial titan aims to raise at least $30 billion in Hong Kong and Shanghai in October, which could push global first-time share sales by tech firms well past $57 billion, according to data compiled by Bloomberg. That would be the highest since 1999, when tech companies raised $62 billion and famously ushered in a plethora of now-defunct internet outfits. Here's a quick guide to Ant Group. 
What We've Been Reading
This is what's caught our eye over the past 24 hours:
And finally, here's what Tracy's interested in this morning
Today's economy is brought to you by the letter "K." Everywhere you look, there is evidence that the coronavirus crisis and the policy responses to it have created vastly different economic experiences depending on who you are, and are also now leading to a bifurcated recovery. This "K" shape is even showing up in some esoteric places, including the market for agency commercial mortgage-backed securities (CMBS) in the U.S. Such securities pool together loans for apartment buildings and are guaranteed by U.S. housing giant Freddie Mac, which in recent years has also begun offering a program to guarantee smaller loans in an effort to expand affordable housing.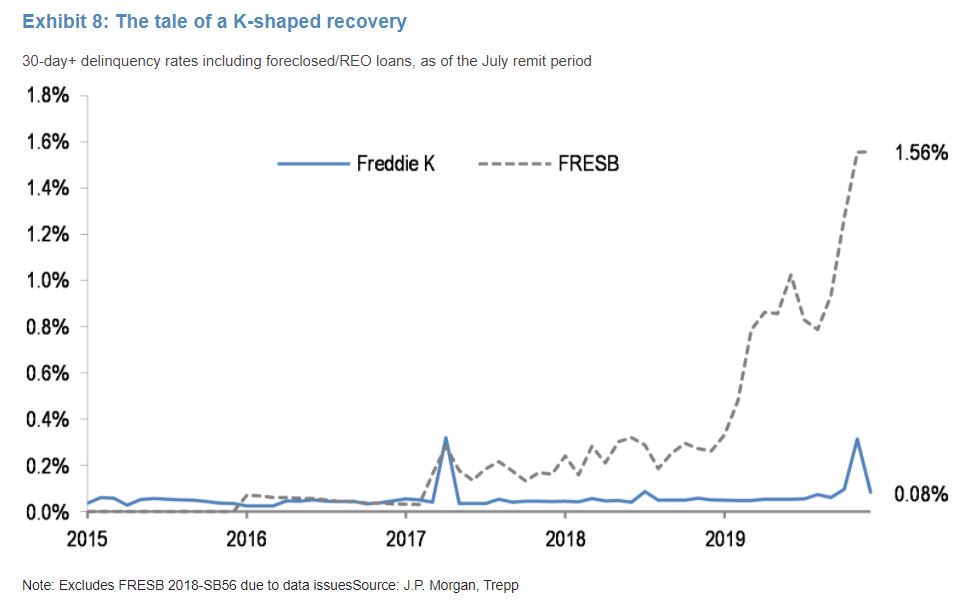 Bloomberg
Delinquency rates on these "Freddie Small Balance (FRESB)" loans have jumped to 1.56% as of July, compared with a rate of just 8 basis points on traditional deals known as "Freddie K," according to data from JPMorgan. "Given the nature of FRESB collateral that largely consist of smaller walk-up style or garden style apartments with significant shares of affordable units, it was inevitable that more stresses would show up in this segment of the Agency CMBS market than the larger Freddie K program that have lower shares dedicated to affordable rentals," the JPMorgan analysts wrote. "Further, the FRESB market has more 'mom and pop' borrowers that may not possess the liquidity to weather a prolonged downturn."
In other words, there's bifurcation in the performance of "big" and "small" landlords, not to mention their tenants.
You can follow Tracy Alloway on Twitter at @tracyalloway.
Before it's here, it's on the Bloomberg Terminal. Find out more about how the Terminal delivers information and analysis that financial professionals can't find anywhere else. Learn more.
You received this message because you are subscribed to Bloomberg's Five Things - Asia newsletter.
Unsubscribe | Bloomberg.com | Contact Us
Bloomberg L.P. 731 Lexington, New York, NY, 10022